True Affection: A Comprehensive Guide to Father John Misty
We take an in-depth look at the makings of Our Father.
Josh Tillman's Father John Misty has been burned onto the peripheries of the 2010s as one of the most forward-thinking, hip-shaking, innovative songwriters of the now. He follows in the path writers such as Loudon Wainwright III and Randy Newman carved before him, but with the angst of a rock star wired up to a lie detector, his brutally honest lyrics are a refreshing change to the musical stratosphere.
Misty's inspirations draw from the huge topics of culture, love and religion, which he churns up in his psyche and sings out in his charismatic and confessional persona. He manages to simultaneously make your sides split ("She blames her excess on my influence but gladly hoovers all my drugs") and offers lines which make you stop in your tracks during the course of an album ("Now, I've got a lifetime to consider all the ways I grow more disappointing to you as my beauty warps and fades.") But where exactly did this 'aimless, fake drifter, horny manchild Moma's boy' spring from?
Save me white Jesus…
Tillman was born in Rockville, Maryland to a deeply religious family of born-again Christians. His parents banned him from listening to secular music, but when a slight lift was made to the ban at the age of 17 - so long as the music had a spiritual theme, - Tillman discovered Bob Dylan's 'Slow Train Coming'. It was inspired by the folk legend's own turn to Christianity. Religion certainly seeps into Tillman's work, too, from his priest-like moniker, to his Biblical tinted album covers.' I Love You, Honeybear' depicts Tillman as a baby Jesus Christ clinging on to the breast of a Mary figure – his wife Emma Tillman.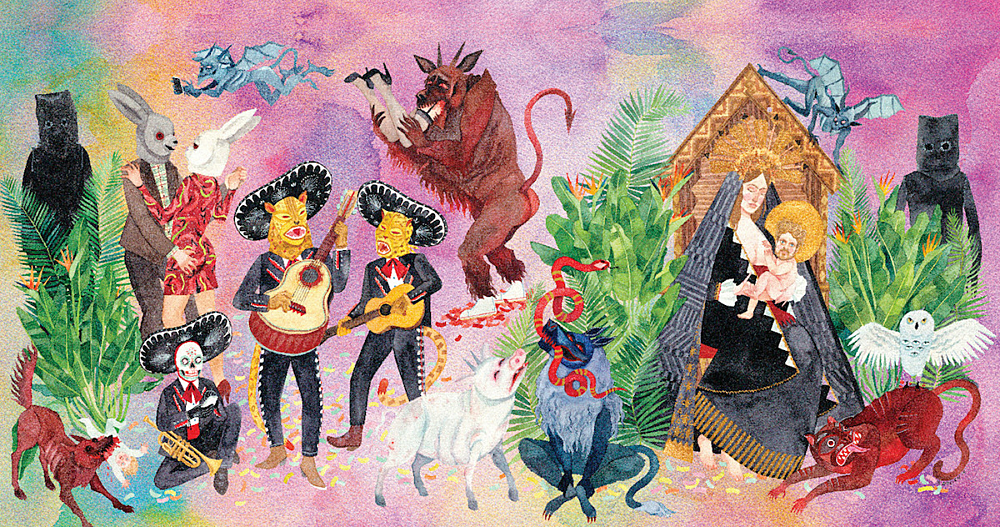 Settling in Seattle…
Tillman fled Maryland and set up camp in Seattle when he was 21, in the early 2000s. He remained estranged from his parents for much of his 20s, a relationship which has since been reconnected. To fund his early recordings for demos he worked as a dish washer, a builder, in a bakery (where he worked on his craft during his early hours shifts) while also donating plasma and performing as a drummer in the band Saxon Shore. The work of Saxon Shore is largely instrumental in an alternative-rock guise, which also featured his brother on bass. Although the band's influence didn't ring on in his later career, it was Tillman's first musical presence on record.
J Tillman…
Our Father released 8 solo albums under his moniker J Tillman from 2003-2010. It was drawn from much more serious and mystical influences, with titles such as 'Marked in the Valley' and 'Darling Night'. Reflecting on his work as J Tillman, he explains "In my 20s I was chasing an archetype of the songwriter and how the songwriter writes and acts, I realised it become this false God in my life." His last effort entitled 'Singing Ax' - which saw him under production from legendary Nirvana producer Steve Albini - closes with 'A Seat At The Table'. "It really was like throwing my hands up in the air on that project. The last song on there, "A Seat at the Table", that is what that was about. It was like 'I'm done.'" Be prepared for a very different Josh Tillman.
Tillman was brought into Fleet Foxes in 2008. Though he did have the right facial hair, he also had the ability to play the drums and harmonise. Our Father met lead singer Robin Pecknold through his sister; who Tillman was dating at the time. Joining them on tour in support of their debut album, J also featured on Fleet Foxes' 2011 album 'Helplessness Blues' before his departure in 2012 to tune in his efforts to his Misty work: "Farewell Fleet Fans and Friends. Back into the gaping maw of obscurity I go," he said. "Tokyo is my last show with the Foxes. Sorry if I was distant and obtuse if we ever met. Have fun."
Tillman explained that the band was not a big part in his life: "I overestimated my interests as a drummer," he said. The singer/songwriter path was destined for him all along, but perhaps he underestimated his presence; the group have been on hiatus in his absence.
The Awakening…
Tillman realised his self-described "dungeons and dragons music" as J Tillman wasn't going down half as well as his between song banter at his solo gigs. He decided to channel his humour into the music. It marked the beginnings of his Misty moniker. "I was writing in a very impressionistic way… I came to some realisation that to be satisfied you have to represent yourself. I was scratching my head naked, sitting in this tree implementing mushrooms, and I just thought this albino ape is sitting in this tree trying to have heavy thoughts. It can be a life's work to get around to being yourself."
As an author…
Tillman started writing a novel around the time of his awakening, which inspired ''I'm Writing A Novel' from his 2012 record 'Fear Fun'. It's apparently still in progress. "It's about this couple named Charles and Agnes Brimley, and Charles is an author writing this book about a herd of post-apocalyptic Chihuahuas. They go to Salt Lake City, walk by a funeral home, impersonate another couple, and order a '69' casket for themselves—a casket that you can 69 in. While Charles is writing his book, he gets into the casket and realizes that the voice of God is in there, and God's name is Josh Tillman, and Josh Tillman divulges the secrets of Charles' universe." Right then.
Scoring 'shrooms and films…
The first line Tillman wrote as his new-found self was "Look out Hollywood, here I come" from 'Funtimes In Babylon'. On reflection, it was a self- fulfilling creative prophecy. LA and Hollywood became the environment and move which inspired the initial Father John Misty work (see 'Hollywood Forever Cemetery Sings' and 'Only Son of the Ladies' Man'). His solo debut album 'Fear Fun' is littered with psychedelic imagery. "Mushrooms was this reinforcement realisation that I've always laughed in the face of big ideas and myself, which I always confront with humour and satire," he said. This, in essence, is Misty's USP. The visual embodiment of this transformation started on his first appearance on The David Letterman Show, all flailing limbs and Dad-dance moves. Mr Alex Turner may have been taking note.
The cinematic capital seemed to rub off on him, not only in his writing but in his efforts in sound-tracking films. He took on vocal duties for 'The Angry River' which featured in HBO's True Detective series. He also created an original score for wife Emma Tillman's directorial debut 'The History of Caves'.
As a perfumer…
FJM dipped his pipette into the perfume world by bringing out his own fragrance "Innocence" by Misty. It's sold on his merch website for £45 a pop. Misty said, "I believe very strongly in how young women smell, getting involved is a big cornerstone in our inactive democracy."
"You're the one I want to watch the ship go down with"…
Joshua and Emma Tillman met in the Laurel Canyon Country Store and were married in 2013. Her presence is layered within the walls of the 'I Love You, Honeybear' LP. The overtly cheesy title is trumped by a collection of deeply personal, honest and indirectly sentimental love songs. It carves the tale of how the pair consummated the marriage in 'Chateau Lobby #4', jealousy and long-distance in 'Nothing Ever Happens At The Goddamn Thirsty Crow' and love through the enclosing doom of human civilisation on the title track. For all the times Misty diverts from sentimentality, he proves he can do a love song. He's a real softy at heart, and that breaks loose on the last track 'I Went To The Store One Day'. It's one of the most deeply romantic songs in recent years, as Emma's smile illustrates in the video below:
Following the breakout success of 'I Love You, Honeybear' in 2015, Tillman returned in 2017 with 'Pure Comedy' and, just 14 months later, blessed us once again with its follow-up, 'God's Favorite Customer'.
"Give it time and it's not far short of exceptional," DIY said in our review of 'Pure Comedy', while its follow-up was hailed as "smart and knowing, flitting between perspectives with ease". After 'I Love You, Honeybear' made Father John Misty a star, 'Pure Comedy' took him skyward, tackling love, life and the universe – the loftiest subjects imaginable, and ones he tackled with aplomb.
As to be expected, 'God's Favorite Customer' then turned the lens inward, making the pair of albums serve as emblematic of the extrovert and introvert within Tillman, and create a more rounded portrait of the artist we'd come to love.
"Josh Tillman makes this shit look easy," we said at the time, and it's clear in retrospect that 2017 and '18 was Father John Misty's mercurial phase.
Since 'God's Favorite Customer', Tillman has taken a well-earned break, sprinkling morsels of music throughout the intervening years.
It was only in late 2021, though, that he returned with details of new album 'Chloë and The Next 20th Century', and its first single 'Funny Girl'. Once we got past the frankly harrowing news that he's cut all his hair off, we realised we're pretty damn excited for the return of Tillman, and 'Funny Girl' does nothing to dampen the appetite.

What will he turn to next? Here's hoping the human race remain as unforgiving, hedonistic and despairing for Joshua Tillman – the horny manchild, the romantic, the misanthrope, the social commentator, the plasma donor.