Four musicians. Three brothers. Two ex-Maccabees. One long in the making debut single. Put the maths together, and you get the birth of 86TVs.
If you've found yourself wandering the streets of Wandsworth over the last six years, you might have spotted a couple of familiar faces also strolling through the area. No big deal; two brothers hanging out is hardly a reason to stop the presses unless they've got a Gallagher-shaped silhouette. But, as it turns out, these particular brothers - former Maccabees guitarists Felix and Hugo White - aren't just fans of the South West London postcode. Alongside youngest sibling (and touring Maccabees member) Will, and ex-Noisettes drummer Jamie Morrison, they've been squirrelling away on their next musical move, and now they're finally powering up and switching on 86TVs.
Today, the quartet are gathered across the river in Shoreditch for their first proper chat about the new band. They've been slowly gearing up over the past twelve months, taking their wares on the road via a series of baptism-of-fire debut shows opening up for longterm pal Jamie T and, more recently, a batch of summer festival slots. This week, however, marks the release of their first single 'Worn Out Buildings' - a rousing, heart-on-sleeve purge of communal catharsis - via new label Parlophone, and the point when the brothers step back fully into the musical ring once more.

It's not that they've really been away; Felix has spent the years starting Yala! Records and carving out a career as a cricket podcaster and author that's likely made him more well-known than ever, whilst Hugo has produced music for the aforementioned Mr T, Matt Maltese and more. But there's a tangible sense speaking to all four of the band that, whilst their other activities have served them well, this is the moment they've spent the last half-decade waiting for.
"For a long time, we didn't know how it was gonna feel because we didn't play any shows while we made the music; we kept ourselves to ourselves," begins Hugo. "But I feel closer to how we felt starting bands when we were young. It's like going back to the roots, carrying our amps and plugging in just before we go on, and playing shows with all that energy that you do lose over time as a band gets bigger."
"We're brothers so we're always going to be linked in some way," gestures Felix. "But the fact that we were doing this secret thing, pouring time out of our own free will into it; the fact that Jamie saw there was something in it that was worth doing it for; it was a big deal. I'm not sure many other people would have gone for nearly seven years, three times a week, just to see where it lands. But now it's coming true in the shows."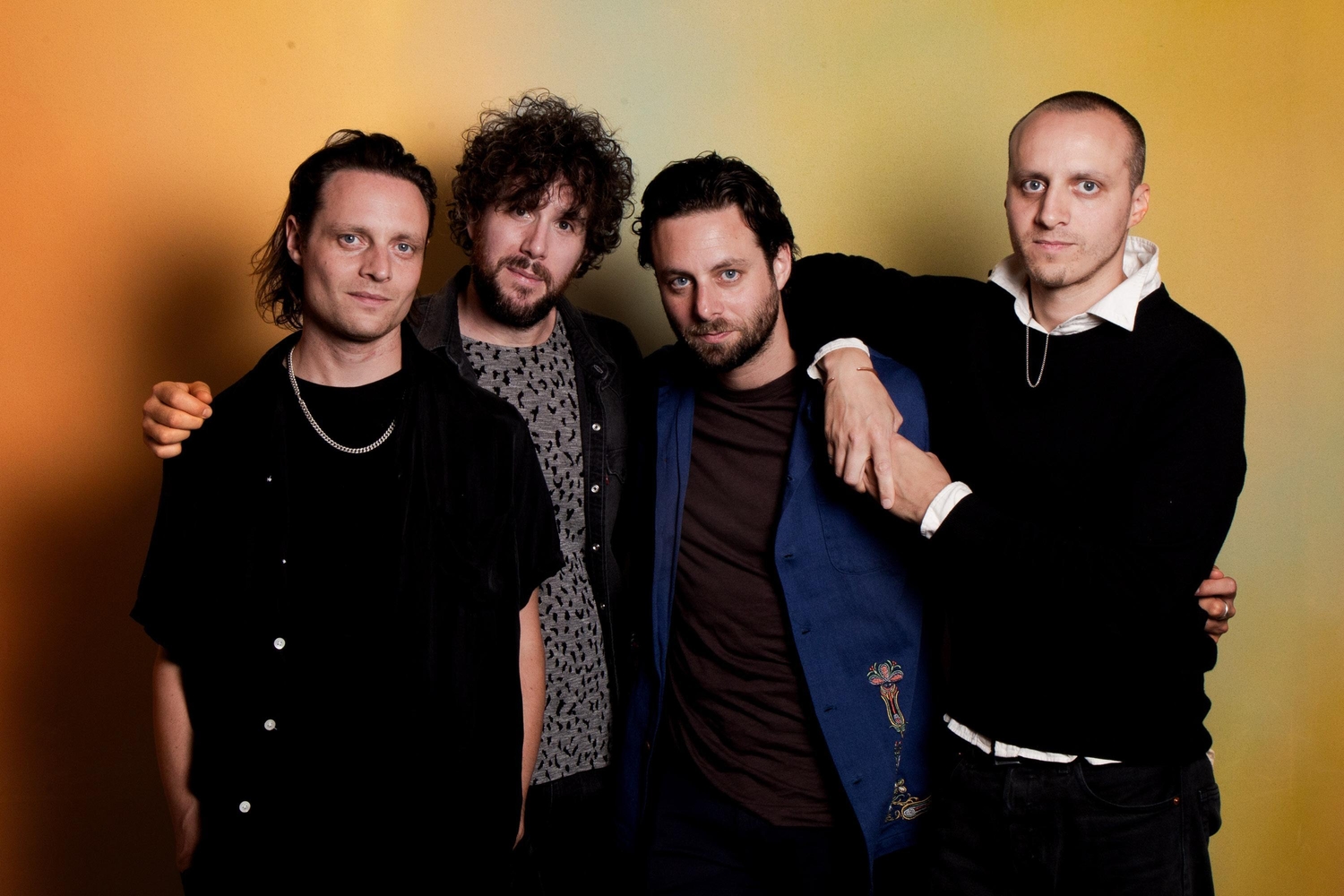 "
I was so devastated [when The Maccabees ended]. I thought I wasn't going to find anything ever to replace that.
— Felix White
The Maccabees, as the history books will remember, ended at the peak of their powers. Announcing the split following their first Number One album and a graduation to festival headlining status, the news came out of the blue and predicted by no-one. Even with so much distance, there's an emotional weight to the way Felix remembers the time. "I was so devastated," he admits. "I thought I wasn't going to find anything ever to replace that, and I used to worry about it before - what would I do if The Maccabees ended? - so it felt really apocalyptic.
"The cool thing about it was, having grown up with the mythology of bands, now we were inside the 'band that's breaking up' story," he notes with a chuckle. "It felt like a film, and leaving it at that mark was a very good end to that film, doing it at the height and harnessing all that feeling from a bunch of people who were the same age that were saying goodbye to a certain part of their lives as we were saying goodbye to ours. That was a powerful thing to experience. But I definitely felt like, how are you meant to turn up six months later and be like, 'Come and check out my new thing'? It was too big. So there had to be a lot of living first."
And so, 86TVs began in the smallest way possible. Initially, the three brothers would simply turn up to the same room and play together for the fun of it. Then, having previously met Jamie when The Maccabees and The Noisettes were both supporting Bloc Party on a US tour, they crossed paths again and invited him round to see what would happen. "The first minute he started playing, he literally stopped, put his drum sticks down and said, 'Can I just say, this is really enjoyable, and I love the way you're communicating with each other and I feel really good here.' He'd been playing for under a minute," laughs Felix. "It just felt right and pure," shrugs the drummer - a naturally zen presence sat between the siblings. "I've noticed, when you don't have those intentions, it goes wrong. So with this [project], I knew it always had to be pure and real because I want it to go right."
Settled as a quartet, they spent the following year making instrumental tracks, and then more time writing songs that developed with lyrics; they recorded tracks, and then scrapped them and then wrote some more. With a wealth of prior experience behind them, they decided not to use their pre-existing connections and fanbase as a shortcut but to really, properly do the work - finding out through trial and error what sort of band they wanted to be; discovering how this particular configuration would knit together as musicians; finding their voice as a unit. Crucially, it was the latter notion that would prove the key.
"We didn't know who the singer was going to be and we didn't know how to focus this fucking thing," begins Will. "That was the worry: how the hell does this become a band instead of just three random singers?" "The penny literally hadn't dropped until we were several years into this process that, if we sing together, it sounds like one voice and a group at the same time," continues Felix. "It had never occurred to us that, as siblings, that was a kind of superpower."
"
I'd love to feel like this is the best thing we've all done.
— Hugo White
The three White brothers exude an easy familial closeness. All in their thirties and two now with children of their own, there's no semblance of sibling rivalry to be found, just a sweet, obvious awareness of their own lucky bond. The first of their musical pairings, they recall, was an adolescent duo formed of Hugo and Will called The Good Samaritans. "We wrote songs about pineapples and sandwiches. They were good tunes!" Will grins. "I was always a fan of The Good Samaritans and I remember being behind it, but I never enquired if I could be involved," muses Felix. "I guess they were quite Moldy Peaches, there was a song about orange slippers…" "Then The Maccabees happened and absolutely fucked The Good Samaritans," Will concludes, as all three break into laughter.
86TVs, then, is somehow the first time that all three brothers have written together and created something of their own from the off. As well as the specific harmonic tightness that comes from sharing a gene pool, they also discovered fairly quickly that, even without overtly discussing their lyrics, there were innate parallels that came from sharing so much of their lives with the others. 'Worn Out Buildings' acts as the perfect introduction to this idea. Initiated by Hugo as "a bit of advice about how things don't have to make sense at the time, and you can make sense of it later and give yourself space to do that", it was Will who completed the track with its empathetic climax, all three repeating its clarion call of "You don't have to be yourself right now" in unison.
"If you write a lot, you get good at channelling something that you can't communicate," Will suggests. "And if it's three siblings or three people that have been through the same thing, you're ultimately gonna end up channelling the same thing in different guises." "You realise it's actually just a really in-depth way of seeing things because it's all coming from similar places but different lives," Hugo picks up. "We share so much together but we all have such separate lives so we all have different takes on things; that gives it a bigger perspective than any one person."
Musically, meanwhile, the band spent their gestation period making similar revelations, and the tracks that currently populate 86TVs' live set show a band gleefully putting their foot on the gas. With all three brothers standing equal in a row on the front line, there's a visceral energy that exudes into the crowd; at this year's Great Escape festival, no group looked more happy to be on stage, giving it everything, than them. "For me, the shows immediately go back to what we grew up with, watching videos of The Clash," says Hugo. "It's so ingrained that everything's got to be upfront and have intention, and we worked out quite quickly that the place we all naturally fall into is one that's playing into the unity of the band."
"We spent so long in the studio trying to work out what music we wanted to make and then we went on tour and realised what music we SHOULD make," notes Will as Felix continues: "When it's in a really comfortable spot is when it's almost innate and you realise what your good bit is. There was a point in The Maccabees when we were trying not to be a rock band, but then remembering how good it feels to stamp on a fuzz pedal and make it really fun and loud - it's been quite freeing to get back into that space.
"The natural endorphins that run through you when you're making a song go from small to loud in thirty seconds and you can feel how it affects everyone; it's a really powerful feeling," he enthuses, picking up steam. "So to not have anything in our heads where it's like, 'Well, we want to be perceived as X', then it's a bit like the reins are off. Let's just make this as big and as positive an experience as we can in this time. There's an open arms, outreaching thing to it which the best guitar music, I still think, does when you go and see it - when you leave feeling alleviated of something, like you've escaped the everyday by just singing and getting that feeling of music happening loud off the stage."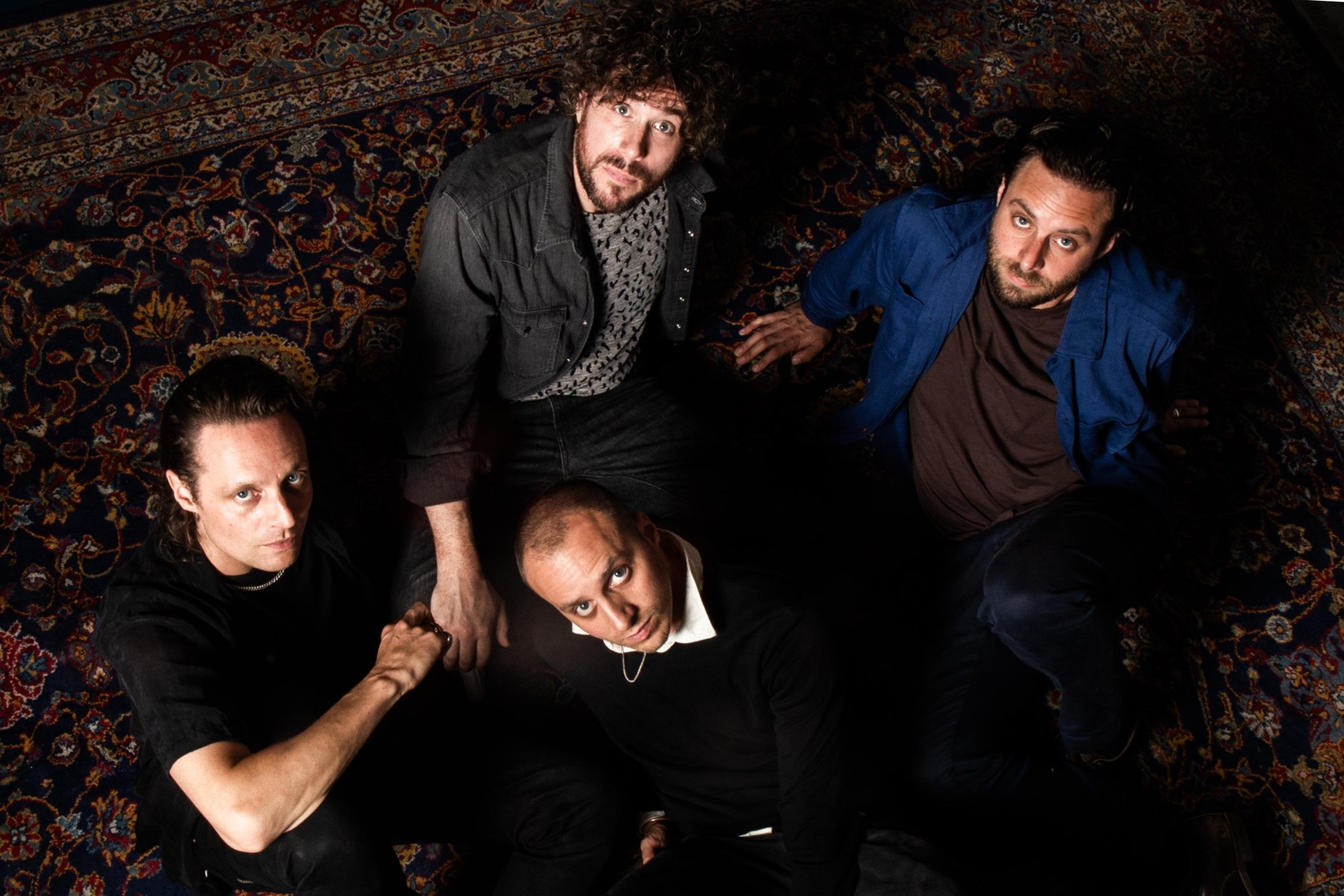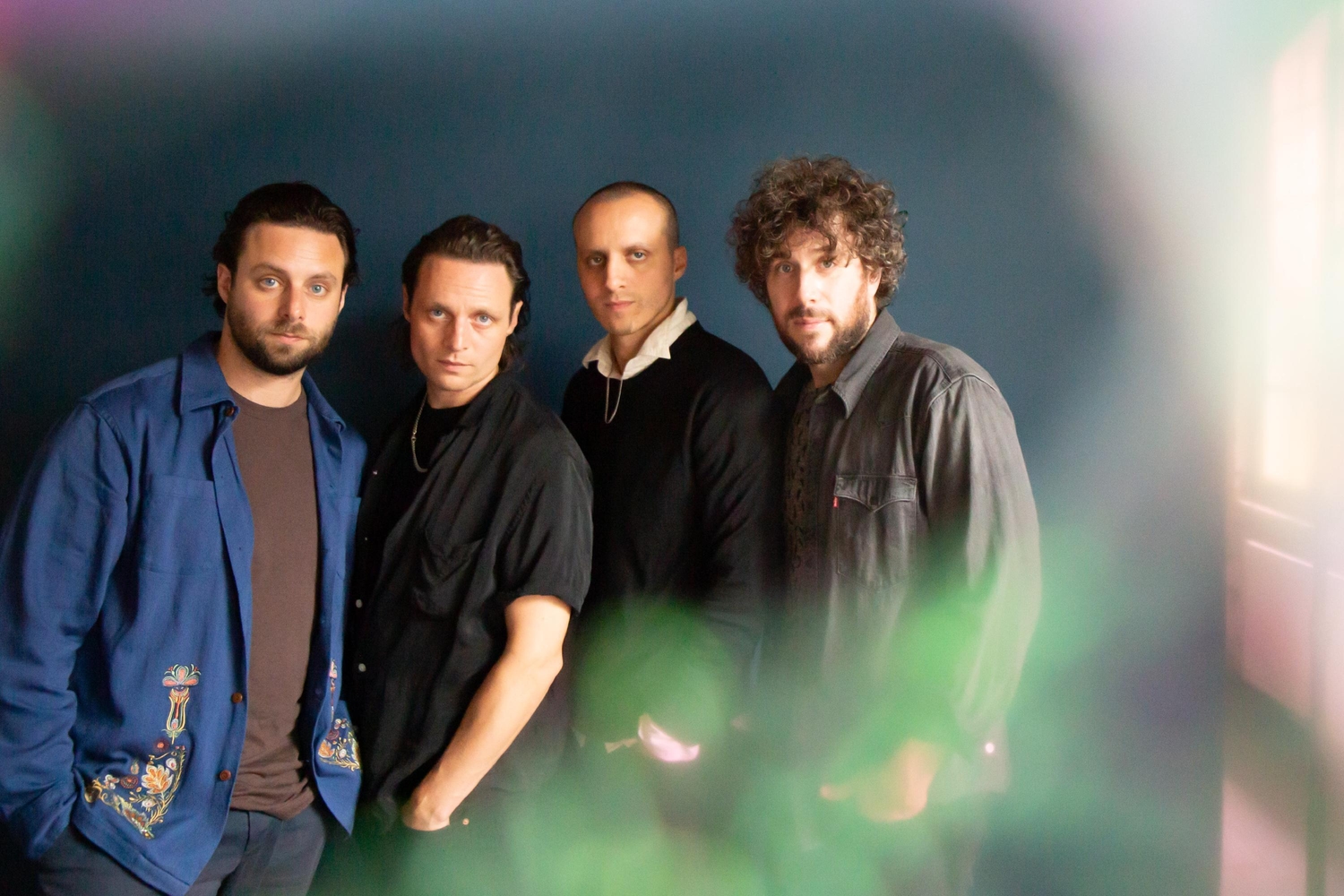 "
Remembering how good it feels to stamp on a fuzz pedal and make it really fun and loud - it's been freeing to get back into that space.
— Felix White
It's still the earliest of days for 86TVs but, rather than itching to jump back into the big arenas, it's clear that the four musicians are truly enjoying every moment for exactly what it is. Jamie, they note, refused to buy proper drum cases until they signed their deal, choosing instead to lug his shells round in cardboard ones as any other fledgling band might do. "You have to start from the bottom and grow, and if you start with more than what you deserve then it gets you out of balance," he explains. "You have to earn everything."
They're enjoying playing completely unknown music as a completely unknown entity; fighting to win crowds over, feeling the surge of achievement when they do. Having all been in the game for long enough that, to throw their chips back on the table is a conscious choice, the ethos of the group is one based fundamentally on joy, pride in what they do, and brotherly camaraderie - not just as genetic siblings, but as four men who've actively chosen to bet on themselves and each other.
Signed to a major label, and with a bank of 20 songs already recorded with a little help from super-producer Stephen Street, it's clear that there's ambition here. But it's ambition that's coming from all the right places. "Because we've started this when we're grown up-ish - not old!" Will caveats with a laugh. "We could actually say, 'We're doing this for reasons that aren't just about making brilliant art. We want to be in a band that feels good, and to come to this thing and it be something we're proud of and we want to do." "All the best groups and the best music starts when you just really want to be there, and we wouldn't be doing what we're doing unless we really wanted to," Jamie nods. "We're older and there are so many opportunities, but we really wanna be doing this and I think it shows."
They all have hopes for the next few years, from playing big rooms to simply making the band their sole professional priority ("Put it this way, I don't think I was BORN to be a baseball commentator," Felix notes with a cheeky glint). But there's also the sense between them that, having got to this point, they've already won.
"I'd love to feel like this is the best thing we've all done, because we all have these things that have been in our lives and it's amazing to do it again," nods Hugo. "But the fact that we're here as brothers now, and somehow we've managed to live our lives through music with all these different paths… To be here is kind of beyond what we could have ever thought about getting to."
'Worn Out Buildings' is out now via Parlophone.