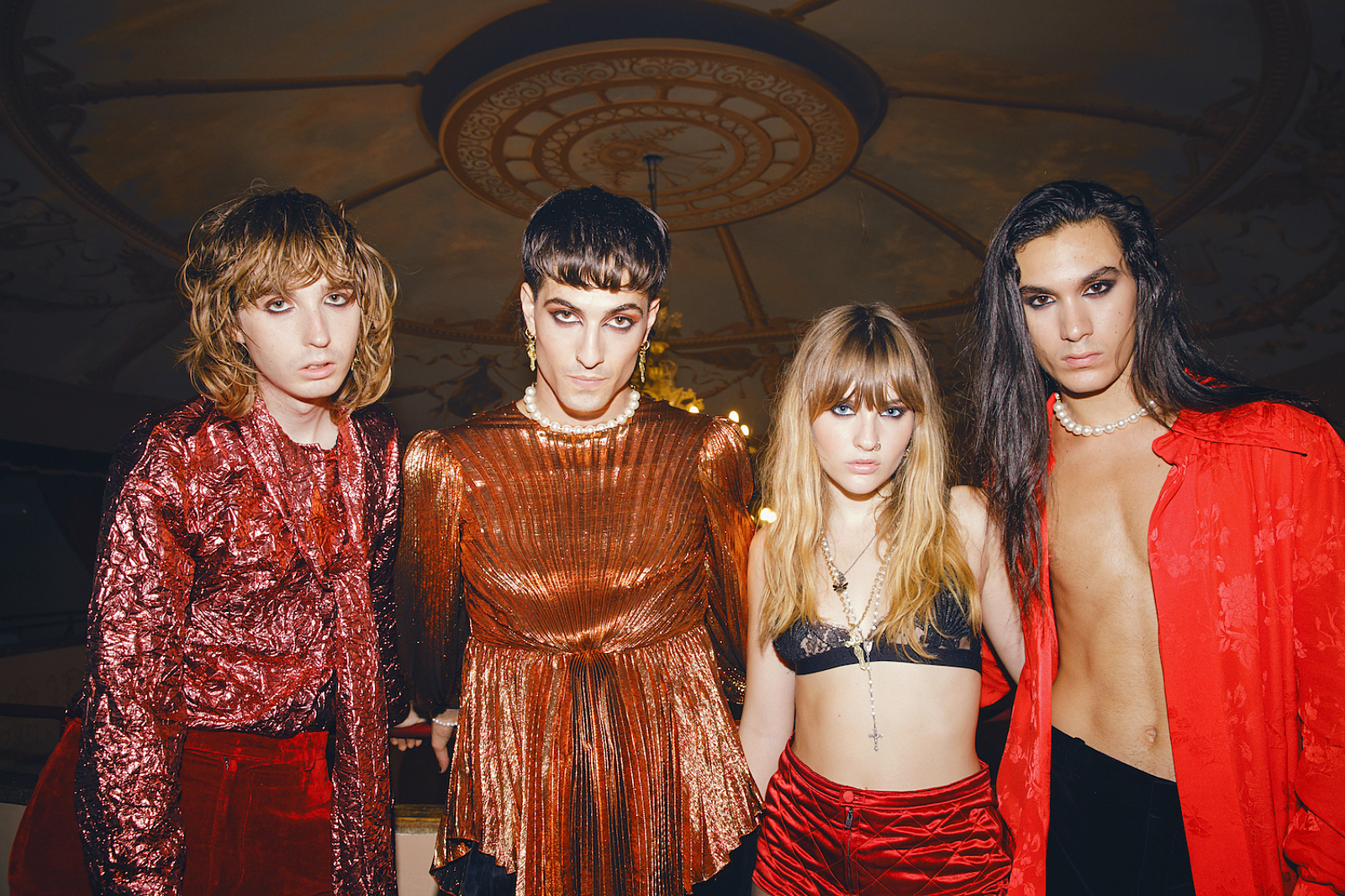 Måneskin: Sleighing It
In the course of six months, Måneskin went from hometown heroes to buzziest band in the world. We meet the Italian rockers to get the lowdown on their wildest year yet and what's in store for 2022.
It's a gloomy Wednesday evening in October, and while most people are tucked up on the sofa, hordes of fanatical teens are descending on London's Islington Academy, having scored tickets for perhaps the hottest secret show of the season. Announced just hours earlier, the ever-growing crowd are waiting to catch a glimpse of the most talked about (and perhaps most surprising) breakthrough group of 2021. As the band strut on stage to perform an exhilarating hour-long set, it's clear that this moment will solidify a stunning year for all those involved.
We are, of course, talking about Måneskin: the Italian quartet who went from relative unknowns to one of the most hyped groups in the world overnight.
Though their name may have been unheard of overseas before their incendiary Eurovision win back in May, the rock four-piece have been firm faves in their homeland since 2017. Tonight's impromptu London gig, however, shows just how far their profile and popularity has grown since then; from frenzied fans to TikTokers galore, with many in the crowd dressed in their best leather and studs in homage, this evening proves that the group have all the hallmarks of a modern cult act.
Comprised of frontman Damiano David, guitarist Thomas Raggi, bassist Vic De Angelis and drummer Ethan Torchio, Måneskin first formed in 2016 but have been friends since their high school days. While their musical loves growing up were completely different to each other - Vic was obsessed with hardcore metal, while Thomas was really into "progressive fusion jazz" - it all clicked after the quartet covered a self-professed "hard" version of alt-J's 'Breezeblocks'. "That was the first song we played together and it worked immediately," Vic recalls. "Then it was harder to find songs that worked that [well] too. But we got lucky first shot."
Keeping that luck for several shots after, the band were then selected for the eleventh season of the Italian X Factor, performing various other covers during their appearance including Franz Ferdinand's 'Take Me Out', The Killers' 'Somebody Told Me', and their version of 'Beggin'' by The Four Seasons, which is now sitting at over 800 million streams. Yet, while their second place result made them firm musical contenders in Italy, it wasn't until a few years later that the group would pop up on another famous talent show that would take things to a whole new level.
Swaggering onto the stage of the 2021 Eurovision Song Contest with rock anthem 'Zitti E Buoni', the group were an instant hit with audiences abroad - both on the night and in the months that have followed. Delivering a thrilling performance (complete with matching catsuits), they scored a winning 524 points at the final, with Damiano yelling into their microphone upon collecting their award: "We just want to say to the whole of Europe, to the whole world, rock and roll never dies!" Vic smiles today: "I think we still can't realise what happened. We didn't really expect it. We were just like, 'Yeah! Fuck off everyone!'"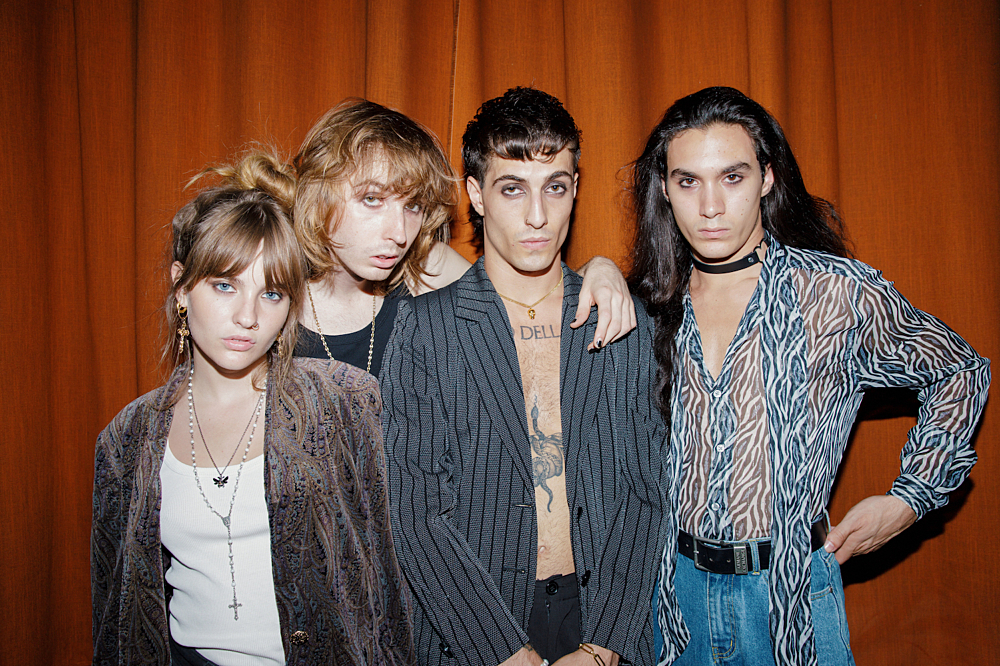 "
I think we still can't realise what happened [at Eurovision]. We didn't really expect it. We were just like, 'Yeah! Fuck off everyone!'
— Vic De Angelis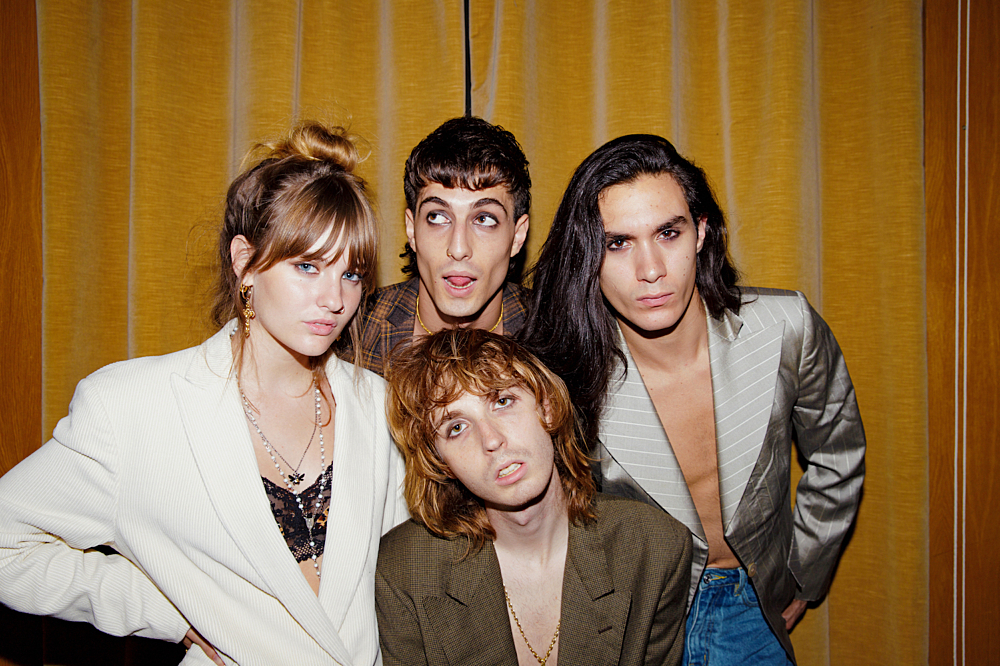 In fact, Måneskin were surprised they'd even managed to make it to the competition in the first place, having won Italy's Sanremo Music Festival two months earlier to cement their place at Eurovision. "Usually it only goes to Italian classical music," Vic explains. "So when we went there with 'Zitti E Buoni', everyone was like, 'Lol, you'll never win with that kind of music and with a song like that.'"
Almost as instantly as their Eurovision victory celebrations rolled in, however, did allegations of illicit behaviour also come knocking - specifically, claims that the group were taking drugs at the ceremony. Broken glass on the floor paired with an unfortunate camera angle resulted in Twitter sleuths roundly accusing Damiano of snorting cocaine. "The news was fake," he strongly states today, "so when you're not guilty, you don't have to worry about anything." Vic nods in agreement. "We didn't care that much about it because we'd just got tested and stuff," she notes, "but yeah, it was really annoying." "So fucking annoying," Ethan concurs.
Shaking off their first brush with fake news, the band woke up the next morning as you might expect: slightly hungover and to their phones exploding with friends sending over articles and congratulations. And, since that moment, it's been pretty much non-stop, the quartet ticking off accolades in the past six months that most would be lucky to achieve in decades.
Where other Eurovision acts have often fallen into the typical post-talent show slump of steadily fading from the public's consciousness, Måneskin have emerged from the other side of their victory like a sexed-up, glam-rock ABBA, ready to conquer. "When we got out, it was just like the start for us," Vic smiles. "And then we started playing and people discovered our other songs that became more famous than the actual Eurovision song!"
Having already released two studio albums - 2018's 'Il ballo della vita' and March 2021's 'Teatro d'ira: Vol. 1' - their newfound status as one of the most famous (and genuinely cool) Eurovision winners in recent memory has resulted in fans suddenly flocking to discover the band's back catalogue. "It's so funny when people are like, 'Oh this is my favourite song!' And it's the worst song from the first record," Vic giggles. Are there any tracks they're particularly shocked that people seem to love? "'Coraline'," Damiano offers. "It's a ballad, in Italian, that's six minutes long... It wasn't meant to be a hit!"
Hits are something both of their previous albums are chock-a-block full of, however, showing off Måneskin's signature funk-tinged glam rock, while singing dually in both Italian and English. Having originally been pushed towards solely making music in Italian, the band describe previously feeling limited, but are now embracing their freedom to write in English, Italian, or "whatever we want". "The language we prefer is music," Damiano jokes.
Their bilingual bangers also offer up some on-stage fun. Normally bringing crowd members up at the end of the set, they giggle that some international fans have yet to fully master the Italian singalong. "We have this amazing video of a fan that we brought on stage during the last song, which is a very fast rap Italian song," Vic laughs. "You can hear her shouting, like half in Italian, half in English, half in I don't know what…"

"
I think that the secret is the real connection that we have between us. We are real friends in our everyday life, and I think that it shines through.
— Ethan Torchio
Måneskin have spent the last half of the year being hailed as leaders of a new wave of rock'n'roll. It's a term that's undoubtedly complimentary, but one that the group are a little unsure of themselves. "We just want to write music and play it and see how it goes," Ethan notes. Yet, though some may have questioned their rock credentials, when bonafide legend Iggy Pop hops on your track - the punk icon joined the band for a new version of their stomper 'I Wanna Be Your Slave' - you know you have to be doing something right.
"We FaceTimed [Iggy] and we were shaking and trying to be so cool," Vic laughs. "We tried to keep it cool but we shut the computer and were like, 'Ahhhh!'. He said that he was very impressed at what we were doing by being a real band and playing instruments and not having stuff done on the computer. And yeah, it was very humbling, he was speaking to us as if he were our friend!"
Not only finding a fan in Iggy, Måneskin have since been shouted out by loads of famous faces, suddenly finding their Instagram notifications popping off with follows from blue ticks. "Demi Lovato followed me two days ago!" Damiano beams. "I grew up watching Disney Channel!" "And Miley Cyrus!" Vic eagerly adds. "All the Disney stars!"
A few weeks after we speak, meanwhile, the band head over to America for the first time, joining The Rolling Stones at a show in Las Vegas. "It was quite challenging to perform alongside one of the biggest bands ever, and in front of all of their fans that maybe didn't know us, but we think it went great," Vic says afterwards. "We tried not to think about it when we were on stage, and we just enjoyed the honour of being there. Of course it would be a dream to have such a great career and to make as good music as they did; they're one of the bands that we grew up listening to, so we've always been very inspired by them."
Did Jagger give them any words of wisdom? "He told us he had listened to our music and he was very glad that a young rock band were making success nowadays," she continues. "For us it was priceless to just get to speak to him. We tried to keep it cool, but maybe you could see us shake a bit!"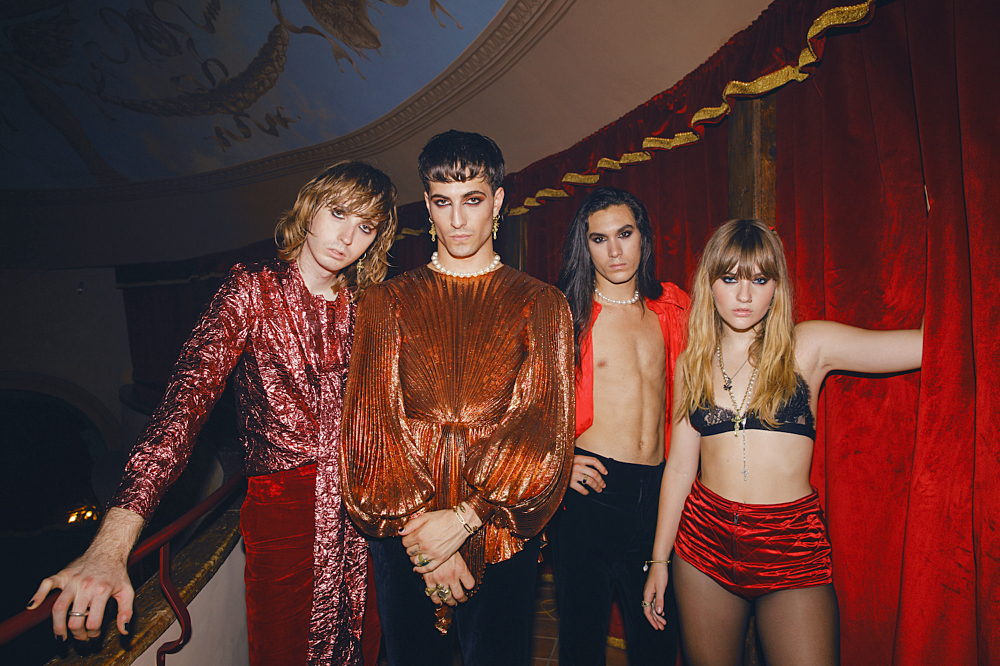 "
If we can use our privilege to share some messages, then that's one of the most important things.
— Vic De Angelis
Though the group are admittedly loving their new found fame - becoming the faces of Gucci one day and beating out the likes of Foo Fighters and The Killers to pick up the award for Best Rock Act at the European and American Music Awards another - Måneskin are also adamant about using their platform to spread a message. Back in June, while appearing at Poland's Polsat SuperHit Festival, Damiano and Thomas kissed on stage in protest of rising homophobia in the country. "We think that everyone should be allowed to do this without fear," Damiano passionately told the crowd after. "We think that everyone should be completely free to be whoever the fuck they want."
"If we can use our privilege and the fact that so many people look up to us to share some important and positive messages and to talk about something that's important to us, then that's one of the most important things," Vic emphasises.
Spreading their message (and writing bangers while they're at it), the group have become one of the most exciting bands of 2021. Maintaining a sense of fun throughout, what's striking about their live performances is just how much they visibly love it. "You just gain confidence, day by day and gig after gig," Ethan explains. "And I think that the secret is the real connection that we have between us. We are real friends in our everyday life, and I think that it shines through when we're on stage."
Clearly striking a chord with many, Måneskin have fully achieved their longed-for global breakthrough, now selling out venues around the world within a matter of minutes. "We're not faking anything and we're talking about things that are actually happening to us," Ethan explains. "People can relate, because off stage, we are just normal 20-year-olds, and the majority of our fans are more or less the same age. I think we talk about experiences that they are living, so they can relate and find someone to look up to, and that they feel represented by."
Currently trying to find the time to get back in the studio again, the quartet cite IDLES and Fontaines D.C as two of the bands they're most inspired by at the moment, with Thomas highlighting how important it is for the group to discover new music when writing. Striving to write every day, though their manic schedule may be daunting to most, the group are using their globe-hopping year as a source of inspiration. "We're in a different city every day, so we have a lot of energy to grab from," Damiano explains. "We are writing new stuff but we don't want to be in a rush. We wanna take our time to make music that represents us, so when we feel ready we will release it, but there, for sure, will be new music."
Rounding off 2021 with their future looking brighter than ever, Måneskin are more than ready to ride their new era into the musical history books. "It's like a new start in a way!" Vic smiles. "We have so much attention, so we want to do things that we're really sure represents us well. We feel a lot more free now because, in the past years, many people were telling us that rock wasn't going to give us success, and then we couldn't do it and tried to stop us. Now, no-one is stopping us!"

'Teatro d'ira - Vol.I' is out now via RCA.