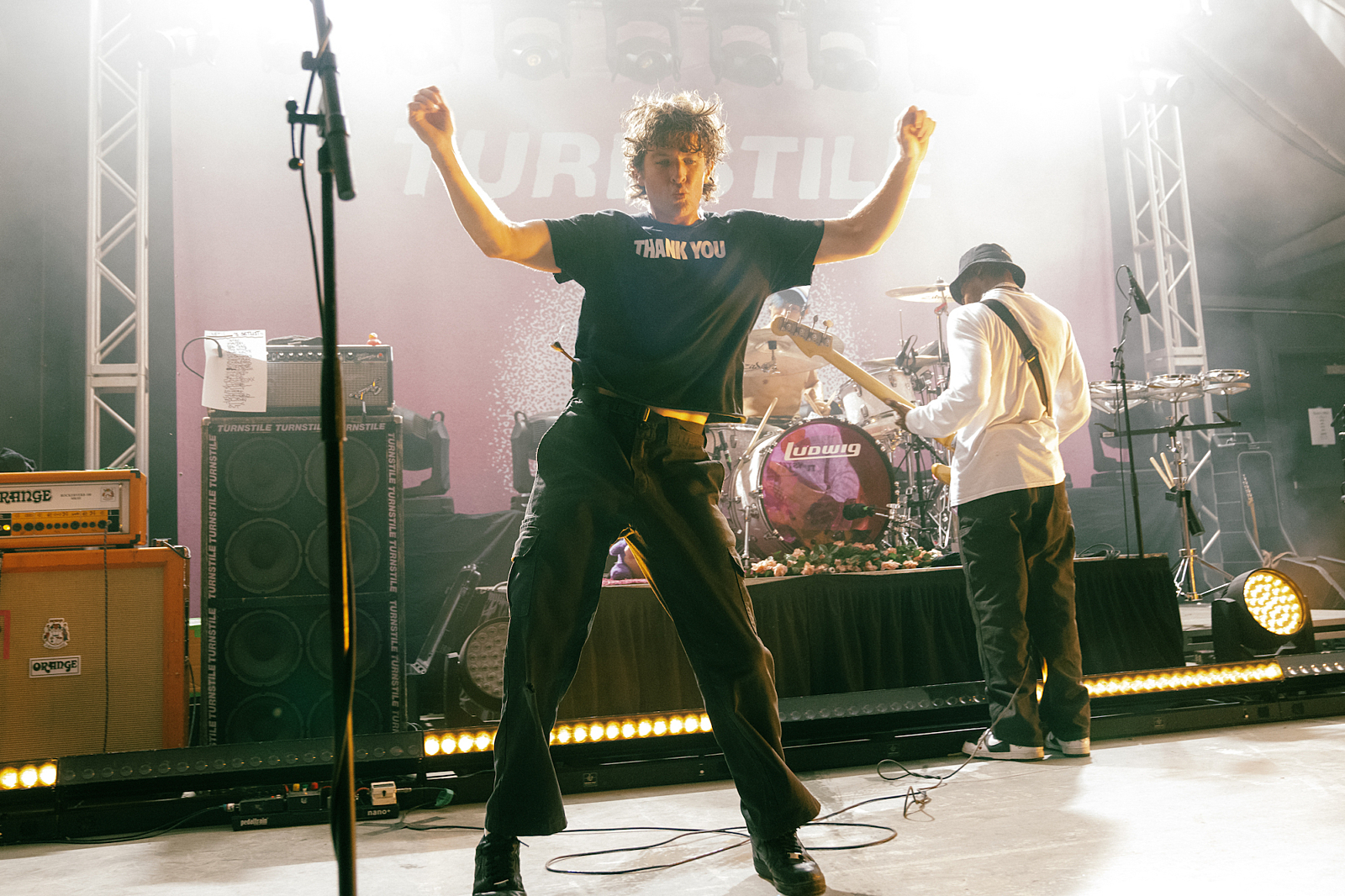 Turnstile: In The Afterglow
Arena shows, Grammy nominations, famous new fans: the hardcore band of the year reflect on a 2022 that blew everything up.
Asking Turnstile to pick a single highlight from their 2022 feels a thankless task. To even scratch the surface, you've got three Grammy nominations, gigs with My Chemical Romance, their debut Glastonbury performance, sold-out tours worldwide and a forthcoming tour supporting the reunited Blink-182 on the table. Speaking to DIY just a few weeks after their last shows of a long, gruelling year, it's not entirely surprising that the four members of the Baltimore band take a while to come to a decision.
In the end, frontman Brendan Yates pinpoints a recent outdoor gig at Brooklyn's Mirage venue in early October as emblematic of everything the band want to achieve through their music. It was the first gig of their Turnstile Love Connection tour with fellow Baltimore artists Snail Mail and JPEGMAFIA, which toured North America and showcased Turnstile's genre-bending, boundaryless raison d'être. It was also absolutely bucketing it down.
"It was freezing, and a hurricane was approaching New York," Yates remembers. "Starting off a tour like that felt amazing. Everyone being there together in the first place is great, but then you put everyone out there in freezing temperatures and torrential downpours and winds, everyone was suffering the feeling of the elements but celebrating the unity that was being shared in that moment. 'We can't get any wetter, but we're all here and we're at the show.' It really elevated the experience, and everyone being there together was really special."
While it might not feel as radical in 2022 as it would have a decade ago, placing a hardcore band, an indie-rock songwriter, and a rapper on a bill together for a nationwide tour still feels like a statement of intent, and one that goes towards Turnstile's ethos of dissolving boundaries and trusting in the inquisitive nature of their audience.
"That's always been a goal of ours," drummer Daniel Fang says, clearly excited to now have the platform to put on tours like this that reflect the band's forward-thinking nature. "It's great to have the opportunity to book a show and choose who we ask to play in order to cultivate a certain energy despite any expectation people might have for one certain genre of culture. Something like that can create a good environment for any person coming [to the show].
"The more variety there is to a lineup," he adds, "the more disarming it can be for people's expectations, and ultimately the more open people will be if they see a line-up that touches on a lot of different subcultures in music. People are much more open to that kind of diversity and blending of things than we tend to think, because it's easy to think in terms of categories and rigid expectations." For Brendan, the tour also "painted a good picture" of the Baltimore that Turnstile, Snail Mail and JPEGMAFIA grew up in; a small city where sounds and scenes would inevitably overlap. As with everything Turnstile aim for, this bigger platform has proved an opportunity to elevate their roots and where they come from to the highest possible visibility.
Their escalating profile hasn't meant that the band have left their hardcore roots behind, however. Instead, it feels like a case of a rising tide lifting all boats. Through exposure to Turnstile, kids are now going to their first hardcore shows of up-and-coming bands, with the likes of Knocked Loose in the US, and High Vis and The Chisel in the UK providing other rising stars of the scene who can benefit from a new audience's exposure to the genre.
This balance of old and new was realised most strikingly one weekend in late June. On one day, Turnstile headlined Manchester-based hardcore mecca Outbreak Festival, where they'd played a host of times before on their way up; the next, they travelled down to Somerset to lay waste to Glastonbury's John Peel Stage before a headline set from Charli XCX. Vitally, neither of these experiences felt compromised by being placed next to each other. Despite what naysayers might think, it is possible to achieve greater visibility without abandoning what got you there, and Turnstile's 2022 stands as testament to that.
"It inspires you in different ways," guitarist Pat McCrory says of the two seemingly opposing experiences, "but you're always just trying to connect with people. You want the thing that you're there to do to translate, and feel the same way for somebody else that it does for you. In some of those festival settings, where people are not there to see you, and they expect somebody to impress them, it's always inspiring. You think, 'Man, I could win this person round just by just doing the thing that seems most fun to me', which is giving it everything when you play and putting everything you have into the show. The result is always the same, because you just feel good about being able to connect with somebody."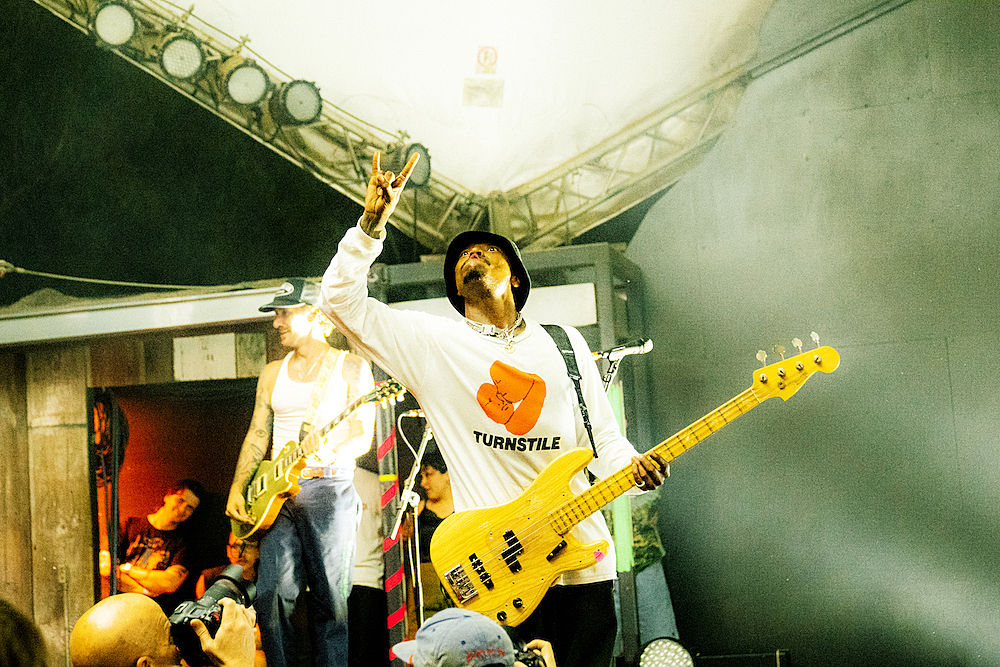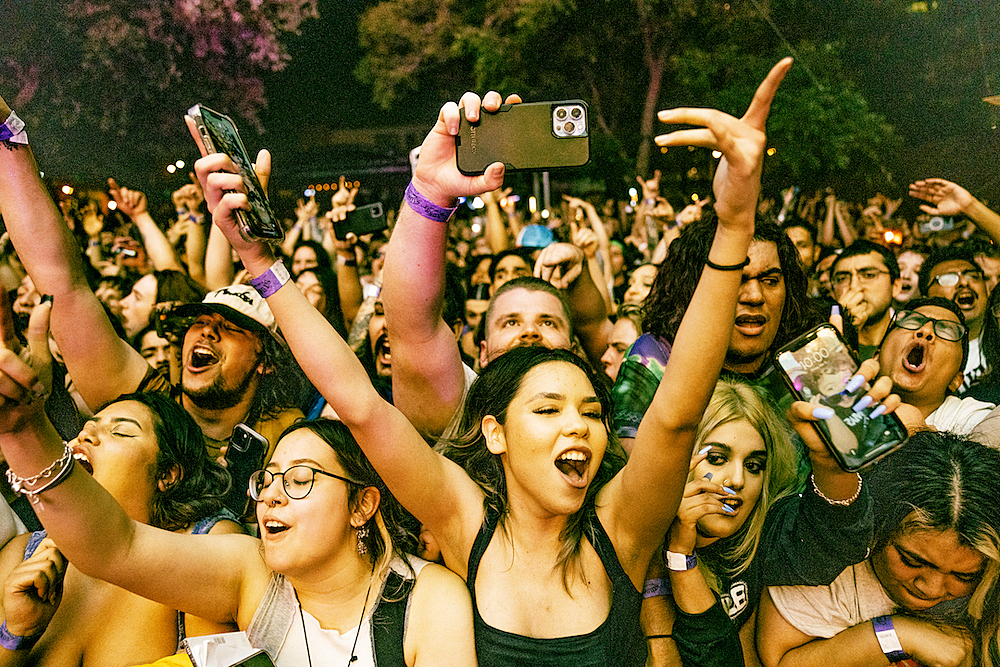 "
People meet online and then have these very deep and genuine connections, orientated around a shared experience at a Turnstile show.
— Daniel Fang
After a decade of making adventurous, experimental hardcore music and rising to the top of their scene, Turnstile fully broke through with 2021's 'GLOW ON': an ecstatic, energetic collection of truly fantastic rock songs. On 'Holiday' and 'Blackout' – the former nominated for Best Rock Performance at the Grammys; the latter for Best Rock Song and Best Metal Performance – they teamed heaviness with giddy fun, while the Blood Orange-featuring 'Alien Love Call' saw them delve into sweeter, more sombre sounds and 'Underwater Boi' channelled wavy '00s indie.
It was the 100 seconds of 'T.L.C. (Turnstile Love Connection)' that felt most vital, though; a super-charged, lightning quick thrash that has become the apex of their live show and given the band their official tagline. At the end of every gig they play, Brendan finishes the show by yelling its brilliant closing refrain: "I want to thank you for letting me see myself / I want to thank you for letting me be myself". Almost every show then sees the crowd invade the stage and continue chanting the lines back at the band in a mutual recognition of this rare and beautiful bond.
Quite reasonably, Turnstile say that, after a non-stop year of constant highs and whiplash-like change, it's somewhat of a struggle to adequately assess their rise and what they've achieved. One way they've found it possible to take it all in, though, is via a new YouTube series set up on their recent US tour, the Turnstile Love Channel.
Created by the band's friend Alex Henery, guitarist in scene staples Basement and Fiddlehead, the lo-fi videos have become a vital companion to the band's live shows, and see him roam around the crowd with a camcorder, capturing both the explosive energy of the show itself and the rapturous devotion of their fans through sweaty post-show interviews. "When we're touring, we can obviously feel how special it is," Brendan says, "but it's also hard to capture that feeling. It can slip away if you don't document it sometimes. It's been so cool to have all those videos to look at every single night and really take in. It's hard to process moments when you're moving so fast sometimes, so any opportunity to really process it and see these special moments that are happening was the goal, and it was knocked out of the park."
For Daniel, the videos are an encapsulation of the energy and community Turnstile want to foster at their shows. Some interviewees met online on Discord communities and became friends before finally meeting at a Turnstile gig. Others were drawn in by word of mouth. Maybe some of them heard 'Holiday' on a recent Taco Bell advert. Whichever way they made it down, the communal spirit of the band and their electrifying live show has become an unavoidable talking point in rock circles, and feels sure to break beyond them soon enough.
"You have people coming from different walks of life and different subcultures," the drummer says. "If you're just playing a punk or hardcore show, everyone there for the most part has a mutual understanding and a background of the same community, culture and musical taste. At our shows, and through the lenses of the Turnstile Love Channel that Alex captures, we get to see so much solidarity that feels unique to these shows. You have these connections happening spontaneously.
"People meet online and then have these very deep and genuine connections, orientated around a shared experience at a Turnstile show," he beams. "There's this new sense of culture and community happening at the shows that's somehow related to Turnstile. In some of the videos, you see people recognising each other from their screen names and have been interacting on the internet with each other for months. They hug it out and are immediately really close friends. It's really, really beautiful to see."
Turnstile's new rabble of famous friends also stand as testament to their appointment as the world's next great rock group. From being anointed as Demi Lovato's "favourite band" to playing beer pong with Post Malone and Dua Lipa, Turnstile's ascendancy to becoming your favourite pop star's favourite band has been clear across 2022, and it doesn't seem ridiculous to suggest that they'll be household names themselves in the future. Look closely at the Turnstile Love Channel from their Los Angeles shows and you'll also see a certain Billie Eilish becoming their latest convert.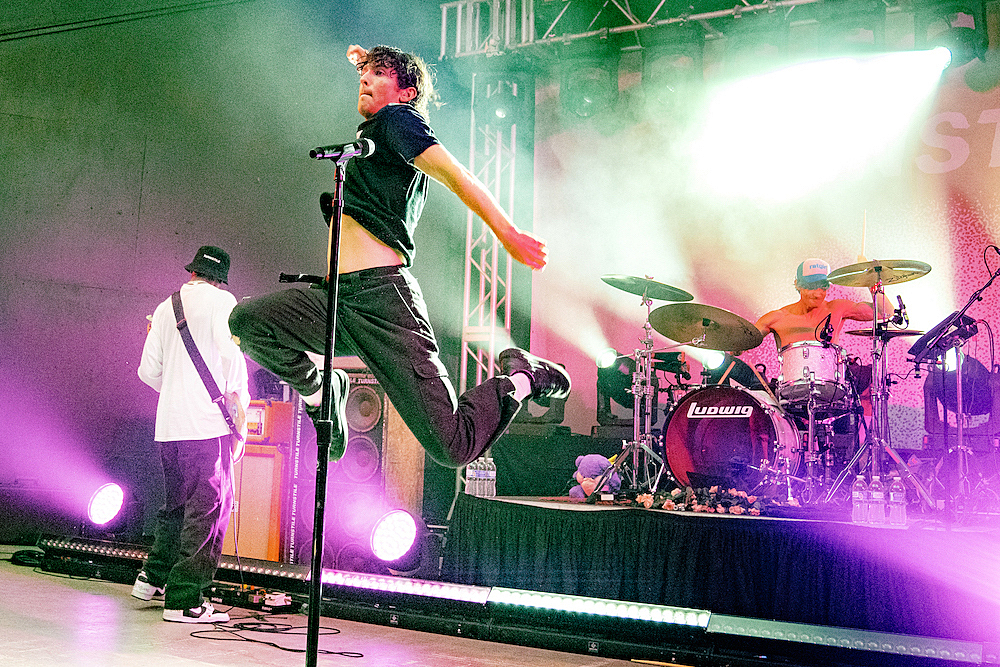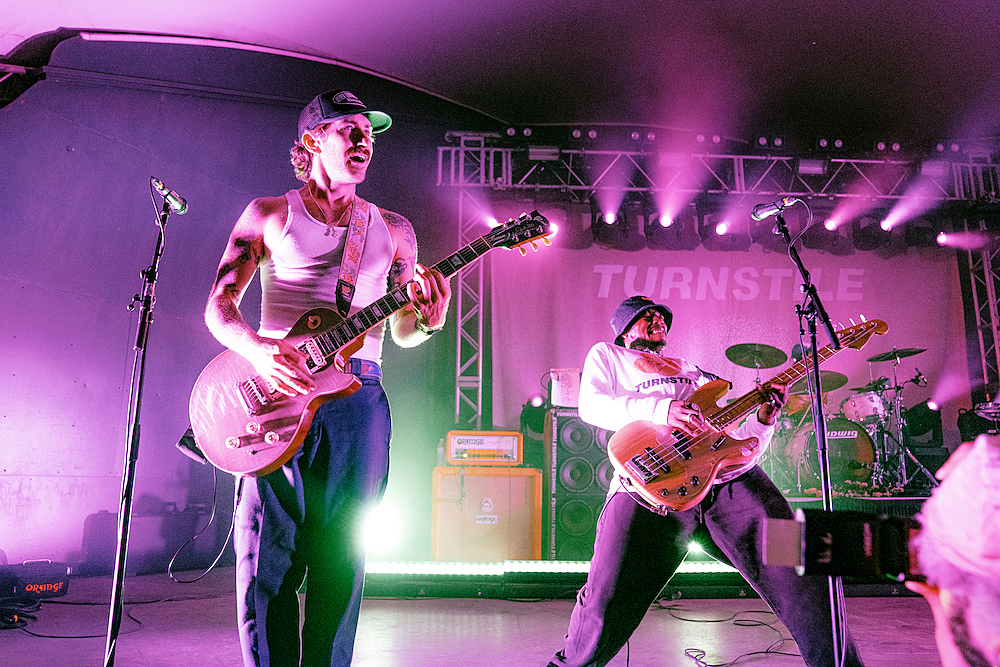 "
You're always just trying to connect with people.
— Pat McCrory
Looking into 2023, Turnstile will begin their year with an Australian tour before supporting Blink-182 on a huge US arena run. They were fans as kids ("How could you not be if you grew up in the '90s?!" Brendan laughs) and see the gigs as another opportunity to broaden their horizons and break through to an even greater level.
"This year we opened for My Chemical Romance at some arena shows, which was an introduction to that atmosphere," effervescent bassist Franz Lyons says, "but I think it'll be experienced in a far different way when you get to do it for longer and build relationships with people on the tour. It'll be cool to take it on and get into the groove and try to enjoy this insanely wild new thing."
After two sold-out gigs at the Forum and Roundhouse in early 2023, Turnstile will also return to London in late May to play the legendary Brixton Academy, and Franz shares a determination on the band's part to keep evolving their live show and experience every time they come back to a city. "I think it's really cool to go back somewhere and play a bigger venue," he says, "but what's even cooler is the dedication we take to not doing the same show or style of venue anywhere we go. Going somewhere and playing in a different setting is super duper exciting to me. Having the wherewithal to take in different places and give up a different experience is what I'm most proud of and excited for."
While new music appears on the backburner for now – the band write best when off tour, a logistical impossibility this year – the connection and power of their gigs surely point at 2023 being an even bigger year for Turnstile. They're the rare example of a band breaking through and not losing an ounce of their heart or ethos; fans come to Turnstile, not the other way around. With this mission statement, and a fanbase that's becoming larger and more fervent seemingly by the day, their future feels simply limitless.

'GLOW ON' is out now via Roadrunner Records.