Class of 2017
Shaking off the Abattoir Blues
This riotous Brighton bunch are swapping brawn for brains, and opening a dialogue on the darker corners of their psyche in the process.
Charging out from the stormiest of Brighton's seas, Abattoir Blues' earliest days were ruled by riotous behaviour. A flurry of snarling early tracks - thrashed out in their home studio and cast out on compilations - paved the way for their numerous road miles. As they dragged their sweat-drenched, captivating live show across the country, they notched up dates alongside everyone from grime wunderkind Elf Kid to The Big Moon. Debut single proper 'Sense' was the heel-turn moment.
"The songwriting has definitely become more considered, and I think we've all generally just become better musicians," says guitarist George Boorman, "We do spend longer on the songs now than we used to… which is definitely a good thing." Bassist Ed Williams agrees. "I think we all just used to want to get it finished, as well," he shrugs. "That was more important than getting it right – that's definitely changed."
Trading caterwauling anger for something more pensive, 'Sense' is indicative of the reborn Abattoir Blues who are eyeing up 2017. They've curbed the boozing they were fearful of getting pigeonholed with – "When we realised we actually wanted to make a statement, we didn't want the statement to be 'getting fucked'," admits vocalist Harry Waugh – and they're venturing out of the seaside home studio they share with members of The Magic Gang, too. Harry's eyeing up a new pad, complete with a "retreat" they can all hole up to fine-tune their piles of new material. "When you're starting out, the fact that recording is so accessible is obviously really good," George admits, "but it comes to a point where you need to try and be a bit more ambitious with it."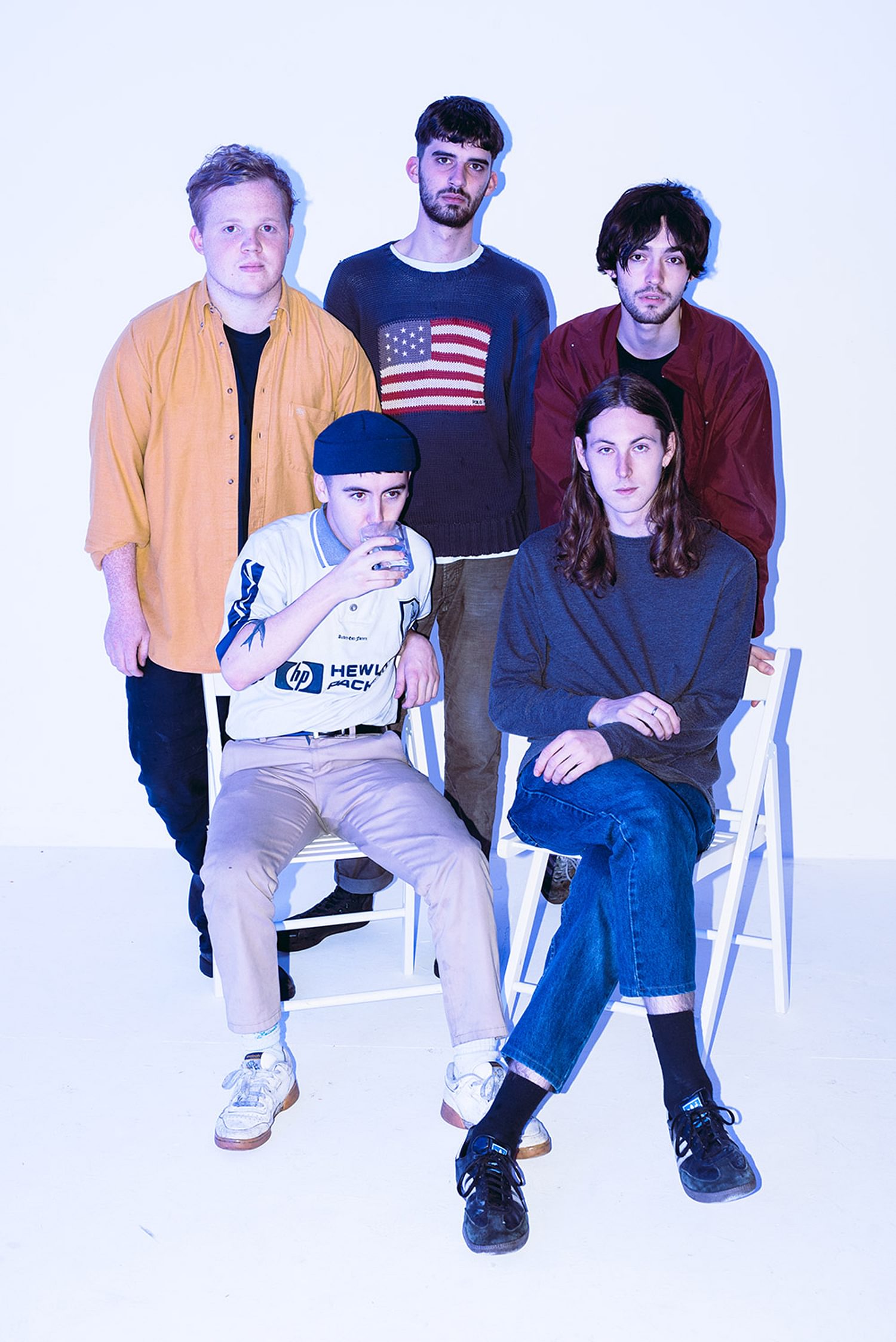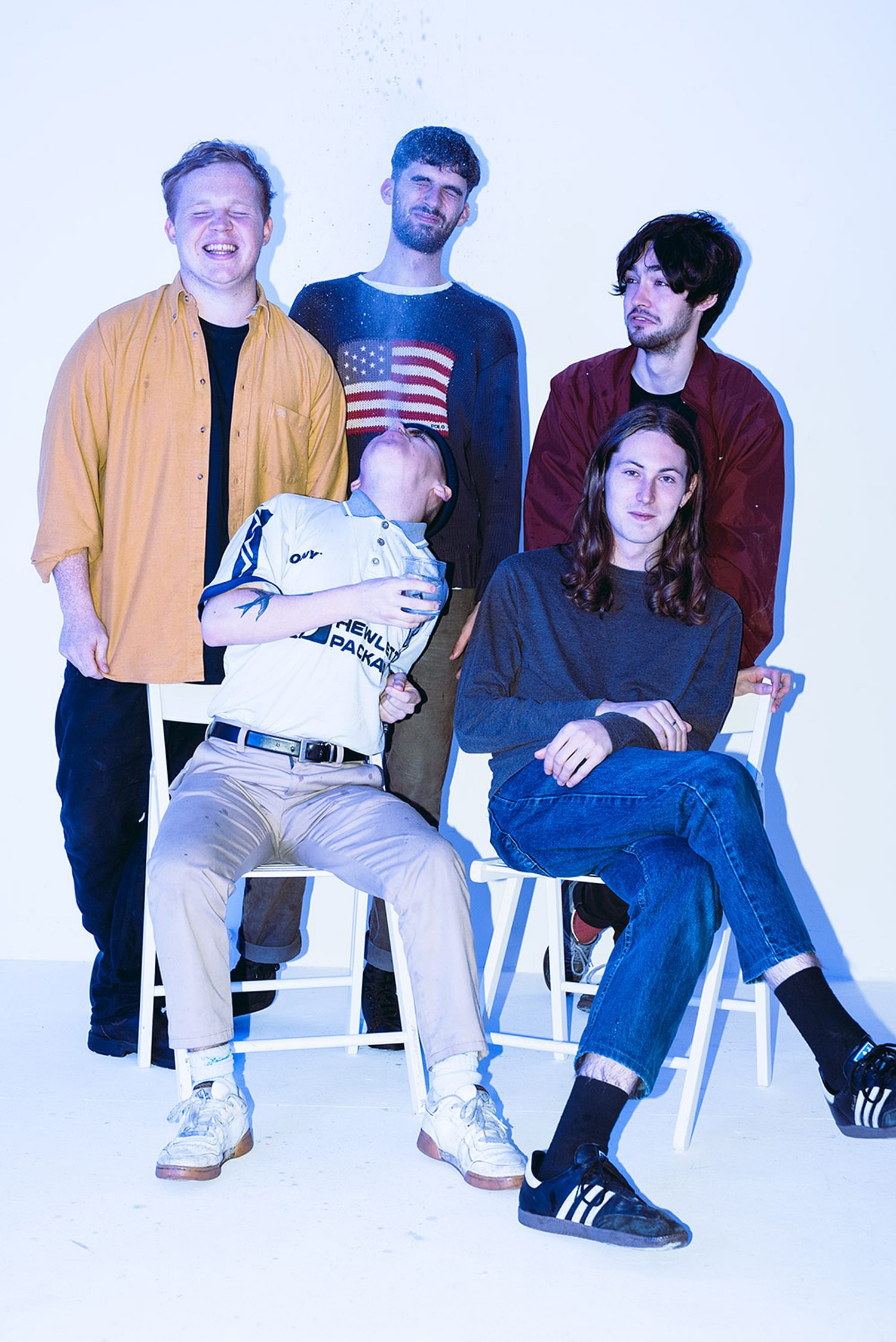 "There is a big stigma around depression that people need to lift."
— Harry Waugh, Abattoir Blues
Ambition spurs the five of them on as they head towards a new year. Completed by guitarist Sam Pitman and Scott Kennedy and huddled around a pub garden bench as winter descends, they're a comic bunch – a world away from those furrowed-brow, on-stage spectres. Scott prompts peels of laughter as he emphasises his GarageBand "side-project". "Bits of it go from country and bhangra, into garage and stuff," explains an exasperated Harry. "In a year it'll be big," Scott assures. "For some people it clicks, but for others it takes time." "It'll get unearthed in years," Harry smiles, Ed backing him up. "They'll be like, 'Yeah, they were right.'"
Their mutual support for each other's oddities is clear, not least through 'Sense''s open-wound depiction of Harry's struggles with depression. It's something they're collectively keen to speak out on. "I think it's an important thing, if you feel able to, to share it. It's quite clear from watching the band that I'm quite… unstable, mentally," Harry admits with a nervous laugh. "There is a big stigma around depression that people need to lift, and writing songs about it definitely helps. Everyone has to help encourage the debate, and traditionally art and music have played a role in doing that."
"Even though we may have been painted as a 'laddy' band, we do care about stuff, and we do care about each other, and we do care about other people," George insists. "It's not just about getting fucked, or whatever – we do want people to raise awareness of certain things, and engage people emotionally but also intellectually at the same time."

'Sense'
Looking to the future, the ragtag bunch clearly feel much more comfortable in their collective skin – "I understand depression and myself a lot more than I did when I wrote those lyrics," Harry admits, noting that the line-up has changed almost entirely since he first put them to paper. "Harry's the Axl Rose," states Ed with a giggle.
Now that they've put in the graft, they've got big plans too. "Supporting U2" is top of Scott's list, while Ed pins the "Oasis reunion" as his ideal support slot. "I'm glad that we've managed to find a voice musically and lyrically before we're at a point where we're getting put forward to more people," states George on a more serious note, before Ed brings it all tumbling back down – "No one's seen us be really shit!"
"Yeah," Harry smiles, "every shit gig we played was just to our mates."
Read More