Festivals The Great Escape 2018 comes to a thunderous close with help from Demob Happy, Bully, ALASKALASKA and more
We hosted another jam-packed night up at Horatio's on Brighton Pier to close the fest.
Australian singer-songwriter Stella Donnelly's bedroom folk-pop is full of wit and feminist messages and she shines in her engagement with the audience during her early set on the final night of this year's Great Escape, mixing up banter, meaningful messages and genuine thankfulness at different points throughout her show. Before standout song 'Boys Will Be Boys', she addressing the crowd with a moving speech which is met with applause, before tackling victim blaming and sexual assault on the slow, acoustic track with a remarkable amount of confidence.
Bully's second album 'Losing' was one of last year's most satisfying returns, a relentless thrash of '90s-indebted punk. Today, even at the sober hour of 3pm, it's even more wild and untamed. Alicia Bognanno is a simply brilliant frontwoman, thrashing her way around the stage with relentless energy. Closing with an enraged cover of Mclusky's 'Lightsabre Cocksucking Blues', the final day in Brighton can be considered well and truly started.
The sun may be blazing outside, but in the boiling hot upstairs room of The Western, Londoners Sistertalk are conjuring up the kind of jagged magic that's more suited to far darker surrounds. Impeccably tailored and with the ominous aura of a bunch of next gen mafia men, their whirling keys and harsh guitar slices are part brooding Specials lurch, part early Horrors drama. Still in their most formative of stages, it's already an alluring combination.
Brighton boys Demob Happy have been playing The Great Escape for years now, so it's with no little amount of righteous vindication that they take to the 700-capacity Beach Club stage with a queue snaking out the door. It may have been a slow and steady route here, but the trio's intoxicating blend of filthy riffs and heady harmonies are undoubtedly picking up pace and rightly so: the likes of 'Fake Satan' and 'Loosen It' are saucy things that pack a hefty punch in the most melodic of ways. The crunching bass stabs that open up old single 'Succubus', meanwhile, are still as deliciously dirty as they come.
Continuing today's selection of hometown boys coming good, The Magic Gang take to a heaving Beach Club like returning heroes. Swinging by the festival for a brief victory lap after the release of their recent debut, the quartet don't need to be touting their wares at new band festivals anymore but there's something special about the fact that they're here on home turf today. Joking about their hangovers, they're still a ray of harmony-laden sunshine and the crowd clamber on each others' shoulders and sing-along accordingly. With only a short half-hour to hand, it's a succinct run through the bangers, of which they now, of course, have many. From 'Getting Along' to 'All This Way' to oldie 'Jasmine', you'd have to be the biggest of grumps to not come out with your heart a little bit warmer.
Over at Horatio's Bar on Brighton Pier itself, we're hosting our third night of jam-packed festivities, and any remaining hangovers are well and truly blown away within seconds by Leeds trio Drahla. Contrasting the still-blazing sunshine outside, their brand of punk is taut, wiry and gorgeously dark. Fronted by the spoken-sung vocals of Luciel Brown, new material shared from the trio - newly signed to Captured Tracks - points at even more unforgiving intensity.
Things are a lot looser and sunny side up from then on, though, beginning with the jazz-flecked pop of London six-piece ALASKALASKA. Punctuated by the instantly danceable highlight of 'Patience', revolving around the brilliantly distinctive vocals of Lucinda John-Duarte, and coming just before a UK tour alongside Nilüfer Yanya, the set sees the supremely exciting newcomers going from strength to strength.
It's Haiku Hands, though, that are the true revelation of the day. The Australian trio - made up of Claire Nakazawa, Mie Nakazawa and Beatrice Lewis - bring a truly eclectic melting pot of styles to the table, all ending up in a brilliantly fun, intoxicating end product. One minute they're throwing out dirty electronics of a PC Music ilk, then in seconds they're whipping out unashamed choreographed dance moves, all with the energy and gang mentality of Odd Future or Brockhampton. "Dare you not to dance," they challenge the crowd over and over at one point; predictably, they proceed to give the trio the best reaction that Horatio's sees all weekend.
Amsterdam's Canshaker Pi then proceed to give a suitably loud performance. Blending a high energy onstage presence with bouncy, indie guitar lines and choppy drum beats, at times their sound is so massive it's almost as if the venue can barely contain it. Their most well-known track 'Indie Academy' is one particular highlight with its soaring, sing-it-back chorus and quickly memorable guitar riff making it one to remember.
It's then left to Abattoir Blues to bring this year's festival to a suitably raucous conclusion. Squeezing themselves into the corner of the upstairs room of The Western, the set becomes a melee of sweaty bodies and crowdsurfers. It's the five-piece as they're meant to be seen: huge singalongs, barely-contained chaos and an untameable energy from both band and crowd. As a sign off for TGE18, it's pretty much perfect.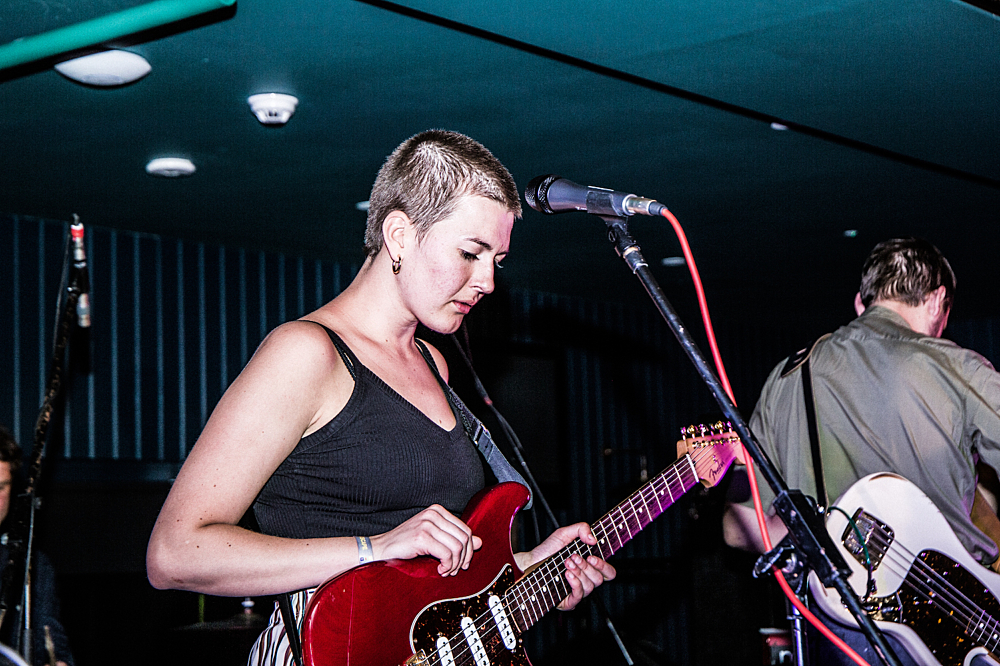 Photos: Emma Swann & Louise Mason / DIY

Get your copy of the latest issue
Read More