Interview:
Animal Collective in the studio: "We used the word punchy, we wanted a physical space"
A melting pot of dinosaurs, paddling pools, and cubist art, this Baltimore band's next steps are as experimental as ever.
Animal Collective's gigantic output over the last 16 years has one unifying quality - it's impossible to play dot-to-dot with. Few bands are as consistently dedicated to variation, and with each record, their destination flies several trillion miles across space. 2012's 'Centipede Hz.' was a static-addled celebration of the pirate radio Animal Collective listened to growing up in Baltimore. Written and recorded live, and crammed into one close room, it was the super-raw opposite to its precursor; the joyful, skipping and highly electrified world of 'Merriweather Post Pavilion'. Predictably, with their new album 'Painting With,' Animal Collective teleport yet again, into another entirely different dreamscape. It's a world filled with paddling pools, dinosaurs, cubist paintings, and a new focus on immediacy, apparently.
"There was this idea of wanting to do something with short songs, with a homogenous energy to the record," Noah Lennox, aka. Panda Bear, tells us. "We talked a lot about the first Ramones record - not that we expected the music to sound like that," he adds, "but we wanted to do something where the first song revs up the engine, and it kind of just cruises after that. We didn't want to throw in some ethereal moment. We wanted to do something that blasted away the whole time."
"We used the word punchy, we wanted a physical space," explains Brian Weitz, the band's own headtorch-clad Geologist. "Even though 'Centipede Hz.' is supposed to be this band in a room' thing, while this is a bit more electronic, we still wanted that here."

'FloriDada', from 'Painting With'
"It became about improvising with what was around the room."
— Dave Portner
For the first time, Animal Collective chose not to road-test material from this new record on the stage before recording. They assembled 'Painting With' out of individual demoes they each worked on alone, and back in January this year, they got together in Ashville - in the Blue Ridge Mountains of North Carolina - to thrash out roughly how the record would work. A few months later, Noah, Brian, and bandmate Dave Portner (Josh Dibb, or Deakin, couldn't take part due to other commitments working on his solo project) met up again in Hollywood's EastWest studio. Projecting dinosaur movies onto the walls, and for whatever reason, setting up a small paddling pool, Animal Collective went all Changing Rooms on the place. They made it feel like home.
"We made it feel like something…" scoffs Noah. "Like Dave's house," adds Brian, grinning at Avey Tare. "We had a kiddy pool in there, a plastic thing. I don't even think a toddler could fit in one. We used the rim of it [on 'Painting With']"
"It became about improvising with what was around the room, basically," says Dave, "which goes back to the old school way of us doing things; just getting plates, knives and forks, and using what we have in our apartment. It just so happened we used the pool. Noah tried it for one song, and it sounded great, so we used it on half the songs. I mean, it's treated, so you can't really tell…" he adds.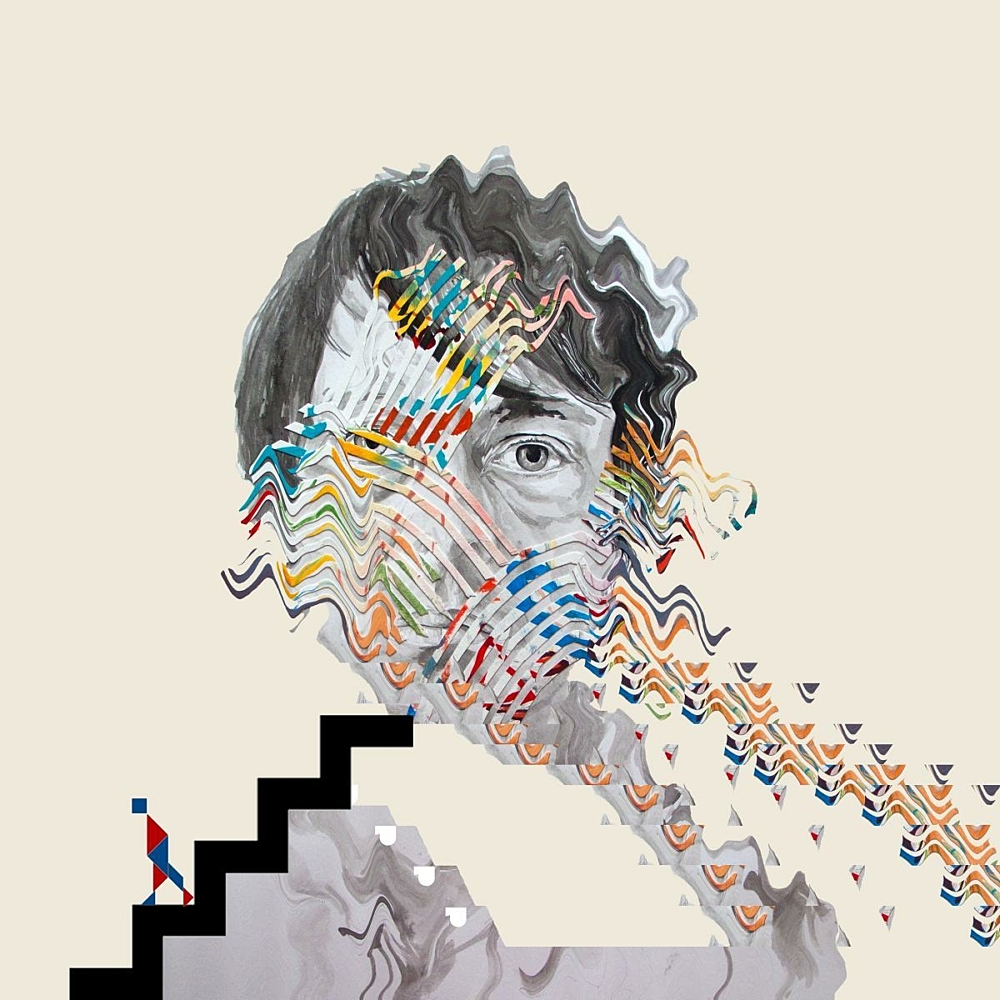 "This is pretty spicy, zesty stuff."
— Noah Lennox
"It's like putting butter, and garlic, and onion together, and what happens when it all congeals," reflects Noah, speaking about Animal Collective's musical process in general. I'm a terrible cook. This is pretty spicy, zesty stuff," he says, turning his attention to 'Painting With' once again.
"I feel like our music in general is very soupy," Dave ponders. " It feels less soupy on this record, than past records," Noah adds, "it's safe to say." The three of them agree with a nod. "Yep. Less soupy."
Animal Collective's new album 'Painting With' is out on 19th February, via Domino.

Get your copy of the latest issue
Read More