Britain's Got Talent: slowthai
At the start of the year, slowthai was a buzzy new hopeful. As 2019 comes to a close, following the release of incendiary debut 'Nothing Great About Britain', he's grown into a bona fide star.
It's a rainy mid-October Sunday evening in Newcastle Upon Tyne, the kind of miserable day you can imagine might take its toll on an artist who's been on the road for much of the past year, but Tyron 'slowthai' Frampton seems pretty content. The rapper has just returned from an afternoon of paintballing with his touring crew, during which his team apparently annihilated their opponents. It's a far cry from how touring life was in the not-too-distant past. "When you decide to do music you always dream of the big bus," he explains. "Not even a year ago, we were travelling around in a car, then we were borrowing our friend's run-down motorhome, and now we've finally worked our way up to the bus. All my boys are on it; we've been go-karting, paintballing, we went to the cinema last night. It's the dream," he grins, carefully rolling an enormous blunt while he speaks.
The Pokémon evolution of his touring vehicle in many ways serves as a metaphor for the monumental success the 24-year-old has had over the course of 2019 - a year which started with him placing in the Top Five of the BBC Sound of 2019 shortlist and will end with him supporting BROCKHAMPTON in the US, having won thousands of devoted new followers off the back of his incendiary live shows and astonishing debut album. Released back in May, the politically charged, Mercury-nominated 'Nothing Great About Britain' has garnered comparisons to Dizzee Rascal's 'Boy In Da Corner' and The Streets' 'Original Pirate Material', and is already being touted as an era-defining classic for its portrayal of a fractious country plunged into chaos by austerity and Brexit.
Later in the evening, he'll blow the roof off Newcastle University's Student Union as 1,500 ecstatic young Geordies do their best to match the swaggering charisma of their hero on the stage. But despite the unwavering devotion of his fans, it's fair to say that not everyone is enamoured with slowthai's brand of acerbic social commentary, particularly since his headline-generating performance at the Mercury Prize ceremony in September. Cut short during the live broadcast after he held up Boris Johnson's 'severed head' to the camera and shouted "Fuck Boris", his performance of Mura Masa collaboration 'Doorman' had various tabloid newspapers branding him a terrorist and a gossip reporter turning up unannounced at his home a few days later.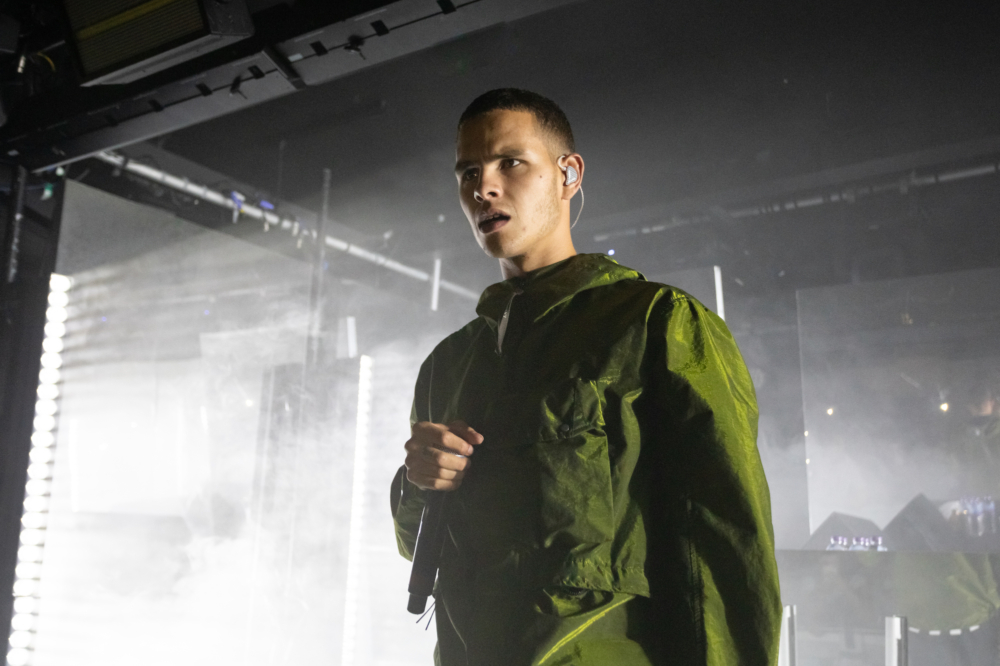 "There's no accolade or award that's gonna make me feel as much as a kid coming up to me in the street."
"I just didn't think people would be so angry," he says, of the reaction to what The Sun gleefully termed his 'sick stunt'. "Loads of people were trying to report it, saying I should be in jail for hate crimes and stuff. I didn't think it was even a thing, but The Sun turned up wanting to speak to my mum. I don't think the guy actually knew what I looked like because I answered the door and he asked for her. In the end I was like, 'Whatever, you do what you need to do', but they were all congregating outside my house, it was bullshit!" slowthai ended up releasing a statement explaining his intentions (which, funnily enough, weren't to incite terrorism), but ultimately he's not too fussed what the tabloids say about him. "My thing isn't to make everybody listen," he explains. "I'm speaking for people who are like-minded to myself, and the people who are forgotten. It's for those who need it rather than those who are opposed to it, so if you agree with it you agree with it, if you don't at least I'm sparking the thought and provoking a conversation."
This determination to speak for the young and disaffected members of society is part of the reason he's garnered such a devoted young following over the past year, as evidenced by the impressive queue of merch-clad teenage fans that snakes around the venue. It's this, rather than the critical success, that has meant the most to the rapper. "There's no accolade or award that's gonna make me feel as much as a kid coming up to me in the street," he says. "When there's kids at shows saying my songs word for word with more passion and conviction than I am… You don't know how to react to that. That's the best feeling ever, that's the best buzz."
It's also why he's taken great pains to make his live shows as accessible as possible; his UK tour earlier in the year saw him visit a host of places like Milton Keynes and South Shields that rarely get a look in from touring musicians, with tickets priced at just 99p. Tickets for this tour still only cost a fiver, despite selling out in minutes. Some might think it strange that an artist of his rapidly growing stature would sell themselves so cheaply, or see it as a clever way of generating hype, but slowthai has a more empathetic stance in mind. "The people I'm speaking for don't necessarily have the money. I remember being in a place where I couldn't get a loaf of bread or electric," he explains. "The idea came from ice cream. I always got pissed off how about how a 99 cone costs £2 now. You can't get much for 99p anymore and when you've been in my position it's the little things like that which annoy you."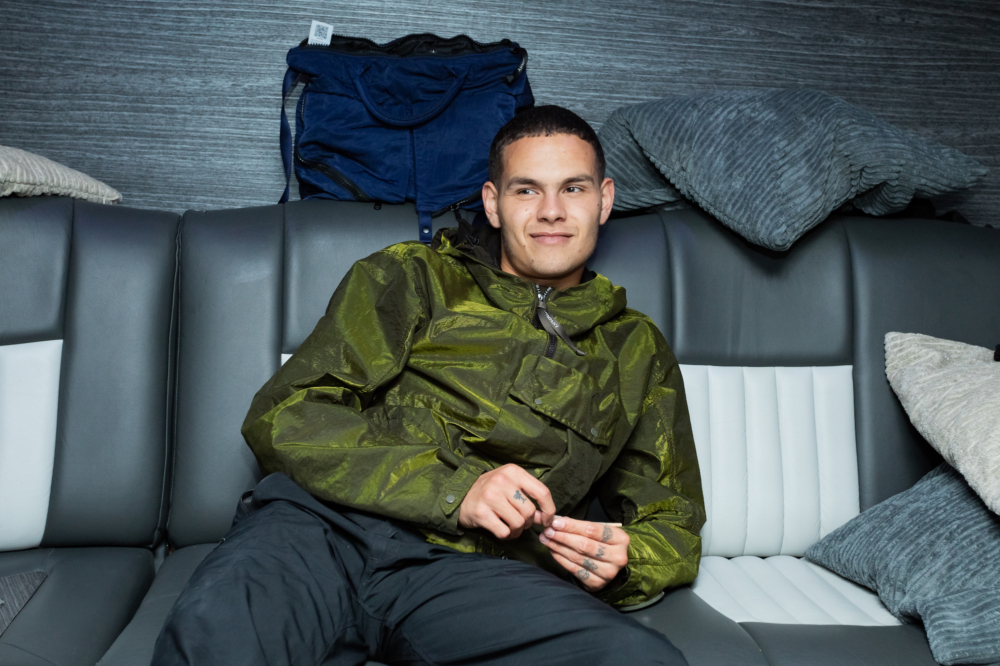 "My mum's seen me go from being a little twat to having this success, so she's happy."
The young musician's humility is evident, and despite his achievements this year you get the impression that his life now ultimately isn't that different from how it was before the fame, fortune and fancy tour buses. He still spends as much time as possible at his mum's house in Northampton, or drinking tea at his nan's ("PG Tips or Yorkshire Tea"); having been so busy this year he hasn't been able to spend much time at home, so he's looking forward to Christmas back there. "I love being at home, so now I've got a bit of money I've been doing up the house me and my mum live in because that's nice for her," he explains. What does she think of all this? "I think she's just proud. She's seen me go from being a little twat to having this success, so really she's just happy that I'm doing this," he chuckles. "The night before the Mercurys, I was in my studio at home and she came down just crying. I got really angry at first because I thought somebody had upset her. The way she was crying I thought somebody was dying or something [but she was just proud]. I get everything from my mum, she taught me most things I know, so it's nice to take her places. I've been trying to take her on holiday but she won't go off work."
With such a punishing schedule, has he been able to give any thought to 'Nothing Great About Britain''s follow-up? "Yeah, I've got the whole concept for the next album," he reveals, "I know who I'm working with, I've got the time set aside and I've already got three songs for it. It's just that I've got loads of things I want to do, other music ideas and people I want to work with, so there's too many albums to make and not enough time." He's always going to write music "for the people", he explains, but he's hoping the next one will be "more imaginative, more metaphor-based." He also wants to do some things for kids in Northampton, "opening stuff for the young people, places where they can go to do something different rather than just ending up doing the bullshit," although he thinks he has a long way to go "musically and financially, to be able to make a significant difference."
Later on, as he bounces around the tiny stage in a personalised edition of a 1990's-era Newcastle United shirt, the enraptured crowd screaming along to every word of the album between energetic chants of 'Fuck Boris', those dreams seem in reach. For now, slowthai is only just getting started.
'Nothing Great About Britain' is out now via Method.
Read More