California dreaming: FIDLAR
With the release of career highlight 'Almost Free' upping their game and then some, FIDLAR's Zac and Elvis delve into the delicate balance between fantasy and reality.
Since the release of their 2013 self-titled debut, frantic Los Angeles punks FIDLAR have embodied the turbulence of rock's melodramatic sex, drugs and rock and roll mantra. Their sun-kissed, ocean vibe has, until now, always accompanied frenetic odes to hedonism and escapist anthems. On the band's recently-released third LP 'Almost Free', however, the quartet marry decadence with a harsh dose of reality. And as vocalists and guitarists Zac Carper and Elvis Kuehn sit down to discuss how far they've come, speaking from the city which has inspired much of their sound, it marks a milestone in a career of extremes.
"The world is fucking crazy," Zac utters suddenly as an almost involuntary response to a question about the album's themes - ones that, in part, battle with the pros and cons of chemical escapism. It's something the FIDLAR vocalist has experienced first-hand, giving up the sauce and Class A's completely back in 2013, and now dabbling more reservedly. The fallout of his stormy relationship with drugs is littered across 'Almost Free'. "Why does staying sober make you feel like a loner?" he asks on 'By Myself', a song that equally acknowledges the perils and temptations of substance abuse. Much like the rest of the album, it never fully commits to either. The record as a whole pushes and pulls between full escapism and the difficult truths of everyday life and society, its ultimate aim to find the means to cope with reality and the comfort in that.
"It's about things that are going on in our lives," Zac continues, "but we live in LA. [So that] ends up seeping into most of the stuff. Most of the material relates back to the city in some way." This relationship with their pleasure-soaked hometown - host of countless parties and home to a juxtaposition of stereotypical sun-soaked culture and its darker undercurrent – may have always partly informed their music, but on 'Almost Free' it's a vital backbone that runs throughout. As they sing on glammy early album highlight 'Flake': "I think you're a fake/ That's OK, this is LA."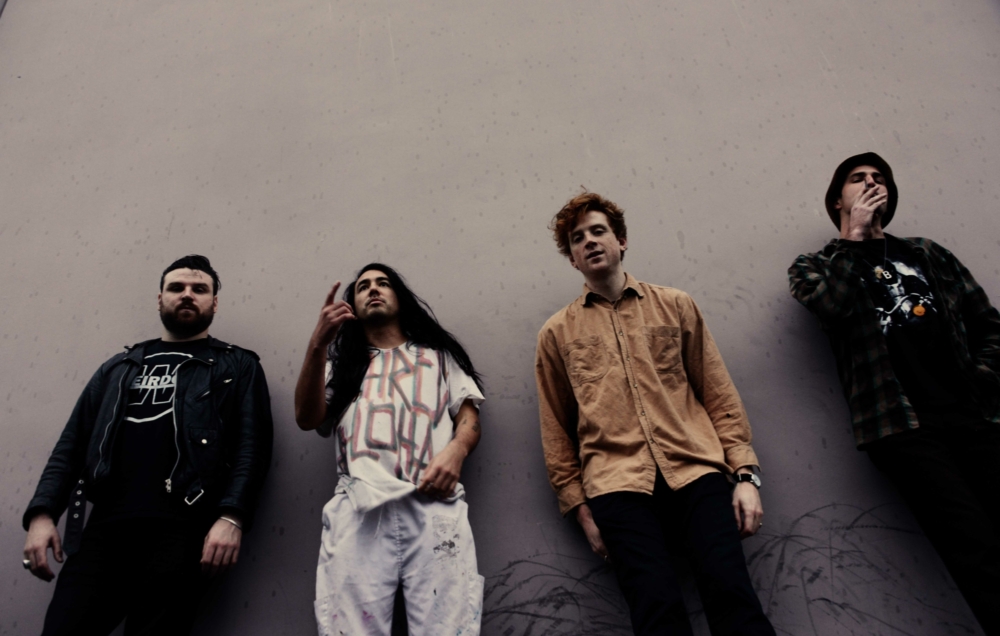 "Any stereotype that people have tried to pin us down with, we've gone in the opposite direction."
— Zac Carper
Indeed, it's telling that the record opens with tales of gentrification, displacement and the fakes and flakes that tend to follow them out of the woodwork; there's an unsettling despondency that often underpins the band's (completed by bassist Brandon Schwartzel and drummer Max Kuehn) sound. No matter how bad - or occasionally good - things get in their lyrics, there's an unmistakable feeling that it's all just temporary, and it's one only highlighted by the band's way with a deceptively upbeat hook.
"Our music is about trying to feel more alive," Elvis explains. "We like to write fun songs that are joyful sounding and that are fun to dance to, but the content that we're singing about is not complete fantasy. There's a lot of reality in it too, and the lyrical content is dealing with real shit. I think there's a balance there." It's a sentiment evident in all that FIDLAR do, but more so on 'Almost Free' than ever before. Lead single 'Alcohol' sees Zac declare that he's "going to be OK" before nonchalantly begging for the song's namesake, meanwhile the brutal bleakness of heartbreak is paired up with their most overtly saccharine melody to date on the K. Flay-featuring 'Called You Twice'.
"Whether it's our earlier stuff, singing about partying and drugs, or this newer stuff - we've always had this escapist feeling," Zac says, acknowledging that this type of distorted reality is the band's bread and butter. But over time these ideas have evolved alongside the band's own personal experiences. Their debut was released in the throngs of excess, and their sophomore following Zac's sobriety. 'Almost Free' sits in the middle, neither for or against the other, as a nod to the impossibility of full escapism.
Yet, for Zac and Elvis, it's on stage where they feel furthest removed from the daily grind. "People come to our live shows to not think about any other thing than being at a show," Zac states with pride, before conversation switches in tone to the November 2015 terrorist attacks in Paris. FIDLAR, who played a show in the UK almost immediately after in the height of fear, were met by a full room. "People didn't want to go to shows, but they came to our show because they wanted to escape the craziness, the anxiety…" Zac pauses. "Or maybe they didn't want to waste money on a ticket."
"Our music is about trying to feel more alive."
— Elvis Kuehn
Creatively, 'Almost Free' has, in part, taken FIDLAR back to their roots. Emerging from hometown demos, it may have taken longer to come together than on second album 'Too', but it sees FIDLAR retain all of their urgency whilst adding some extra polish courtesy of producer Ricky Reed. "For this record it felt like were going back to how we did it in the beginning," Elvis explains. "90% of what you hear was started in Zac's studio. It was like how we did it for the first record, but we added Ricky into the mix. He helped us go back to that way of working. He told us to keep the demos because there was some sort of magic to them."
"Ricky was also so good at hearing things that we weren't hearing," Zac adds. "We had demos from our studios, but sometimes you get stuck on stuff and he was so good at twisting it. I think it was a little more freeing. We had that freedom to make what we wanted to make."
The result places 'Almost Free' as the quartet's most diverse release to date. From a band who have consistently reimagined their otherwise surf-ready sound, the thirteen tracks are potentially their most claustrophobic. Yet, at the same time, they plays with vibrant sounds - from the bounce of 'By Myself' to the explosive force of Beastie Boys-esque opener 'Get Off My Rock'. The record's most surprising moments, meanwhile, come in the thunderous, blink-and-you'll-miss-it 'Nuke', and the jazz-infused, instrumental title track.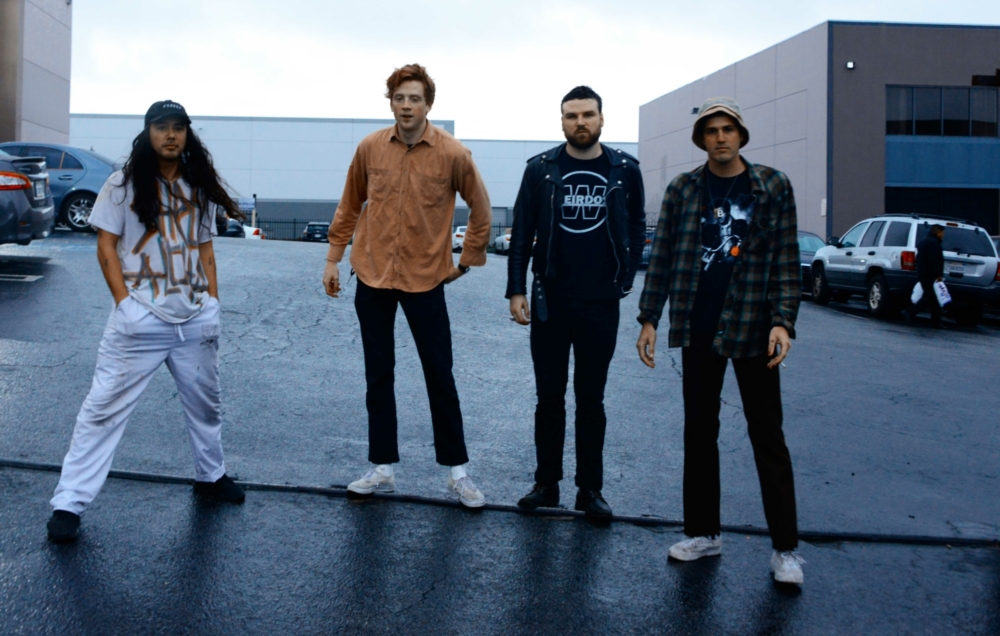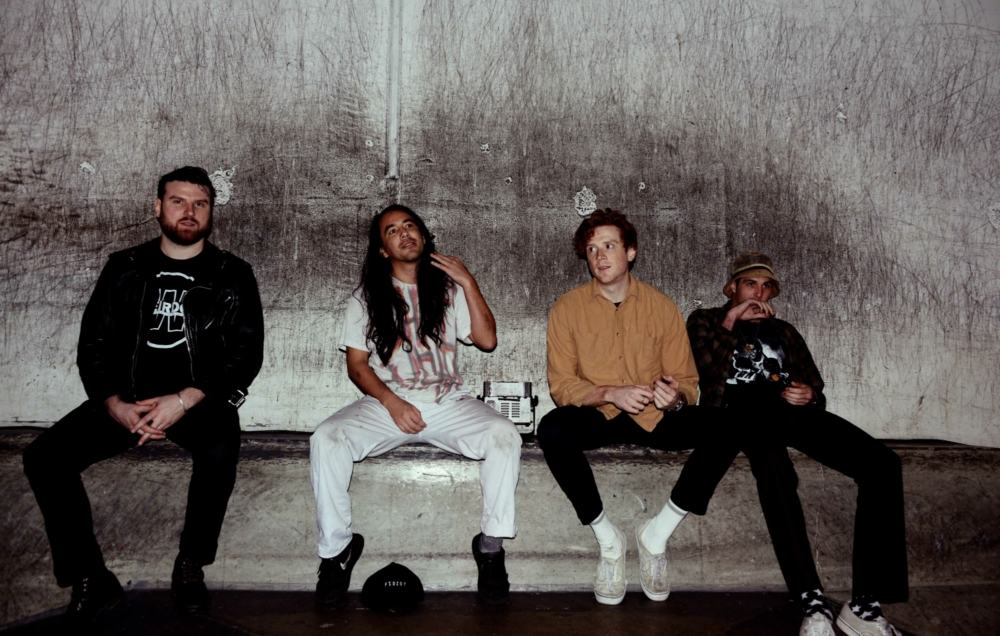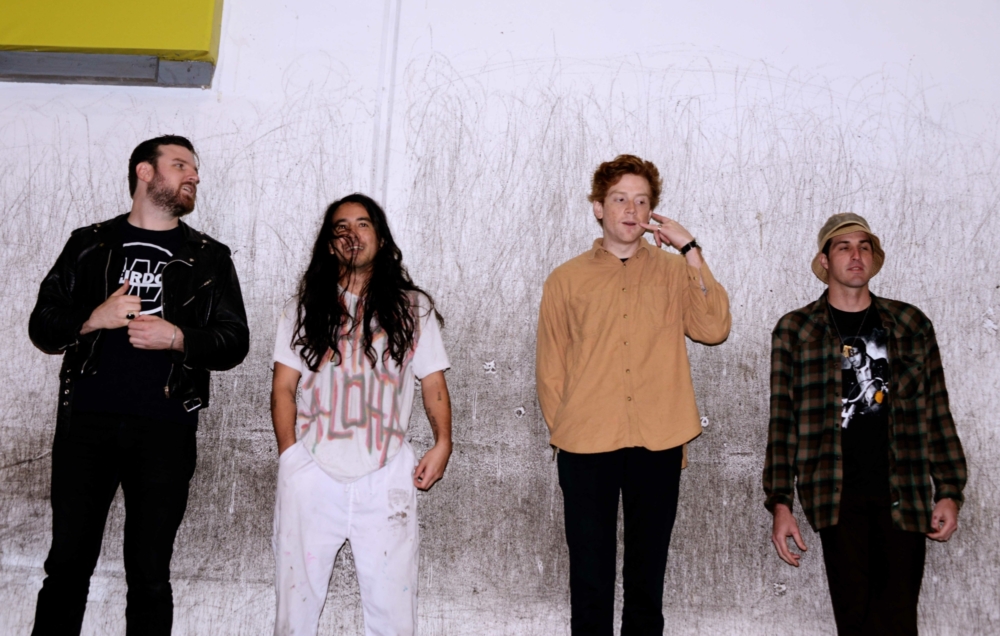 California Love
FIDLAR's love-hate relationship with LA is embedded into a whole lot of their music. With that in mind, Zac and Elvis break down what there is to love about the Golden State's largest city.
Surfing
"If you want to surf it's a sick spot," Zac says of Topanga Canyon, one of the only few un-dammed waterways in the area. It sounds idyllic.
Taco trucks
Famed for its Mexican street food, LA has a lot to choose from. "La Estrella on Eagle Rock is the best one," says Zac. We'll see you there.
Weather
Zac jokes that it's a balmy 30 degrees, taking time out to convert Fahrenheit to Celsius. "I like it… when it's not freezing."
Live shows
"The Troubadour is really cool," Elvis recommends. "It's a legendary LA venue and it's been here since the '60s. I like the old institutions that are still around. It's an awesome place to see."
Hollywood Boulevard
"Not Hollywood Boulevard," Zac laughs. "Don't go there."
"I think we were just bored," Zac laughs, discussing these changes. "It's definitely different to our last record, and that's the whole point. We went into the studio and we tried to do as many things as we could. We weren't limited by guitars, bass drums and vocals. Basically, any stereotype that people have tried to pin us down with, we've gone in the opposite direction."
Elvis agrees: "When you write all the time you mentally want to try different things, you know, to challenge yourself." But he's quick to shrug off the suggestion that this shift in style and tone is contrived. "I don't think it was totally deliberate to make a statement to show everyone we aren't who they think we are, it's more of a natural evolution."
Both Zac and Elvis are happy to play with their fans' preconceptions. Although FIDLAR's themes have remained comparably consistent, the accompanying music has often shifted. Early in their career, the fuzzy grunge of 'Awkward' surprised many who were accustomed to the more purposefully frivolous sound of their first tracks. '40oz. On Repeat' – the lead song from 'Too' – then sat somewhere between the two before breaking into a nursery rhyme-esque refrain. "Going into making a record and changing it up is actually pretty fun for us," Zac beams. "With a band like ours, a lot of people just expect it to be the same thing."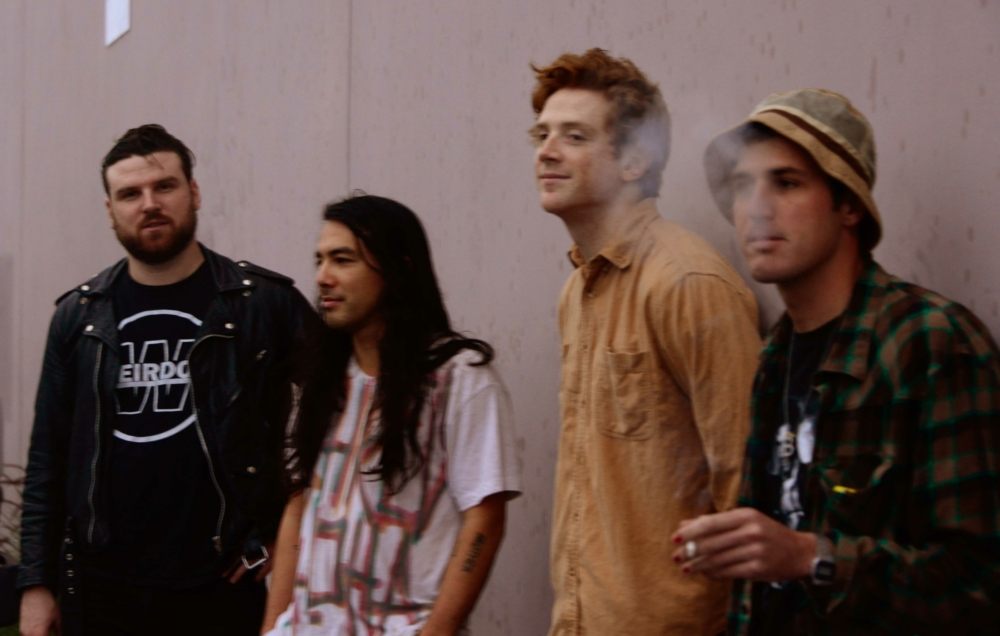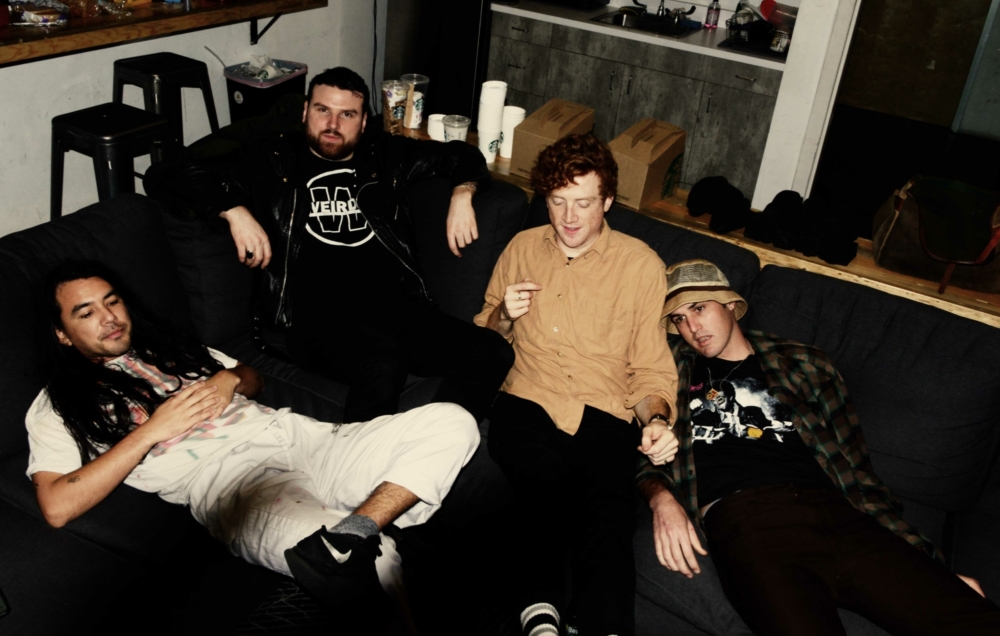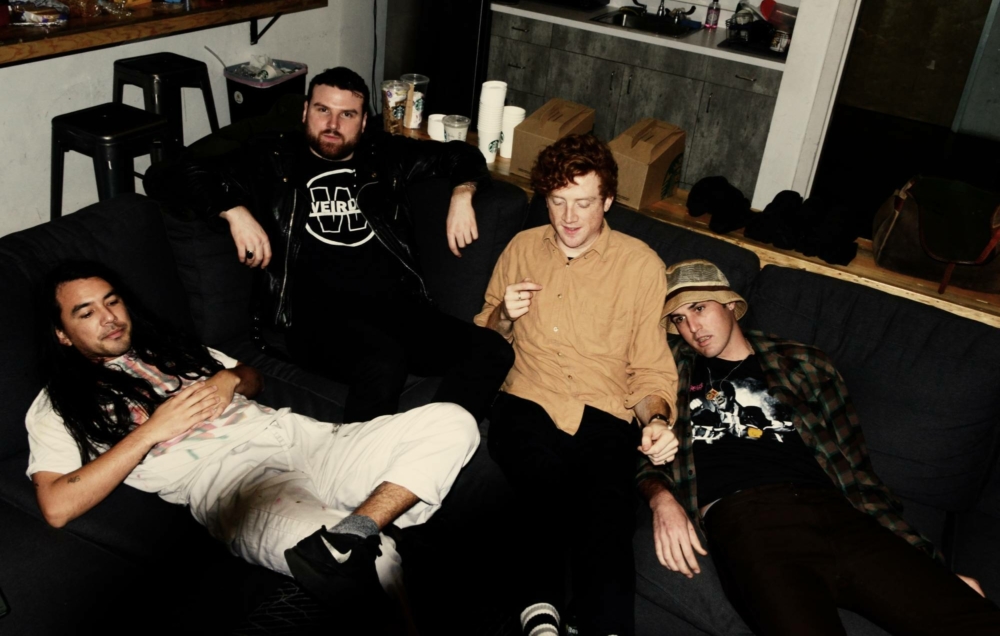 "The reason why we make music is to feel good. It's what we do and know how to do."
— Zac Carper
"We aren't making music to make other people happy," Elvis jumps in. "It's to make ourselves happy, and to make the music we want to listen to. Once you get into thinking about what other people are going to think or feel about it, that's just trying to control the outcome of releasing our music. We can't control anything apart from what we are putting out there."
It's this musical confidence that further elevates 'Almost Free', a record that has replaced the anxiety of FIDLAR's previous material in favour of an acceptance of contradiction. If this is painting a snapshot of LA life, it's a way of living that Zac, Elvis and the rest of FIDLAR have come to understand. Having turned to and from alcohol and drugs, and with the record discussing both the often-troubling realities and the unabashed fun of the city, nothing ever feels conclusive. And for the band's central duo, this makes sense; above it all, it's about finding the fun in the everyday. "The reason why we make music is to feel good. It's what we do and know how to do," Zac offers enthusiastically before laughing: "We don't know how to do anything else…"
'Almost Free' is out now via Mom + Pop.
Read More