South London boys Shame may have sprung from the same grotty hang-out spots as scene forefathers the Fat White Family, but don't get them wrong: this lot aren't pissing about.
There are some myths that Shame would like to dispel today. Gathered around a pub bench, passing round packs of tobacco and talking over each other like they're vying for airspace, the quintet constantly crack jokes and bicker as only childhood friends can, but it's when they're frustrated that they become most unanimously animated. The bones of contention are thus: people thinking they're angry young men (they're not). People thinking they're in a constant state of drug-addled disarray (also incorrect, although today all are nursing sore heads after a headline homecoming show the night before). People thinking that they're generally unapproachable young oiks, who don't really give a shit (again, untrue). "That's the main misconception. Everyone thinks we're angry dudes, but we're actually quite lovely," grins bassist Josh Finerty, chomping down on a plate of squid that's been placed in front of them by a benevolent manager. "Calamari, well la di da," tuts singer Charlie Steen before chipping in. "I think our gigs are quite confrontational and overwhelming," he begins – the dirty baritone rumble of his singing vocal still very much present IRL. "This might sound lame as fuck, but the passion behind [them] maybe, is creating something that can be considered to be aggressive or angry. We'd never want to be angry or aggressive towards our audience though, unless a particular person is doing something [bad]. We want to create an environment of community at a gig."
See, while certain members of the band may have the aura of having only briefly glanced at a shower in recent days, what becomes immediately apparent upon meeting the South Londoners is that they're simultaneously a lot more focused than you might expect and a lot, well, nicer, given their howling, topless on-stage ferocity. Having spent their formative years growing up at notorious, now-defunct Brixton hang out The Queens Head - early home to the Fat White Family and a place "like a town from a Western, people walking in and out at any time of the day," according to excitable drummer Charlie Forbes – you'd be forgiven for thinking, as many seemingly do, that Shame are cut from the same cloth. A group of next gen ne'er do wells with a love of gobbling up any substance put in front of them. "People think because of our association with the Fat Whites that we're gonna be more corrupt than we are, but I think we saw it all," shrugs floppy-haired guitarist Sean Coyle-Smith. "They're all lovely but we did not want to make those mistakes and get into that lifestyle because it's stupid."
"Seeing the negative effects of that too – we learnt at an impressionable age that it's not a good path to go down," he continues. "Most of the people at that place weren't necessarily failed musicians, but they were people who'd been chewed up and spat out by the music industry. It was like a bit of a crash course in how not to overdose on heroin at the age of 27."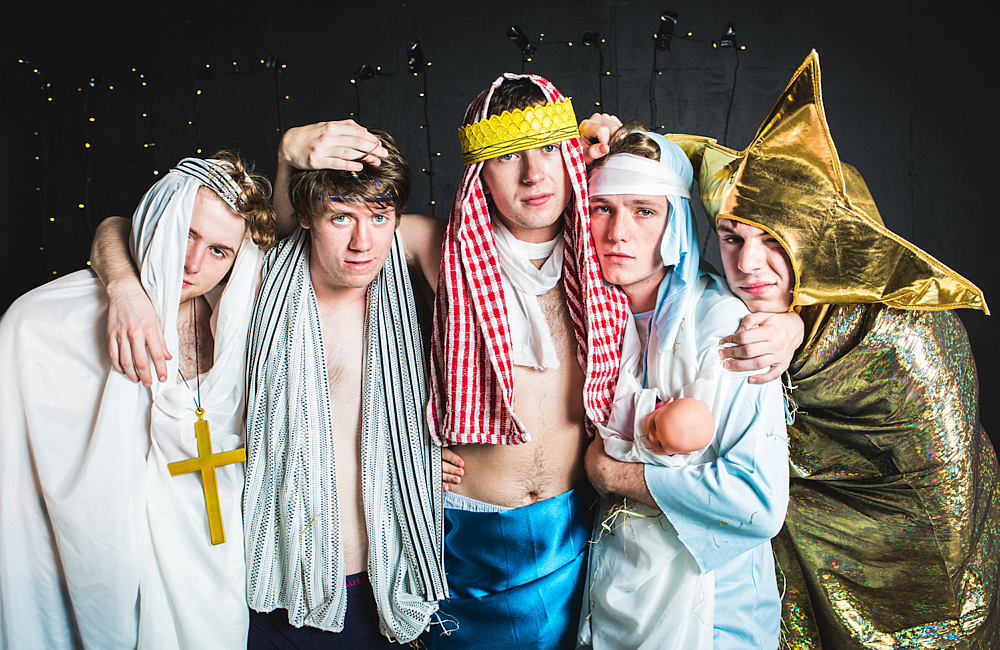 "It's all about provoking a reaction and being able to discuss something."
— Charlie Steen
If some reasonably sensible lessons were learned during the early days of Shame, then some equally ludicrous good times were obviously had along the way too. When the band talk about their former haunt, it's with the kind of eager, excitable enthusiasm that's normally reserved for a new flame. Metaphorically clambering over each other to dish up anecdotes about the pub, it's clearly a place that's had a formative effect on the band. "I remember walking upstairs and seeing [one of the regulars] and this other man just showing each other their penises at 4am," laughs Josh. "He gave me £20 and just told me to get him as much chicken as possible," chips in Forbes. "I definitely got banned for life about seven times," grins Steen. "The first time, he just screamed repeatedly 'I'M NOT YOUR FUCKING DAD'. It's like, I know you're not?" All five burst into laughter. "It was funny because while a lot of our mates were doing normal things that 17-year-olds do, all of our friends became these 45-year-old, vaguely drug-addled people," explains guitarist Eddie Green. "It was a great community. The first end of an era we witnessed."
Aside from a treasure trove of anecdotes, what Shame clearly gained from their tenure as Queens Head regulars is the sense of freedom and self-expression that makes them such an untameable force, live and on record today. "It had more of an impact on our music than any other aspect of our life because of how deeply, deeply surreal that environment was – how many different types of people we got to meet, how many types of music we got to exposed to," nods Steen. Taking their innate outsiderness ("We don't have many friends. We were the unpopular kids at school," chuckles the singer) and allowing their critical eye to wander, the band started dishing up slabs of rumbling punk influenced by The Fall and Country Teasers, authors Irvine Welsh and Hubert Selby Jr and, most importantly, the state of the world around them.
Debut singles 'Gold Hole' and 'The Lick' landed in 2016 as slabs of disenfranchised disruption, designed to shake up the bleary-eyed public and cause conversation. On the latter, amid lurching bass lines and crashes of punctuating guitars, Steen serves up a biting commentary on apathy and mindless consumption: "As you sit around in a circle and skip one minute and thirty seconds into the chorus/ So you can all sing along to the four chord future/ Because that's what we want… Something that's relatable not debatable". It remains one of the most depressingly accurate tracks about the modern Gogglebox-loving, TOWIE-watching world and one that immediately marked Shame out as an important, witty, uncompromising voice. "It's all about provoking a reaction and, at the least, being able to discuss something. Having freedom of speech and getting people engaged in a subject that they maybe wouldn't think to be engaged in," he explains. "And not ignoring anything. Not being arrogant; just trying to be 21st Century human beings." Has he always been a critical person? "Well, I've been critiqued a lot," he bats back. "I've got a northern mum so that might have impacted my outlook on life. But why wouldn't you be critical? You can only expand and evolve from critique."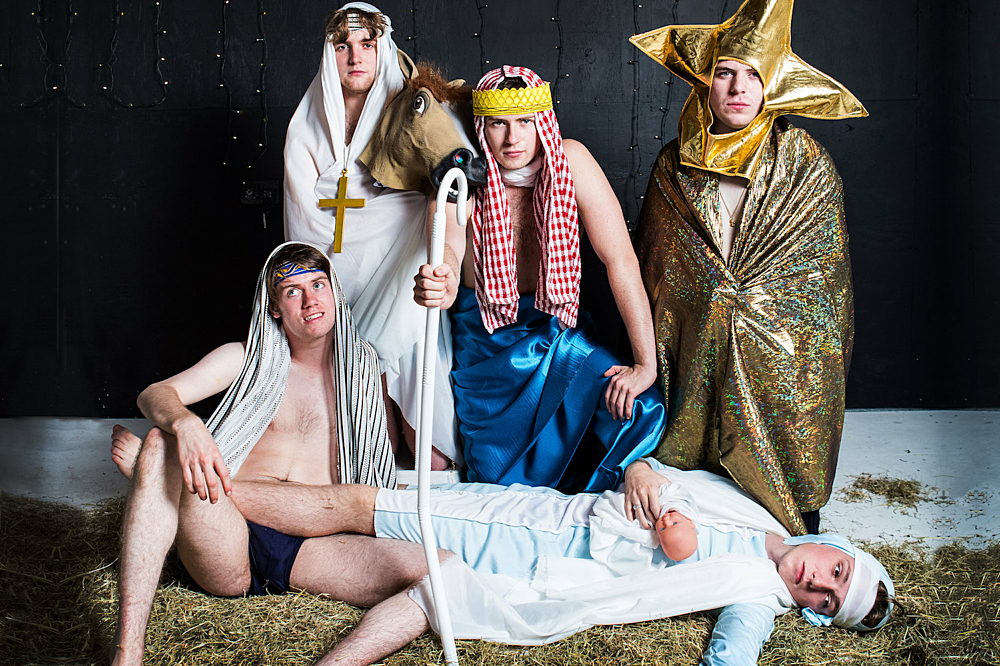 "It was like a crash course in how not to overdose on heroin at the age of 27."
— Sean Coyle-Smith
There's this sense of forward-motion and betterment that's peppered throughout the band's conversation. It's not rooted in any kind of professional desire to grace the arenas of the country - "Fuck that, if we're big enough to play The O2 then we'll just do three nights at Brixton Academy," scoffs Josh. "100 nights at the Windmill!" hollers Forbes – but there's clearly a collective desire to push forward as musicians and human beings among the band. "I think regardless of whatever outward appearances or perceptions people might have, we've always been very, very meticulous about how we want things to come across," urges Eddie at one point. "The best thing you can do [when you're a lyric writer] is keep on reading and keep on writing just constantly, constantly, constantly, constantly. That's the only way you're ever gonna get good at something," Steen muses later.
Shame are smart and they give a shit, and soon they'll have their first recorded testament of this in the form of debut LP 'Songs Of Praise'. Taking the energy of their increasingly incendiary live shows but presenting it in a more considered way, it's an album that wants to be an album rather than just a sub-par document of a gig. "We made the mistake of going in and trying to make it sound like live by just playing it all together at first, but without sounding like an arsehole, there are intricacies in our songs that would be lost if we just did it like [that]," shrugs Forbes. Instead, they've crafted a record with multiple sides, that surges with the backbone of punk intensity but also comes riddled with hooks and melody, with blustering grizzled darkness at points and almost baggy moments at others. It is, in short, very, very good. "We wanted to have a mix of everything that makes a personality – humour, anger, critique, pleasure," says Steen. "I think what this record hopefully does lyrically and musically, is [document] passion in a moment, doing something in the moment and letting it stick there so it has a rawness to it."
Having spent the year perfecting the feral spit of their live show and making Trojan Horse style waves in the peripheries of the mainstream (recently nominated for a breakthrough artist gong at the Q Awards, the band spent their turn on the red carpet snogging each other for the paps), now 'Songs Of Praise' should show they're also a band that are serious about making something important too. "They say insanity is doing the same thing over and over, and that's what we've done for the last three years. It probably won't end well," chuckles Steen, assessing their current chances. He's got a glint in his eye though. He knows that's probably not true.
Read More