Neu Class of 2018: Superorganism
From secretive internet sensations to one of the most talked about new bands around, Superorganism's hyper-modern approach to pop is propelling them further by the day.
"We have this WhatsApp group where we try and organise band stuff, but it's just ruined by lolz. Destroyed by memes," laughs Emily – one eighth of Superorganism's intercontinental troupe, a hyper-positive Kiwi multi-instrumentalist with the most infectiously upbeat personality around. To his left sits fellow instrument-swapping New Zealander Harry; to his right, Japanese-American teenage singer Orono – a more introverted presence who chimes in occasionally with deadpan references to 'Rick and Morty'. The rest of the band have taken their primary coloured plastic macs back to their shared house for now.
It might seem like a non-event to mention a gif-loving friend group in the modern world, but it's an integral element to understanding this lot. More than any other emerging band right now, Superorganism are a product of the internet. Practically, following an initial meeting backstage at a gig, it enabled the octet to stay in contact across oceans and continents for 18 months before forming proper and, eventually, moving to London together. But more than that, its limitless possibilities lie at the heart of the eclectic new pop stars' very essence.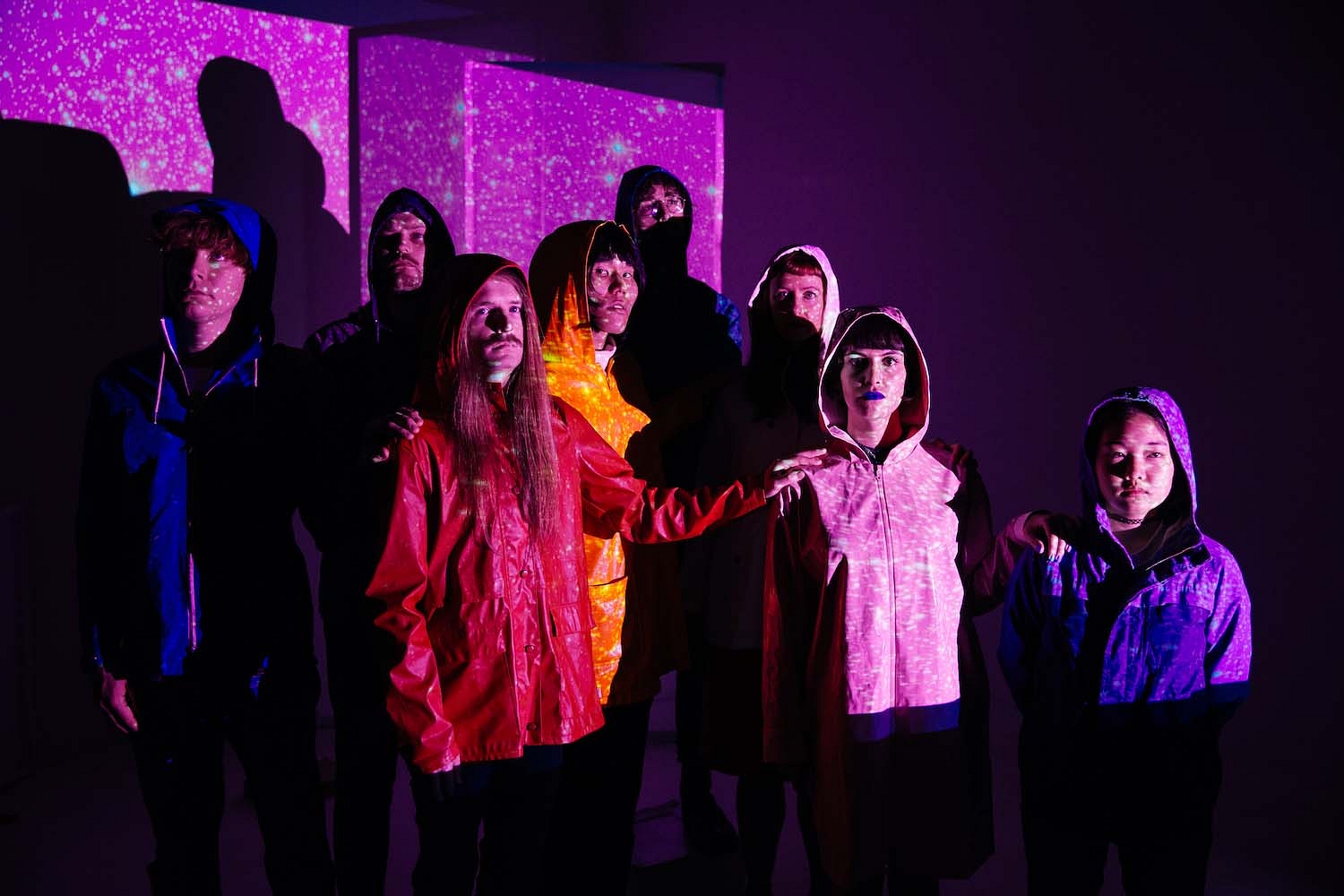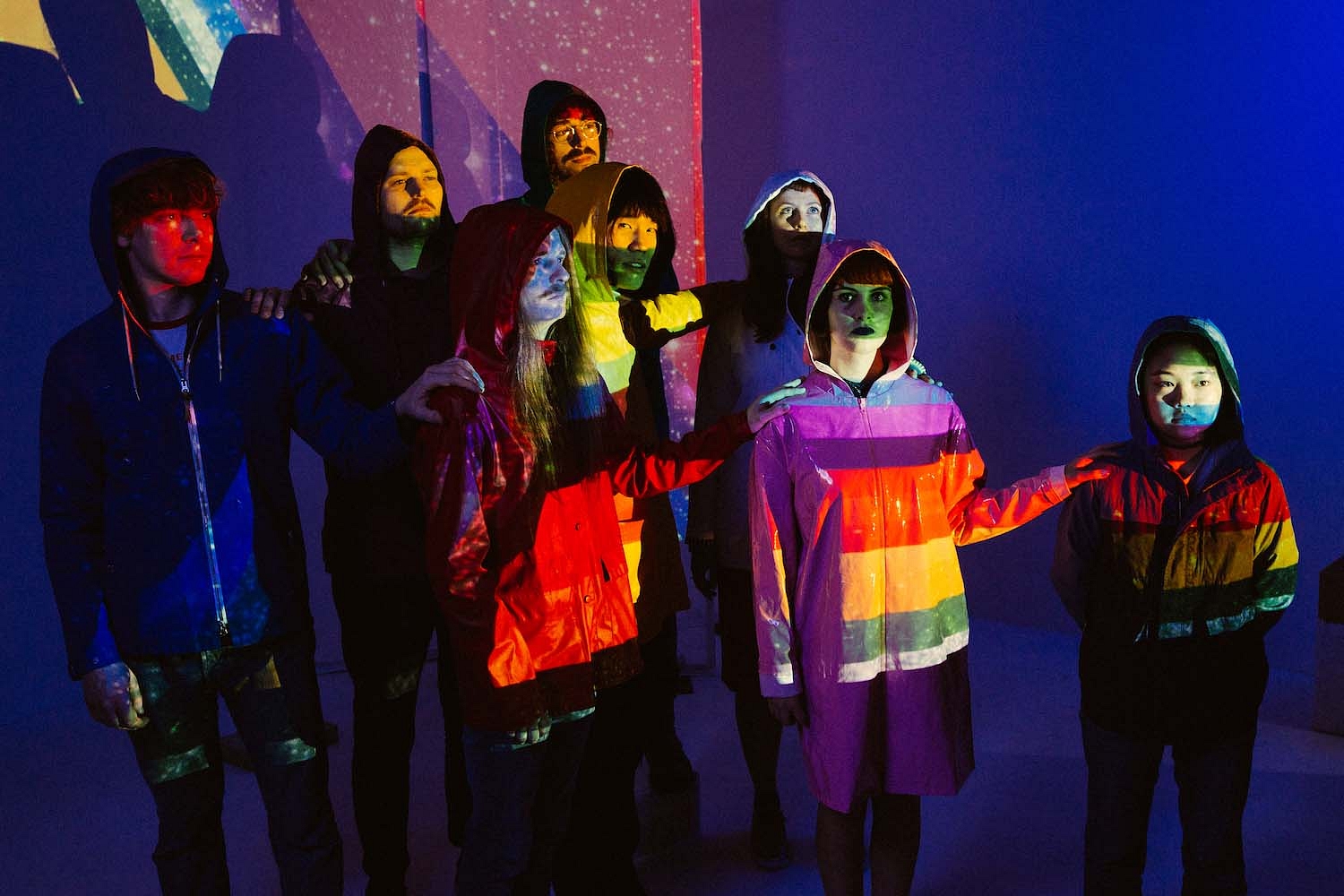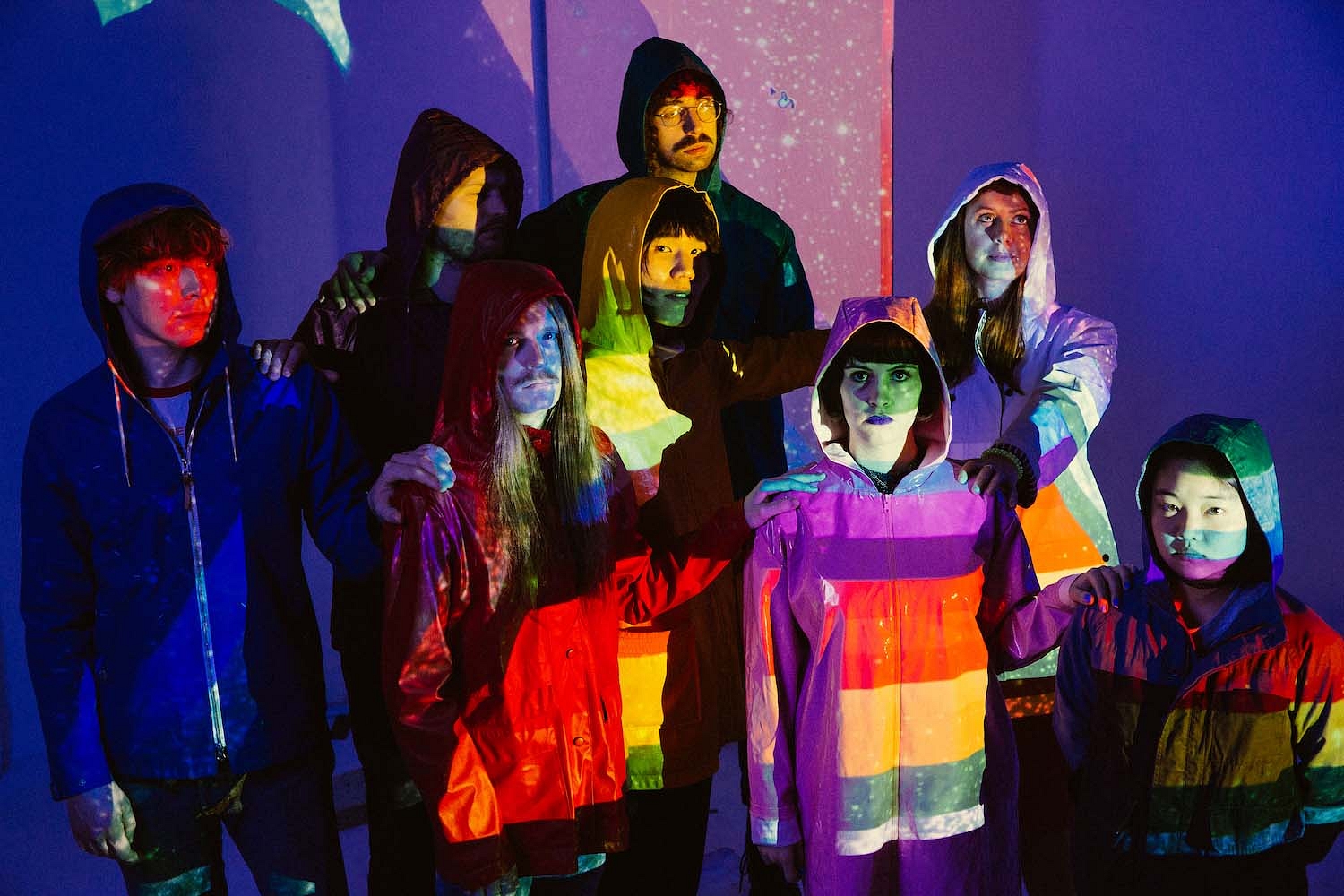 "You're only limited by your imagination."
— Harry
From the genre-defying sonic blend that runs through the band's three singles to date (low-slung, wavy breakthrough hit 'Something For Your M.I.N.D', the wobbly bounce of 'Nobody Cares' and 'It's All Good''s giddy hyperactivity) to the technicolour onslaught of cartoons and video game references that pepper the visuals of their live show, Superorganism are like a human Pinterest board – the product of a generation that has unrivalled access to everything, all of the time. "Scrolling the internet, looking at Reddit or Instagram and just BAM BAM BAM – all these things constantly," agrees Emily. "You've got access to all of the sounds that you could possibly think of so you're only limited by your imagination," continues Harry. "If you were a band living in a reasonably small town somewhere in the early '90s and you've got a guitar, drums and bass, then that's what you're limited to. Whereas now that's not the case. Now you can make music in your bedroom and it sounds big and crazy. It's a totally different set of tools."
Initially, the band began writing from different points across the globe, sending files to each other and building songs from their component parts. "Everyone was saying [this way of working] was very unique and unusual and we were like, oh this just seems very logical," explains Harry. "I was surprised more people weren't doing it like that because, you know, it's the internet," Orono shrugs. "I thought this was just how mainstream pop was made and I guess it's funny because I see [this] as trying to make mainstream pop," says Emily, laughing. "The whole left-field thing is just our failure to do that yet." Now, the group are holed up in a more traditional, albeit crowded, living situation - "a classic London immigrant flat; not as much furniture and knick-knacks as you'd imagine, but way more music gear" - but they're still determined to keep things just as forward-thinking. "We're super obsessed with the idea that we've written everything and recorded it and mixed it ourselves, all in our house, and also done the video stuff. I think that's a whole new way of working," Emily enthuses.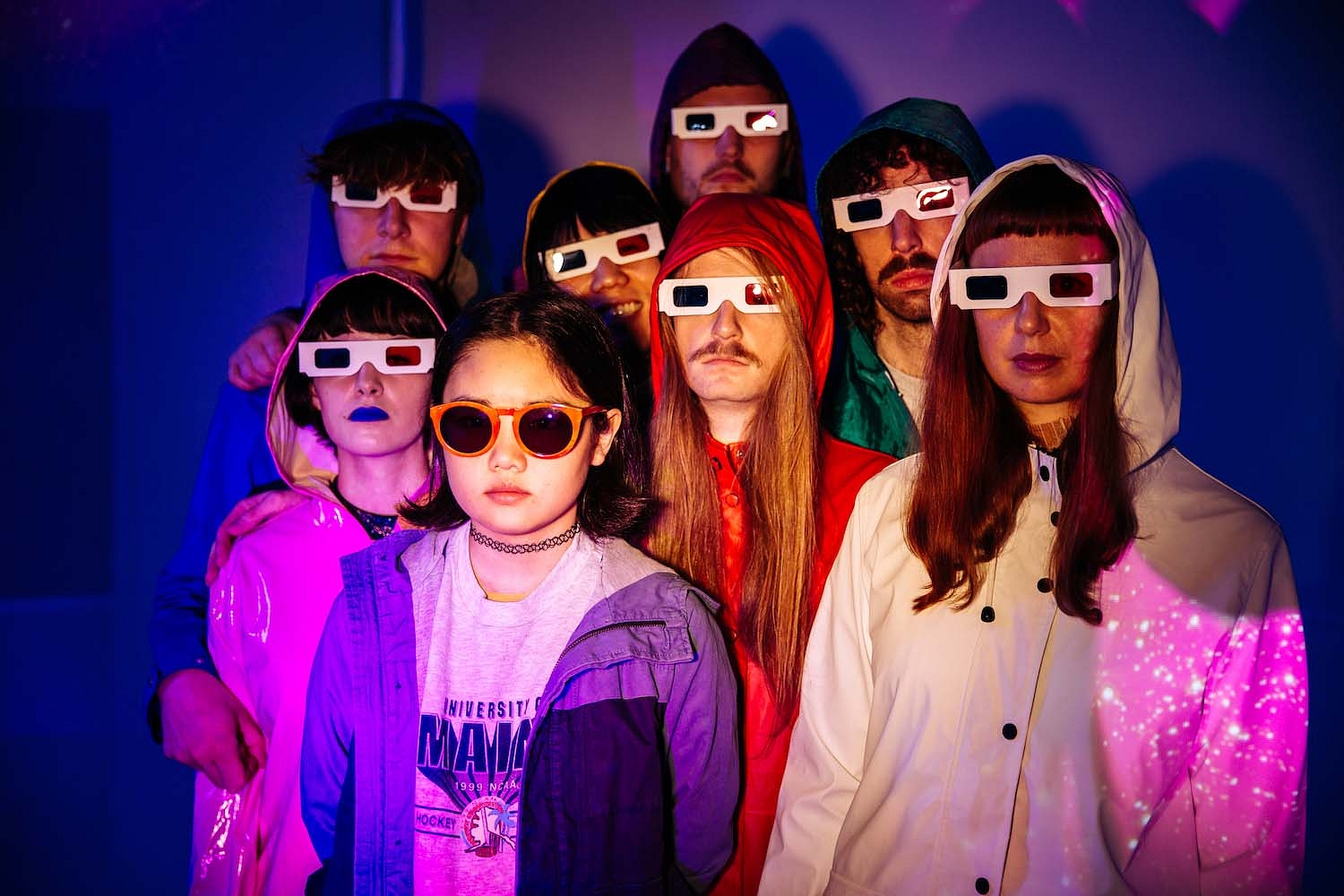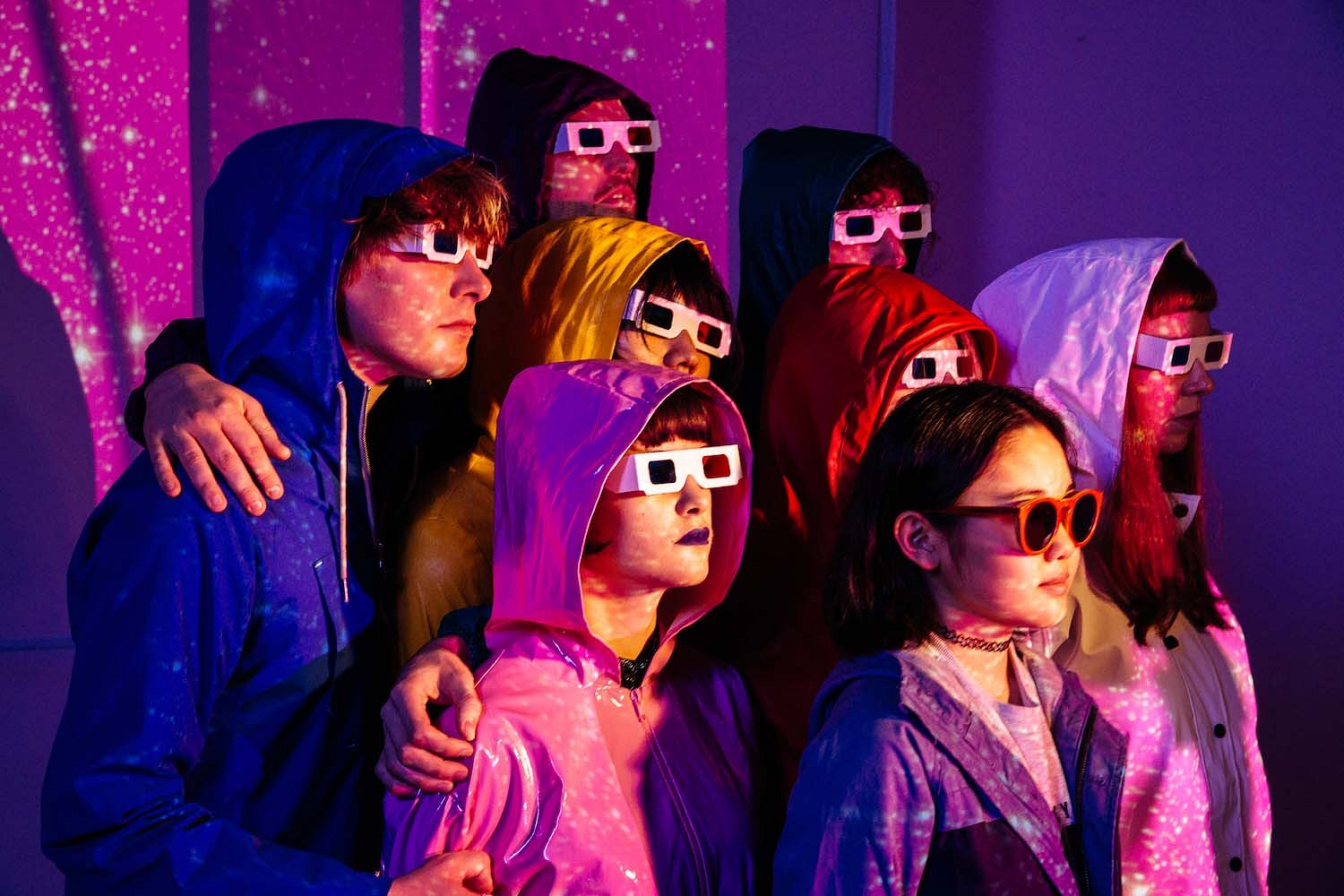 "We're trying to make mainstream pop music."
— Emily
If Superorganism are still operating in a reasonably left-field realm for now – think The Avalanches for the 'Adventure Time' generation – then the immediate reaction to 'Something For Your M.I.N.D' at the start of 2017 was enough to show that the band are in line for bigger things. Immediately setting the internet and then radio ablaze, it landed them in the bizarre situation of playing their second ever show (their first in London) to a sold-out 600-capacity crowd. Things are unlikely to get less mad for a while.
The key is this eagerly-consuming openness to everything. Scroll through Superorganism's Spotify playlist and you'll find tracks from Britney Spears to The Cramps and Ariel Pink. "I think the central thing with all of those [songs] is that they've all got really catchy melodies that stick in your head," theorises Harry. "They might have different production standards and be in different genres, but at the centre of it they're all just pop songs."
Unencumbered by boundaries of genre or style, Superorganism are twisting traditional band life into their own thoroughly modern image and pushing pop into the next dimension. The future is now.
#AD
Records, etc at
Read More
Featuring King Gizzard & The Lizard Wizard, IDLES, Tkay Maidza, Sleater-Kinney and more.