From being kicked out of school to touring the world in less than a year, Dirty Hit's most promising new signee is living out her teen dreams, but she's not done reaching for the stars just yet.
Do you ever have dreams that seem so realistic you're convinced they actually happened? The kind where you wake up suddenly in the night, sure that you're a rock star? For Bea Kristi, her whole 2019 has been a dreamlike story, ripped from the pages of a music nerd's fan-fiction. But the difference? Bea doesn't have to wake up, because this is her real life now.
"It's like, 'What the fuck!'" The Philippines-born, west London-raised 19-year-old giggles over the phone from Fort Lauderdale, Florida. Currently mid-way through a US tour with bedroom-pop artist Clairo, it's clear that Bea - better known as Beabadoobee - is also aware of how ridiculous the past year has been.
The whirlwind the singer now finds herself in began around two years ago when, aged 17, she got kicked out of school. Feeling lost and not really knowing what she wanted to do, her dad decided to buy her a guitar because she seemed "really bored" all the time. Teaching herself how to play, she first learnt Sixpence None the Richer's '90s classic 'Kiss Me', and subsequently wrote her first original track 'Coffee' - a hushed, emotional bedroom-pop bop that ended up going low-key viral. "At first, I just thought that songwriting was cool and then, when we released it, we had a lot of people saying that they liked it. People were recognising me on Instagram and were like 'Hey, you're that 'Coffee' girl?' And I was like, 'What the fuck, I've never worked as a waitress?!'" she laughs. "Then I was like, 'Oh fuck, they're talking about my song!' That was really cool and motivated me more to do it because people were interested and enjoyed it. You know how everyone has a 'thing'? Well, I didn't have have a thing and then I realised that this is my thing!"
Though Bea grew up completely obsessed with music, making it her career was never really her full time plan ("I really wanted to be a nursery teacher," she tells us) until she released dreamy four-track debut EP 'Lice' and was approached by Dirty Hit: they of Pale Waves, No Rome, Wolf Alice, and a little band called The 1975 fame. "I saw it and I was automatically like, 'Oh my god, this is The 1975's label, what the fuck?!?!'" she continues. "I had interest from major labels and other indie labels, but I love Dirty Hit and I was obsessed with Matty [Healy] when I was 15, so I was like, 'Fuck, this is it.'"
"I was obsessed with Matty [Healy] when I was 15, but now he's just a really nice friend."
Officially signing with them in 2018 on her 18th birthday - "We went bowling after; it was sick" - it soon turned out that her fandom was somewhat mutual and the new DH signee quickly became pals with the chart-topping frontman of her favourite teenage band. "It was insanity," Bea says of the beginning of their friendship. "And now he gives me so much nice music to listen to, and gives me so many good clothes and he's just a really nice friend," she pauses, chuckling. "It's so hard to believe that I was so obsessed!"
You might think that signing to a label full of UK music's brightest stars and co-run by your teenage obsession would be intimidating, especially for someone who'd only been playing guitar for about a year at the time, but Bea asserts how she's never felt any pressure. "It's inspiring," she counteracts. "I see how great these other bands are - Amber [Bain of The Japanese House] is amazing; I love Heather [Baron-Gracie of Pale Waves] - and looking at them I'm like, 'Wow, I want to work as hard as you'."
Doing just that, Bea released her second EP 'Patched Up' mere months after signing with the label. Expanding on the bedroom-pop stylings of her debut, its follow-up offered a more established look at what Bea wants to achieve, translating teenage troubles into poignantly stripped-back musings. Then came 'Loveworm' at the beginning of 2019, marking yet another step up musically for the young musician - probably a good thing too as, around the time, her Instagram stories were full of tales of going to the studio instead of revising for her exams. "I just wrote songs instead of revising, it was so fucked," she laughs. "I wish I was that chick who got three A* and is now on tour, but no. I got Us because my exams were ungradable."
Following it with 'Space Cadet' in October, it's this release that's seen Bea really evolve into the artist that she's always threatened to be. The five-track record sees her pulling on fuzzier influences, helped by the fact that she now has a full time band with her, and ultimately creating what she describes as "bubblegum grunge". "I've always listened to that type of [grungey] music and it just kind of happened," she says of 'Space Cadet''s creation. "I think it was always in me because that's all I listened to growing up. I fucking love Elliot Smith and Daniel Johnston and Sonic Youth. You can hear inspirations in the songs because I sometimes steal their chords because I'm a dumbass."
Perhaps one of her most surreal moments so far was performing 'Space Cadet' standout 'I Wish I Was Stephen Malkmus' to the titular Pavement frontman himself in Portland. "He's one of my idols so that was insane," she reminisces. "My manager was like, 'You've got a visitor' and I see the back of his head and I'm like, 'Fuck, that's him'. And then he went for a handshake and I just hugged him. We invited him on our tour bus and I was just staring at him like, 'Oh my god, this is insane.' I got to dedicate 'I Wish I Was Stephen Malkmus' to Stephen Malkmus!"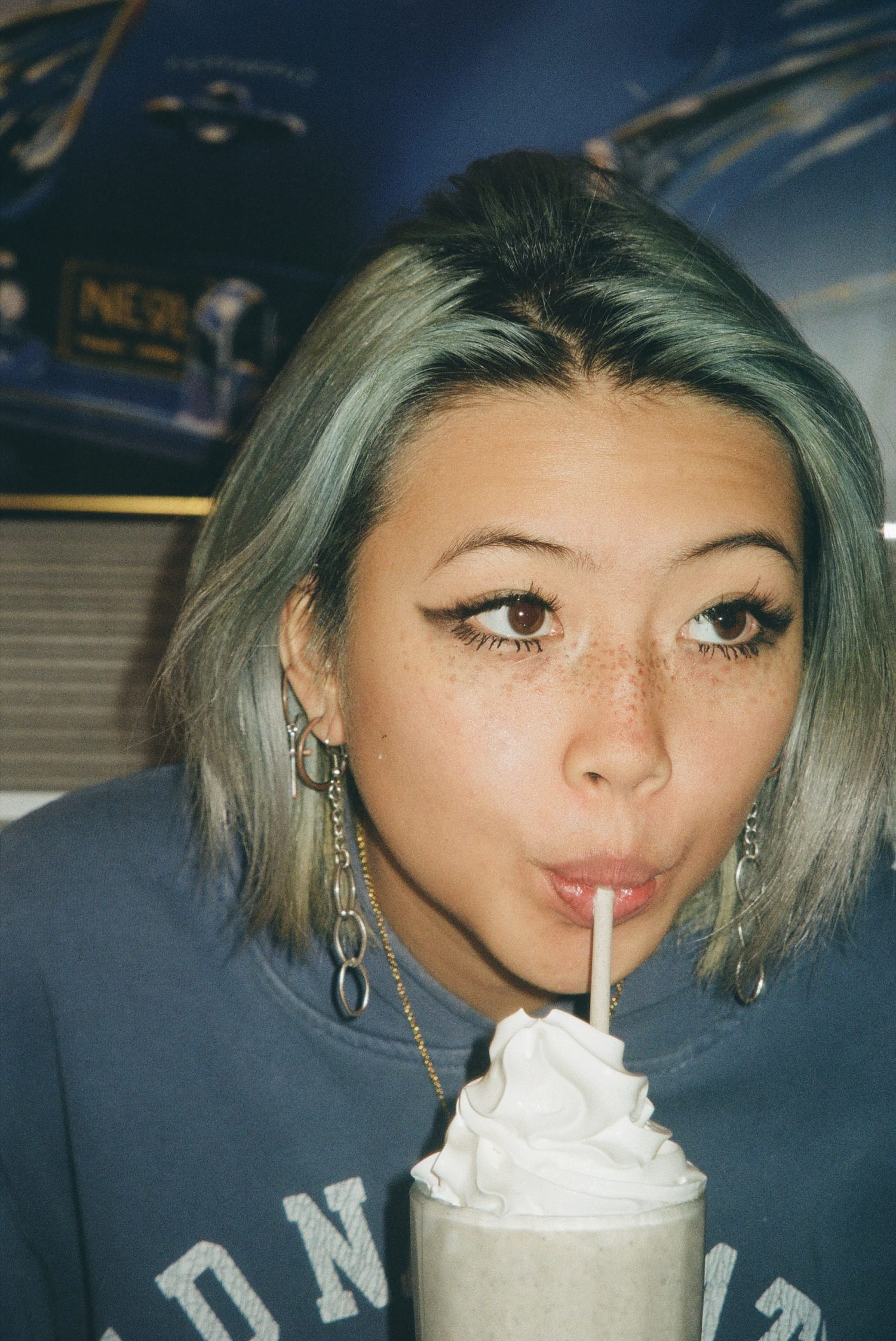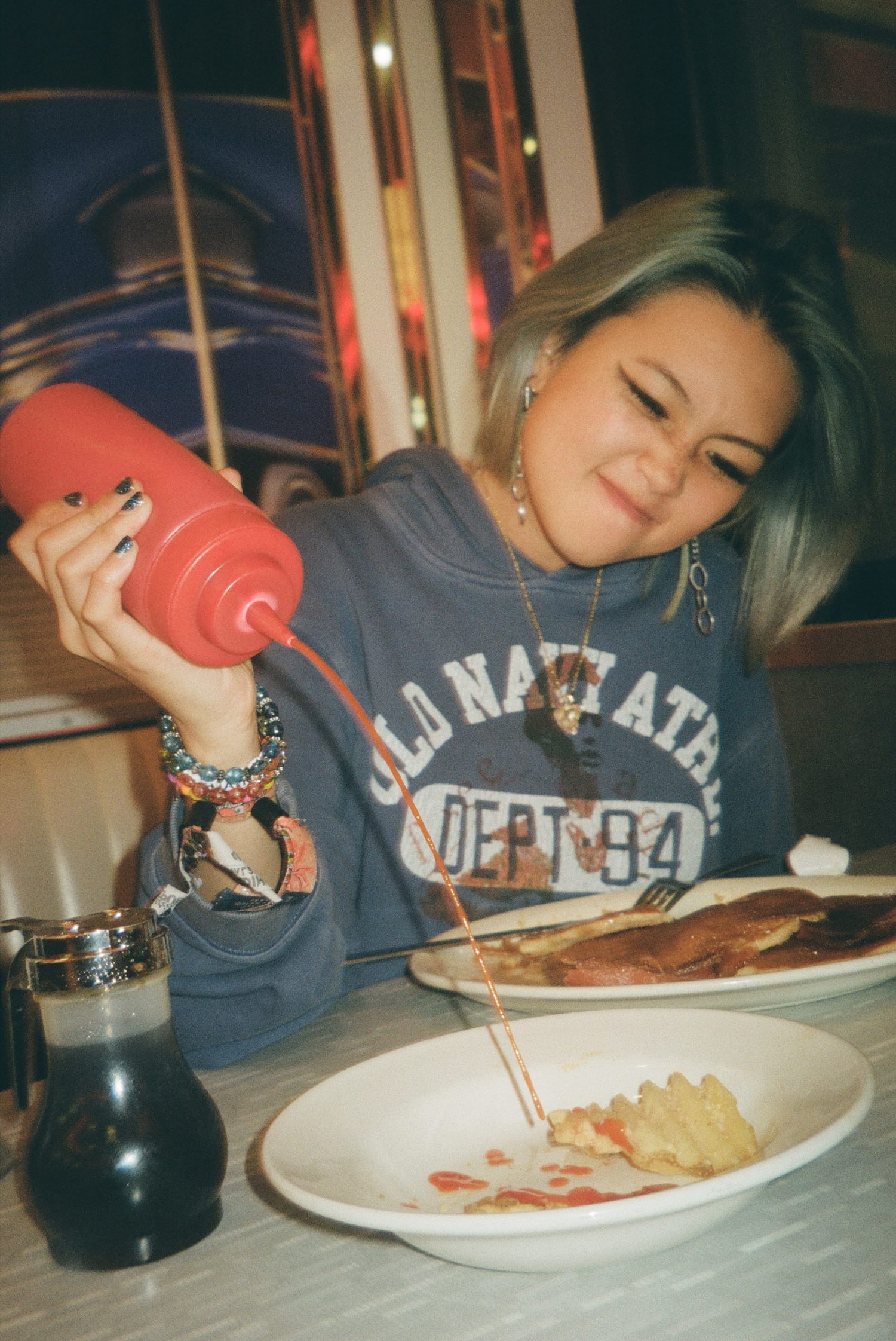 "I wish I was that chick who got three A* and is now on tour, but no. I got Us because my exams were ungradable."
If you were thinking that's the most impressive idol meeting that Bea's had so far though, you'd be sorely mistaken. "I was at Mac's house recording and he had a bonfire, and Julian was there and that was so fucking weird," she gushes. Mac and Julian, by the way, meaning Mac DeMarco and Strokes frontman Julian Casablancas. Obviously. Safe to say "fucking weird" is probably the correct description of Bea's current life.
Yet things are only set to get more unbelievable from here, with a debut album currently set to land towards the middle of next year. With three songs penned during her busy tour schedule so far, she's adamant about taking her time and allowing herself to create her best work yet. "When I did 'Patched Up' I thought it was amazing, and then I did 'Loveworm' and thought 'Patched Up' was shit, and then I made 'Space Cadet' and was like, 'Well, 'Loveworm' is shit now because 'Space Cadet' is fucking amazing.' I want the exact same thing to happen with this album," she explains. Going on to describe how her LP will be a mixture of everything she's made, Bea is aiming to blend her past stripped-back material with her new-found love of making something altogether heavier. Above all though, she just wants people who listen to her music to connect with it. "If I write a sad song, it makes me feel better, and I want it to do the same thing," she muses. "I write these songs for myself but I'd love people to feel the same way as when I wrote it. I just want it to make them feel something."
For Bea right now, the hype is real. With the music world catching on to her knack for writing about relatable teenage struggles and crafting enchanting melodies, heading into 2020 she's being tipped for greatness by just about everyone. "It's so strange!" she says of the undeniable buzz around her. "It's the strangest thing ever. I'm used to people not giving a shit about me. I was that ugly kid in secondary school that no one liked and thought I was weird, so I'm really not used to this shit. The fact that people give a shit and care about me and don't want to see me sad. It's really nice because I've never had that."
With the hype already at fever pitch, a lifestyle where she can happily refer to superstars-turned-pals by their first names, and legions of adoring fans already obsessed with her (a recent London headline show at The Grace had queues around the block to get in), from the outside it seems like Bea is already living the dream, but she's not as convinced. "Right now, I still think that I haven't 'made it' and I'll always tell myself that and keep on doing it," she confides. "I guess I just have a really self-deprecating personality because I'm always like, 'I'm not there, yet!'" And what would be the clincher for her? "A really sick album and a song with Stephen Malkmus," she laughs. "Oh, and to meet Tom Hanks! I've DM'd him and his wife and he still hasn't got back to me, what the fuck?!" Guess Bea's still got some dreams left to reach for after all.
Read More
Featuring James Blake, Romy, Marika Hackman, yeule and more.