Straight outta Nottingham with a wiry line in danceable post-punk, Do Nothing are bringing humour, personality and big tunes to the table.
"There are a bunch of different kinds of frontmen that I like equally," ponders Do Nothing's resident mic-wielder Chris Bailey, slightly bleary-eyed after an early morning drive from hometown Nottingham to the capital, but still determinedly decked in his trademark, ever-present grey suit. "You can do the energetic, running around sort of frontman, but I also like it when someone can just stand there. I'm still figuring out what balance to get because at the moment I basically just drink loads and then fall about. But that's probably not sustainable… We're playing a lot of shows…"
Looking at the singer – sunglasses-clad, tailored and surrounded by er… Hovis for our shoot – it would be easy to chalk him up as another cool kid fronting a hyped indie band, but it's in these knowing comments that you get a better sense of what Do Nothing are actually about. Live, Chris is a magnetic, stumbling narrator - part David Byrne, part used car salesman; on record, he and bandmates Kasper Sandstrom, Charlie Howarth and Andy Harrison weave all manner of influences, from tumbling post-punk to taut cowbell-toting pings into a playful patchwork, while today the band spend a self-deprecating half hour telling tales of failed karaoke sessions and calling themselves shit.
Thankfully, however, shit is precisely what they're not. Having grown up together since their early teens, the band may only be three songs into their current catalogue, but they've spent nigh-on a decade getting to this point. "We've known each other for ages, and we'd been in various bands so this is a very recent version of what we've been doing," the frontman nods. "We used to play very… boring music? But then we took a year off and figured out what we wanted to do, and now it's going alright!" Discovering their influences in tandem, from an early, game-changing introduction to Battles ("'Mirrored' was our first experience with wonky music…") to a communal Radiohead obsession, it's meant that the band are a close-knit bunch – one who've spent time and care getting to the point where, despite being in their relative infancy to the outside world, they already feel remarkably fully-formed.
"Trying to be a cool rock star just gives me the creeps."
— Chris Bailey
"In London there's bands everywhere, whereas in Nottingham you can wriggle away in the shadows before anyone notices, just being a little Nottingham band," nods the singer. "We took a year off, and then it took another year even to find a name for this [project]. We wrote a whole bunch of songs, and then scrapped songs." "The benefit of being from a small town is you can truck along and make all of those really important mistakes, and learn the lessons from them without it being spotlit in front of everybody," Andrew picks up, before Chris continues: "A lot of that old material was very meandering and trying to be clever, but now we're just trying to be dumb. Trying to be dumb, dumb men..."
However, with breakthrough single 'Gangs' colliding The Fall's knack for sardonic storytelling and LCD Soundsystem's leftfield dancefloor sensibilities, and 'Handshakes' allowing a slower, more unsettling side to unfurl, Do Nothing's early teasers actually strike a far artier chord than their assertions might suggest. Piecing together a collage of strange, intriguing lyrics ("I phone home fast to get a hold of my provider/ I eat every single thing I own and then catch fire"), Chris might play dumb, but there's a lot of thought not-so-secretly going on behind the scenes. "I watch loads of stupid shit on the internet, and [the lyrics] all seem abstract because they're just little phrases smashed together, but they're actually all really laboriously thought out. I do it on my computer so I can cut and paste it all. People are always on about, 'Oh I only write with a pen and paper'," he continues, adopting a snooty voice and an eye-roll. "Fuck off! Why?! The lyrics all make complete sense to me, but they wouldn't make any sense to anyone else. It's sort of pointless for anyone else to listen to them."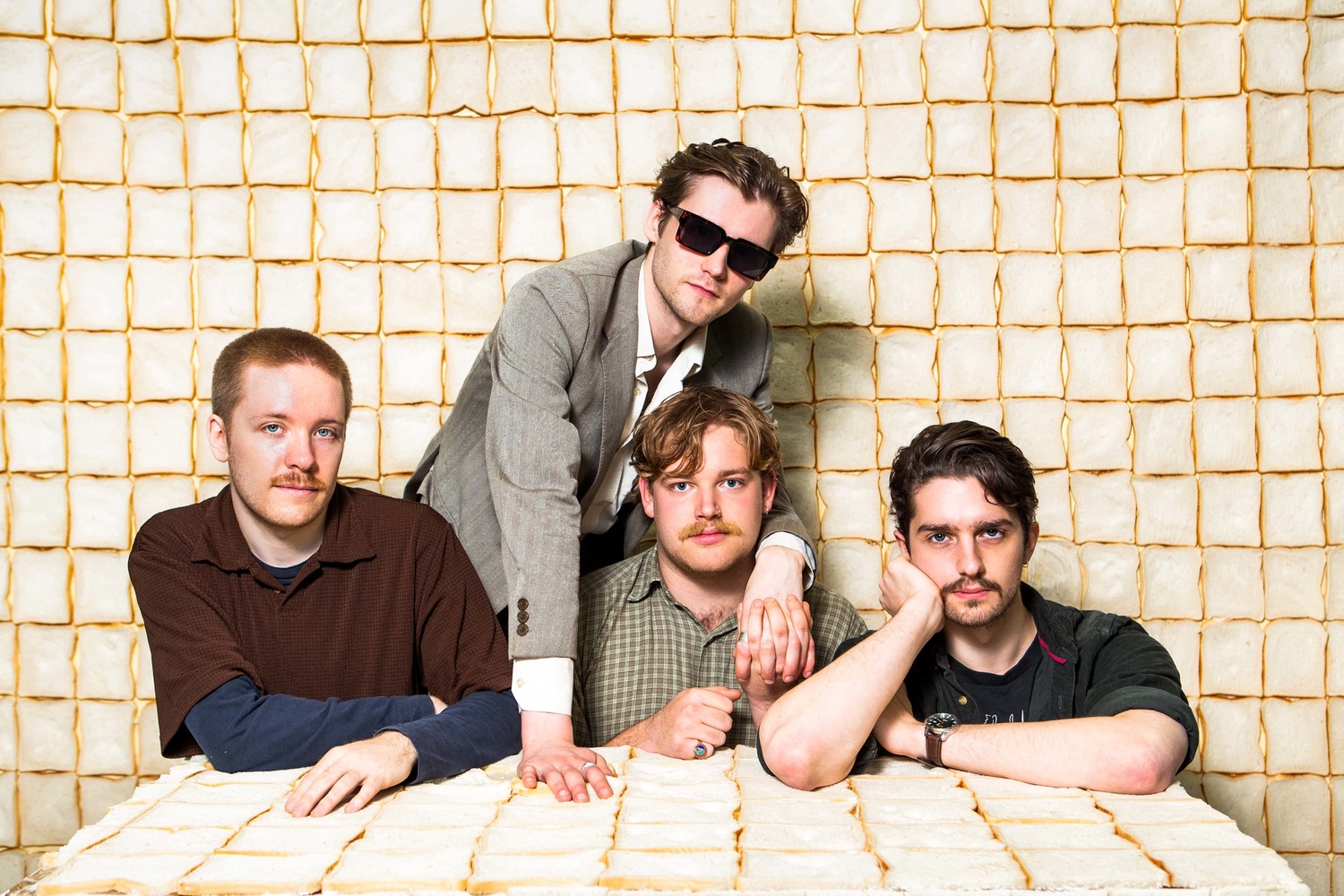 "We used to try to be clever, but now we're just trying to be dumb, dumb men…"
— Chris Bailey
Terrible at selling himself he may be, but it's these contrary, verbally masochistic tendencies that set Chris up as one of the most curious new band figureheads around. Describing his onstage persona as "sad bloke in a sad suit", he's a frontman that seemingly hates the idea of being a frontman, and one who's doing his level best to avoid any of the standard ego-fluffing tropes associated with the job. "I'll get a new suit eventually, but I want this one to get really dirty and gross and work with my whole sad man image first. He's not lonely, but he's just lost the house. 'Oh no, my wife's gonna kill me!'" he cries, throwing his hands in the air in mock horror. It's not your standard approach for a 24-year-old with increasingly excited eyes turning in his direction, but it's another example of why Do Nothing are swiftly carving out their own space among their peers. "Trying to be a cool rock star just gives me the creeps, so doing the opposite of that is more fun to me," he shrugs.
At least, however, their recent exploits have lived up to their own amusing anti-bluster. After a packed-out gig at Hamburg's hype-creating Reeperbahn Festival, they celebrated by "absolutely bombing" at karaoke; "We signed up for Lionel Richie's 'All Night Long' and I don't think we knew any lyrics apart from 'all night long'," sighs Kaspar. When they were invited to support Interpol at their most high-profile show to date, meanwhile, they ended up with another disaster. "I was trying to steam my suit and I locked the room with the shower in it and it flooded the whole dressing room," Chris nods. "They were very nice about it though..."
More interested in taking the piss out of themselves than indulging their own considerable buzz ("We're trying to make the live shows as enjoyable as possible before we run out of energy and phone it in," deadpans the singer in response to the idea that their recent gigs have been quite, y'know, good), Do Nothing are, however, quietly serious about what they're doing. Explaining that they want their output to be "thoughtfully created and organised", there's clearly a lot more ambition under the playful surface than their jokes and self-flagellation might suggest.
"The reason why bands like LCD Soundsystem and The Strokes are so easy to get into is because they pretty much just lay it on you; they do what they do really well without any smokescreens or tricks," says Andrew. "We're attracted by that, by trying to slim everything down and do what we do in as honest a way as we can."
Looking towards the most important guitar band and one of the most influential alternative groups of the century for inspiration? That doesn't sound like nothing from here.
#AD
Records, etc at
Read More
Featuring King Gizzard & The Lizard Wizard, IDLES, Tkay Maidza, Sleater-Kinney and more.