Class of 2021
Class of 2021: Black Country, New Road
On the cusp of a debut that comes good on all the obtuse, esoteric groundwork they've spent the past two years laying, Black Country, New Road aren't here to play nice.
Sat in a Deptford photography studio next to the Commando Temple gym, the seven members of Black Country, New Road stick out like a septet of sore thumbs. Dressed in an array of casual clobber and mumbling among themselves, the band look more like a student Chess Society than Brixton Windmill alumni - but therein lies the intrigue. A vehicle for an excess of art and music school graduates, Black Country, New Road also, somehow, manage to sound like the most menacing and transgressive band of their day.
Despite having little interest in the music industry "game", they've amassed a significant cult following over the past two years, leaving a mark on people's eardrums from SW2 to Slovenia. But in 2021 they're set to carve out a more singular place in history. Forthcoming debut 'For The First Time' was one of the last albums recorded before the UK went into lockdown in March, and the record feels wholly befitting of such disruption. Full of towering, post-rock odysseys and sardonic pop culture references, it's as anti-commercial as they come: if you were expecting pop music, you've turned to the wrong page.
With an online presence that could be described as meagre at best, it's unsurprising to discover that Black Country, New Road are entirely unassuming in person. Naturally reserved as a band, saxophonist Lewis Evans sums up a clear missive early on: "I don't think people should need to buy into our personalities to enjoy the music." It's almost issued as a challenge. Fortunately, the band created themselves on The Sims during lockdown this summer, and their character traits serve as a handy primer for the uninitiated.
Alongside "cheerful goofball" Lewis - the de facto mouthpiece for the group today - sits "gregarious" guitarist Luke Mark and "quick learner" Charlie Wayne, who plays the drums. "Musical genius" keyboardist May Kershaw is the quietest of the bunch, while "ambitious" violinist Georgia Ellery (also of experimental South Londoners Jockstrap) and "art-loving" bass player Tyler Hyde complete the female faction of the band. "Perfectionist" guitarist and vocalist Isaac Wood, meanwhile, sits silently gazing into his cup of tea like it's a portal into the future - he'll stay like this for the remainder of the interview. "They're pretty accurate representations," Lewis admits of the gaming avatars. "Although they do always just piss themselves."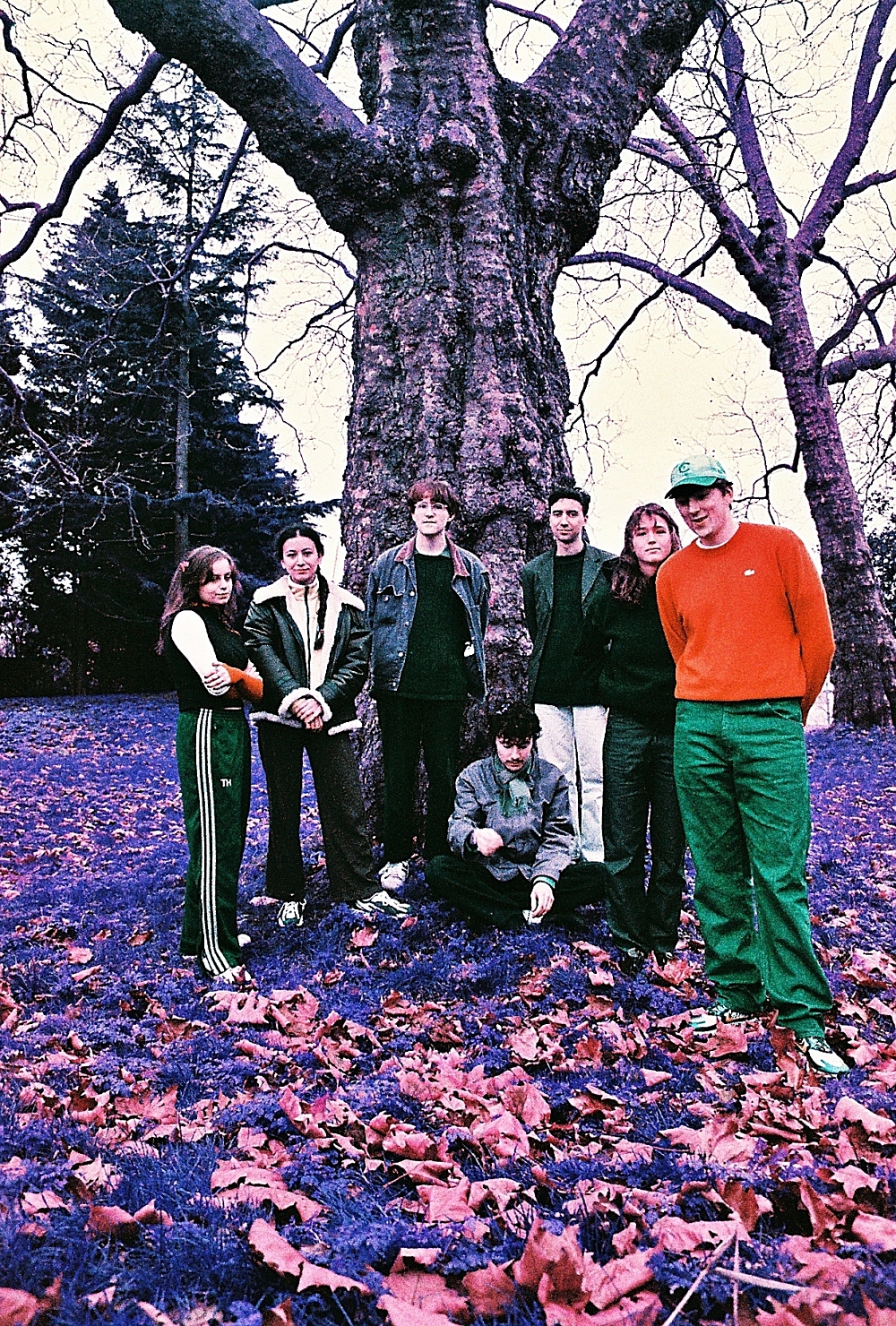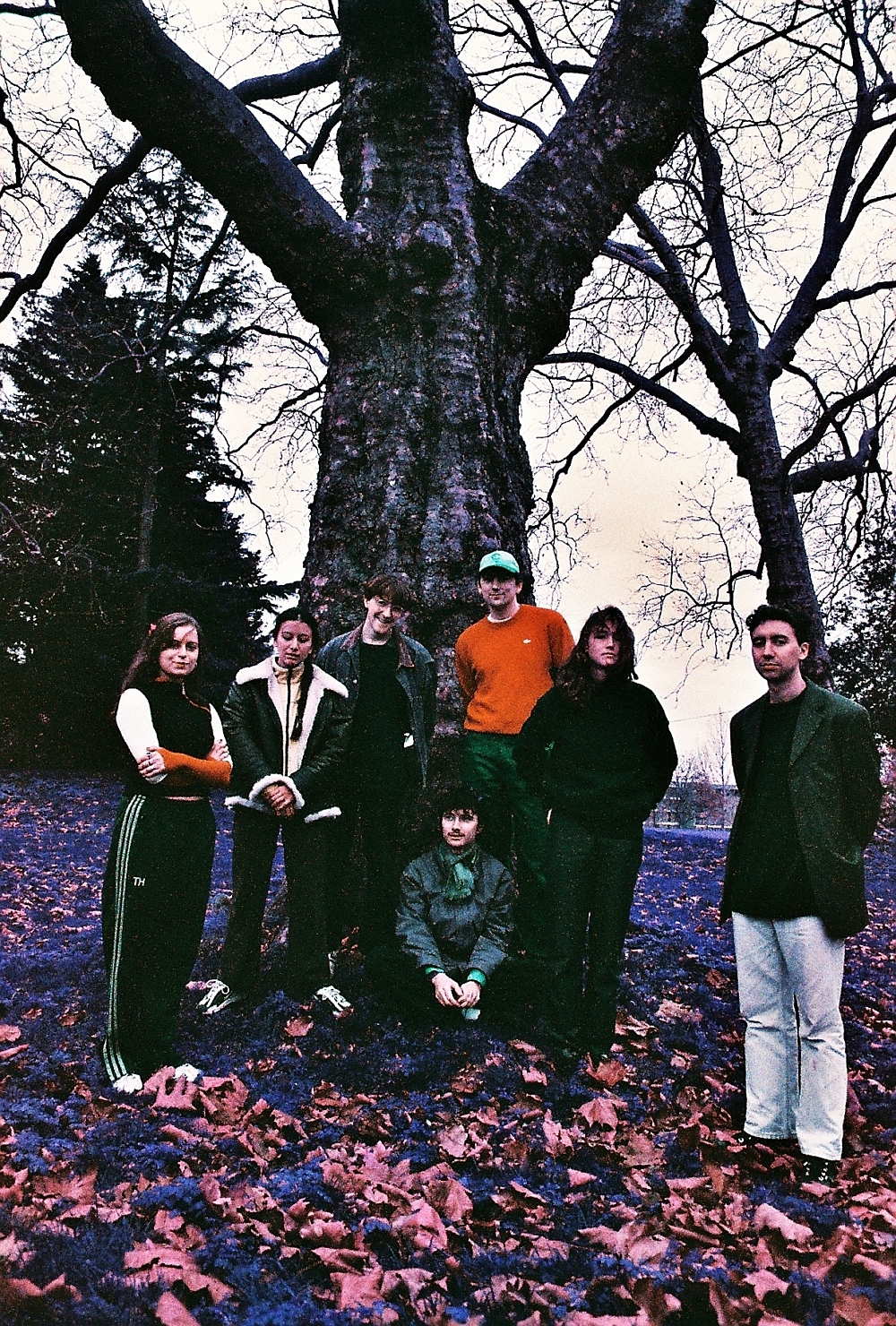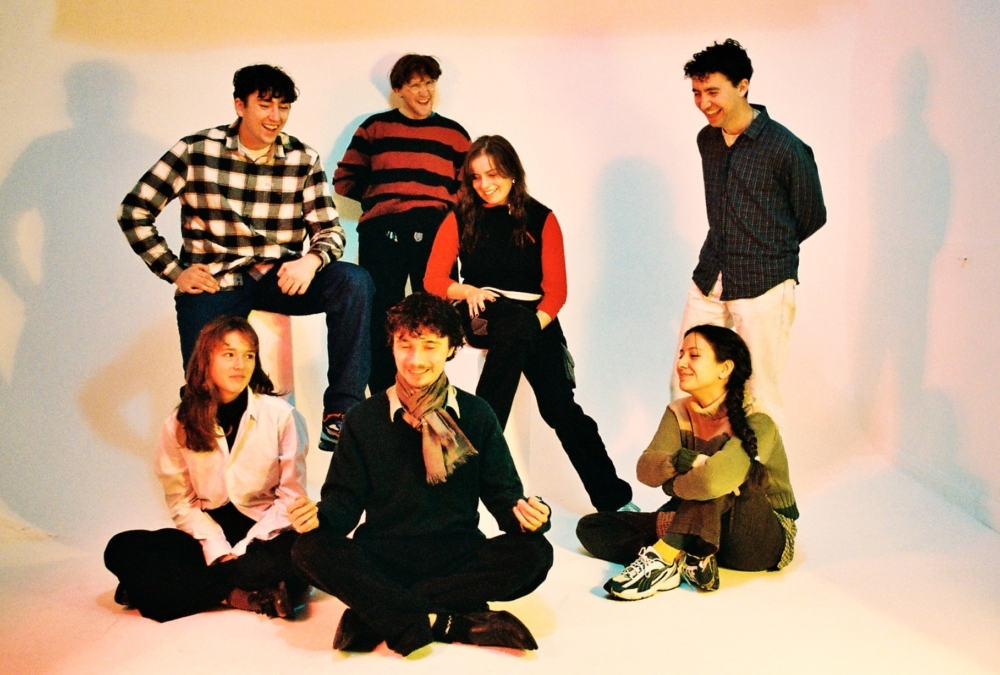 "There might not be anything in the same style, made with the budget that we've managed to secure, for a long time."
— Lewis Evans
That's A Mouthful
Black Country, New Road vocalist Isaac Wood has got a knack for imaginative storytelling. We take a look into some of his most memorable one-liners so far…
'Athen's, France'
"It's a one-size-fits-all hardcore cyber fetish early noughties' zine/ She sells matcha shots to pay for printing costs and a PR team"
Verdict: Not quite the same business model as DIY, but a good effort nonetheless. Put us down for two copies.
'Sunglasses'
"Mother is juicing watermelons on the breakfast island, and with frail hands she grips the NutriBullet"
Verdict: Almost sounds a bit naughty, doesn't it? Still, can't say no to a slap-up meal.
'Science Fair'
"I was just covered in bubbles of methane gas, and you ended up burning. I'm sorry, I have always been a liar."
Verdict: Oh God, this isn't going well is it? Lesson learned: never bring flammable gasses to a Tinder date.
Good hygiene notwithstanding, the band's introversions have hardly got in the way of cultivating a dedicated fanbase. As one deft online forum poster puts it: "people get weird about this band."
Vinyl copies of towering debut single 'Athen's France' have been changing hands for up to £100 apiece online, while members of 2000-strong Facebook fan group Sunglasses Posting speculate daily about the band's unconventional merchandising forays (including jigsaw puzzles and USB sticks). Isaac's lyrics for 'Sunglasses', meanwhile, have recently ended up plastered on cans of posh booze against the band's will. I Am Locked Away In A High-Tech Wraparound Translucent, Blue-Tinted Fortress is now the title of a kettle-soured IPA from Cheltenham craft brewery DEYA, and "it's an absolute belter," according to the beer makers. The band won't be pressing charges, though: "We have bigger fish to fry," says their singer.
Signing to experimental dance label Ninja Tune was likely the catch of the day, then. It's about as unconventional a signing either party could make - and therefore, a perfect fit. The sense of the unknown was part of the appeal, they explain. "I don't think we recognised anyone on their roster," says Luke of the tastemaker label, known for championing trip-hop and turntablism in the '90s. Lewis was sufficiently satisfied by their non-musical credentials: "Did you know that in Shaun of the Dead, Shaun's lounge has a Ninja Tune poster?"
The mystery of Black Country, New Road only thickens when the band's musical influences are brought to light. The six cacophonous epics that make up 'For The First Time' are fuelled by screeching horns, jazz drums and strings that hark back to the pioneering post-rock of Talk Talk and Slint. But, for Black Country, New Road, these touchpoints are nowhere near obscure enough. Take 'Science Fair' - a scuzzy, avant-garde guitar-and-brass monster that serves as the band's most recent single. "It's a pretty straight-up Cuban beat flip," says Lewis, as if the statement makes perfect sense. Sensing our confusion, he offers another take: "It's a scientifically perfect drum beat."
Georgia, meanwhile, explains that traditional Jewish Klezmer folk music has informed the band elsewhere. "It's like celebratory party music," she exclaims. "But it sounds sad because it's in a minor key." Even the album title is plucked from strange pastures. It's a reference to an obscure Dave Brubeck jazz album titled 'We're All Together Again for the First Time' that Isaac chanced upon. We've never heard of it, either.
Speaking of the enigmatic vocalist (still nursing his cup of tea), it's through him that Black Country, New Road boast their most compelling asset. Oft-compared to the cutting social commentaries of The Fall's Mark E Smith, Isaac's lyricism posits the band's work in the chaotic present day. You'll find references to Kanye, NutriBullets and Danish crime dramas in 'Sunglasses' alone; they combine to spin a vivid tale of millennial trauma. But for all his aptitude for a good one-liner, Isaac is strangely bereft of insight. What inspires such vivid and contemporary tales? He's blunt: "I can't even really remember what I was supposed to be saying."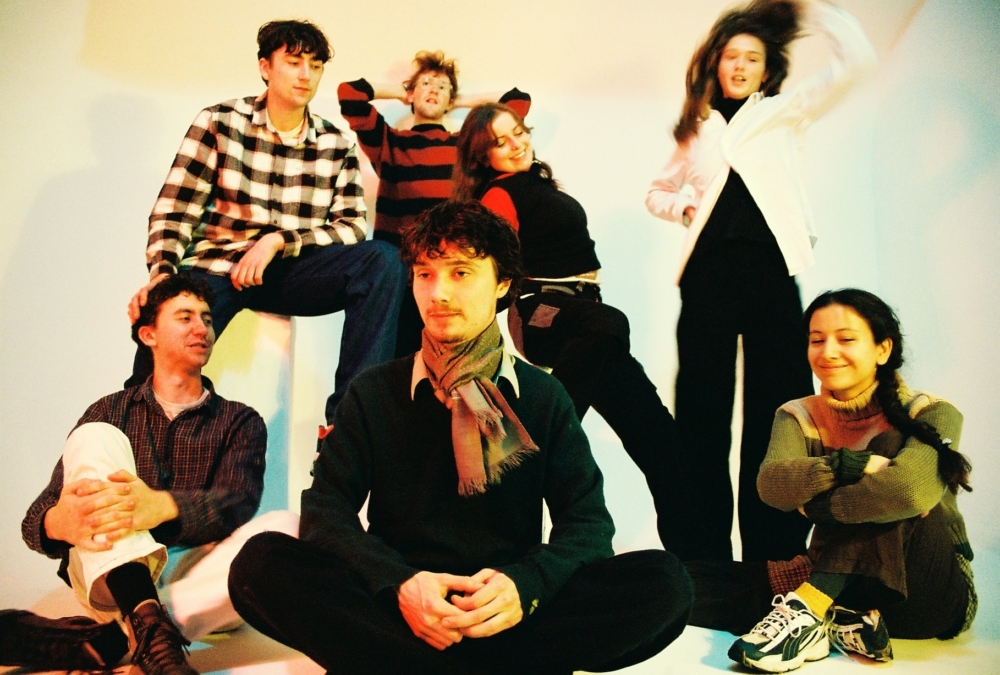 "I don't think people should need to buy into our personalities to enjoy the music."
— Lewis Evans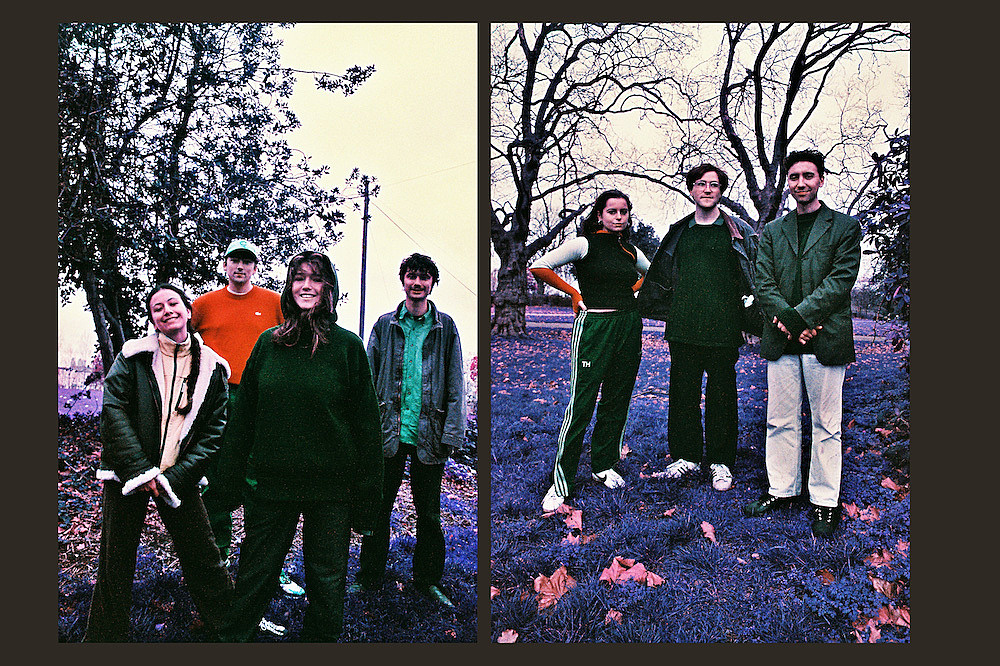 Show Us Your Party Trick!
"I can do this thing with my finger," says Lewis, who offers a double-jointed pop-and-shove with his index finger. It looks a bit like the classic '90s dance move 'The Worm' only on a smaller scale.
"I can do the real thing," Charlie exclaims proudly. "I was the toast of every year six disco."
Perhaps Isaac's obtuseness is just a symptom of real-life anxieties; the song does, after all, climax with the deranged, screeching refrain of "I'm more than adequate / Leave my Daddy's job out of this!". When pressed on why he re-wrote the lyrics to several tracks for the album recordings, the theory gains further credence. "I considered my best attempt to say something a failure. They just didn't succeed in doing the job they were supposed to."
He does admit, though, that he hopes "to make the story universal, and easy for the person to put themselves into." It seems at odds with the band's sprawling, uncommercial sound, but then again, Black Country, New Road's paradoxical nature is at the heart of their appeal. One song in particular sums up the plight of a leftfield scene better than any other. The disarmingly sweet 'Track X', which mixes cooing backing vocals and staccato strings a la Lou Reed's 'Street Hassle', could almost sell itself as Brixton Windmill's answer to 'Fairytale of New York'. "I told you I loved you in front of black midi," Isaac sings gently - as if to suggest that there's solace to be found at the heart of all the disharmony.
For all their muteness, the band do, at least, take huge stock in how lucky they were to be able to complete their debut when they did. "If any of it was delayed by a couple of months, we simply wouldn't be where we are," says Lewis, pointing out the financial struggles of record labels across the world in the wake of the pandemic. And in that regard, the album could end up being more culturally significant than any of them could have anticipated. "There might not be anything in the same style, made with the budget that we've managed to secure, for a long time," Lewis concludes.
He's right. Because, whatever the future brings in the coming years, it's likely to be a bumpy ride for everyone. But whether 'For The First Time' is the final Frankenstein creation of an industry on the brink of a major overhaul, or the foreboding sound of another hurricane ready to strike, Black Country, New Road prove that one thing is certain: let the music do the talking, and you'll always make a powerful statement.
Read More