Cooking hot dogs in the shower. Writing love letters to drum kits. Finding enlightenment in puddles. Welcome to Bobby's Motel, and meet its fantastic, frenzied rock'n'roll residents, Pottery.
Origin stories may come in many forms, but the genesis of Pottery's debut album 'Welcome To Bobby's Motel' began with what the band's singer Austin Boylan calls the greatest night of his life.
Making an overnight tour stop at the wonderfully appropriate town of Weed, California, the Montreal-based quintet's plan to stay in an idyllic cottage in the mountains was derailed when the owner forgot to book a snow plough to clear the road. Instead, the band were left to spend the evening in a single motel room with only each other, a stash of hallucinogens and some bargain hot dogs for company.
"We thought we'd take acid in the mountains and it'd be really beautiful, and we ended up in a one-bedroom motel room with no microwave and all these hot dogs," bassist Tom Gould remembers with a wry smile. "It's always where I picture Bobby living," he adds, their debut album's titular character loosely having become an emblem for the band as a whole. And how did the group's LSD-addled brains try to get around this particular quandary? "We tried cooking them in the shower under the hot water," drummer Paul Jacobs winces. Because of course.
The evening that followed has now passed into legend, and the band proceed to perform a word-perfect recital of a new game they created that night, the general aim being to "whip the dogs in" and see how many you can make disappear down the U-bend in a single flush. "One! Two! Three! Four! Fiiiiive!" they cackle in unison. "Oh, you've never seen a hot dog be flushed down the toilet?" Tom beams. "It's the funniest thing."
"The funniest part of the night," continues Austin giddily, "was when we were laying down in the grass under this barbed wire, just sitting in loads of trash, and all of a sudden we see this glowing light in the dirt and just think… 'Oh, what the fuck is that?!'
"There are photos of us all huddled together, digging at the dirt, trying to find out what this glowing light is. Turns out it was a luminescent bug or something."
"His name's Derek!" Tom smiles.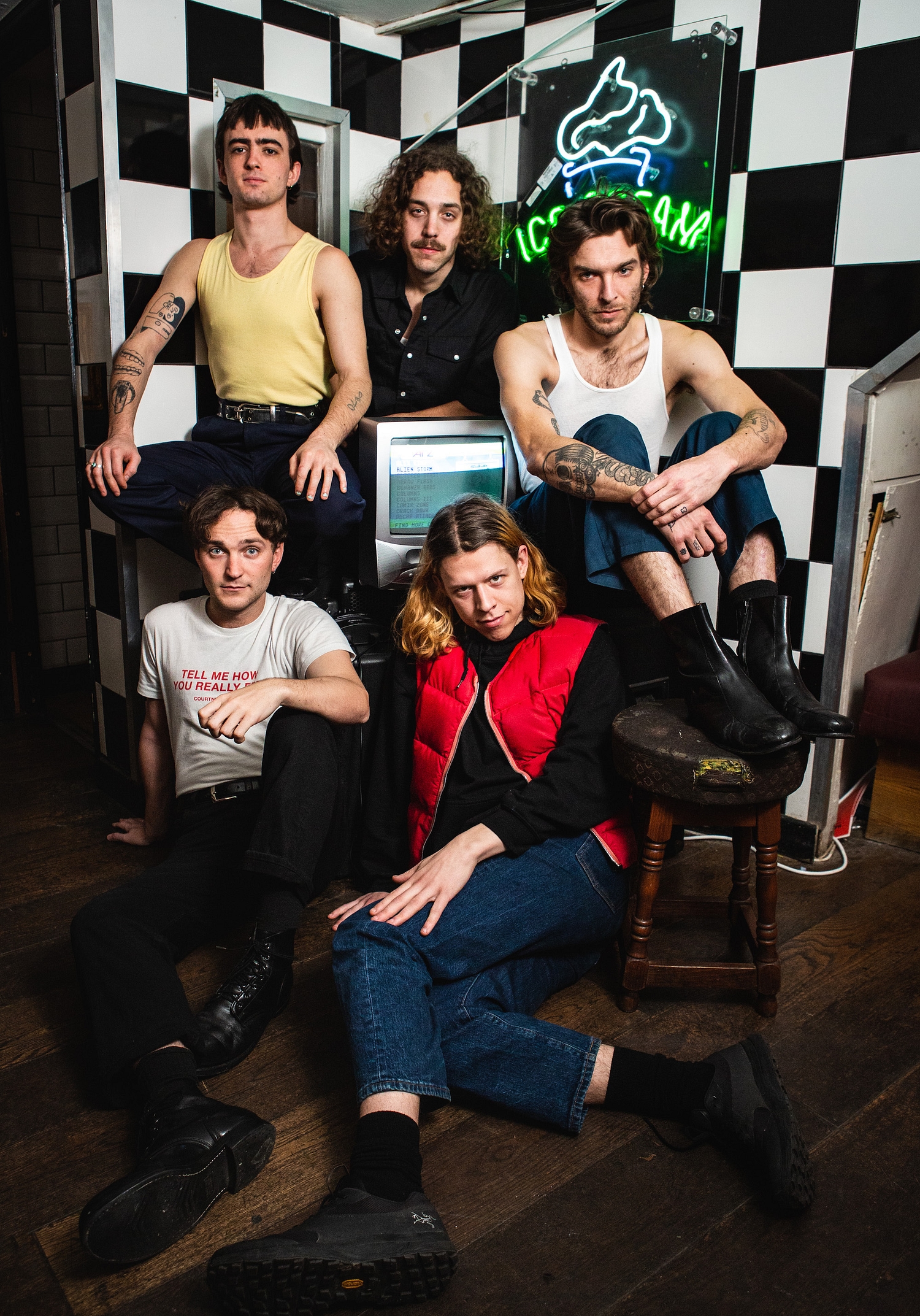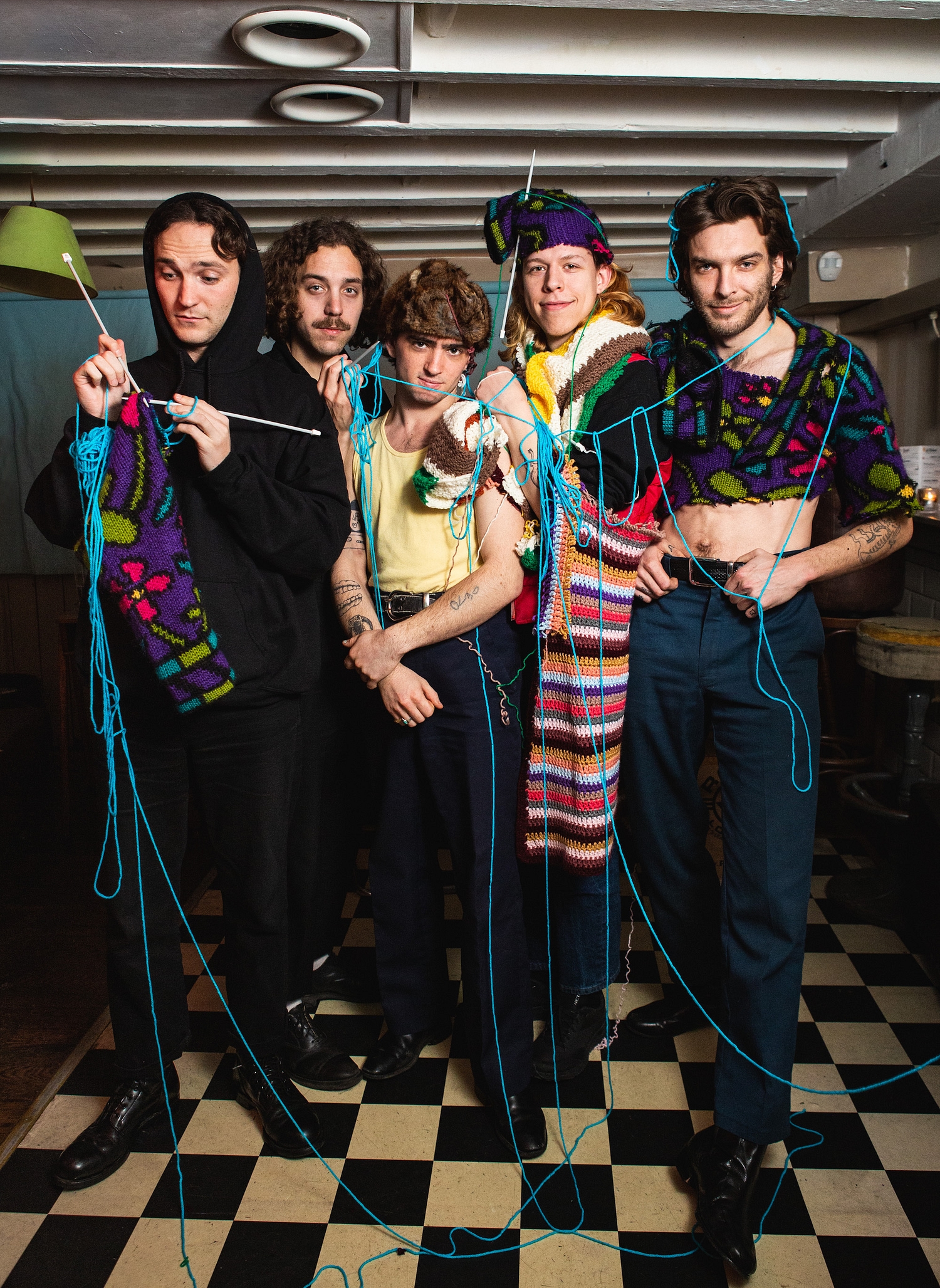 "Oh, you've never seen a hot dog be flushed down the toilet? It's the funniest thing."
— Tom Gould
Spending a day with Pottery is like being beckoned into an unshakeable gang, one compelled to tell you every funny, sad, mind-bending thing that's ever happened to them at home or on the road. Their conversations are jam-packed with in-jokes, but they want to invite you in on them, too.
You can glean as much from watching the band live. A frenetic, fizzing on-stage prospect, their shows are breakneck thrashes through rock'n'roll and punk, and they perform as an undeniable unit. Though Austin is the de-facto leader, a compact, 5-ft-something livewire, the band are at their most effective when all five members step up to the mic at once, turning the frontman's warped lyrics into booming mantras.
Released last year via label-du-jour Partisan (home to IDLES, Fontaines DC and more), debut EP 'No. 1' set the foundations for the impossibly exciting album that now beckons, channelling Television, Talking Heads and the funkier end of the US rock canon into something irresistible in its excitement and energy. 'Welcome To Bobby's Motel' takes this to the next level.
"Welcome to Bobby's Motel, where all your dreams come true," a booming, digitised voice states over the frenetic opening bars of the album's title track (originally called the entirely-more-appropriate 'Blast Off'). What follows is a record that overflows with groove, melody and simple, unadulterated fun. Highlights come in the form of the skittish 'Under The Wires', that namechecks the barbed wire under which they made a home on that fateful California night, and the cowbell-tastic 'Bobby's Forecast', which sees Austin geeing up his band mates throughout in the role of crazed conductor. "C'mon! Gimme the drums!" he demands half-way through, inviting Paul to lead the band headfirst into an irresistible disco beat.
Elsewhere, previous single 'Texas Drums' provides a love letter to a particularly wonderful drum kit that Paul had the pleasure of playing when the band played SXSW last year. Then there's closer 'Hot Like Jungle', the chorus of which, Paul reveals, is "part of a dirty song that we had to change the lyrics to". "You know the lyrics, right?" he laughs to his bandmates, before keyboardist Peter Baylis gives us the goods: "If you cum in my sheets, I'mma pump and repeat, now let me love ya," he winces. For a band who wrote a song imagining Hank Williams taking speed for the first time on their debut EP, maybe we shouldn't be too surprised.
"The whole world [of the album] is about being uncomfortable in a shitty situation."
— Jacob Shepansky
"There are a lot of bands that are friends because they've toured and played music and it's more professional or whatever, but this is the closest thing to family that I have," Austin states. And though their debut is an accomplished, technically impressive thing, it's obvious that fun and passion rank far higher in Pottery's list of priorities than any careerism. "We just wanna do it our own way, and enjoy each other's company," guitarist Jacob Shepansky adds. "We're still 'professional' I guess…"
"We're still pwofeshonal!" Tom mimics, right on cue.
"It took us quite a while to figure out how to sound good live," Austin adds, "because we all just instinctively tried to turn our instruments up louder than each other."
"But miiine goes to ELEVEN!" Jacob whines in an impressively terrible British accent.
Though a large amount of life within Pottery seems primarily built on tomfoolery, 'Welcome To Bobby's Motel' does cut through to deeper, more serious problems too. It's most notable on new single 'Take Your Time', which Jacob says is about "the bad side of everything". "Drugs are everywhere in Montreal," he elaborates. "I come from Vancouver where there's a massive heroin epidemic. You drive through Vancouver and there are tent cities everywhere. It's about that moment of losing control, and barely noticing it or caring that it's happening."
"Writing lyrics, to me, is like keeping a journal," Paul adds. "It's so easy to think that you're so special because of the shit that you deal with, but there are a million other people going through the exact same thing, or something ten times worse. As soon as you're honest with yourself in that way, it's going to connect." "The whole world [of the album] is about being comfortable in a shitty situation, and shrugging it off and just being content," Jacob confirms
"You have to after eating those cold daaawgs that night!" Peter howls as the band all start laughing again: the seriousness, after all, never lasts too long here.
"Touring the US, we just spent so much time in shitty motel rooms," Jacob picks back up. "If you dwell on the fact that you're getting no sleep every night and doing all this shit, then you're gonna get all depressed, so you have to tell yourself that this is normal."
"There's a little speech bubble on the vinyl version of the album that Paul wrote," Austin points out, "which says: 'It's not much, but it feels like home'. That kinda sums it up."
'Welcome To Bobby's Motel' is out 26th June via Partisan.
Read More
Featuring King Gizzard & The Lizard Wizard, IDLES, Tkay Maidza, Sleater-Kinney and more.