Crack Cloud: The Bright Side of Life
Having explored the depths of darkness on debut album 'Pain Olympics', the Vancouver collective tell us about looking at things from a sunnier angle on its fantastic follow-up, 'Tough Baby'.
When DIY call Crack Cloud, they're halfway through a mammoth three-month summer tour that takes them from the US to the UK, around Europe before ending up in Korea. Created out of a homespun HQ in Vancouver, Canada, the band – made up of seven-or-so core members and a sprawling supporting cast – try to forge community wherever they go, and their worldwide tour has been as much about new connections as it has live music.
A few weeks before we speak, the band headed to Slovakia to play Pohoda Festival, where they collaborated with festival organisers for a "sensory experience" that ran throughout the weekend. "They were familiar with our body of work and immediately they were in their element," drummer, vocalist and de facto band leader Zach Choy says. "We connected with them in a really spontaneous circumstance. We were able to develop an installation within three days."
To Zach, the beauty of touring is being able to "share that synergy with people from a faraway place that grew up under very different circumstances [to us], but to still have this kind of commonality based on universal themes that we've attempted to communicate through our work." Whether at home in Vancouver or in far-flung corners of Europe, the band's mission statement of community and collaboration drives their every move.
Since forming in 2015, the multimedia collective has grown and grown, with 2020 debut album 'Pain Olympics' solidifying their unique, special talent. The story of the debut album often centered on the members' history of addiction, and the work they do on the frontline against their hometown's opioid epidemic. While a vital part of their make-up and reason for creating art, the band want its follow-up, 'Tough Baby', to show that there's far more to Crack Cloud than their circumstances.
"Sometimes there can be so much narrative discussed around your identity, and the art that you just made, and it did feel clouded at moments," bassist and co-founder Mohammad Sharar reflects of the narrative built around the band. "It made us feel like one-trick ponies when it came to talking about certain things, so the exploration of other ideas and playfulness and imagination was at the forefront of this album. You only follow things in your life that provide new feelings of inspiration, and we just go down those paths."
"The exploration of playfulness and imagination was at the forefront of this album."
— Mohammad Sharar
"We really surrendered to the cynicism and the darkness on 'Pain Olympics'," Zach reflects. "We talked about how that might very well be our first and last record, and I think we really meant it at the time. Luckily it wasn't, but it's not arbitrary that we decided to take on another one."
For the drummer, the debut album's creation, release and subsequent reaction showed him that there's a "certain fallacy" to being "guaranteed a form of closure when it comes to committing your thoughts into art form". "That was definitely a motivation for me with 'Pain Olympics', feeling like, 'Okay, I'm gonna get this out of my system, I'm going to revisit some uncomfortable things and that'll be that'," he continues. "But as I get older, I realised that there are definitely skeletons that we have in our closets that we carry with us, and it's not so much a matter of hiding them with the expectation that you'll never have to engage with them, but learning how to live with them, and informing yourself through your relationship with those skeletons. With 'Tough Baby', there was a precedent to have a clean slate and a more optimistic mentality and atmosphere and resolution to the record."
Musically, this idea of optimism and determination bursts out beautifully and joyfully. When 'Pain Olympics' was drawn to darkness – brilliant, scything darkness as it was – its follow-up brings moments of major-key euphoria, with highlight 'Costly Engineered Illusion' flecked with Springsteen-esque saxophone and an open-hearted attitude. Elsewhere, lead single 'Please Yourself' is a kaleidoscopic odyssey featuring a choir of their friends and collaborators, with the message of the song – creating shrines to music and finding meaning through art – crystallised in a fantastic short film that has a playful nature and a cameo from Mac DeMarco.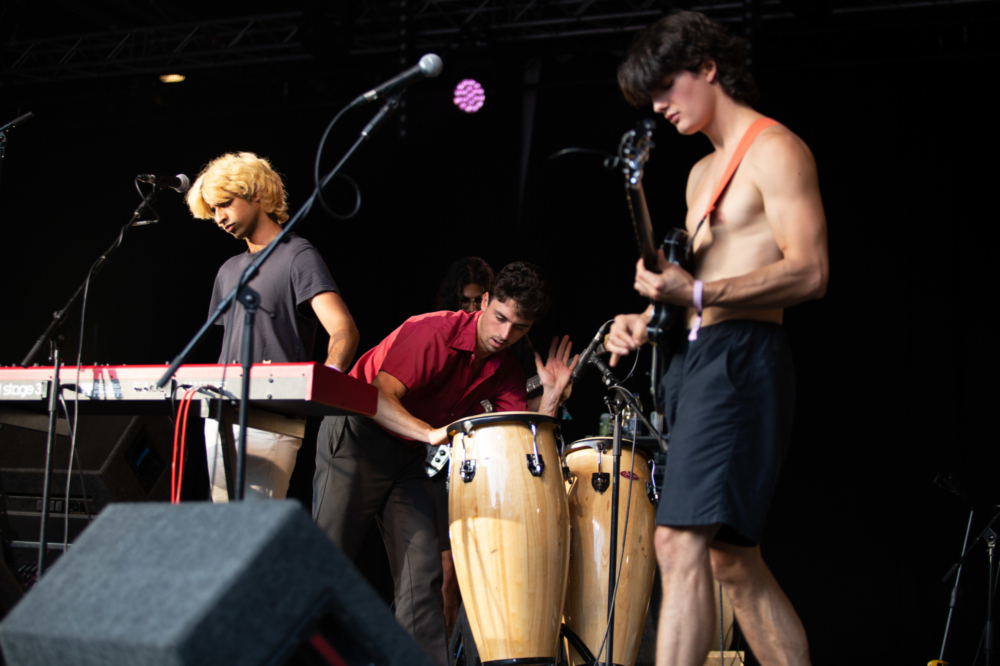 "We really surrendered to the cynicism and the darkness on 'Pain Olympics'."
— Zach Choy
Zach says that 'Tough Baby' – a record that pushes Crack Cloud forwards thematically but continues their striking inventiveness and melodic wizardry – "came from a real place of wanting to continue to explore the depths of our own psychology as well as contextualise the world that we're living in," and their inquisitive nature drives the album to new and exhilarating terrain.
'Tough Baby' opens with 'Danny's Message', a voice message recorded by Zach's late father Danny Choy, who was diagnosed with leukaemia aged just 29. In the recording, he shares some wisdom that defines the album that will follow. "I hope you guys can learn a lot from what I'm trying to tell you," he says, before offering advice that could also serve as the binding ethic behind Crack Cloud as a whole: "Music is an excellent way to let your anger out, put it all on paper."
"The whole philosophy behind Crack Cloud is surrendering to your every whim and inclination, so musically we go all over the place," Zach says. "There are definitely times when, even superficially, you begin to doubt how it will be perceived by other people, but I don't think that's something any artist needs to think about.
"My dad was very pragmatic with his words. He didn't bullshit, and I loved his simplicity and how effortless it was for him to just say, 'Put it into words. Use a paintbrush, use a guitar – do what you need to do to get your emotions out, and don't think beyond that.'"

'Tough Baby' is out now via Meat Machine.

Get your copy of the latest issue
Read More