Gravel-throated and gunning for the hearts of thousands, Dilly Dally threw down the gauntlet with their debut album 'Sore', and they're only going to get more essential.
Slumped around a coffee shop table at the end of their first overseas tour, Dilly Dally look a million miles from the whirlwind balls of energy they become on-stage. "I think we're all starting to crash," yawns guitarist and vocalist Katie Monks.
It's no surprise. 'Sore' might have showcased a band who seemed as fidgety and frustrated as they come, but give them a platform to let loose upon and they'll set it all ablaze, upping the ante with every passing second. They look back on a "sweaty" Manchester show in particular with a smile. "We're not Bono or anything," Katie jokes, "We're not playing the biggest venues yet, but this tour went so well, we'll definitely be back."
Constantly looking ahead, there's been a momentum behind Dilly Dally's every move since Katie and her six-string partner in crime Liz Ball found their rhythm section after three years of writing as a duo. Joined by bassist Jimmy Tony and drummer Ben Reinhartz a couple of years back, Katie and Liz's work immediately lurched forward, 'Sore' at the forefront of their collective mind. "All of it, the whole mindset became that whole record, and the sounds and everything," Katie explains.
Throwing themselves into everything they could, Liz and Katie even got matching Dilly Dally tattoos back in the group's earliest days. "It's so much more than just the sounds," she soon clarifies, emphasising the band's kitchen sink approach to chipping in with whatever they can. "Something that the four of us all have in common is that we've all had an obsession with some artist at some point. It's not even so much as it is about the one song, or the one record, as it is about following an artist."
"I think we're artists before we're musicians, even. It's more about the sentiment of it, the feeling of it, the statement of everything, than it is about playing everything perfectly or whatever." It's an obsessive, all-encompassing ethos that's leaking into Dilly Dally's own fanbase, too – Katie recalls with a grin one particular fan from Glastonbury who "dyed her hair to look the exact same as my hair."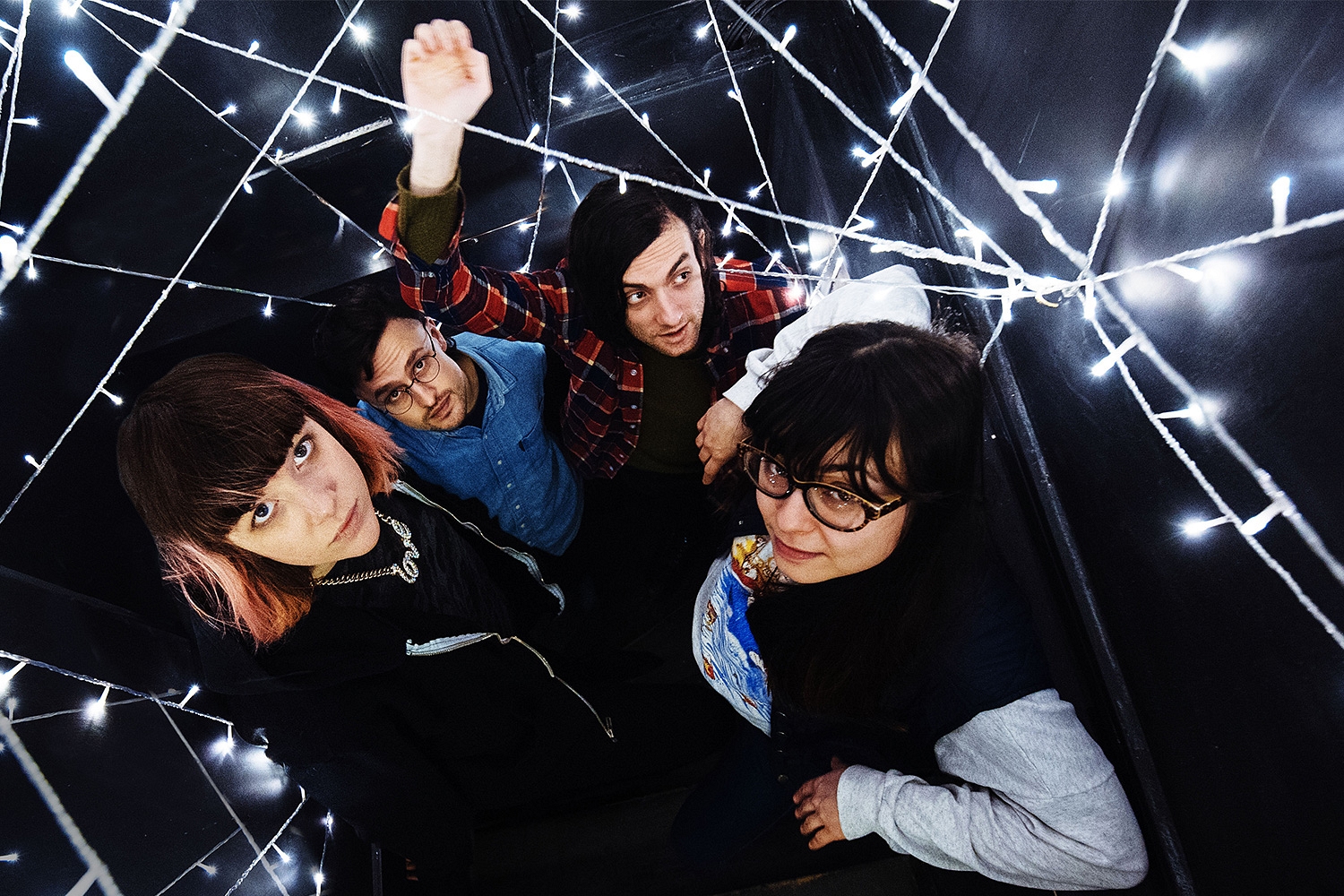 "Cats smoking weed and playing video games - next album cover!"
— Ben Reinhartz
It's probably for the best they stick to the hair dye, mind – attempting to replicate Katie's trademark, gargled-glass vocal might have a more lasting impact. Spine-chilling and sharp as a knife, it's a signature part of their beloved 'Dilly life' that's much harder to replicate than hair colour.
"Since I was a teenager I've been recording my own demos and experimenting with my voice," Katie explains, "making weird sounds." She drinks "tons of tea" to keep it on top form, but admits that "after a while, your body just becomes used to it – it's like being an alcoholic or something. I feel so weird when I'm not screaming for 45 minutes a night."
With a follow-up to 'Sore' already top of the priorities list ("everyone's really eager… we're really excited, moving forward, to keep it new and fresh"), she'd do well to stock up on lozenges. All four of them are keen to get back to their practice space in their hometown of Toronto, which they share with everyone from METZ, via Fucked Up, to old-school alt-rockers Sloan and singer-songwriter Michael Rault. It's a jam-packed spot. "There are a lot of other people who jam there," Ben smiles, "so you get in and you just stand on your tip-toes and try to manoeuvre around!"
Toronto pride shines through everything Dilly Dally touch, none more so than their recent cover of hometown hero Drake's 'Know Yourself'. "We were actually in Winnipeg, hanging out with this guy who drives around in a junk truck," Katie explains of the choice to take on the '6 God'. "He put us up while we were passing through on our last tour through there, and was just pumping that Drake record."
"Especially that one track," Ben groans.
"He was like, 'I don't listen to rap, but I just love how hard Drake is repping Toronto right now! So awesome!' just pumping 'Know Yourself', constantly," laughs Katie. "Because we were away from home, it was really nice. When you're actually in Toronto, you're like, 'Oh, Drake, yeah whatever', it's like a joke. But when we're in New York, or when we're in somewhere strange like Winnipeg and people are so enthusiastic about it, it makes us feel like, 'Ah, Toronto.'"
Bringing a little bit of Toronto out on the road with them seems important as they gear up for a summer of festivals. "All my favourite bands are from Toronto!" says Jimmy, eager to get back to the city's bubbling scene. "After a long tour, everyone there is so happy for us, so proud of us," Katie admits, "but also then we see all the shows we're missing." Drake cover aside, she says it's Snapchat that proves their saviour on the long weeks away: "Lots of Snapchat of each other's cats, of our friend's cats, and people smoking weed. Lovely moments, little moments that we're missing. The video games…"
"Cats smoking weed and playing video games," Ben interjects, laughing. "Next album cover!"
Photos: Mike Massaro / DIY. Taken from the March 2016 issue of DIY, out now. Subscribe to DIY below.
Read More
Featuring James Blake, Romy, Marika Hackman, yeule and more.