In the aftermath of debut album 'Sore', Dilly Dally almost fell apart. Now returning with 'Heaven', they're ready for their rebirth.
The physical demands placed on a band experiencing first album hype can be overwhelming; that's something Toronto's Dilly Dally know all too well. Following the release of 2015 breakout 'Sore', the quartet went on to play over a hundred shows in almost as many cities in 2016 alone. The mental toll of so much time in transit, days spent almost constantly in motion, too close to each other across a blur of different hotel rooms and on too many roads in the same vehicle, eventually began to wear them down.
"I think that some of us really were depressed and couldn't see a way out of it," recalls vocalist and guitarist Katie Monks of their time spent touring the record. "It really fucks with your head, being in an enclosed space with other people for a year or two. Literally, you are codependent. If one person is off that day or is feeling weird or is feeling bitchy or depressed or reckless or destructive… anything… then everybody feels it."
A record of emotive punk with a pop twist, characterised by Katie's intense, razorblade screams, even getting to the point of touring 'Sore' - and eventually becoming disillusioned by it - had been years in the making. But, by the time the band - completed by guitarist Liz Ball, bassist Jimmy Tony and drummer Benjamin Reinhartz - came to the end of the run in late 2016, their first record hadn't just put the band on a trajectory to international recognition, but engulfed their friendships and mental health too. Then came the questions of whether they would even continue at all.
"It felt like we were over," Katie admits. "I thought the band was over… We were stretched really thin and a lot had happened in our personal lives. It seemed like everybody just individually needed time on their own and away from the music industry, just because it's easy to lose yourself when you're travelling all the time."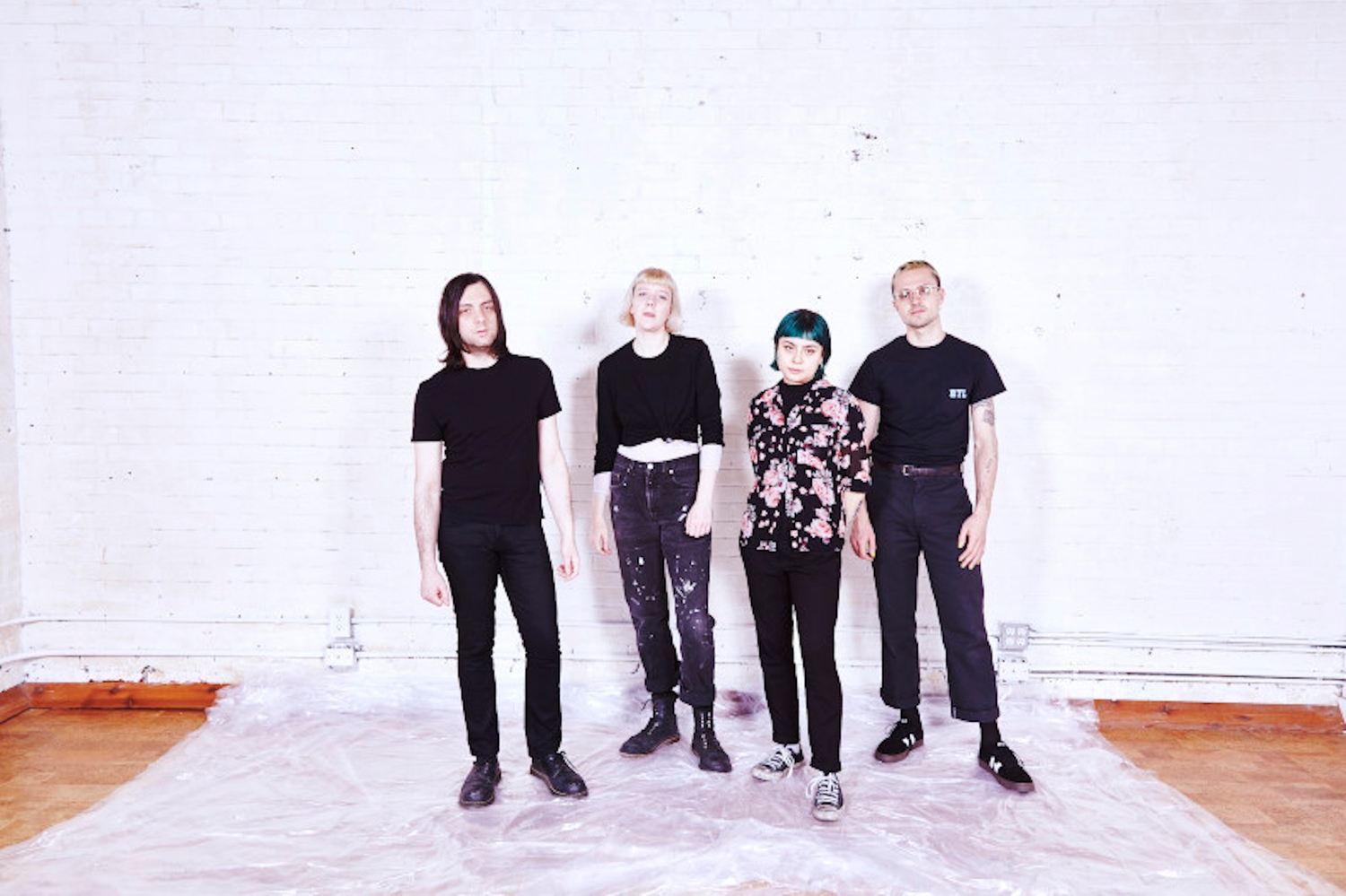 "I thought the band was over…we were stretched really thin and a lot had happened in our personal lives."
— Katie Monks
And so the band all "went off and did nothing" for a while, Katie locking herself away for an entire year, writing new music almost every day in her bedroom in Toronto. Later, the other members began turning up once a week to help her hone the material she was creating, building their parts into the base instrumentals and free-flow, stream of consciousness lyrics that she'd created.
It was that change of scene, and stability of location, that gave Dilly Dally time to decompress, but also a chance to work without any expectation. Crediting the time away as a break from the pressure for "extroverted Katie to come out of the box" on the road and "go around and be a social butterfly and be on stage every night, making eye contact with loads of strangers," the singer now describes their new album, quite fittingly, as "a punk dream of the afterlife."
"It's a story of a band that kind of fell apart and had some kind of spiritual awakening through music," she explains.
It's this topic of 'awakening' that comes up a lot. On the surface, second album 'Heaven' comes packed full of the same loud, chaotic spirit that characterised their first album, but underneath it all is a new layer: an underlying message of hope, acceptance and re-birth. Single 'I Feel Free' came accompanied by a music video in which Katie (who also made her directing debut) literally digs her bandmates up from their graves, propping their muddy corpses against their instruments in hope of them playing together again; it's something she admits is a metaphor for the way the album came into being as a whole.
Elsewhere come themes of love and radical self-belief, something particularly evident in the lyrics. In 'Believe' she delivers the cathartic mantra of "Believe in yourself / 'Cause that's all that matters / Love is an ocean / Don't hide in the shadows", while with 'Doom', she preaches "Remember who you are and where you're gonna be / What's inside you is sacred."
"My spirit and who I am goes beyond gender, as I'm sure everybody's does."
— Katie Monks
In the slow-burning build of 'Bad Biology', the band take aim at the confinement of gender norms. "It's supposed to represent how often our bodies and our assigned gender essentially keeps us from connecting to the people we love," Katie explains. "I feel like the more feminine I am, through that I can connect with people more but then sometimes I feel like I'm just playing a role. My spirit and who I am goes beyond gender, as I'm sure everybody's does."
But alongside the band's own personal struggles, there were bigger political powers at play during the build up to making the new record. While the band were on tour in the US during the weeks surrounding Donald Trump's US presidential win, their own issues became magnified by a sombre tone surrounding the places they visited: "We felt a wave of depression wash over the whole country," she confirms. "We played in Washington DC the day after it happened and everybody was quiet. It was weird, but I understand it. It would have been weird if everyone was happy, I suppose."
As the political situation unravelled, in some ways it seemed as though they were holding up a mirror to their own issues. While America sought guidance and hope in the hands of an elected politician, the band felt the need for some guidance of their own. "We felt that people were looking for a leader and I felt like I was looking for a leader as well. It felt like the last thread that everything was holding onto and it was like, ok, well, now everything's fucked."
In what can sometimes seem like increasingly dark times, 'Heaven' is an album about what it's like to look at the difficulty of navigating the road in front of you; about deciding to just keep going forward anyway, almost in blind faith, regardless of what's to come.
"Sometimes things become so dark and so sad because you're faced with these question marks of life and death and destruction and things. Hate and anger and pain and all this shit," muses Katie. "But as you live more, it becomes harder to dig it all apart and then to process it all. And then you kind of have to go 'well, fuck all that shit!' and escape and push it all aside and go 'well what is good?' and 'what is positive?' and 'what is worth living for?' What is positive in this world? It's better to nurture those things than it is to dwell in the absolute infinite perpetual timeline of shit."
It may be an album born from chaos and instability, but with 'Heaven', Dilly Dally are back from the brink and ready to push through.
'Heaven' is out 14th September via Partisan.
Read More
Featuring James Blake, Romy, Marika Hackman, yeule and more.