Finding beauty in the banal, and documenting life through a curious eye, Dry Cleaning's debut finds the London band cementing their singular perspective - and upping the sonic ante along the way.
The jump from Dry Cleaning's plucky 2019 EPs 'Sweet Princess' and 'Boundary Road Snacks And Drinks' to their assured debut album for legendary indie label 4AD is a significant one. Where their old material was frantic and weird, on 'New Long Leg' their sound has developed into something bolder and more expansive, both bracing in its ambition and deceptively understated in its methods. The record's shot through with addictive hooks like the plunging Sabbath-ish riffs of 'Unsmart Lady', the hypnotic, drifting guitar loops on 'Strong Feelings', and the chiming melancholy melody of 'Her Hippo'. Elsewhere, it's enormously ambitious, as on the intense, abstract noise breakdown that divides closer 'Every Day Carry' into two parts.
Unlikely frontwoman Florence Shaw's spoken-word vocals, meanwhile, often take the form of gently weird vignettes about the most banal of objects that somehow allude to something far grander. On bracing opener and previous single 'Scratchcard Lanyard', exotic destinations like Rio De Janeiro, Tokyo and Oslo are revealed to just be the Instagram filters of the same name, and a mighty oak tree turns out to be a discarded tree-shaped air freshener. The way she delivers them feels more flexible than ever on 'New Long Leg', her vowels elongated and contracted so she can wind them tightly to the band's ever-morphing instrumentals. "That nod that says, I've… seeeeeeen… thiiiiiings," she drawls on 'John Wick'; "Simple pimple, stomach stab," she staccatos on 'Leafy'.
Since their emergence with those first, immediately ear-pricking releases (Dry Cleaning graced the cover of DIY's Class of 2020 issue soon after), Florence's lyrics have always been their calling card, finding deep furrows of emotion in banalities like YouTube comments and greetings cards, somehow delivered both with hypnotic charisma and complete deadpan detachment. But on 'New Long Leg' she's pushed things even further. 'Strong Feelings' is an intense song about falling in love, where meandering daydreams about hotdogs and head scabs are juxtaposed with moments of anguished yearning – "My only ambition in life is to grip the roots of your hair". Allusions to European landscapes and German painter Hans Holbein's masterpiece The Ambassadors packs her small vignette with Brexit's cataclysmic heartbreak.
But for all of 'New Long Leg''s dramatic emotional swings, Florence always conveys them by focussing on the smallest possible things. "I take a lot of pleasure in objects," she explains. "In lockdown my room and my belongings became something I'm very concerned with. I feel like a little farmer, going around, making sure everything's clean and in the right place. I've found it really comforting to focus on something that's within your remit, something that's an achievable goal. There's something about that small scale that feels knowable, that it's possible to be an authority on."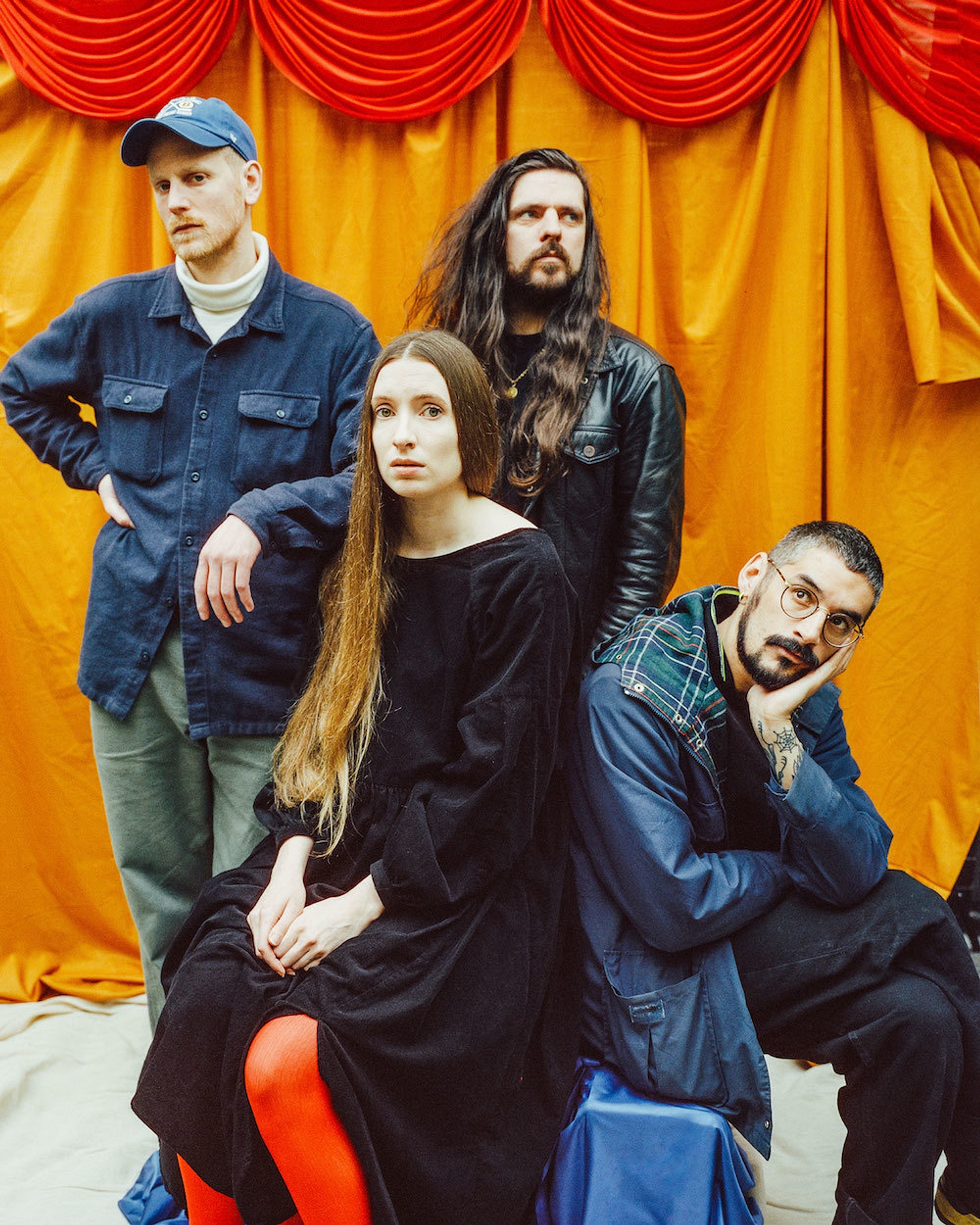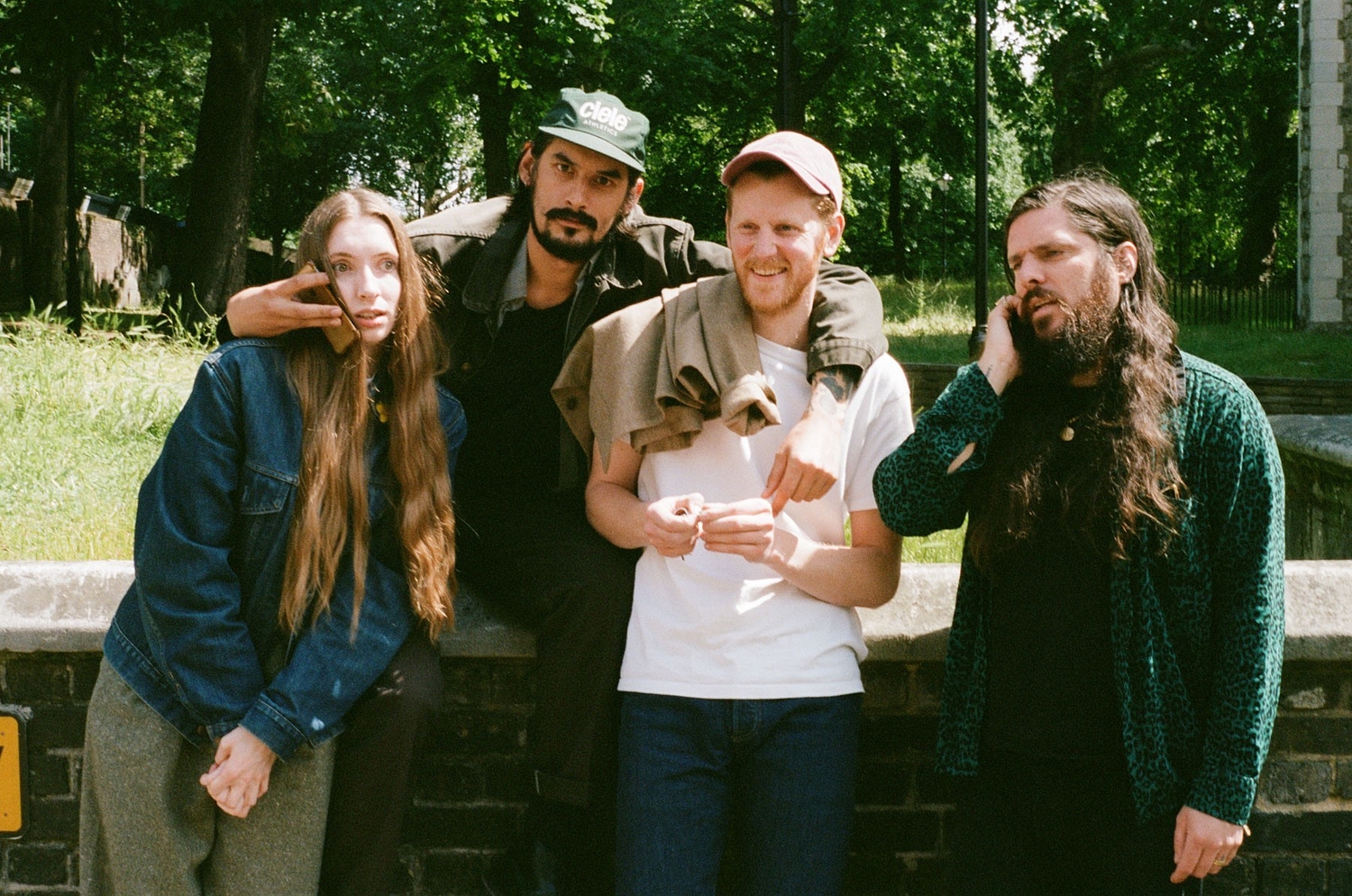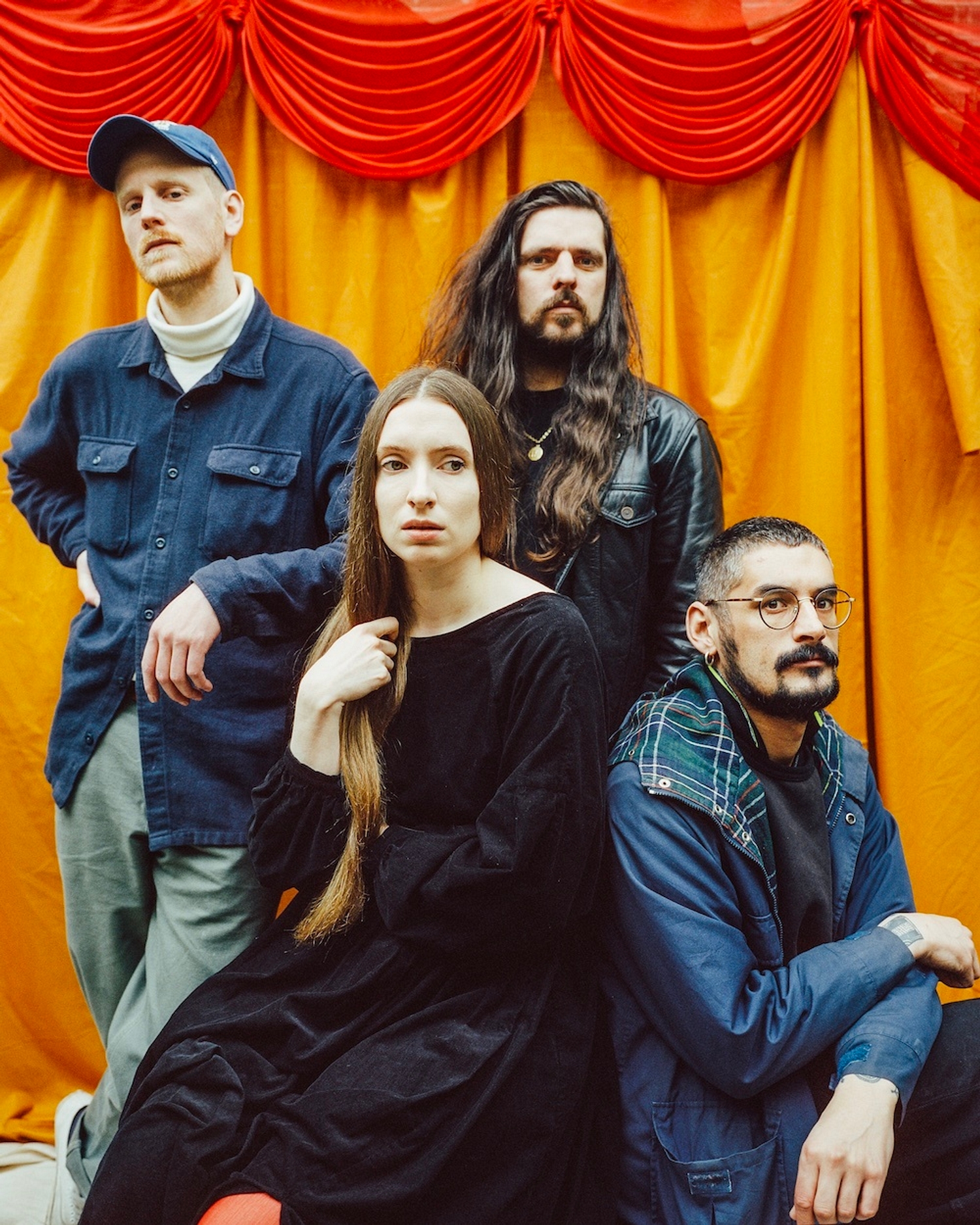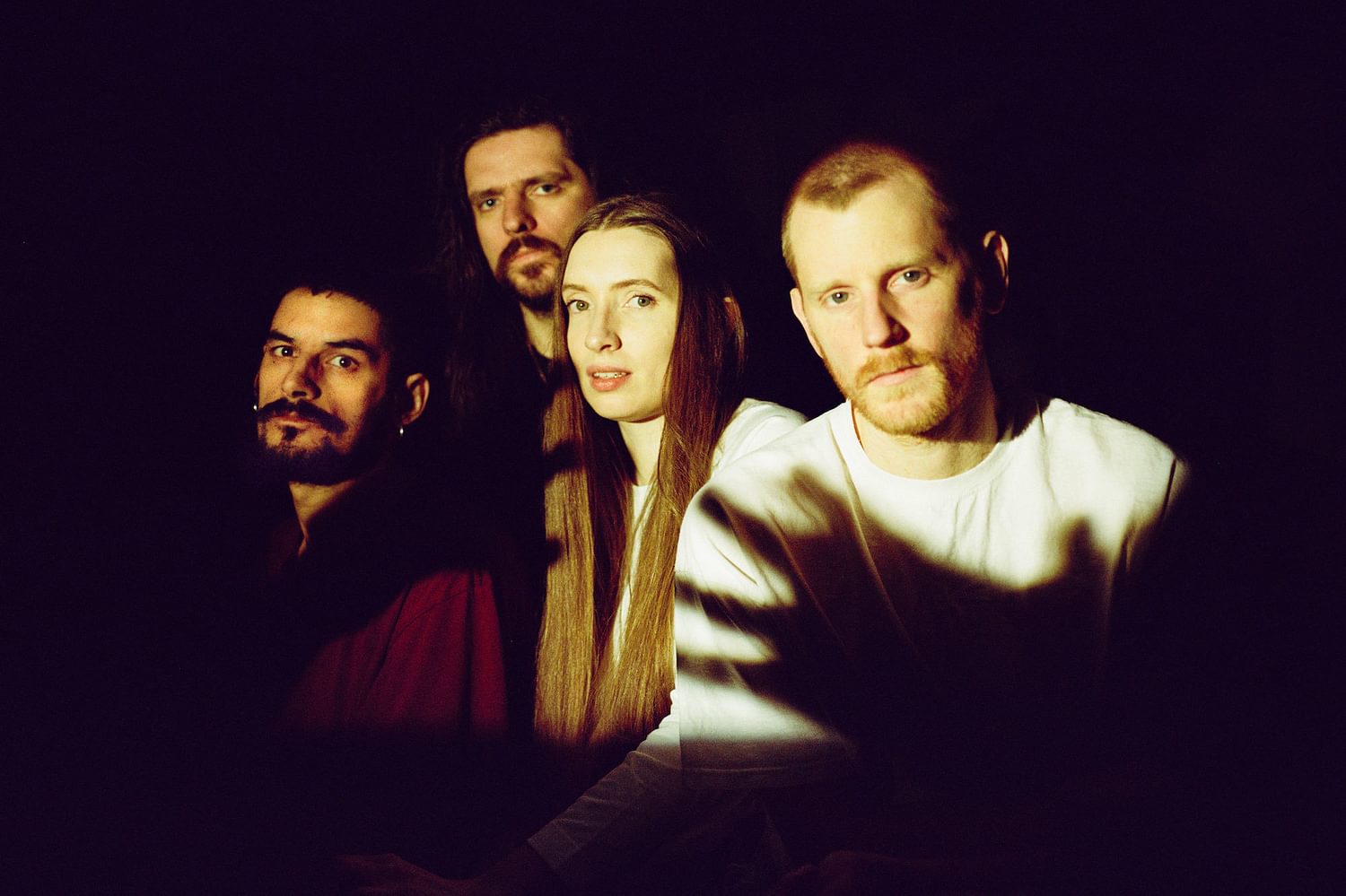 "We're a strange mix of pessimists and optimists. I think that creates a lot of the atmosphere of our music."
— Florence Shaw
It's been a strange and fragmented time for the band to be making this kind of progress. After their US tour was swiftly cancelled due to the pandemic last March, rehearsals and preparations for the album had to be squeezed in between lockdowns; they were lucky to cram in the recording sessions with producer John Parrish during the summer lull. "It's not smooth, it's stop start," says Florence. "You get some momentum, and then you're trying to dodge lockdowns. But also it's nice to have that bit of space; you're yearning to get back to something when you haven't played for a few months. It is a bit of a strange one."
Thanks in part to a certain TV interview, the band's debut single 'The Magic Of Meghan' - about the charm of the then-royal - has assured that plenty of attention is still fixed on their old material, but guitarist Tom Dowse asserts they're fixed firmly on their progression. "We're not that band anymore," he says. "We're never going to write things like that again. We're excited to move forward." Even now, in the little snippets of time the band are able to jam together in person – the moments between takes for their recent run of TV appearances for example – they're constantly experimenting with ideas. Nascent new songs are seeing them strip back their material all over again as they take inspiration from jangly sixties pop and early nineties video game soundtracks.
Nevertheless, Dry Cleaning are also feeling the benefits of their growing status. Although Florence, whose background is in visual art, had never performed music until Tom recruited her after a mutual friend's exhibition a few years ago, Tom, bassist Lewis Maynard and drummer Nick Buxton have been playing in bands for years both together and apart; all the members are in their 30s. "We've been in quite an unusual situation with the pandemic where we haven't had a lot of the more tangible aspects of the growth of a band, like touring and exposure to people," says Nick. "But at the same time the band is growing, and the next thing we do is going to have a platform it's never had before. I've been doing this for 20 years and I've never had a platform like this. It's incredibly intimidating, but also extremely motivating."
Tom raises the band's recent music videos as an example: the surreal visuals for 'Scratchcard Lanyard' which feature a full-sized Florence playing a miniature gig venue, and the distorted video collage that accompanies the gritty 'Strong Feelings'. "Having worked for years in music trying to make ends meet or do everything myself," says the guitarist, "now all of a sudden we can work with [designers] Rottingdean Bazaar," who worked on 'Scratchcard Lanyard', "or this guy called Sabato [Visconti]," the multimedia glitch artist who produced 'Strong Feelings', "and get them paid. Having the means to work with creative people you really admire, that's a game-changer really."
"So much of life is about how chaotic everything is, how it's a miracle that any human beings get on at all."
— Florence Shaw
In many ways, Dry Cleaning's development can be traced quite simply to the growing understanding between the four musicians themselves. "I think our temperaments are important to the band," says Florence. "We're a strange mix of pessimists and optimists. I think that's something that creates a lot of the atmosphere of our music. A tension between two opposite things."
There are other pushes and pulls that make 'New Long Leg' so engaging - the contrast between found words and the singer's own for example, and the way big and complex themes like love, heartbreak and the patriarchy are dealt with via banal and disjointed images. "So much of life is about how chaotic everything is, how it's a miracle that any human beings get on at all, that families are ever able to just function OK, being made up of different people with different lives," she explains. "It's a miracle we're not all just killing each other all the time. My brother said to me once that I shouldn't worry about terrorism because isn't it amazing that out of all the people in the world there's only a few people out there blowing each other up. It made me feel optimistic about mankind!"
Ultimately, 'New Long Leg' is the sound of Dry Cleaning processing all that chaos and confusion with songwriting that's only growing defter as the band spend more and more time with one another. "I think a lot of the writing that I do is trying to work out how I feel about things," continues Florence. "I'll have all these different bits of writing and I'll think 'I think these are all about love', I'll put them on a page and then I'll think, 'Does that help?'"
'New Long Leg' is out now via 4AD.
Read More
Featuring King Gizzard & The Lizard Wizard, IDLES, Tkay Maidza, Sleater-Kinney and more.