Celebrating 25 years in the game with a tenth album intent on treading new ground, Taylor Hawkins opens the door to 'Medicine at Midnight' and the wild world of being a Foo Fighter.
In the absence of stadium tours, adoring fans and rocking out on a nightly basis, Taylor Hawkins - one sixth of Foo Fighters and one of the world's most accomplished drummers - has found a new way to get his kicks.
"I just walk around with a giant cup of fucking PG Tips, man," he says slightly manically on the phone from his home in Hidden Hills, California. "I call it English speed. By the end of the day there's like, five bags in there. It's awesome! That's the way The Beatles made music."
Whether The Beatles were referring to a nice cuppa cha when they sang, "I need a fix, cos I'm going down" is a debate for another time, however, because Taylor Hawkins is here to talk about the new and very long-awaited tenth Foo Fighters album, 'Medicine At Midnight': an altogether funkier affair than anything we've heard before from the globally-massive rockers, and a record fans were expecting nine months ago.
"I can't really whinge about that too much," Taylor says of the band's 25th anniversary celebrations and album launch being unsurprisingly paused. "Owww, our plans to put out our record got spoiled, waaaah," he says, adopting a comically nasal tone. "There's too many other people out there having an actual real hard time, so fuck it, you know?"
Fans are in for a few surprises when they eventually get their ears 'round 'Medicine At Midnight' this month. While unmistakably a Foo Fighters record, it pushes their sound into new realms, with soulful backing vocals, groovy riffs and a whole lot of percussion making it more akin to Sly and the Family Stone than, say, Taylor's faves, Queen.
The band is still very much Dave Grohl's baby, he explains, and these days making a record is not dissimilar from how Foo Fighters started out 25 years ago, when Dave WAS the band. "For the most part, he has stuff pretty mapped out," Taylor admits of the process, which sees demos of nearly all the songs laid down by Dave before they're taken to Taylor, bassist Nate Mendel, guitarists Chris Shiflett and Pat Smear and keyboardist Rami Jaffee to record their individual parts.
"We do have a bit of collaboration sometimes - 'Waiting On A War', 'Chasing Birds' and 'Love Dies Young' [from the new record] were born in the old-school way - but Dave knew exactly the type of record he wanted to make: something groovy and less hard rock. We'd never done disco before, so why not?"
With that in mind, then, were there any elements of Album Ten that Taylor was unsure about on first listen?
"When we started making drum loops, I definitely had my hesitations, and in some way I still do," he nods - not unsurprising from a musician who loves to play hard and fast. "But in order to get that metronomic, mind-numbing, you-can-just-dance-to-it groove, you have to use a loop."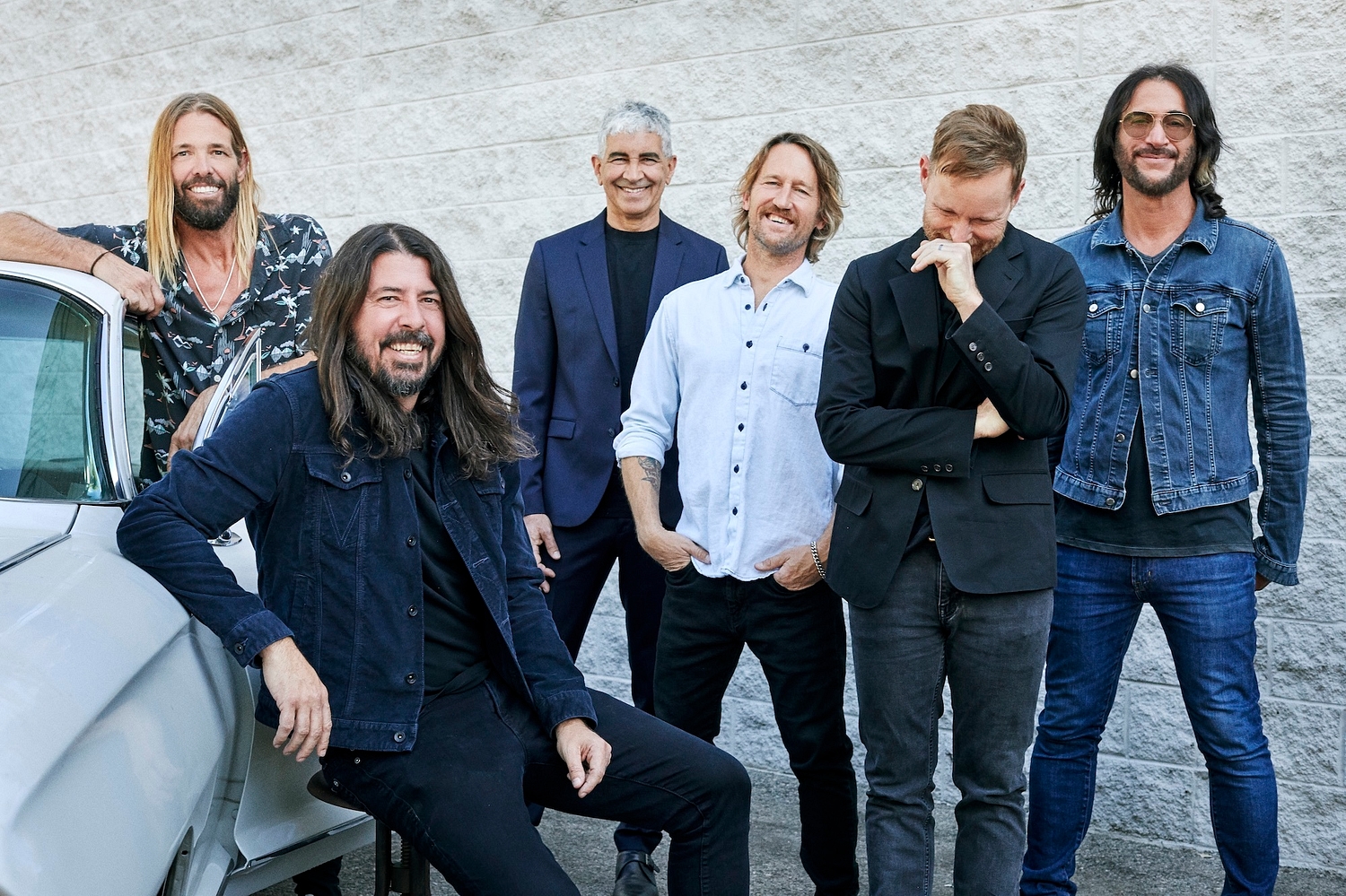 "Foo Fighters is all about the hang factor. It's our own fucked-up little family."
— Taylor Hawkins
Lead single, 'Shame Shame' makes use of this technique ("It was the shortest day at work I've ever had...") and the result is a moody earworm - made great, in part, by its repetitive beat. So what convinced our man behind the pedal that Dave was on to something?
"Well, you start to remember that 'Don't Bring Me Down' by ELO is a drum loop; 'Jane Says' by Jane's Addiction is a drum loop; 'Another One Bites The Dust' is a fucking drum loop..."
Ah, Queen, of course. Taylor Hawkins really loves Queen.
Considering that 'Medicine At Midnight' was pretty much finished by the end of 2019, that's a whole lotta downtime for a band who should have been at least once around the world by now. "I've been doing little musical projects," Taylor says of how he's been occupying himself. "My buddy Dave Navarro from Jane's [Addiction and formerly Red Hot Chili Peppers] asked me to be the drummer for some things that he was doing, and then we started writing some songs together as well, which will probably eventually turn into some sort of record."
Jam sessions with famous friends aside, however, much like us normos, Taylor has been spending a lot of time at home and, after buying his 11-year-old daughter a record player for Christmas, is delighting in sharing his vinyl collection with her.
"I gave her 'Ziggy Stardust…' and I gave her The Who 'Who's Next' and Queen's 'The Game'. She listens to a whole record while she's putting up LED lights in her room and making her own little rock'n'roll sanctuary." Taylor pauses: "I don't mean a HOLE record. She wouldn't listen to a Hole record," he chuckles. "Well I don't know, maybe she would! The first coupla Hole records are pretty good - especially the one Kurt Cobain wrote..."
Since our call, Foo Fighters played at the inauguration of President Biden, the weight of which was not lost on the band ("We couldn't do four more years of that fucking clown"). It's not your average album launch, but then Foo Fighters aren't your average band.
"You know Dave doesn't really need me to play drums - he could play everything himself," Taylor admits. "But Foo Fighters is all about the hang factor. It's a culture, almost, and it's our own fucked-up little family."
Stick the kettle on - after 25 years, there's still some magic brewing.
'Medicine At Midnight' is out now via Roswell / Columbia.
Read More
Featuring King Gizzard & The Lizard Wizard, IDLES, Tkay Maidza, Sleater-Kinney and more.