Living In Widescreen: Hayley Kiyoko
Having established herself as a proud pop advocate for the queer community, now on second album 'Panorama', Hayley Kiyoko is becoming a true advocate for herself.
Hayley Kiyoko stands in front of a suitably lavish mansion, welcoming a string of women inside. It's a playful riff on turn-of-the-century TV sensation The Bachelor: a show that has traditionally paired one male singleton with a selection of potential suitors of the opposite sex. In its many spin-offs - including flipping the script with The Bachelorette - the franchise has yet to branch into the queer community despite its two decades of airtime. However in her video for 'For The Girls', a slice of celebratory pop taken from the singer's second album 'Panorama', that changes for three minutes.
Hayley's proposed matches argue, cry, drink and make-up in an attempt to win over our protagonist's heart, only to be outwitted by late arrival Becca Tilley; not only a cheeky, pop culture-skewering video nugget, the clip also uses the opportunity to confirm Hayley's real-life relationship with the two-time Bachelor contestant. It all forms part of the creative all-rounder's confidence in her art. Beneath the fun is a bold, unashamed and unfiltered acceptance of herself – one that has been a long time coming.
If coming out marks the moment of acceptance, Hayley will have been carefree for years. A proud queer advocate, her career to date has been dominated by inclusive anthems, with 2015 breakthrough single 'Girls Like Girls' forming the focal point of her nostalgia-filled 'This Side Of Paradise' EP - a theme she has driven forward since. Her openness has led to her being affectionately labelled the "lesbian Jesus", but, as Hayley notes, "a lot of people in the community go through this journey of having to come out to themselves multiple times and having to come out to others multiple times". Although there's a definite freedom in presenting your authentic self, it's not the end of the journey.
Her propensity for nostalgia speaks to this. Hayley's self-directed videos, features and music all find comfort in Y2K glitz; it runs throughout the palette of 'For The Girls'' video, and was brought to life via the depiction of her childhood bedroom in the 2020 clip for 'She'. Meanwhile her sound, particularly on 'Panorama', pushes it further with a blend of '00s hip-hop and synth-pop power.
"I've spent a lot of my life not only dreaming but escaping and going back to certain times in my life," Hayley explains. "This nostalgia is always a part of me, because I'm healing this younger version of myself, and trying to understand that younger version of myself." Though not unique to a specific demographic, it's a reclamation of lost years that many of the queer comunity find themselves facing.
"I never got asked to prom. I never went on a date. All these things that I wanted to experience, I never could or never allowed myself to be able to," she notes. "As you truly form your authentic self, it's almost like being reborn and starting your life again. So there are just these weird time capsules, and I just feel comforted by nostalgia. That's what I love."
Feeling like an outcast has pointed Hayley back towards old movies, having been unable to identify with anything being released at the time. Even now, outside of her own music, she still finds solace in art of the past; nostalgia provides a comfort blanket. On the flip side however, it also represents something a lot more current. "Looking back at my life, knowing that it was really dark at times and knowing that I'm here and I've overcome that," Hayley opens up, "well, surrounding myself with nostalgia ignites hope because I got through that. It builds that resilience and invigorates me to keep going."
"Nostalgia is always a part of me, because I'm healing and trying to understand that younger version of myself."
Over the last few years, Hayley has battled with significant health issues. Her physical well-being deteriorated, leading to struggles with depression and, with her body shutting down and a series of doctors unable to find a cause, she turned to herself to find an answer. "I had this moment where I was just like, 'I'm taking control of the situation and I'm gonna figure this out, because no one else is'," she recalls. "That led me to an anti-inflammatory lifestyle. "Firmly focusing on her health, Hayley began the process of personal spring cleaning. "It was a question of, what do I keep in my life that's gonna keep me high functioning for my health and what's causing the chaos in my life? I was forced to look at the bigger picture and be like, OK, what is working and what's not working? What am I still hiding from, and what am I not letting go of?"
Decluttering her mind, surroundings and lifestyle led to two things. Her sound shifted slightly, welcoming executive producer Danja into the fold whose previous work alongside the likes of Justin Timberlake, Timbaland and Britney Spears fit perfectly into Hayley's '00s sensibilities. Personally, meanwhile, the process also gave the singer space to look inwards at herself, her songwriting, and her throwbacks to the past.
"I had this realisation that I've always coded my lyrics or had a protective layer. I wanted this part to be mine, and no one would understand this piece, but I'll give them everything else," she enacts of her previous thought processes. "And so, through working on this record and pulling myself apart and putting myself back together, I was like, why am I still protecting myself?"
Finally able to let the walls down, Hayley has approached 'Panorama' with a new attitude. She notes that 2018 debut LP 'Expectations' is still a full representation of herself, but that in dealing with her health issues and all that's come with it, she's realised when and where she's been holding back. "It took pulling myself apart and putting myself back together to find what was still lingering around, trying to protect me from my authentic truth."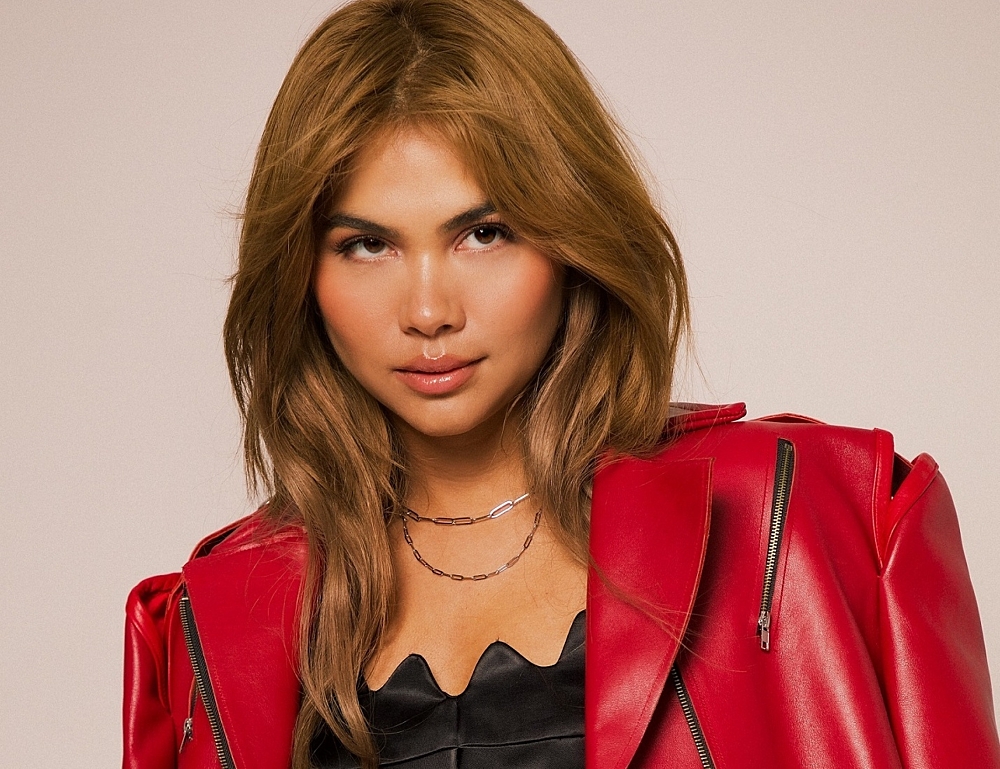 "As women we have to really work hard and go the extra mile to have a seat at the table."
'Panorama', then, arrives as the lessons learnt from this journey. Hayley links the album's title to walking through valleys and stopping to take in the view, both to learn to live in the moment and to see how far she has come, and it's these two thoughts that underpin the album's candid mix of celebratory confidence and insecurity. Within the album, 'For The Girls' with its proud ode to lesbian love sits against the pain of 'Flicker Start'; "I can't figure out what to do today," Hayley sings. "Everyone's having fun, but I can't relate."
"I think, as a person, you can be very confident and love yourself and live your authentic truth while navigating the fact that there are still some old wounds and trauma that you're having to heal," she expands. "That's just a part of life. I named this album 'Panorama' because it's about embracing the highs and the lows and loving yourself through it all."
The record's softer, deeply personal moments "encompass true sadness," she smiles, speaking of 'Underground''s depiction of depression and the title track's grasp to stay grounded in the lowest moments. On 'Found My Friends', she openly calls for help. "That was a huge moment for me to know that I could get lost and there would be people in the world that were still holding my soul and that space for me to find myself again," Hayley nods.
This personal journey has also led to bigger musical soundscapes, inspired by the singer's love of alt-rock and indie, and championed by Danja. Even the more straightforward pop numbers like the euphoric over-her anthem 'Well' carry an edge that fans will struggle to find on earlier material. Hayley sounds more assured on both sides of the record, be it the dancefloor fillers or the introverted tales, whilst all the while embodying the queer empowerment that has secured her a legion of fans.
"It's about normalising our love, presenting it and exposing people to the fact that queer people are everywhere," she enthuses. "We are wonderful, magical people, and we deserve to have the platforms that heterosexual people have. Being a lesbian, we need more representation, so it ends up landing in the category of trailblazing because we haven't seen it before."
Despite her turbulent journey to 'Panorama', the fire burning inside Hayley Kiyoko is clear. There's a resilience, passion, and a genuine drive for change that moves her forward. "My goal is to make great music and to release great art, and hopefully my art will speak for itself," she continues. "And I love talking about my identity, because that's who I am, and a huge part of my life. My goal has always been to be a mainstream artist that people love and that everyone can listen to, but I have no regrets being very open and bold about who I am, and who I love, because I think that helps people.
"I think as women we're always behind. I think that will always be a part of my journey with music," she continues. "We're still fighting for rights in general and reclaiming that space for lesbian women. As women we have to really work hard and go the extra mile to have a seat at the table. That is not a secret. And I think that in lesbian representation - in TV and film and music - that's also not a secret. It's extra hard. So, in general I'm trying to share my truth and my experiences and also trying to help that movement.
"'Expectations' was me catching up with and sharing my stories from the past and 'Panorama' is me sharing my present self," she concludes emphatically. "That's what 'Panorama' is, it's reclaimed power for me as a queer person."

'Panorama' is out now via Atlantic.
Read More