How to disappear completely: Creeper
There's always been a mystery and majesty about Creeper, but when they vanished without a trace last year, they entered a whole new league.
One day, feeling a bit fed up, Will Gould thought, "let's do it". He and his Creeper bandmates had been intricately planning how to announce their debut album from their bedrooms for the previous year. Then, after a few other ideas from label Roadrunner, they flicked the switch, disappearing from view.
"To make noise from not making any noise is the whole idea," the frontman explains now the Southampton six-piece have been well and truly found - and are about to release debut album 'Eternity, In Your Arms'. "To build the walls back up around the band."
Mystery and theatre have surrounded Creeper since the start, but the dedicated following they've gained through the three years and three EPs since allowed them to be more creative and ambitious when constructing their story.
"The reason we did the band in the first place was to try and make something seem flamboyant, and do really bold, theatrical things. Trying to do things that other bands wouldn't do as well. I thought for a while about lying about me and Hannah [Greenwood, keys] being brother and sister - you know, like Jack and Meg White," Will recalls. Some of [our fans] actually still think we are," retorts Hannah.
Even with ambitions as big as theirs, some of the steps the band's fans have taken have taken them by surprise, including inundating The Dolphin Hotel in their home town with calls trying to book its room 309, the site of the disappearance of their saga's protagonist James Scythe and title of a song on 'Eternity…'. "I think we're banned from about half the hotels in Southampton!" Will laughs. "We also tried to book some rooms from when we did a video shoot and they cancelled them all when they found out they were to do with us - they wouldn't allow it."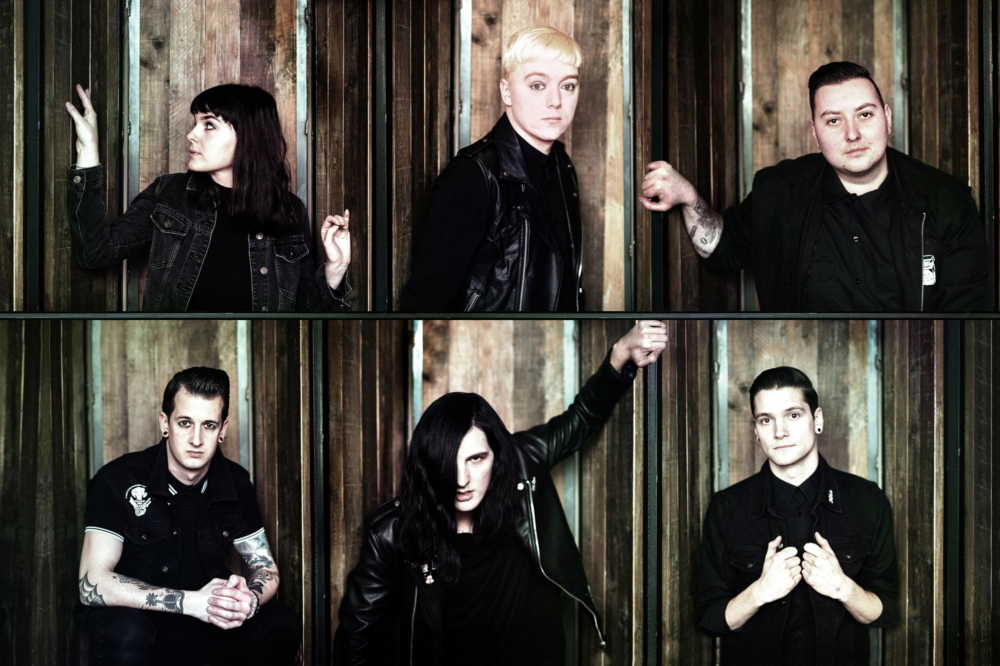 "I think we're banned from about half the hotels in Southampton!"
— Will Gould
But as veterans of Southampton's punk scene, Will and guitarist Ian Miles have had to adapt to the size and scale they find their new band occupying. "I really feel like everything that's come along the way - everything we have - is a result of our audience pushing us along," Will says, with Creeper t-shirts having popped up in every rock club in the country before the band ventured anywhere further north than London. There is something about Creeper though. Strip away their aesthetic, or on-stage personas, and they're simply a (very good) punk band. And with the self-styled cult they've created around themselves, they're swiftly propelling forwards to being one of the UK's biggest rock bands.
"The whole idea in the first place was to make something that was intentionally very different from what was around at the time," says Will. "I know we're not a unique band, by any stretch of the imagination, but everything was so straight up at the time, and people were performing in the same clothes they wore to work, so we were very intentionally trying to create something that would feel very different to go and see. Something harking back to some days that I've forgotten a little bit."
"I think we've experienced the death of the rock star in a way," he continues. "Any mystery that surrounds bands has been completely shattered, and it's up to the artists themselves to defend that and make that important again." It's a difficult balance to strike though, between coming from a world with no pedestals or personal barriers between band and fan, and keeping the mystique that makes Creeper so enticing.
It's also one that can get dangerous, as Hannah recalls. "We decided to go down to the merch table after we played [at Brixton Academy with Pierce The Veil], and the three of us went down, and it was mayhem. It was like King's Cross station, and I was the train! I think both Ian and I both ended up actually having panic attacks and it was just really weird."
"People would just grab you," continues Will. "I feel like some people think there's a right to access to musicians. It's so difficult, at a big show like that, and with an audience that's growing all the time, to be consistently present. It gets dangerous, and it's really easy to forget that people are people. In a way, a lot of what we do is trying to make our characters on the stage be more than just a person, but underneath it all you're still a human being."
"It was like King's Cross station, and I was the train!"
— Hannah Greenwood
The pressure to be ever-present and in character also caused cracks in the recording process for 'Eternity, In Your Arms', with the band continuing to tour and keep up a jam-packed schedule alongside it. It all came to a head a few weeks in, when Will returned home for a few days on the sofa. "Sometimes that stress can be beneficial, in a way, to the record," chips in Ian, "'cause when I listen back to it now, I remember exactly how I felt when that was going on. You can hear little cracks in Will's voice and I'd think 'I know where that came from'."
Despite the problems that keeping their walls up may create internally - "late nights are doing me harm" sings Will on album track 'Winona Forever' - it's a secrecy the band are big fans of.
"When I used to listen to records as a kid… let's say 'Good Mourning' by Alkaline Trio for example," starts Will, "I don't wanna see a picture on Instagram of Matt Skiba recording that guitar in a blank room, because in my head I picture so many other things - nostalgic memories of my life, or how I imagined the record to be, and when I'm listening to it, I don't want it to be tarred with an image of that. An image of a studio is so dull, and nothing what a band is like."
The story and soon-to-be-legend of Creeper stretches far beyond the 11 songs on 'Eternity, In Your Arms', but the album itself is a far-reaching and comprehensive collection of the fist-pumping, flamboyant punk the band are becoming renowned for. It's also a tangible end product to a tale that, at times, trailed far away from the six members' music. "What I like about the album," Will says, "is that it sounds like a band playing, not a machine. You can hear my voice being far from perfect, and it's those elements of reality - among all the fabrication and storytelling that comes from our band - that are the parts that really stick."
Creeper's debut album 'Eternity, In Your Arms' is out on 24th March via Roadrunner Records.
Photos: Mike Massaro
Taken from the March 2017 issue of DIY, out now. Subscribe below.
Read More