Interview
The Age of Enlightenment: Iceage
New album, new sound, new attitude: after a decade in the game, 'Seek Shelter' finds the hard edges of Iceage's magnetic frontman Elias Bender Rønnenfelt finally beginning to thaw.
Elias Bender Rønnenfelt is sat in his apartment in Copenhagen, and winter is beginning to melt into spring. "Winters are harsh here," explains the Iceage frontman. "Any street life you have is just people commuting from A to B, but now people are starting to sit outside a bit more and you actually see people rejuvenating themselves in the street life – that's a bit of an injection of hope." It's fitting, really, as the band are on the verge of releasing what is perhaps their most hopeful album to date. 'Seek Shelter', the Danish band's fifth effort, feels full of life and optimism at a time when neither is in particularly plentiful supply – it's a surprise, too, from a band known best for dour, philosophical rock.
Iceage have been peddling their blend of guitar music's gothier and punker ends for well over a decade now, and have built up a reputation for skewing towards the maudlin. Yet as they've travelled further from the icy post-punk of their earliest material, their sound has thawed into something quite difficult to label – you only need look at the strings and horns of previous album 'Beyondless' by way of example. It's a path, explains Elias, that has evolved yet again with 'Seek Shelter'. "'Beyondless' was a record that was heading into the storm, and 'Seek Shelter' is a record that is situated inside the storm, but is longing to get away from it," he offers. "I find within the record that there's maybe been a need for nurture that perhaps wasn't there before, a longing for something that grabs you around the shoulder, and gives you a squeeze, and says that things are OK. If it's uplifting at times, it wouldn't be uplifting if there wasn't something that you had to lift up from."
It's almost strange hearing him speak so candidly about the vulnerability at the heart of the album. Over the years, the frontman has built up quite the reputation for being a difficult interviewee, point-blank refusing to answer questions, and giving cryptic answers when he does. But the Elias we meet today is an open book – guarded at times, but far from the prima donna you might expect. Indeed, he's keen to set the record straight. "In the early days, we didn't really know why we were doing things yet," he sighs. "We were 17, 18 years old when we released our first record and caught the attention of the world, and then all these smug, older journalists want a piece of you, and want to know why you're doing things. Fuck, I don't know why I'm doing these things!" he laughs. "You're so new into this, and so instinctively you're trying to protect some core of what you're doing before everybody gets to paint the picture of whatever they think you are."
"The fact that I've found a sense of purpose and kind of a home in the pursuit of songwriting - that's quite something to me."
— Elias Bender Rønnenfelt
It's hard not to wonder what the younger him might make of his older counterpart's frank answers and downright upbeat sound. "I don't know, because I think the younger Elias was without anything to lose, without any direction, and without aspiration," he admits. "The fact that I've found a sense of purpose and kind of a home in the pursuit of songwriting, and I've found meaning in it - that's quite something to me. Because I don't think I always expected to be able to find that anywhere." He grins. "No, I imagine he'd be OK with this…"
Regardless of his new-found desire for approachability, there's still an air of mystique to the consistently-compelling frontman. A few weeks ago, Elias announced that he intends to spend the summer travelling around Europe with an acoustic guitar, with an email listed for anyone that fancies hosting him. Far from the received wisdom of carefully-calculated tour schedules and pitch-perfect press releases, the move seems to hark back to a more honest time in music - one imbued with a certain artistic romance.
"I am a musician, and that is what I do," he asserts. "So, desperate measures, but not in a bad sense. I'm just not going to sit around another summer and wait for something, so I figured I'm going to leave it to chance. I miss getting out there, and I've always had a sense of enjoyment at putting myself in situations where I don't know how to get back: you leave a possibility for magic to happen. So, yeah, I've had an overwhelming amount of requests from all over Europe so far, and I'm just gonna take off and see where the fuck this summer can lead me. And if I can get lost in the process, then good."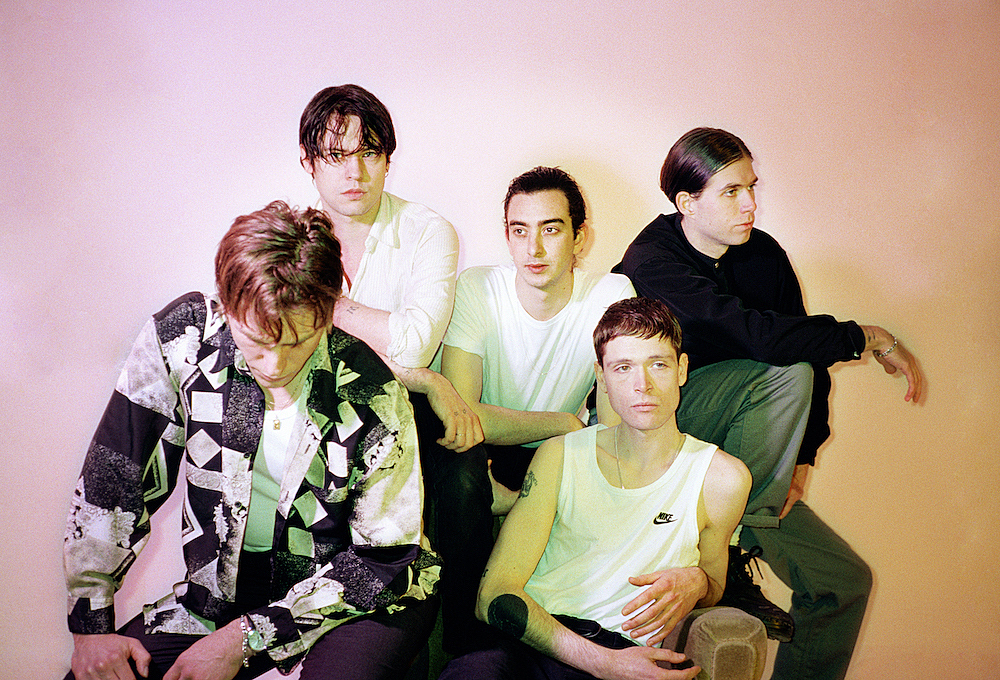 "There's maybe been a need for nurture that wasn't there before, something that grabs you around the shoulder and says that things are OK."
— Elias Bender Rønnenfelt
Iceage: The Story So Far
'New Brigade' (2011)
Fast, hard and raw, Elias and co. didn't pull any punches on their debut. It's the kind of music that every angsty teen dreams of making, with titles like 'Rotting Heights' and 'Total Drench'.
'You're Nothing' (2013)
Iceage's second effort proved that they were far from a one-note act: this is the album where you really start to hear their emotional range. 'Morals' is the standout moment.
'Plowing Into The Field of Love' (2015)
Fast-forward a couple of years, and the band were taking even more notes from Nick Cave, with strings and horns starting to creep in. The same fury their debut had is still there, but the delivery was markedly different.
'Beyondless' (2018)
This is the album that marked the band's full transition from punk to gorgeous, widescreen rock. 'Beyondless' even found them teaming up with Sky Ferreira for 'Painkiller', their biggest earworm to date.
'Seek Shelter' (2021)
Iceage's fifth adds even more strings to the band's bow, bringing in hints of baggy psychedelia and Britpop; recorded with Pete Kember of Spacemen 3, it's their most unashamedly joyous record so far.
It's easy to see that he's getting itchy feet staying in one place. He's spent the majority of his adult life on the road and, at this point, the nomadic lifestyle of a touring musician seems to be inseparable from his songwriting. "I've [been] in Copenhagen for longer than I have been in a good decade or so," he considers. "Often I've had a tendency to finish an album and feel completely empty inside; I have nothing, I have nothing to say, I have nothing to draw from. So sometimes I would have a tendency to go out searching until I'm exhausted and find myself with some ingredients to cook from again." He pauses, looking out of the window. "I can miss the stillness of things when I'm out there, and vice versa, but I feel like it's a part of me. Which is interesting now that I've finished an album and that hasn't been possible in the same kind of way, but then you realise that you do find these little ways of filling up that gap, even if you can't geographically move as you usually do."
'Seek Shelter' feels in many ways an ideal album to soundtrack the possibility of a more vibrant summer, but Elias is quick to refute that it is in any way a Covid-inspired record. "A lot of journalists I've been talking to think that it's been written about and inside the pandemic, but the record itself had no idea that this thing was gonna happen. It's interesting to see how the record has been reapplied to their immediate reality of the changed world." The album flirts with many of Iceage's classic themes – love, religion, defiance – but casts them in a new, celebratory light. Indeed, the album sees Elias interpolating the classic American gospel hymn 'Will The Circle Be Unbroken' on rousing second track 'High and Hurt'. Why choose to rewrite that song? "To be honest, I became aware that I was in the middle of ripping off the melody," Elias confesses, "and I was thinking that maybe that's not such a bad thing to do, especially with the cocky nature of that song? It felt like, well on one hand it would add to the whole meaning of the song and elevate it into that place between religion and something quite scumbaggish, and also it just seems like such a thing not to do, that we couldn't just not do it."
If there's one thing 'Seek Shelter' has to say, it's that life's too short not to just do it.
'Seek Shelter' is out now via Mexican Summer.
Read More