Interview Johnny Marr: "I just wanted to get on with it"
It may have taken Johnny Marr over twenty years post-The Smiths to release his debut solo album, but now the floodgates are open.
Johnny Marr has never been short of a project or two. Even when he was just 23 years old, with the demise of The Smiths still fresh in his mind, he collaborated with Paul McCartney, joined The Pretenders, threw himself into The The and formed Electronic, all over a matter of months.
In fact, the only real surprise from Marr – who has also played in both Modest Mouse and The Cribs, while acting as a session musician, producer and occasionally, working on the odd film score - lay in the fact it took him over twenty years to release his solo debut. But when 'The Messenger' was finally out, the gates had been opened, and there was no stopping Marr's creative flow. That's why, less than eighteen months later, he's offering up a second.
"Adrenaline is a big part of what me and my band are doing."
— Johnny Marr
"Adrenaline is a very appropriate word," Marr begins, during a phone call taking place amid a hectic rehearsal schedule. It's just a matter of weeks until 'Playland' hits shelves, and Marr heads out on a UK-wide tour to celebrate. He's referencing the energy – the adrenaline – that inspired him to begin writing his new album all the quicker. "That word pops up in a few of the songs on both albums, and adrenaline is a big part of what me and my band are doing. I don't know if it's because it's not on the agenda of a lot of musicians - which is fine - but it makes me want it to be even more a part of our agenda. Adrenaline was one of the reasons to carry on making this record, that celebration of energy.
"That energy inspired me to write some more stuff. A couple of the songs were about energy anyway. The first song, 'Back In The Box', sets that idea up a little bit, in that I'm singing about transcendence and euphoria and ecstatic states, either hearing a record you like, waking up on a sunny morning, being in love. Or schizophrenia, drugs, all these things that can make you have a euphoric experience." That's a theme that continues throughout the whole album. "The whole idea of 'Playland' really is looking at what it is about culture that we're chasing, whether it's sexual gratification, consumerism, commercial gratification, money. Of course, there's a price to pay for those things, but I'm making an observation about that and in many ways, I'm celebrating that. I'm asking questions about that. It's an idea that had energy anyway and I had all of those notions at the end of 'The Messenger', so I just wanted to get on with it."
As with the majority of his work, Marr is proud to take on the role of the observer, of the narrator. Freely admitting that he prefers not to write about his own life, he instead tries to tackle external social issues by placing himself in amongst the chaos of everyday life. "It helps that my intention is to not sing about myself so much," he offers. "Occasionally, that can't be avoided. In the case of a song called '25 Hours' on the record, I ended up writing it entirely about who I was at one point in my life. On the first album, a song called 'New Town Velocity' is very directly autobiographical and those songs seems quite popular. I don't think they'd be quite as popular, with every song, all I was doing was singing about myself.
"It does help for me to still look out and observe, in my case, the cities, towns and preoccupations of people, and just how everybody is chasing things. With this album, I made sure I got the train into the studio in London in the mornings; I tried to get out and about and just see all of this activity; just make assumptions and use artistic license."
"As a frontman particularly, you have to try not to burn yourself out."
— Johnny Marr
He's also one to find inspiration on the road. The mania that surrounds his life on tour isn't a scourge for the guitarist. Instead, he thrives off the fast-moving environment and takes it upon himself to become the eye of the touring storm. "I'm able to detach from it and observe all of the manic activity that goes on around myself. It's quite good for a writer and I find that there's an odd kind of serenity in it. When everybody else is running around and freaking out, it makes me want to be that little bit still and just look out. As a frontman particularly, you have to try not to burn yourself out. You end up being in the middle of all of this activity and observing it and that's a really nice thing. I never get worn out on tour, I just enjoy it.
"More and more as life goes on," he adds, "I enjoy a lot of activity around me and a lot going on. I'm not into sitting around in a big house in the country being mellow. I like to be calm and relaxed but it's a mixture of crazy physical adrenaline and mental serenity, if I can manage it."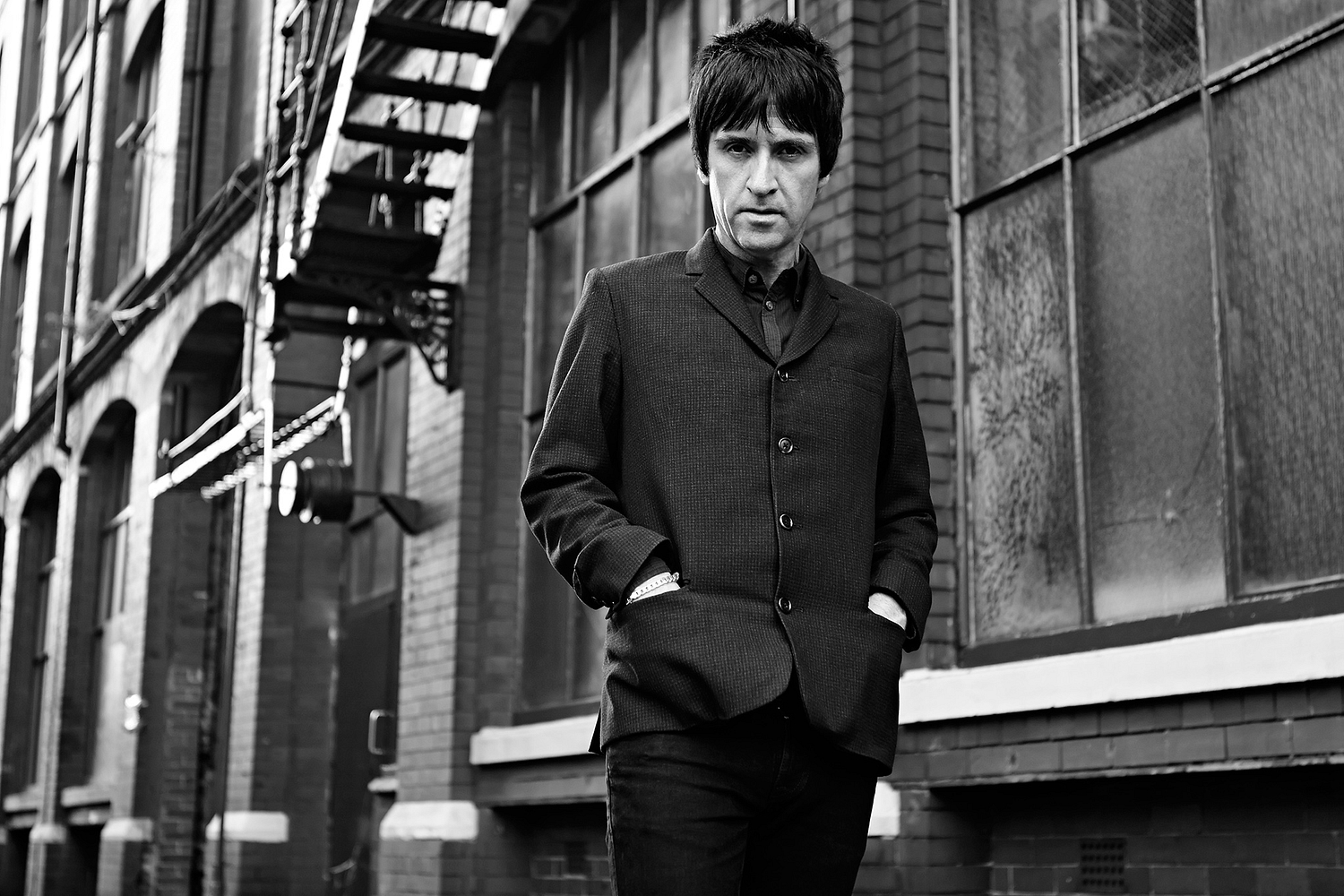 Primarily written on the road while touring in support of 'The Messenger', there was no messing around with this full-length. "The sort of band that I've got, and what we're doing," he assures, "we're not one of those outfits that needs to go away and spend a year in the Amazon to find ourselves or any of that business. This is just the thing I'm doing now, and I don't see any reason to go away.
Sometimes, in fact, Marr had barely stepped off stage before deciding to play around with new songs. "I wrote a couple of songs - 'Easy Money' for example - with my ears literally still ringing from the gig that night. The feeling of the audience and the travelling and the sound of the band ringing in my ears from the show, that's a good place to be when you're writing upbeat rock or pop music. If you go away from that, it's a state of mind. You're already three quarters of the way there if you're dealing with sound checks and gigs and doing encores and playing very loud, you're already rocking!"
Taken from the October issue of DIY, out now. Johnny Marr new album 'Playland' is out now via Warner Bros.
Read More
Featuring King Gizzard & The Lizard Wizard, IDLES, Tkay Maidza, Sleater-Kinney and more.