Riding the joyous second wave of her career into evermore sparkling territory, Jessie Ware is having the time of her life - and inviting everyone along to join her.
It takes confidence and a playful sense of humour to name your album 'That! Feels Good!', but Jessie Ware has both qualities in spades. Those fabulously unselfconscious exclamation marks have certainly been earned after the "career resurrection" - her words - that the singer pulled off with her last album, 2020's 'What's Your Pleasure?'. A stunning disco opus that managed to feel sultry and sweaty at the time, it heralded the beginning of an era for Jessie defined by fun and an irresistible prioritisation of good times in all their forms.
"I think it's kind of demanding people notice me, whereas I've never been particularly keen on that in the past," Jessie says when we meet at her South London home. Despite struggling with a nasty-sounding sore throat, she's as warm and welcoming as you'd expect from the co-host of a hit podcast about food and family, Table Manners, which she makes with her mum Lennie. ​​An enviably relaxed cat is enjoying a mid-morning nap on the sofa; a delicious dark chocolate cookie is presented with coffee as we sit down to chat.
"And so there's an assertion [there] that I wasn't properly doing before," she continues, making herself comfortable on the floor. What made her want to be more assertive? "I know what I'm doing now," she replies plainly. "I was so focused on what I wanted this record to be; I knew I wanted it to pick up from [gorgeously lush single] 'Remember Where You Are' from the last record. I knew I wanted this one to be a really groove-led, energetic, soulful record."
'That! Feels Good!', her fifth album, definitely feels like a relative to 'What's Your Pleasure?', but it's also a sonic progression. It's still disco, but warmer and more organic-sounding – a funkier cousin, perhaps. Co-written by the singer with producers including Simian Mobile Disco's James Ford and Madonna collaborator Stuart Price, it also has a pretty fruity sense of humour. 'Shake the Bottle', on which Jessie lists the pros and cons of various fictional male suitors, was partly inspired by campy new wave legends The B-52's.
She described 'What's Your Pleasure?' as a "thank you" to the LGBTQ+ community, which has supported her passionately since she launched her recording career 13 years ago. It's a connection that's underscored on 'That! Feels Good!'. Trailed with 'Free Yourself' – a life-affirming house banger that she debuted at last year's Glastonbury Festival – and the equally irresistible second single 'Pearls', when she sings "I'm a lover, a freak and a mother" on the latter, Jessie is partly referring to the fact that she is, quite literally, a mum of three.
But at the same time, it's also a knowing nod to her status as a beloved LGBTQ+ icon - "mother" currently being Queer Twitter's favourite compliment to bestow on a woman who has, as Gemma Collins might say, really "earned her divaship". "I watch RuPaul's Drag Race and Pose, so I know about mothers [in the LGBTQ+ community]," Jessie says. "But when I started seeing it in my Instagram comments, I was like, 'Am I being a complete egomaniac, or is 'mother' coming up quite a lot?' So I knew the lyric could play both ways - I'm not stupid! And actually, the people I was writing with started calling me 'mother' as well."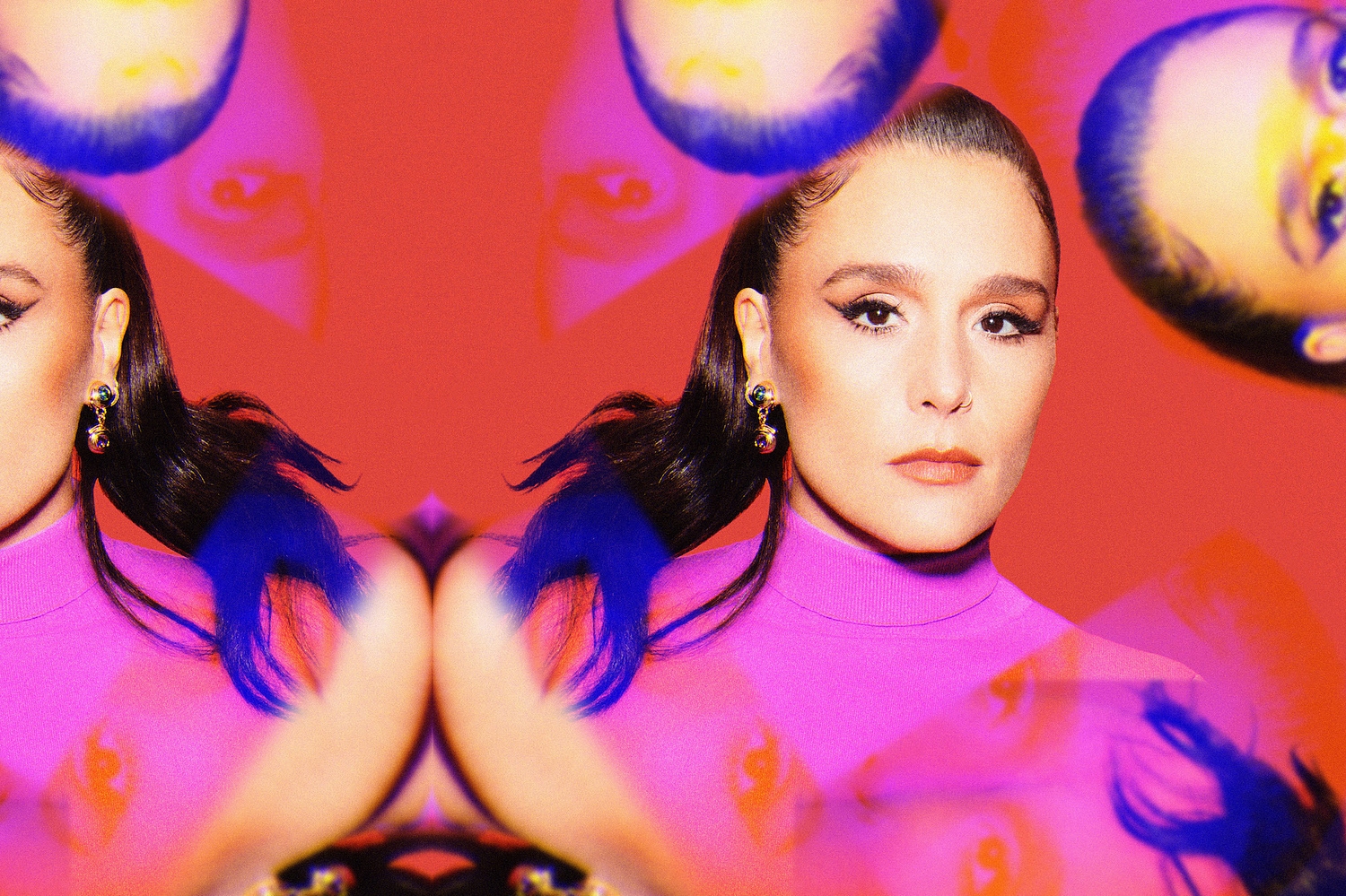 "My purpose is to entertain and make music for people to escape to."
Embracing her 'mother' status is yet another way in which Jessie is displaying the confidence she's gained from the 'What's Your Pleasure?' era. It wasn't just her highest-charting LP to date, peaking at Number Three in the UK, but also a critical hit that was nominated for Album of the Year at the BRIT Awards. Barack Obama, meanwhile, picked 'Remember Where You Are' as one of his songs of 2020.
Then, the triumphant accompanying tour saw the singer sell out two nights at O2 Academy Brixton - her local venue growing up - and open for Harry Styles in Chicago. "Because people were receiving [the music] with open arms, you feel that, and you feel motivated by that," she says. "I felt the most free I've ever felt on stage, the most commanding, the most happy and focused. I felt like I really appreciated being an artist again. I don't think I appreciated it enough at the beginning because I was just so terrified."
Jessie, who cut her teeth singing backing vocals for old South London schoolmate Jack Peñate, was positioned as a class act from the start. Her first two singles, 2010's 'Nervous' and 2011's 'Valentine', were super-cool collaborations with dubstep producer SBTRKT and electronic soul musician Sampha respectively. Then, her 2012 debut album 'Devotion' introduced her as a sophisticated soul-pop singer with one foot in the dance world (infectious single 'If You're Never Gonna Move' was produced by house DJ Julio Bashmore) and the other in alt-rock credibility. Most of its tracks were produced by Dave Okumu of experimental indie band The Invisible.
'Devotion' went gold in the UK and received a Mercury Prize nod, so why was Jessie so terrified? "I just think that I got too much critical acclaim too early," she says candidly. "I'm really proud of that record, but I have to credit Dave Okumu for the Mercury nomination because it was our thing together. He protected me and I loved the [recording] process so much, but I knew so much less at that time and I said so much less. I didn't feel worthy of the accolades, and so therefore I felt like I was going to get found out. I felt like I needed to prove myself."
She calls 'Devotion' an "intimate record" made with "a little group of lovely people," but its unexpected success led to greater expectations for her follow-up. "I'm a people pleaser, so I was like, 'OK, well what do I need to do to please you now?'" she recalls. "Whereas actually, I quite liked it when I was the underdog. I still feel like a semi-underdog now."
"I've felt the most free I've ever felt on stage, the most commanding, the most happy and focused."
She set about meeting those expectations with 2014's 'Tough Love': a more expensive-sounding second album that included tracks produced by Lana Del Rey collaborator Emile Haynie and pop hitmaker Benny Blanco. Her record label must have hoped that 'Say You Love Me', an unabashedly romantic ballad co-written with Ed Sheeran, would become a huge mainstream breakthrough hit for their highly praised artist. It charted at a credible 22 – still Jessie's best position on the UK singles chart - but to this day, she believes it's just a TikTok trend away from becoming a full-on crossover smash.
'Tough Love' was another gold-selling success, but Jessie readily admits she found the album that came next, 2017's sedate, stately 'Glasshouse', her most challenging to make. The recording process became even more "tarnished by politics and agendas" as she fretted about becoming "irrelevant" and continued trying to please everyone.
"I think I tried to make some music for Radio 1, because it's in your ear the whole time that you have to get on radio," she admits. "And actually, I do have radio support [now], on Radio 2. But Radio 1 became such a focus then, and it wasn't necessarily paying off. I was an artist who was born out of blogs and the internet; that's why I've always had this weird reach to many different countries, and I appreciate that. But I think the agenda was always, 'If I'm on the radio, that's gonna lead to blah blah blah and bigger sales'." Sadly, it never quite panned out that way. "I wasn't happier and I wasn't selling more records," she says frankly.
During this period, Jessie also felt the stakes had been raised because she and husband Sam, whom she married in 2014, had just welcomed their first child. "I was the breadwinner and had to deliver to pay for my mortgage," she says. "I know this is like, first-world problems - I get that. But I just felt under immense pressure all the time and I kind of wasn't being honest." Even now, she says she can't listen to 'Thinking About You', a 'Glasshouse' song about leaving her daughter to go to work, "because I feel so wretched about it and it brings up so much guilt".
Jessie has moved on from trying to please Radio 1, but it still rankled when the station didn't playlist 'Free Yourself' last year. "It was selected by pretty much every DJ [on the station]; they all played it repeatedly," she says. "But someone was stopping it being playlisted - somebody at the top. And to be honest, I could get really pissed off about it, or [I could think] I don't really give a shit." She is under no illusion that as a female pop singer approaching 40 (she turned 38 in October), certain avenues are being shut down because of pernicious music industry sexism. "It's sad that an old rock band can still get played, but equally, like, I don't really give a shit anymore. I'm OK," she says defiantly.
On that count, it's impossible to disagree with her. In addition to her musical "resurrection," she's cultivated a successful side-hustle with Table Manners, which has welcomed illustrious guests including Dolly Parton and Paul McCartney, and even spawned a live tour. No longer terrified, Jessie Ware knows exactly who she is as an artist and as a performer. "My purpose is to entertain and make music for people to escape to," she says. "That's become my sole purpose when I'm on stage. I want them to dance and really enjoy themselves for an hour-and-a-half. And I know I can make that happen."
'That! Feels Good!' is out now via EMI.
Read More
Featuring James Blake, Romy, Marika Hackman, yeule and more.