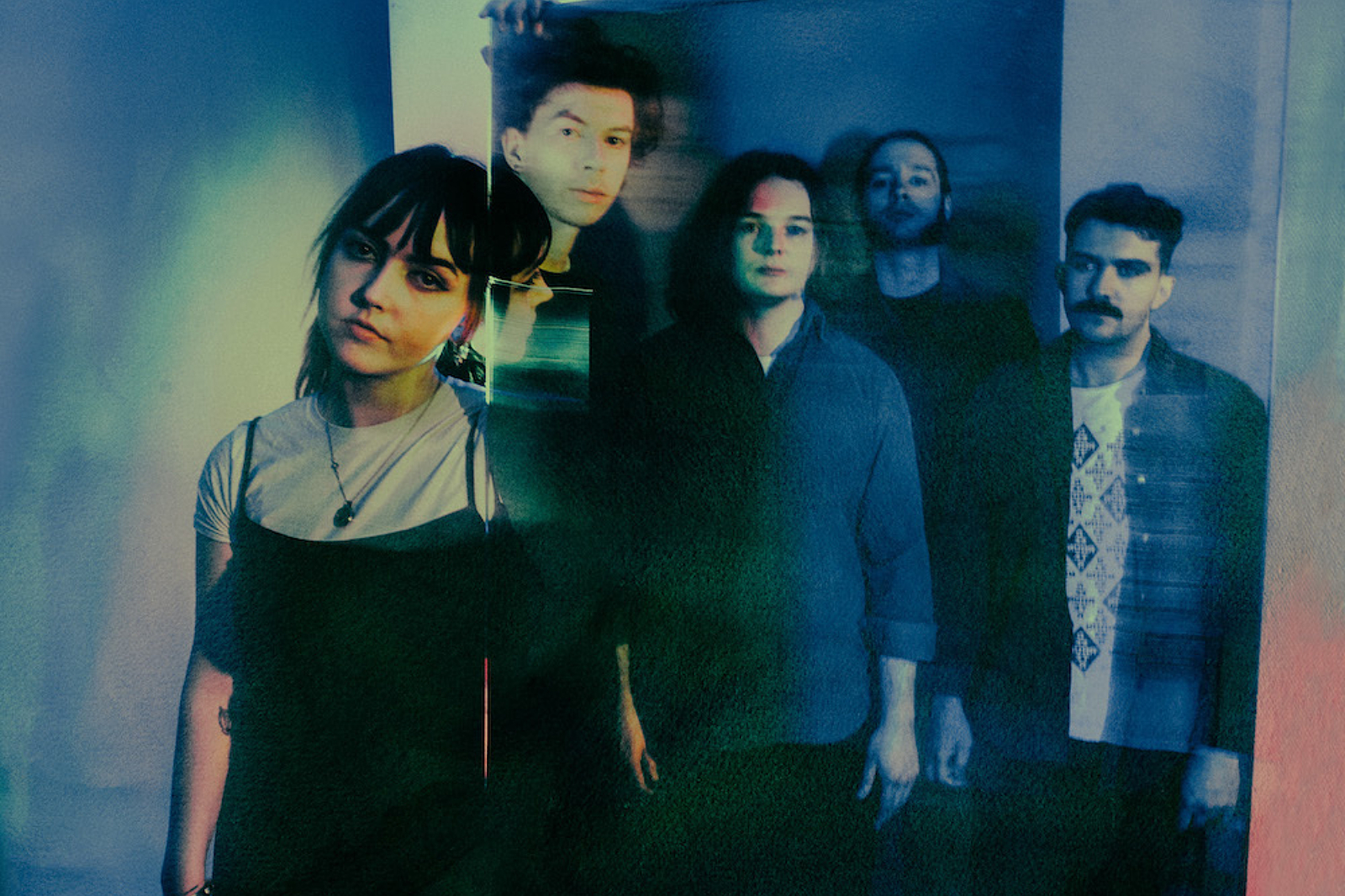 Photo: Olof Grind
Just Mustard: "We had time to experiment"
Years on from acclaimed 2018 debut 'Wednesday', the Dundalk five-piece have finally emerged from slumberous hibernation, recharged and revitalised.
Four years on since the release of their debut LP 'Wednesday', Just Mustard are back and better than ever. Second album, 'Heart Under' - the product of almost a year of assiduous writing and recording - is strikingly more direct and abrasive than its predecessor. Juxtaposing the industrial mechanisms of post-punk with the etheriality of shoegaze, it emotively channels the dark and dingy moods of those long lockdown months into what is, indisputably, their finest creation yet.
DIY spoke to guitarist David Noonan and vocalist Katie Ball during a much deserved week off: having just concluded a mammoth European tour with compatriots Fontaines DC, and bracing themselves for an equally mammoth stint of stateside shows. Despite the hype and ferocious gigging schedule, we are assured they are "handling it pretty well."
"We wanted to make everything feel way more close and immediate than we had done previously."
— David Noonan
Let's talk about the gap between this new record and the previous one. What developments did you feel you made as a band during this interim period?
David: It wasn't an intentional big gap. It was just the same thing that happened to everyone else, that big two years of nothing. As we signed up with Partisan in late 2019, around Christmas, we were like, "Let's release an album". Then we were like, "Let's wait, I suppose". Everyone slowed down, to a slow pace. Writing was fast, but afterwards, there was a lot of that… slowness. Personally, I don't think much has changed.
Katie: I don't think those two years counted. I thought we were all making a deal that they didn't count. I'm still 24, it's all fine…
David: I think the album we've made needed a long gestation period anyway. We were lucky that everything slowed down. We made 'Wednesday', the first album, over a long period of time, so it was quite good that we got a similar process, just us, chipping away at it, trying to get it finished.
Katie: There didn't seem to be any kind of hurry either, because the world had stopped.
There's a lot more experimentation on this record. It seems like you've abstracted your sound a lot, also the lyrics too. What attitude did you have going into the recording process?
Katie: A lot of the sounds that you hear on the album, we were writing with. We were writing and producing the sounds as we were going.
David: Because of the first hardcore lockdown stuff, everyone was making scraps of ideas on their own. There was a pool of noises and chords that we could draw upon. Not all of them became songs, but there were ideas for sounds and stuff we had developed.
Katie: We just had time to experiment and build up a bank of things to use.
David: For the recording we wanted to make everything feel way more close and immediate than we had done previously - not all murky and smoky in the background like the previous album had been. We wanted it to feel like an organic thing.
Where do you think the impulse to become more direct with your sounds come from?
Katie: We'd already done the murky, shoegazey thing and wanted to just change it up! I know I wanted the vocals to be a lot more clear. I prefer the sound of drier vocals. Being able to hear and understand the lyrics is something I wanted.
David: The first album we specifically wanted it to sound like you were in our practice space, but you were standing on the other side of the room, watching it. There was meant to distance between the listener and the band. But [for this album] we wanted it to sound like you were standing in the middle of us. Playing live as well, stuff sounded more direct on bigger PAs, so it was good to try and replicate that, have that feeling on a record.

What were the vibes for the recording session like?
Katie: It was pretty intense because we had a lot to get done. They were long days.
David: We tried to break it up so everyone was jumping in and out. It wasn't like, two days of drums, three days of drums. We were building it up all at the same time. Towards the end, we didn't run out of time, necessarily. We'd taken so much time beforehand when recording generally, we were trying to record everything, it was difficult to fit everything in.
Katie: We did start compromising towards the end. I'd be like 'Yeah, that's a fine take'
David: Then we had time to go back and address the issues everyone had. If it wasn't for the pandemic and stuff, we'd probably have to record it and have it done in a couple of months. It was cool to sit at home with it, and mess about with it for a while.
You recorded the vocals at home right?
Katie: I did record some in the studio but I ended up not liking them. I knew I could do better. The difference in it is amazing I think, from what we were going to go with, to what we have now.
David: We did a few other bits too. We played [the songs] so much and demoed them so much, we knew how it was supposed to sound. So we may as well do them again until we get them right. It was cool to have time to focus on those really important bits.
You've described the album as "very blue", and how it was written during an intense time for you, personally.
David: With the 'Blue' stuff, there was a lot of imagery we were talking about in the songs, the music and the instrumentation.
Katie: There were a lot of water themes in the lyrics. The imagery was very blue to me. So we let that inform the instrumentation and the flow of the songs. We would imagine rivers and bodies of water.
David: There was one song you said something specifically about waves. We had a visual moodboard during the recording, which had a lot of water, different dark blues and blacks, different colours. We were using that as a reference at the time to be like, 'This is what the visuals of the music are.'
And Graham Dean's artwork suits that imagery perfectly. Tell us a little bit about that too…
Katie: I thought choosing the artwork was going to be so hard. It was on Instagram or YouTube, or something, we came across this watercolour artist and were like, 'Ahhhh.. this is how we can tie [the artwork] in with these water themes'. It really had similar emotions that I feel are in the music. Everyone agreed, and everyone loved it. He was sending us some options for the album artwork. The one that we used we were immediately, 'Yes, that's it. There we go, there's the album!'. It ended up being so easy. In the artwork, it looks like the figure is standing in a body of water, like up to their heart. And then, I had a lyric on the album 'The heart under the foot'. It all just came together!
'Heart Under' is out 27th May via Partisan.
Read More