Racing towards the release of their debut album, Kero Kero Bonito are as bold as ever.
"I'm thinking about KKB all the time!" Sarah Midori Perry exclaims when asked if the band are taking some down time before the release of their debut album 'Bonito Generation' later this month. A month before their biggest moment yet as a band, Sarah, Gus Lobban and Jamie Bulled appear deeper submerged than ever in the world of Kero Kero Bonito. They talk about the band in the third person, like an idea and a movement bigger than the three of them.
A huge summer of festivals is now behind the trio, with a London show at Scala on the horizon. Unsurprisingly, the gig - their biggest headliner in Europe to date - is set to be a real landmark for the band, according to Gus. "You can play any number of trendy, gentro underground clubs, but it's when you play somewhere universally recognisable - the Scala at King's Cross - that it begins to feel bigger," he ponders.
Though 'Bonito Generation' has been in the works for over a year, it was only completed in the beginning of August this year, a mere few weeks before it was announced with lead single 'Graduation'. And while the immediacy of its release is a bit unusual for a band of Kero Kero Bonito's size, it's also an opportunity they're relishing. "The reason we're releasing it so soon is because we feel like now is the time to make a statement," Gus explains. "I think it's pretty cool to be releasing records so reflectively."
"We hide nothing! We sing what we see!"
— Sarah Midori Perry, Kero Kero Bonito
2014 mixtape 'Intro Bonito' was the band's first big step, a compilation bringing together everything the band had worked on until that point. 'Bonito Generation' still feels like a debut as a result - approached as an album that needed to flow, and to have all the right elements in the right places - "a jigsaw", as Gus calls it.
"You start off with a few pieces, and think 'oh that's the corner', and 'that's this guy's hand', and then as you come up with more things, and end up only needing one more piece that looks kind of like this. It's very much like a jigsaw, actually. It's kind of ridiculous." Despite this, he insists you "have to be zen about it, and let the forces be themselves."
"It's crazy," he continues. "Just calling it an 'album' gives you a totally different sense of perspective on it, and it's definitely the first project we've done that felt like an album." "One song is not enough to show off the KKB world!" Sarah interjects.
'Bonito Generation' is as rounded and complete as the band say they aimed for, as much of an 'album' as KKB needed to make their biggest statement yet. From the album's cornerstone 'Lipslap', to the absurdly fun 'Trampoline', and previous single 'Picture This', it brings together everything that made 'Intro Bonito' such an exciting, refreshing start, and packs in double the melody, plenty more up-and-down; a whole new planet in their KKB universe.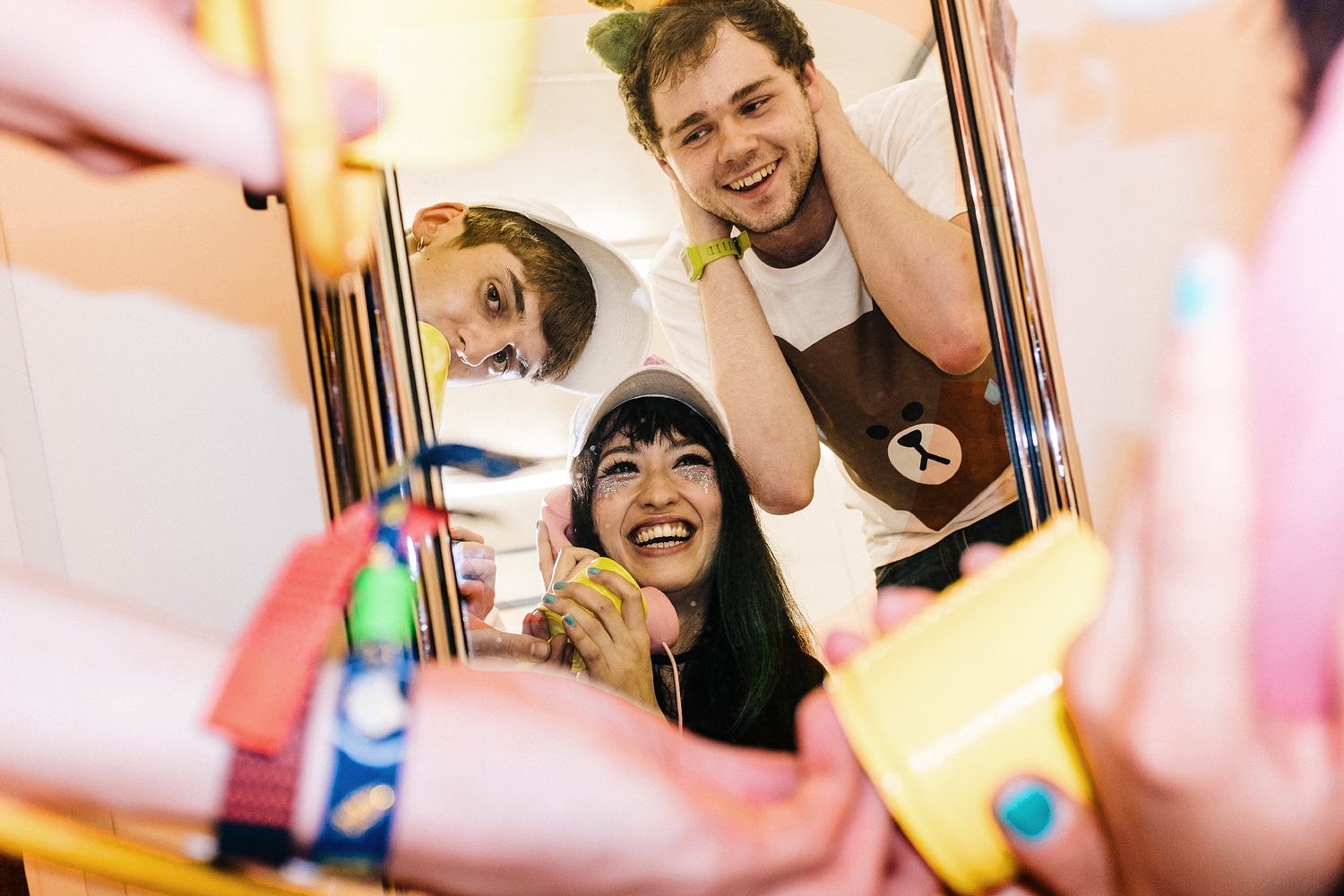 "We'd been playing 'Graduation' for about a year before it came out, and people already knew the lyrics and were screaming along," Sarah exclaims, "and they're doing it for 'Trampoline' too already. It's mad." 'Bonito Generation''s story is well on the way to beginning before the album's even out.
The lyrics on 'Bonito Generation' are as boldly presented as ever, with every song's meaning immediately visible and digestible, from 'Try Me' reeling off Sarah's capabilities on a CV to 'Break''s tales of "doing squat". It's an album made from a band who are committed to making their audience feel something. "We hide nothing!" Sarah says excitedly. "We sing what we see!"
Even when singing in Japanese, as Sarah does consistently across the album, there's enough passion in the delivery to evoke feeling in listeners who can't speak the language. "That's the kind of effect it has on me, not being able to speak the language," Jamie says, and it's clear that the band themselves are as susceptible to be taken in by Kero Kero Bonito's power and charm as all the fans that are quickly falling under their spell.
Photos: Mike Massaro / DIY.
Kero Kero Bonito's debut album 'Bonito Generation' is out on 21st October via Double Denim.
Taken from the October 2016 issue of DIY, out now. Subscribe below.
Read More
Featuring King Gizzard & The Lizard Wizard, IDLES, Tkay Maidza, Sleater-Kinney and more.