Interview King Creosote: "Life in Scotland is pretty good"
King Creosote's new album and documentary, 'From Scotland With Love' is a nostalgic affair.
It's 2012, and the BBC are taking a Sunday night gamble by showing a unique piece of film-making entitled From the Sea to the Land Beyond on BBC4. Devoid of any form of narrative or voiceover, the Penny Woolcock-directed visual collage instead tells the story of the British coast through the medium of archive BFI footage and a stirring British Sea Power soundtrack. The BBC's gamble pays off, with the film getting rave ratings and reviews, and British Sea Power's record sales increasing accordingly.
Since that opening salvo a whole series of similar films have entered public consumption, snapshots of years gone by as inventive as they are warm and evocative. Heather Croall, head of Sheffield Documentary Festival and who, along with Mark Atkin, is so often listed on production duties has disclosed – in an achievement you can only be impressed by - they've made seven such films in two years, including The Big Melt (a film themed around Sheffield steel and scored by Jarvis Cocker) and most recently Love Is All, recently shown at this year's DocFest and Latitude, looking at courtship on-screen and soundtracked by Richard Hawley. But in the midst of these came From Scotland With Love, a film commissioned to coincide with the Glasgow Commonwealth Games, and featuring musical firepower from Fence head honcho King Creosote (née Kenny Anderson).
But those expecting a tourist board puff piece best look elsewhere – tired clichés are instead replaced by shipyards, Hebridean funerals and Edinburgh bohemia. Or, as Anderson helpfully summarises, "Right off the bat Virginia said 'We're not doing a tartan, shortbread, bagpipes movie', so from my point of view that's when I thought 'Great, sign me up!'" The series of events that led to Anderson's appointment involve recommendations from producers and studio personnel…and an unlikely further further champion. "Virginia I think only really knew the 'Diamond Mine' record I'd done with Jon Hopkins," begins Anderson, "but her daughter was a fan of some of my other stuff. So while Virginia may have taken 'Diamond Mine' and listened to the lyrics and themes I suspect her daughter may have had a hand as well as she had other albums by me so then the dialogue started and I began sending them records they didn't have or might not have heard of just to prove that I had a range of musical styles, really. They told me I had the budget to get whoever I wanted to work on the film – within reason – but I just really wanted to get the home team in, really, so I got the Fence Collective guys in and went from there."
"I tried to squeeze the sponge of nostalgia."
— King Creosote
With time at a definite premium – Anderson divulges he only saw some of the footage that Heath intended to use last September – there was a need for a certain synergy and working harmony between director and musicians to exist in order for the project to work. "Virginia wrote me a description of what she hoped to find – the big themes – so there was the bit about heavy industry going into the Friday night out, for instance. She would also write songs of mine that she already knew and liked the mood of next to the sections and we ended up with this quite clever thing where she'd outlined the main themes and the type of mood we'd be looking for."
Whereas the likes of 'From The Sea To the Land Beyond' and recent cycling celebration 'Velorama' dabbled with instrumental and cycle-based pieces to accompany the footage, Anderson went a different route, instead choosing to write lyrical narratives to the songs he came up with from the perspective, which led to some interesting back-and-forth exchanges between him and Heath as each gently tailored the footage to the songs, and vice versa. "I just had to trust my own judgement that the characters that stood out for me as a viewer would be ones worth writing about. With it being archive there's no leading man or lady so your eye just falls on characters that you can relate to", he begins, by way of introducing the topic and the processes involved, before launching into an example. "I knew that I had to write a holiday song – which is difficult because my songs are all bittersweet and self-indulgent so it's quite hard for me to write ones that profess that everything's great – so the first thing I started looking for in the films that she wanted to use was the dark character or was up to something or was looking a bit shifty or whatever rather than this 'didn't we have a lovely time' type thing.
"Then we started watching the footage and all this great stuff came out, and Virginia started pointing it out like this group of kids doing a charleston-type dance in the sand – a whole gaggle of them doing it at speed towards the camera. So with Virginia really wanting to use that footage we went back and starting looking at locking the music to that footage and working out what tempo the kids were dancing at. I was already leaning towards a kind of skiffle sound for the holiday scene, because of the styles I play in (and I only have about three) the skiffle style was the one that lent itself best to it. But when we started making it into a jazz-type swing then it got really fast. So when you listen to it on record or when we play it live, it's pretty much as fast as it can be without it all falling apart and becoming something else entirely. So yeah, that's an example of the lyrical themes falling into place and adopting a style to suit a certain segment of film. From Virginia's point of view, I had this ice cream queen as one of the central characters - if you're putting in footage of Scottish holidays you're bound to find footage of someone scooping ice cream from a fridge. That was one of the hardest bits of footage for her to find but it became her mission and she kept going back to the archive and eventually she found it and it became something of a hallelujah moment!"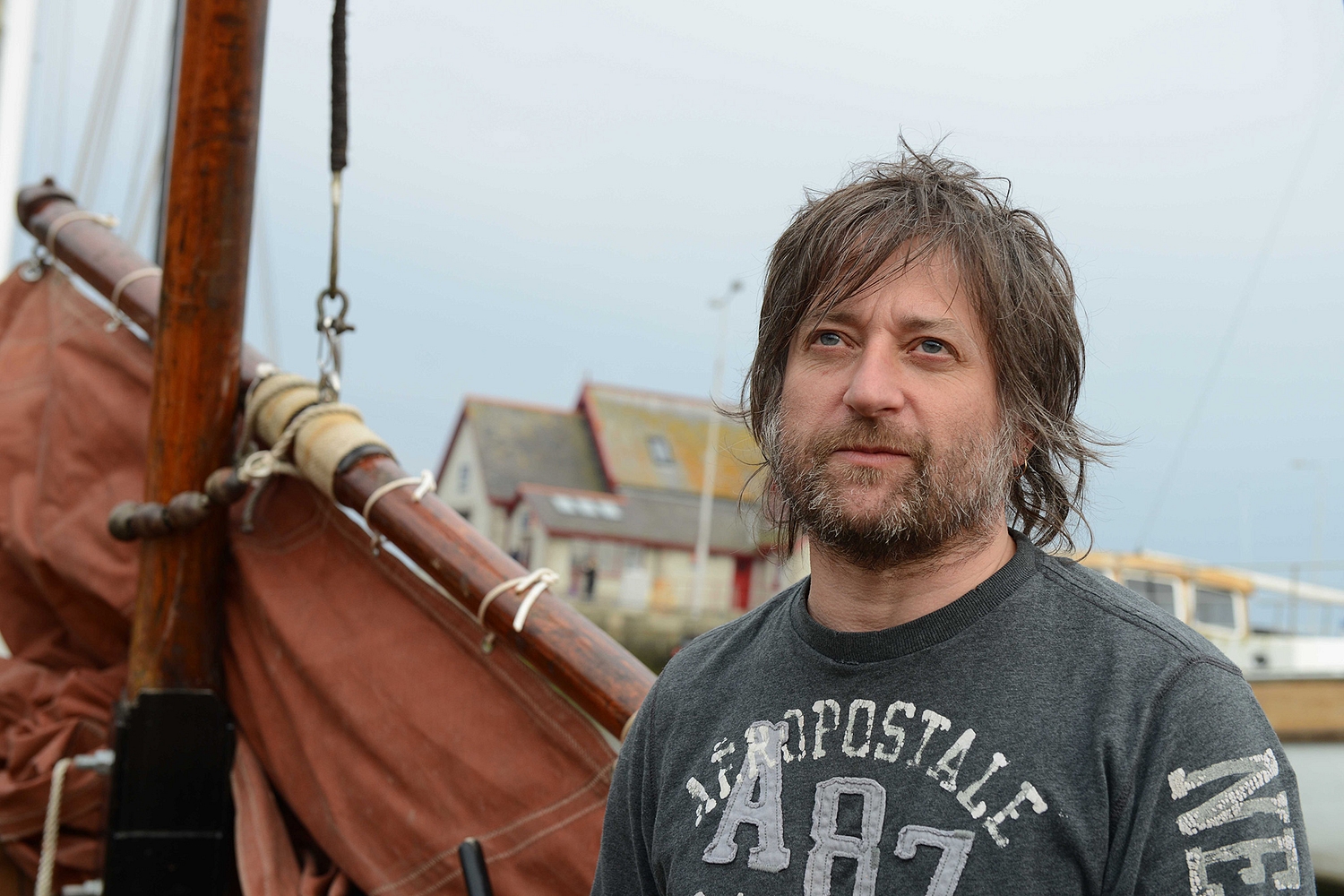 As with From the Sea to the Land Beyond (as obvious a comparison as it is to make, the two in a lot of ways are highly similar – though Anderson is unequivocal in his refusal to watch it while this project remains active "I steadfastly refused to watch it – I didn't want to be influenced by other projects and I probably won't until the dust all settles on this one"), From Scotland With Love isn't so much about its subject as a be all and end all framing device, but is instead a backdrop for social commentary – a fact that wasn't lost during the soundtrack's conception, as the assembled Fence musicians tried to get a handle on the overarching message of the finished film. "I was aware of the funding and the timing with all this independence nonsense going on but early on I asked Virginia what she wanted it to say and what overarching message did she want with a film like this because that's really important. Is it a case of people being thankful for washing machines and mobile phones and being thankful they don't have to graft like that any more? Is it about a sense of national pride? (Which would've been weird given Virginia's from New Zealand...) Is it about saying that every developed nation's been through this too? Is it nostalgic? I have to say from my point of view I've always been of the view that it was better back in the day and that technology maybe hasn't done us as much good as we've been told it has. Yes people had to graft back in the day but it also seemed to be a much more communal life and everyone was in it together, and you find yourself lamenting that a footballer earns three lifetime's wages a year versus a call centre worker..."
"I wanted to get across that even now life in Scotland is pretty good, and we have a great backdrop to our life but I don't think our sense of Scottishness is something you can really package up and try and sell to the media because a lot of our character seems to stem from being quite wry and no-fuss and keeping our head below the parapet. I don't think Scotland is a very showy nation. We enjoy being b-list, or at least that's how I see it. So I tried to squeeze the sponge of nostalgia as much as I can and thankfully it didn't get too wrapped up in nationalism." The results speak for themselves, with the soundtrack melding effortlessly with Heath's cinematography to create a 70-minute ride through Scotland's development through the 20th century that's equal parts moving, rousing and never anything less than captivating. Even the usually self-deprecating Anderson looks back on it with an element of pride and a view that the end result is far better than he could have imagined. "It's far exceeded my expectations, because I hadn't seen a lot of the footage while I was writing and so there was always this voice going on about how what I was doing wasn't relevant, or wasn't relevant, or was generic. Right off the bat I was concerned that I wouldn't be in the right frame of mind to do it justice. But I actually think that what we did was better than alright, and it's certainly unique. being able to play with the different themes and to be able to cross-reference elements was very enjoyable and I think you can go back and watch the film a few times and makes lots of connections you don't necessarily see on the first pass."
Read More
Featuring King Gizzard & The Lizard Wizard, IDLES, Tkay Maidza, Sleater-Kinney and more.