La Dispute: The Art of Loss
With their fourth album 'Panorama', the post-hardcore heroes explore grief to step from the literal to the abstract.
Linking Grand Rapids to the small town of Lowell, Michigan, an unremarkable stretch of road forms the basis for La Dispute's fourth studio album, 'Panorama'. The namesake of two of the album's most powerful tracks, it is several subtle roadside memorials on Fulton Street that kickstarted the band's abstract journey through loss and grief. With his partner at his side, the band's enigmatic vocalist and lyricist Jordan Dreyer was struck by her personal connection to otherwise trivial locations. "The record stems from hearing her personal history, and the history of her friends and family, through what were effectively places where people had died," he states bluntly, sat in a corner booth of an East London pub.
Jordan quickly became fascinated with the relationship between people and places, and the power of place over memory and emotion. "I was thinking about how remarkable it is to be driving down the road and go past a place where tragedy occurred, and how you can be transported immediately into that headspace," he unravels with a mix of awe and caution.
'Panorama' offers reflection on the finality of life, and the impact of death on those that remain. Accompanied by a relentless ebb and flow of heavy and light, it mirrors the unexplainable hold of grief. Across the ten tracks, lyrics are littered with references to dreams, of sleep and memory. Through it, La Dispute embrace the good and the bad; how pleasant memories can be lost to shrouds of sadness, and how despair can co-exist with a celebration of life. "There's no finish line," Jordan notes of grief, "no ribbon at the end."
It's not the first time La Dispute have tackled the subject, yet Jordan readily acknowledges the record's newfound abstract concept. Stepping away from the literal storytelling of 2014's 'Rooms of the House' and building on ideas introduced on 2011's 'Wildlife', 'Panorama' pairs the band's atypical poetic post-hardcore with both their most ethereal and densest themes to date, with a sound to match. "This record is a different animal to anything we've done in the past," Jordan enthuses of an expressive freedom borne out of a particularly turbulent process, one which saw the band scrap months of work.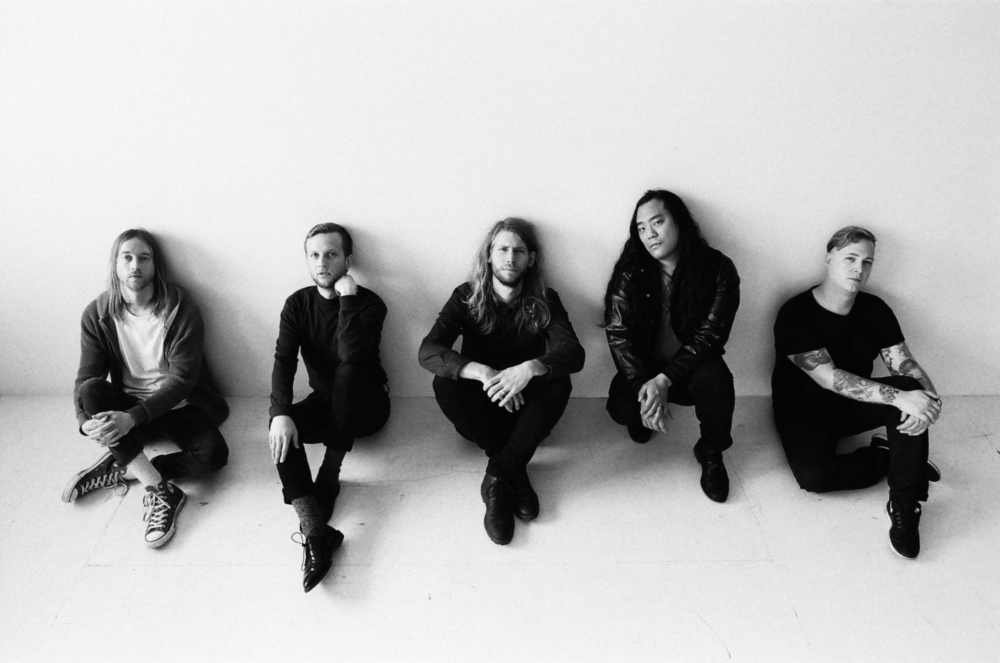 "We really leaned into something that we never really had: a break from the literal."
— Jordan Dreyer
"We decided we hated everything that we had done. We were hyper analytical and trying too hard to reason our way towards the right direction to take. We were trying to write the logical next step from 'Rooms of the House', and we tried to force our way into it, and it felt inorganic. There was just an unquantifiable sense of inadequacy. It just didn't feel like the right thing for us."
Despite attempts to push forward with the record, eventually the band collectively decided they weren't heading in the right direction. Replacing the now-stifling logic with a reinvigorated passion for experimentation, their creative struggles allowed for something altogether more compelling.
"In the studio we had the opportunity to indulge every possible whim," Jordan continues, "to throw all of the shit at the wall and just see what sticks. I think that's so often been our experience writing; in order to change the direction that you move in and the end-product, you have to introduce restrictions. This time around those restrictions kind of introduced themselves."
By moving the goalposts, 'Panorama' was allowed space to reinvent the style La Dispute had themselves built. On 'Fulton Street II', they indulge their heaviest side to date. Epic closer 'You Ascendant' plays with beauty and tension, showcasing a subtlety that underpins the entire record. All embody a certain spirituality; a rare surviving element of the initial writing sessions.
"I wanted a symbol, a reoccurring motif throughout the record, to talk about external sources we seek to cope with our own mortality, or the mortality of our loved ones, or this constantly overhanging sense of despair from our inevitable fate," Jordan explains. "That was the initial seeds from before we started over, but once we did we really leaned into something that we never really had: a break from the literal."
Through it, 'Panorama' is a far cry from the standalone tales that dominated La Dispute's previous output, not least 'Wilderness's defining 'King Park'. Those who have seen the band live will be au fait with hordes of fans screaming back the powerful closing lines. Although Jordan's words have clearly resonated, this type of literal storytelling can lead to valid concerns. "I think I've always felt somewhat insecure about that," he says of the emotive response to the song's refrain. "The truth of the matter is the whole story itself is complex, nuanced and involves so many different factors. Something like that doesn't happen in a vacuum – there are a thousand different things that lead to that moment."
"I've always been really careful about my word choices. We've always been very deliberate and meticulous."
— Jordan Dreyer
His response is indicative of how he approaches songwriting, and how his abstract approach has helped. "I've always been really careful about my word choices. We've always been very deliberate and meticulous," he says, expressing his frustration that some in the past have dubbed his lyrics a "stream of consciousness". "It belies the truth," he states in response.
On 'Panorama', Jordan has attempted just that. He has embraced the intangible nature of grief and brought it together with the reality of death. Yet this process brings other difficulties. By taking on a boundless emotion, the possibilities are dauntingly endless. "I think the most difficult thing for me as a writer is to let myself be done. That has to be one of the biggest things for anybody who writes for fun, or for a career, you're not a writer until you learn how to be done."
To help, and much like on all La Dispute's material, he's drawn from the experience of others to hone his concept. "It occurred to me that in a smaller town those stories get remembered better. I didn't experience a lot of that and have seen remarkably little of death in my social circle and in my family. So many people that I know have been inundated with it for the duration of their lives. Maybe it's my fascination with morbid topics, but I'm seeing the resilience of people that I know who have suffered such great tragedy."
"I imagine to one extent or another, everybody understands the inevitability of their fate. And if you don't have some sort of coping mechanism for making sense of it – an afterlife or a philosophical approach to your everyday – it's a difficult thing to think about." He stops. "It's scary… Life is fucking scary."
Yet with 'Panorama', La Dispute adopt the universal inevitability of loss to create intricate beauty. Jordan isolates the otherwise unexplainable peculiarities of grief and presents them without judgement, using his ability to internalise human events, places and emotions to turn what is often scary into powerful and poignant art.

'Panorama' is out now via Epitaph.

Get your copy of the latest issue
Read More