Neu Lady Bird: "The time to bury your head in the sand is gone."
Socially-conscious punks with a heart, the Kent trio are kicking out the old tropes of rock'n'roll machismo in favour of something communal, compassionate and collaborative.
There are certain stereotypes that you'd be forgiven for defaulting to when you think of a group of young men, from a small town, making noisy, mosh-worthy music. They're ones often riddled with slightly too much aggression, or slightly too much bravado, and they're ideas that have been laid down and built upon for years now, from the antagonistic beginnings of punk, through the swaggering '90s to the second wave fall-out of '00s indie. They're far from all bad, and there's pros to be found among the blustering cons, but Kent trio Lady Bird are here to stand for a far more modern alternative. "At the end of a century that had seen massive upheavals in human nature and how people were thinking about themselves, the cultural figures that we chose to look up to were all people going 'I'm the fucking bollocks', even though you knew that underneath they were just like everyone else," explains drummer Joe Walker. "It represented the time perfectly, but people are looking for something a bit more real now. The time to bury your head in the sand is gone."
In 2018, if there's a prevailing trend among UK indie's musical youth, it's one of positivity and a genuine desire to foster a sense of social and emotional wellbeing. Peace named their latest LP 'Kindness Is The New Rock'n'Roll'. Hull boys LIFE recently put on an entire festival in aid of local young people. And Lady Bird – completed by singer Sam Rennols and guitarist Alex Deadman – might just be the breakthrough voice that exemplifies it all. Hailing from Tunbridge Wells and still all only in their early-to-mid-twenties, the trio's conversation – both in song and out – is infused with a remarkably sensitive and compassionate core; old heads on young shoulders, they're creating the kind of excitable racket that's playful but vulnerable and unafraid to acknowledge both of those sides in equal measure. As Alex states, "I think currently most bands are rejecting that whole [old school] rock'n'roll image because it's just not helpful and does nothing for anyone. The environment that I'd like to try and create is one of self-belief, that no matter who you are, if you want to make your life better or do more, then you can do that."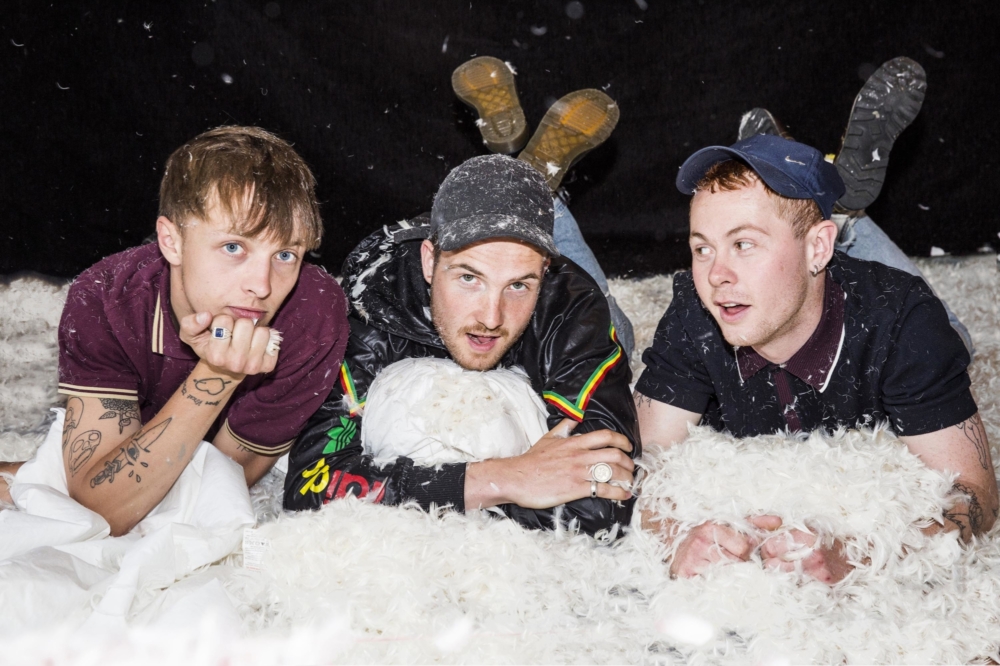 Formed just over two years ago around the scene hub of the Tunbridge Wells Forum, it was with debut EP 'Social Potions', released as the first offering from local pals Slaves' new venture Girl Fight Records back in February, that Lady Bird first made themselves known to the wider world. An interlinked four-track largely documenting the various ill-advised exploits of a fictional youth, its strain of Streets-esque storytelling took the playful wordsmithery of their label bosses and set it in a murkier, but ultimately more moral framework. "'Social Potions' is about drugs, but as a metaphor; it's about vicious cycles in general. Finding yourself too far down a certain path before realising it might be more damaging than you initially realised," explains Joe. "And it's definitely not condoning it," chips in Sam, with a groan. "A young person asked me in a park near where we live whether it was for or against drugs. And I thought, well you are literally the person that this was written for, to help and maybe give you some perspective, and you're asking me that! I have failed you!"
If there's any quiver of doubt as to their intentions on record, however, then the trio's powerful live show should sort that out. Raucous and vital, but peppered with spoken word poetry-style between-song messages on growth and change, it's also found the band swapping their roles and sharing vocals due to Sam's ongoing throat problems. Though the singer has recently had a huge breakthrough that should allow him to largely resume frontman duties from now on, that sense of camaraderie is one that clearly remains. "I think we almost work better when there aren't defined roles. Lady Bird is whatever comes out of the room when we're in it, so how I imagine us to be is a big, mouldable ball with three pieces intertwined as one," nods Alex.
And if one of Lady Bird's greatest strengths lies in their six-armed, equally-weighted, mouldable band ball, then their other is in their willingness to extend that sense of community and positivity out to the world around them. "The thing that I really wanna see is, in a time where global issues can feel so oppressive, for people to really give enough respect to the power inherent in their daily lives to create positive contributions," grins Joe. "I think that's a lot of what Sam's lyrics deal with. It's about the person and if you give enough respect to your own life then that's a really positive force that you can [exert] all the time."
'Social Potions' is out now via Girl Fight Records. Lady Bird play House of Vans at Bestival (2nd - 5th August), where DIY is an official media partner. Tickets are on sale now. Visit diymag.com/presents for more information.
Taken from the July issue of DIY. Read online or subscribe below.

Get your copy of the latest issue
Read More