Interview Merchandise: "The problem with music is there's no nerds"
Merchandise have been a hype band, a punk band and everything else under the sun - now they're giving the finger to "arty" types by entering their "pop" phase with new album 'After The End'.
This time last year, all eyes were on Merchandise, a Tampa, Florida group who'd been together since 2008 and in some strange collision of events, were suddenly being hailed as the saviours of punk. DIY Weekly coverstars, magnets to label attention, these underground heavyweights were being exposed to a whole new world. They responded by playing the buzz gigs, touring for months and then deciding - like anyone else would - to become a completely different band. New album 'After the End' - the group's first on 4AD - is said to be a different chapter, with 2013 EP 'Totale Nite' being the final knockout blow for the old Merchandise. There's reason for this - they've picked up new members (Chris Horn on sax and keys, Elsner Niño on drums] and they've seemingly ditched the distorted howl of previous recordings.
Now these five musicians are calling themselves a "pop" band, which seems a stretch when it's being applied to doomy rock 'n roll songs capable of stretching over the six minute mark. Still, frontman Carson Cox insists that he doesn't feel like there's an "an easy definition" for this marked departure. And when a record's packing songs as hard-hitting and straight-to-the-gut as lead track 'Little Killer', perhaps they have a point.
Choice didn't come into this marked change, according to Carson, "in the same way that for some people having a kid's not a choice, moving somewhere's not a choice." The new record was self-produced in the same house closet space as all the band's previous LPs, but it benefits from a fuller sound, one capable of striking arenas and festival stages instead of stagnating in sweaty bars. "Now it's about stating an idea clearly," says Cox, who admits that "when you make lo-fi music it's easy to hide all your mistakes."
This insistence to reshape what they're doing comes from early days growing up, listening to music that was "super direct", he says. "Whether it was 50s rock 'n roll or whether it was punk rock… And that's where the power is, for me. I'd rather it be a direct thing than something coming with instructions, like 'Oh, you have to read this book' or 'watch this movie' in order to understand this lyric." He hesitates slightly. "I'm cool with that too, to some degree. I love Bob Dylan. There's plenty of lyrics, T. S. Eliot and Hank Senior. Same with Frank Zappa. There's plenty of people who do it really well, but at the same time the music's immediate.
"It's more about my experience. I feel like I can make art without trying to bore everyone to death. You can do it without big meaning or self-inflated whatever."
Once staples of a Tampa scene, it's apparent that Cox sees his band as completely far removed from their past. "There's lots of people who'd prefer us to never make music again, but they're not in the band so it doesn't really matter," he quips. A flick through their back catalogue prompts a lifetime's worth of "sold out" or "out of print" notifications, and this is partly why they signed to 4AD - it was a logical decision to go with someone who could distribute their records. "I don't see bands as property, whereas most people do," he says. "We're nobody's property anymore. It's for anyone. You can find it on Spotify. You can hear it on the BBC. It's for a genuine audience, a genuine listener. The music I grew up loving was super direct. I'd rather it be a direct thing than something coming with instructions."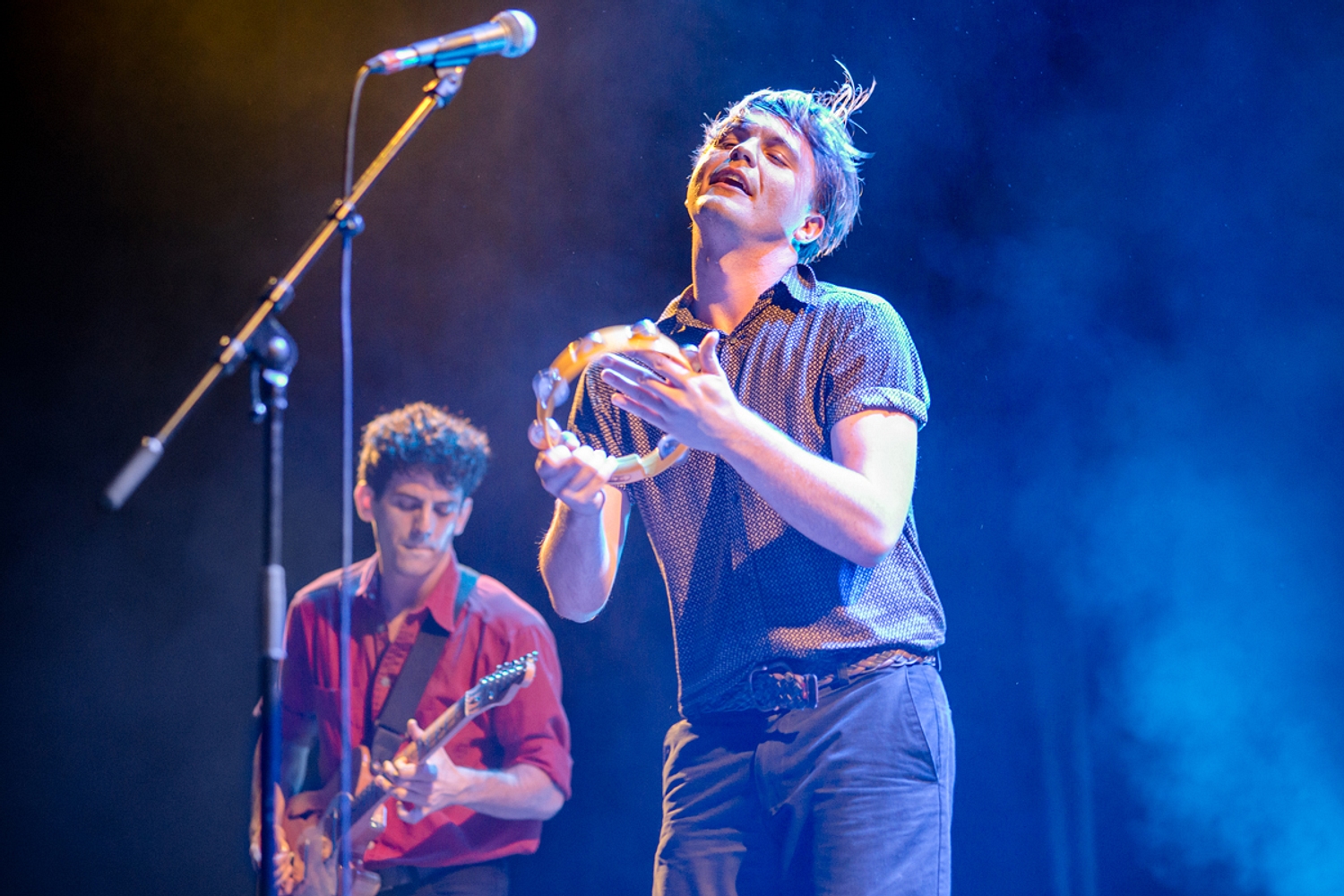 "If we're not entertaining, ultimately it's not worth a damn."
— Carson Cox
"I don't wanna repeat a lot of old motifs," says Cox, referring to the underground status and crate-digging attitude that might've been lumped alongside Merchandise when heads were beginning to turn last year. "I don't expect everyone to look at 'After The End' under a microscope. I think it's for entertainment. I'm getting something from my art, but if we're not entertaining, ultimately it's not worth a damn. We can't just say we're artists and make something that says nothing. That's the problem with most modern art; it says nothing and it's literally all concepts that nobody cares about."
At a recent London gig at Islington Assembly Hall, Cox led his band through a relatively structured set (to begin with) that gradually descended into pure chaos; band members on the floor; two chords being chugged out with a piercing lack of restraint. They played two encores, almost like this was a goodbye gig for the Merchandise of old. If the emphasis is on entertainment, these five have upped their game. 'After The End' is a terrifying record in some ways. It flicks a switch between effortlessly catchy songwriting ('Telephone', 'Little Killer') and dark, ambitious near-apocalyptic rock, like in the title-track and 'True Monument'. It's immediate on the ear, but it's scarred with harsh qualities that defined early LPs. Merchandise have always denied that they're a punk band. The term is "totally irrelevant now", says the frontman. He says the next movement is a "new consciousness", something he refers to in 'Looking Glass Waltz' on the new record. In relatively brief terms ("I could talk about this for ten days," he jokes) Carson says a "new consciousness" hasn't happened yet, but it'll be "a statement that people can understand and can feel." It'll come from an honest place, too. "It's not like a thing that the rich make, something that the ruling class of artists make, it's not something that Damien Hirst or minimalism is going to make."
At one stage when describing the new record, Carson stops to say he could speak in more "callous" or "outrageous" terms, and almost apologises. But he's constantly engaging in conversation. 'After The End' is "more to do with vibration and light" than music or lyrics, he says. "I kind of want the words to melt into the music. I don't want it to just be this thing that's looked at separately or looked at as language. I would rather music teach me than me control it. It has to do with a lot of that. I could give you a super long explanation, or what I just said."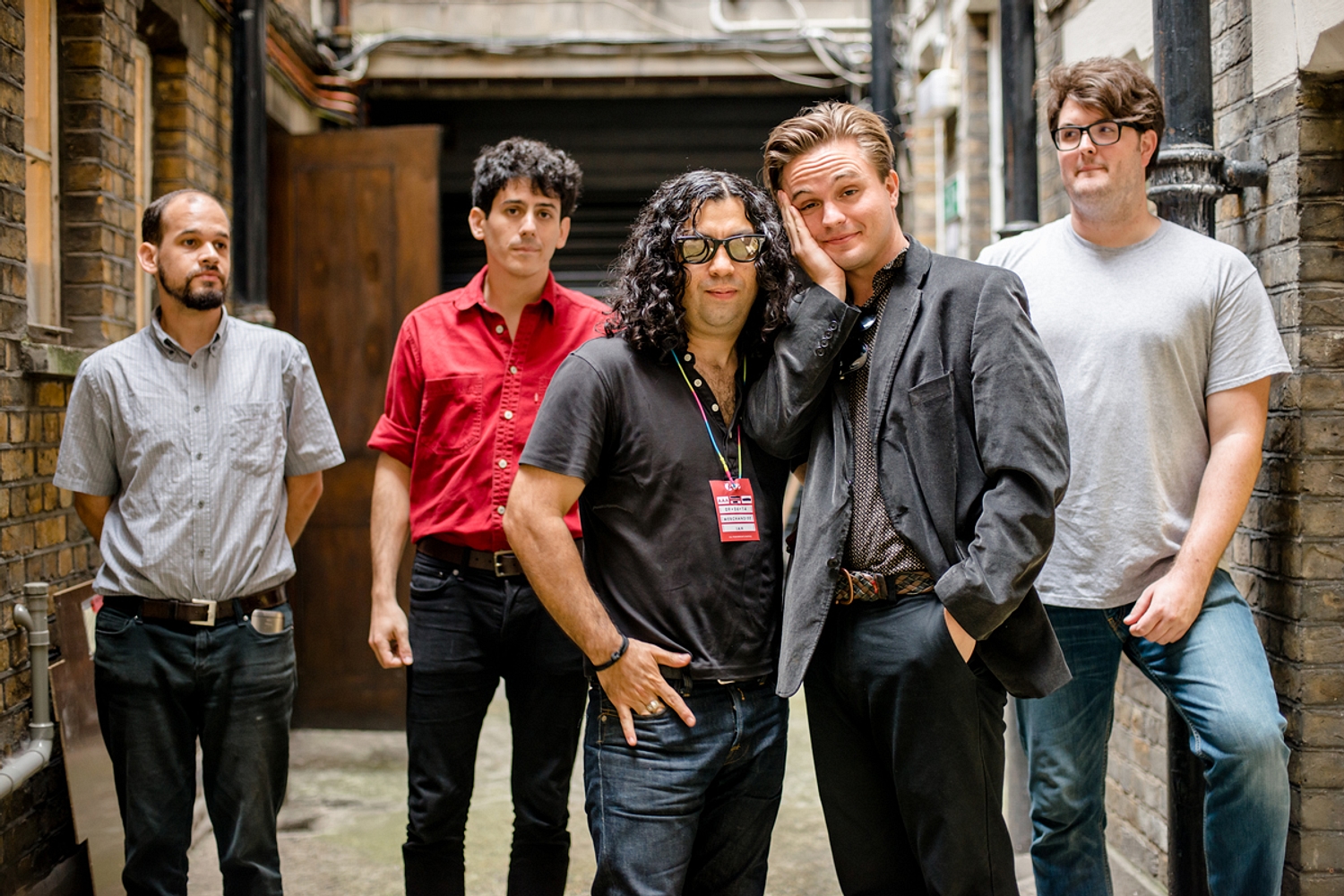 "I feel like I can make art without trying to bore everyone to death."
— Carson Cox
It sounds fanciful, maybe "outrageous" enough for his own standards, but there's something about Cox that picks him apart from other frontmen. "The problem with music is there's no nerds," he winds off. "There's no weirdos anymore. It used to just be freaks. Now it's just another motherfucker." Carson Cox isn't just another motherfucker, that's for sure.
He admits that 2013 was a "bizarre" year for Merchandise, one that he hasn't really "gestated." The hype and chatter that met their every move wasn't false, strictly speaking, but it did come out of the blue. The same applied to bands like Parquet Courts and White Lung, groups with an already big output and even bigger labels on their tail. "I thought it was kind of silly. It was inauthentic and weird, the whole experience," he admits. "And now it's a strange period because it feels like all the excitement should be on us putting out a record, but all the excitement was on us and labels. That whole world cares less about music and more about who's fucking who and whatever. There's a big inauthentic streak in that whole experience, but there was some kind of life in there.
"There's certain people I'll just never get along with, but we try to respect everyone's space. Who are we to say that they're foolish? It's definitely bizarre. It's funny to have any kind of attention. It felt like a lot. Ultimately we picked 4AD because we know their history, we like a lot of their bands. And we wanted our record to be available. A lot of our old records are out of print. You can't get them. And that's another thing that plays into the elitism of subculture music nonsense; they want the records to go out of print because then they become more rare."
'After The End' could be considered a debut, in some senses. It's the first Merchandise release to be met with international expectation, and it's a record waving goodbye to an old era. Not that Cox and co. are ashamed of their initial years ("We had so much help from the labels that put us out before," he says), but they've had to break free from subcultures and any tangible scene in order to become a better band. Carson compares it to the death tarot card. "It never really means death," he says. "Whenever I've had it, it always means change. For sure, there's so many growing pains in change and it can feel like the end. But sometimes it's good to push yourself to the end."
Read More
Featuring King Gizzard & The Lizard Wizard, IDLES, Tkay Maidza, Sleater-Kinney and more.