Interview Mitch Rowland talks new album 'Come June': "I felt a lot of change going on around then"
We speak with the songwriter - who doubles as Harry Styles' guitarist and collaborator - about how his debut album bloomed into unexpected life.
There's a certain irony in the obsessive following that Mitch Rowland has garnered in some corners of the internet. As Harry Styles' guitarist and songwriting collaborator, every moment of him on film has been wedged into at least a few TikToks by a dedicated fandom, in particular the few times he speaks. The focus is always on Mitch's personality: meek, quiet, modest. Few people have such a strong following when they seem to indulge so little, and speaking from his hotel in New York ahead of a run of in-store shows, he lives up to this reputation. He talks in short, imagistic phrases, and discusses all of his work with unswerving modesty. Ahead of debut album 'Come June', the greatest mystery over the record according to him was its very existence. "I think initially I was surprised to be doing it in the first place," he says. "I hadn't expected any of this to come my way."
It's hard to take this scepticism seriously when listening to the release. An album that feels this natural seems inevitable: a gentle, summery collection of acoustic-led tracks that call to mind Nick Drake or Elliott Smith, bearing the same intangible, bittersweet heartache. The songs feel like they had been discovered rather than written, perhaps because Mitch didn't have this record in mind until he started recording it. "I had so much half finished music," he explains, "and one day Sarah (Jones, drummer for Harry Styles and Mitch's wife) just said, 'Finish something', so I tried that with a few songs and realised this is a cool thing to be doing."

Mitch's journey into music has been blessed with plenty of moments of fortuitous discovery. Fans of Styles will know the story of the two meeting by chance while Mitch was working as a dishwasher in an LA pizza restaurant, but the surprise is how leaving that job was a decision he had to truly consider. "At first I thought, 'I can't just quit'," he says. "It was a pretty good job, and I kinda built my way into that more than music." When you consider the overnight switch that came from joining Harry's band, it would seem he made the right choice. Three years of struggling to get his music heard was immediately followed by writing credits on songs like 'Meet Me In The Hallway', 'Sign Of The Times', and 'Watermelon Sugar'; the last winning Mitch both a GRAMMY and a BRIT, as well as touring the world's biggest venues. But where such dizzying success might rush to some people's heads, it seems not to have phased Mitch at all, nor to have altered his goals. "I don't really do co-writing, apart from the obvious," he says. "It has to be the right thing for me. It's not something I'm looking for at all."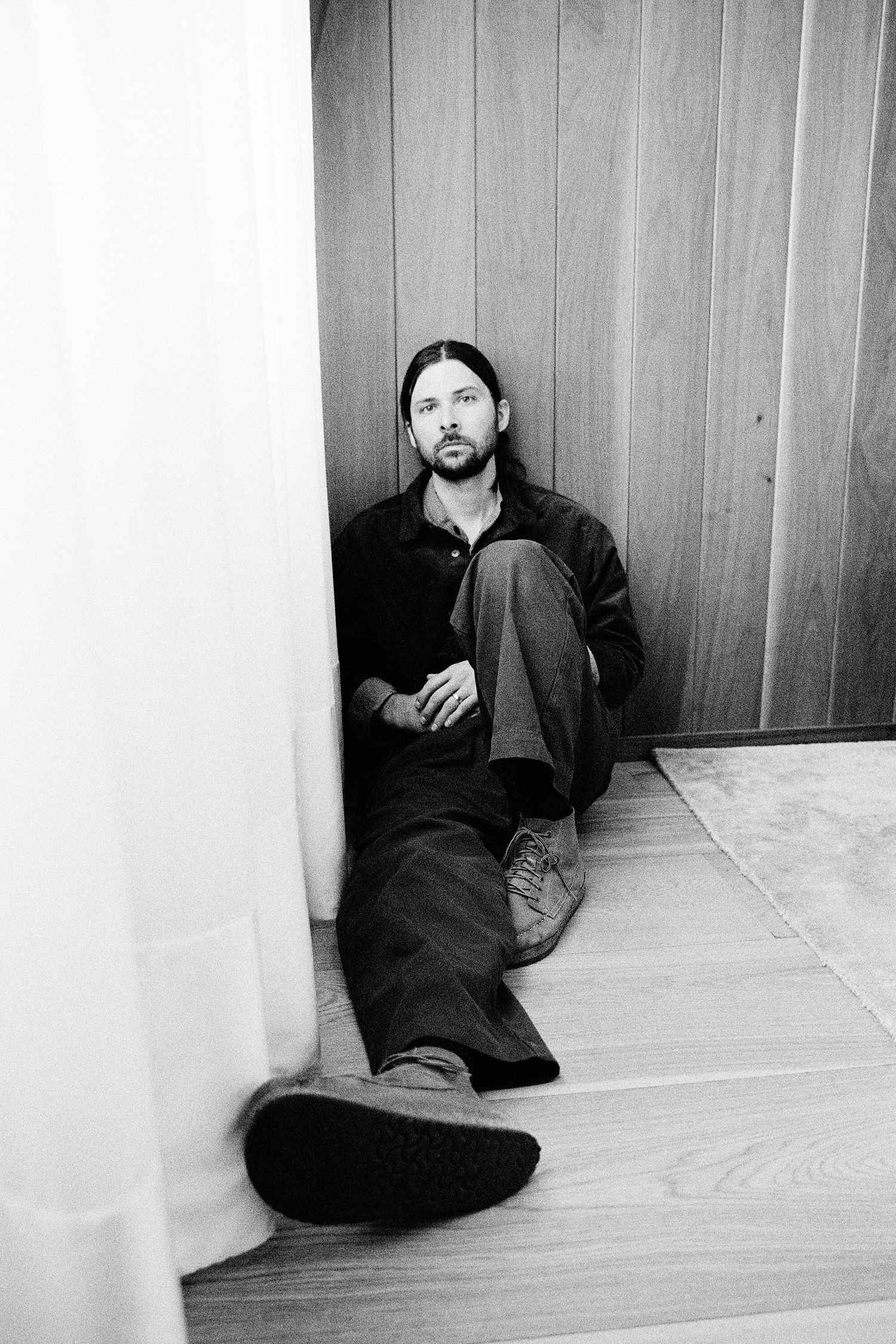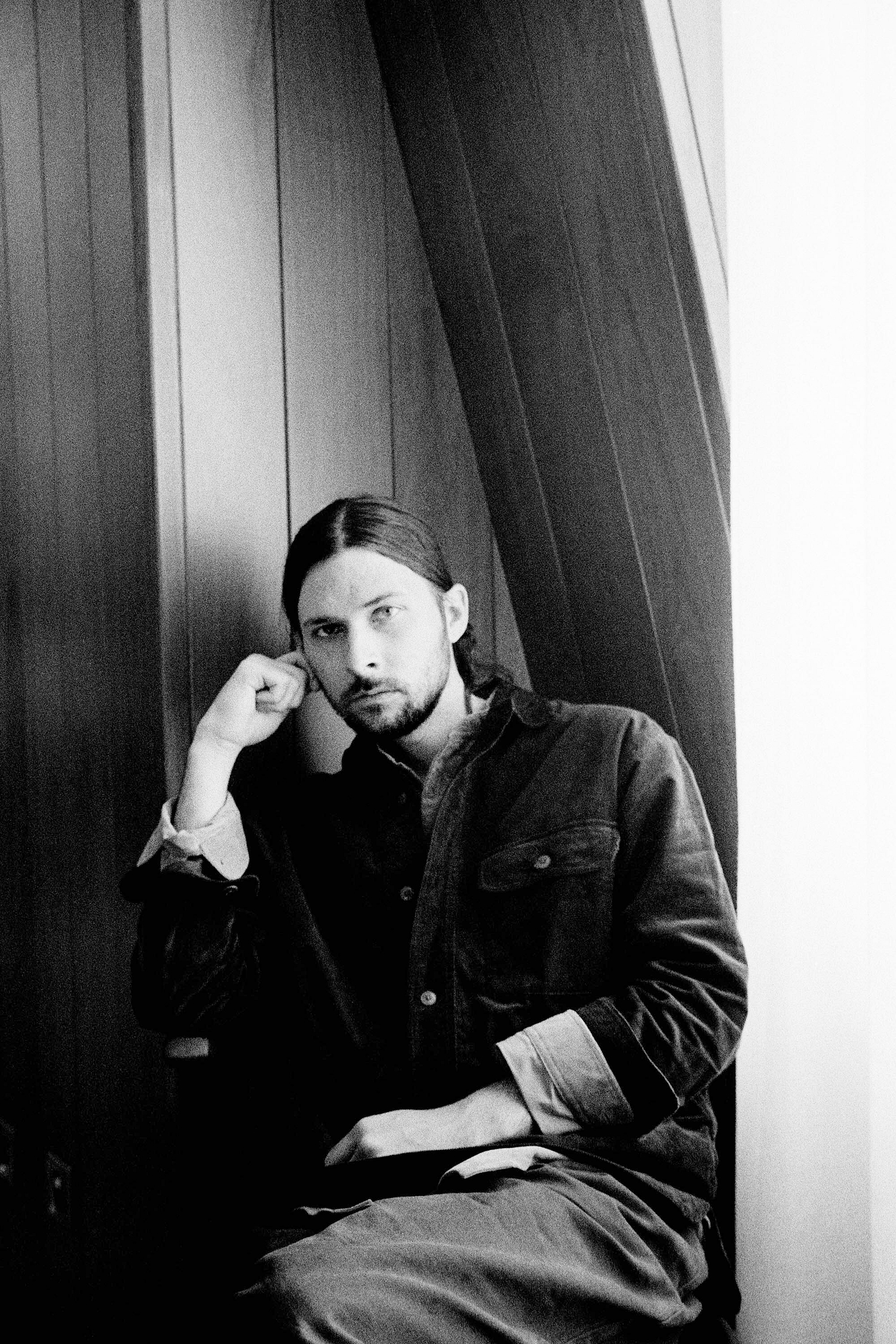 "I think initially I was surprised to be doing it in the first place. I hadn't expected any of this to come my way."
The way Mitch tells it, 'Come June' is incidental, like something that may as easily have happened as not. But beneath this looseness, the music was always waiting. "I felt like if I was a kettle, I was starting to boil," he says. "I felt a lot of change going on around then. I don't know if it's a coincidence that these songs were happening then or not. It was right before I became a parent, and while these songs are nothing to do with that, they were happening side by side. It's kinda the invisible photo book to me."
The first song to exist in any form was the title track, which he made a demo of in 2019. "That was the first song to nowhere," he says. "I guess I kinda cracked the egg then. It was actually the last song to be recorded – I wanted to be done with ten songs, but Rob [Schnapf, producer] told me to keep going. Originally I was really focused on this being a very minimal, acoustic record, but songs like 'Here Comes the Comeback' broke that wall down, so a song like 'Come June' fits on there a bit better." In another of the many examples of luck leading Mitch in the right direction, the title track is one of the defining songs of the record, leaning on a psychedelic organ and showcasing a Lennon-esque vocal. "I don't know what I was talking about on that song," he says. "It sounds like heartbreak or something to me."
Meanwhile 'Here Comes the Comeback' points more to his love of '80s rock bands like The Black Crowes, with swirling electric guitars gliding over melancholy chords. It's more upbeat, more direct than a lot of the record, but simultaneously carries the same laidback ease that permeates everything Mitch writes; this song, more than any other on 'Come June', parallels the stadium-filling songs that he wrote with Styles. "I would always wonder what pile an idea would land on: is it for Harry, or for me?" he explains. "But now I know what Harry likes and probably wouldn't want, and any more than that I keep for myself. All you can do is throw shit at the wall and see what sticks, whoever it's for."
With Mitch's laissez-faire approach, it's hard to say what comes next - or even what will happen with this album. "So much of what this record does now is not up to me anymore," he says. "If it can provide some companionship then that's sort of all I can hope for. All my favourite records make me feel a bit better when I put them on." But if Mitch has any more of the luck that brought him here, 'Come June' will rightly be remembered as a defining moment for him, the moment he became his own artist and his fans finally hear that reclusive voice.
Read More
Featuring King Gizzard & The Lizard Wizard, IDLES, Tkay Maidza, Sleater-Kinney and more.