Interview
Momma: "We need to be Jack Black's best friend"
LA bezzies channelling "90s alt-rock into a heart-on-sleeve yet tongue-in-cheek new form.
"I think, as you get older, your experiences become more solitary," muses Momma's Allegra Weingarten. "In high school it was easy for Etta and I to experience the same things - "we feel out of place' or "we want to explore the world' - those easy, baseline things to relate to. And obviously Etta still knows everything about me and vice versa, but we wouldn't want to limit ourselves by saying we have to write every song together because sometimes I'm gonna wake up at 2am and write a song that needs to be on the record."

Meeting at high school in LA, Allegra and co-vocalist/guitarist Etta Friedman's lives have been intertwined ever since. They both cut their teeth in the city's thriving underground scene heading to weekly shows at famed venue The Smell, where local peers such as Cherry Glazerr would be picking up momentum; starting Momma and releasing their first material while still in their teens, the band became an expression of shared interests and friendship - "a really interesting way to grow together, through writing about emotional shit," as Etta nods.
With the advent of this month's "Household Name' - Momma's debut LP for Lucky Number, following a stint on the road with Wet Leg and a batch of debut UK shows that feel primed to raise their profile considerably - the closeness remains the same but the pair are learning to embrace their differences too, writing separately for the first time and allowing personal heartbreak to have its time in the sun. Yet if that all sounds like a fairly maudlin trip, fear not: as well as interpersonal balance, the pair are masters of offsetting riffy emotional peaks with knowing lyrical side swipes too. After all, you can't have a Smashing Pumpkins-esque banger called "Rockstar' ("Yeah I got what they want, I'm a real rock star") without having a tongue firmly placed in cheek:

"Otherwise we'd be Tenacious D," laughs Etta. "We literally love that movie [Pick of Destiny]; we love Jack Black, we need to be his best friend and it's going to happen one day." "We're at the right stage where we can joke about it because we're not that big," Allegra picks up, "but also I feel like most people won't admit that they do want success and notoriety because it's not the cool thing to admit, but then why are you doing this? Don't we all want to be successful and live off our art, and also be recognised for what we're doing? I feel like we're just pointing out what everyone's thinking!"

Blending a love of "90s alt rock with more modern guitar intricacies (Alex G is cited as a major influence), taking a cheeky approach to the stereotypes of rock'n'roll while still undeniably revelling in it all the same, Momma contain multitudes and are all the better for it. "The first night we landed in England we were like, "Dude, we fucking did this together, that's so cool'," Etta grins to Allegra. With "Household Name' inching the pair a little closer to its title, Momma are friendship goals, personified.
Read More
It's their first new music since last year's LP 'Household Name'.
1st March 2023, 12:00am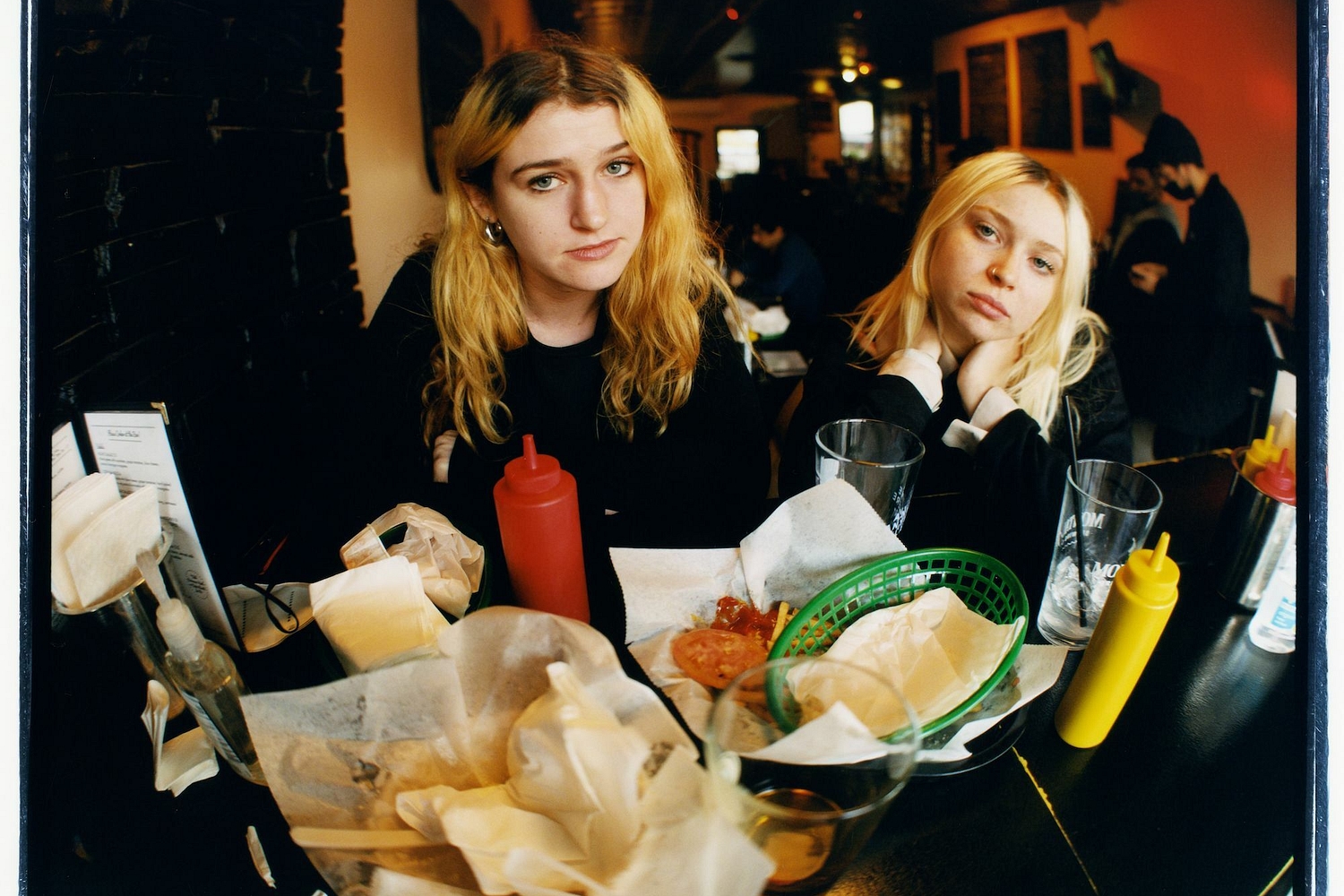 DIY's essential, weekly (ish) guide to the best new music.
25th February 2022, 12:00am
Featuring James Blake, Romy, Marika Hackman, yeule and more.