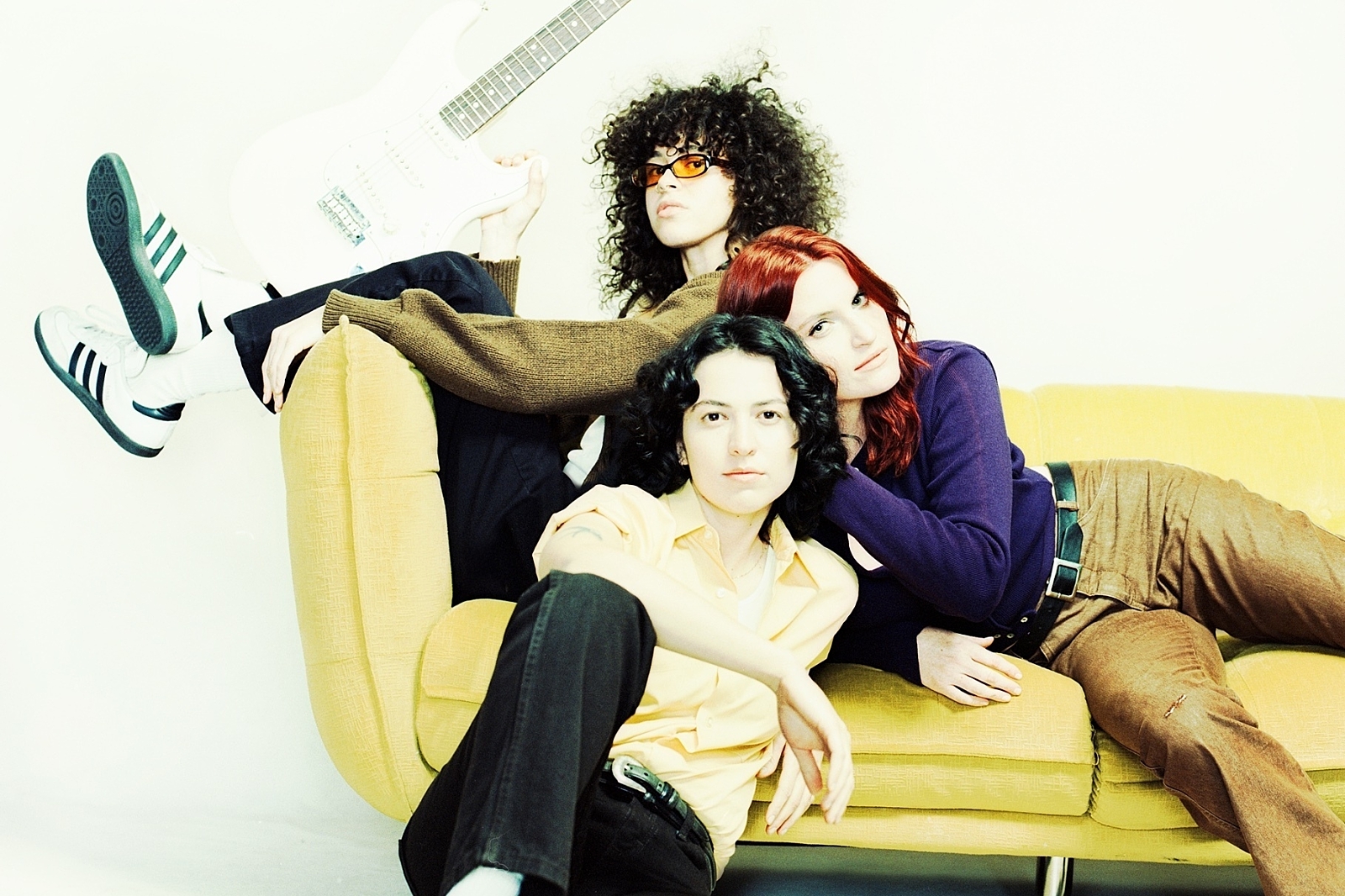 Photo: Isaac Schneider
MUNA: Express Yourself
Having switched camps from a major label to Phoebe Bridgers' Saddest Factory and with a new self-titled LP in tow, MUNA are releasing their most confident outpouring to date.
The third album from LA band MUNA is self-titled. And while it's common practice for most artists to notch up an eponymous release at some point, you can't help but feel as though deploying the statement at this juncture acts as a signifier: third time around, MUNA are finally able to fully realise their vision.
"It's just delightfully funny, it makes me think about the humour of the universe. It was so leftfield for us and I would not have expected it to have been embraced in the way that it was," begins singer Katie Gavin. She is, of course, talking about the Phoebe Bridgers-featuring 'Silk Chiffon': an anthemic, synth-laden pop song about queer love that became an antidote to pandemic depression when it was released last year.
Joining via video call, the other two thirds of the band - Naomi McPherson and Josette Maskin - are suffering from extreme jet lag, yet there's an air of optimism to their conversation that's undeniable. 'Silk Chiffon' was the first glimpse into a new era for the trio - one laced with both an emboldened sense of self-confidence and equipped with new forays into experimentation - and they're clearly riding high on the wave. "I think that with this record, part of it was being just a bit more self-assured as people - [knowing] what we are as a band which allowed us to not be confined by what we think people are expecting of us," says Katie.
MUNA's new outlook partly came to the fore after they were dropped by RCA. In what could have been a damaging move for their confidence, the experience actually ended up galvanising them. When the news came through, they describe feeling a sense of disappointment, but not because they were leaving the label. "The fact that we knew we had put out so much good music and that our lives were only incrementally changing, I think that can get you down a bit," Josette nods. "When you've put out two albums that are quite good and you're only seeing marginal change."
Soon, however, MUNA were picked up by Saddest Factory, and it earmarked an immediate turn in fortune, allowing the trio to work within a team that fully understood them for the first time. "I think being at this label, being on an indie with someone like Phoebe [Bridgers] looking after us, helps you to trust the people who are working on the business side of your music," Naomi says. "We're working with people that are close in age to us, people who have marginalised gender identities, and we do have quite a diverse team. It's nice to have a bit of a crew where there can be an unspoken identification and bond where you don't have to explain certain things about yourself or the music."
"Pop music is a tool to create joy in a world where there isn't a lot accessible to you."
— Naomi McPherson
With the members of MUNA belonging to queer and minority communities, the video for recent single 'Kind Of Girl' arrived as a tongue-in-cheek ode to twisting the conventions of male-dominated country music. In it, the band dress up as cowboys with moustaches, cowboy hats and plenty of denim. Under all the machismo, there's been a queer reclamation of the genre and its imagery recently, as seen with artists such as Orville Peck and Lil Nas X.
"There is something so inherently fucking gay about it," Naomi deadpans. "It is so gendered that it's just gay as hell. It just felt like a fun and cheeky thing to do with that song because we do have different gender identities and we don't all identify as girls. It was a way for all of us to feel included in the song. There is something in queer culture happening right now, this reclamation of a hyper-masculine Americana, hyper-hetero vibe. I think around the world the queer community are on the same cowboy wavelength."
Throughout 'MUNA', you'll hear themes of reclamation. 'What I Want' is a punchy, electronic pop ode to the frustration felt when you've been a restricted version of yourself for far too long. Elsewhere, 'Anything But Me' is a moment of full clarity where Katie realises that a relationship is holding her back rather than allowing her to thrive and grow. "I'd rather lose you than who I'm meant to be" feels like a definitive statement of the album as a whole.
"I think you get to a place in life where, if you struggle with mental health issues, you start to realise that you have to invest in your own joy and pleasure and happiness, and it can be worked on to get to that place," Naomi says. "I think that energy is reflected in some of the songs but it's definitely been work to get there."
MUNA are in a place where, as individuals, they've grown a lot since the release of 2019's 'Saves The World' - a personal trajectory that's done wonders for their creativity. "I do feel like we're just so much more comfortable with ourselves and we know what we want to do with the artistic vision," says Josette. "I just feel like we're capable of doing whatever we want to do, it's been an empowering experience," Naomi continues. "I think we've made a lot of progress and that's probably the thing I'm most proud of as a band and I feel closer than ever to my buddies," picks up Katie. A tight-knit trio of best pals, they describe their relationship as a mixture of hard conversations, crying and honesty. "I just couldn't imagine navigating this without them," Katie admits.

"I think around the world the queer community are on the same cowboy wavelength."
— Naomi McPherson
At its core, the beauty of MUNA's music is in how it allows marginalised people to feel seen. There's no doubt that pop can be a vessel towards empowering people, and that's what makes the fandom surrounding the band feel so intimate and loving. "I think pop music is a tool, even if it's just a tool to create joy in a world where there isn't a lot accessible to you," Naomi suggests. "There's a huge and long history of it being used to give you strength to be in the world as a marginalised person."
"We've had this experience recently of realising and talking to other people about how our shows are this really interesting space," Katie continues. "It's not one specific cross-section of the LGBTQ community, it's so many different types of people under one roof and I just feel so delighted and grateful that people are drawn together to listen to our music."
At the end of the day, that sense of inclusivity is the magic of MUNA. They're a band who bring people together to dance and feel accepted, no matter who they are, and there's a kinship between the three members that trickles out into their fanbase. Across their three albums to date, they've proven just how valuable pop can be as a means of making people feel accepted. And as they enter their most confident and joyful era to date, there's a sense that this is only the beginning; as MUNA continue to truly grow into themselves, the sky's the limit.

'MUNA' is out 24th June via Saddest Factory.
Read More