Interview
On the brink: Foxing
Ahead of releasing furious, lung-bursting new album 'Nearer My God', Foxing's Conor Murphy is fighting the apocalypse.
"We won't be signing off until the world ends," CNN founder Ted Turner uttered when launching the now-global news network in 1980. His declaration was more literal than many would have thought: almost thirty years later Michael Ballaban, an intern at the network, unearthed a file labelled the Turner doomsday video.
Soundtracked by the same song that was played by the on-board brass band as the Titanic sank in 1915, the dated footage depicts a suited ensemble performing the macabre 'Nearer My God To Thee'. Its shaky camera and faded colour does nothing to limit its eerie nature.
The Turner doomsday video, created to air when the world ends – at the time a terrifyingly real prospect – proves an unlikely muse for Conor Murphy, vocalist of St Louis emo quartet Foxing. 'Nearer My God', the band's imminent third album, has found itself built around its apocalyptic themes, as hauntingly finite as Turner's future vision.
"I went to the band and told them we should use this kind of imagery in the lyrics, song names or video or something," Conor enthuses whist unravelling the heavy themes of the new record in a surprisingly nonchalant manner. "It's this insane real life nightmare that Ted Turner put together. It's one of the scariest things I've ever seen."
The grainy footage provided the lynchpin for the new record. Although what would become 'Nearer My God' had begun to take shape, it was the concept of impending doom that ultimately pulled it all together. Part-way through the creative process, Conor and his bandmates - guitarists Ricky Sampson and Eric Hudson, and drummer Jon Hellwig - began to notice this commonality between the songs. "It's hard not to write things that have an apocalyptic feel," he states, "when it feels like we're at the end of the world all the time."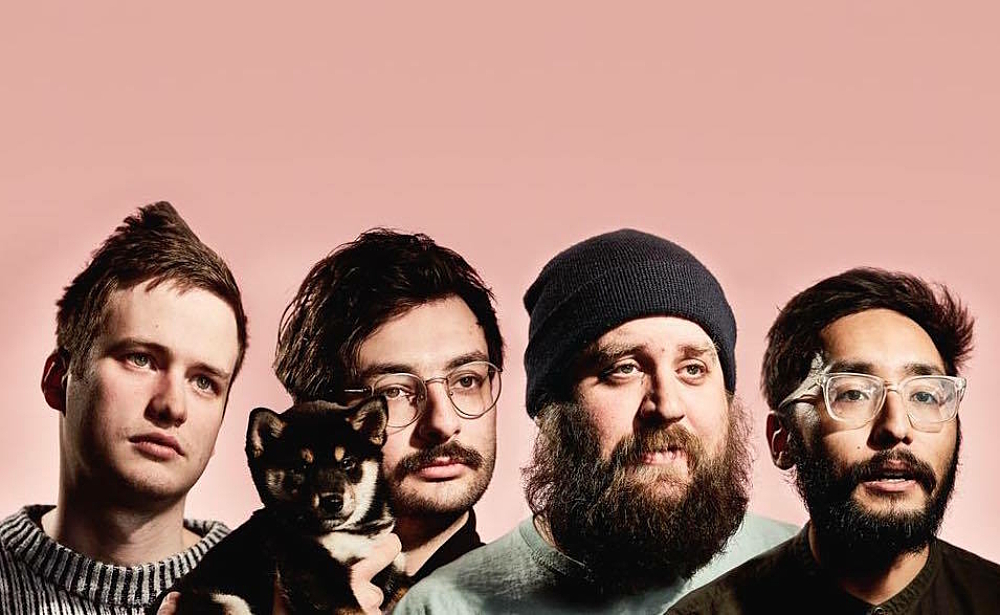 "It's hard not to write things that have an apocalyptic feel, when it feels like we're at the end of the world all the time."
— Conor Murphy
The morning of our conversation, Murphy has been reading the news. Donald Trump and his Republican party continue to enforce border separation of families. The Party demand an end to the inquiry into potentially illegal political interference by Russia. They continue to chip away at inclusive values. "We're still doing [these] horrible things in America," Conor sighs.
The last few months have also been particularly draining on Conor and Foxing as a whole, unable to resist comparing the turbulent socio-political climate to his own existence. "It's the same kind of thing," he notes, "feeling like we are going to end."
Delivered as somewhat of a throwaway comment about the band's future, he then expands. "We felt many times during the making of this record that we weren't going to be a band anymore, that this was the end of our careers. It was the end of us making music in general. We gave up at different points of the record. Some of us felt like we gave up on our lives, like we couldn't find the lust for life anymore."
Downtrodden and somewhat defeated, the album that ended up becoming 'Nearer My God' unsurprisingly took shape as a record about reflecting these woes and gaining an inner power from the expression of such.
"We're dummies," he begins, "we're not politically savvy people. We don't have any real solutions to offer. So rather than writing a record where we're speaking specifically about what is happening in the world, we realised the best way to channel all that is to speak about what it feels like to live in a time like this."
With that, 'Nearer My God' is bleak yet not defined by finality. Opener 'Grand Paradise' builds from its sombre opening to become a forceful onslaught. It plays out like an uprising; a fight against the destruction portrayed in its lyrics. 'Bastardizer', the first song to take shape during the creation of the album, displays an unparalleled beauty, underpinned by a faint glimmer of hope. When the vocalist responds "but I do" to his assertion that "you think I must not remember," it feels like a genuine awakening.
"Some of us felt like we gave up on our lives, like we couldn't find the lust for life anymore."
— Conor Murphy
The album plays with the folly of man, it delves into our apocalyptic traits and finds comfort in salvation. Its many religious connotations are also far from accidental. On lead single 'Slapstick', itself a statement of the frivolity of existence, Conor discusses his spirituality. "I'm on the floor with a halo," he sings powerfully. "Protection has ended," he offers menacingly later in the song.
"I was raised catholic so that's some scary shit," he says of the religious definition of the apocalypse. On 'Nearer My God' he finds solace in the definiteness of the four horsemen, who in part adorn the cover of the album. He compares the state of the world against the fire and brimstone of the Bible. One is final; one at least has hope.
"When you're writing about revelations, you're diving headfirst into that imagery," he explains. "When you're done, and you escape it, you just feel so good. I hope that's how people feel when they listen to the record."
For Conor, 'Nearer My God' represents this newfound discovery of hope. The horses on the album's cover are saddled but lack riders. Society is on the brink of the end, but there's still a chance to turn back. The final charge towards apocalypse hasn't started just yet.
"Where there is evil in the world there's always some light," he states, clawing back some hope. "When you highlight the worst part of the world, you start to see the nice parts. You start to see love when you're staring at evil."
"You start to see love when you're staring at evil."
— Conor Murphy
For Foxing, that light is 'Nearer My God'. Not only reviving them musically, it's also helped to further expand their outlook on the world. The record's title track, itself a twisted ode to self-deprecation underpinned by a rousing melody, has been recorded in five languages. It forms part of Foxing's universal narrative.
Conor cites Celine Dion as inspiration, an artist revered for releasing music in multiple languages. "She really doesn't value English above any other language," Murphy beams before jumping back into religious analogy. "She's the human equivalent of Babel."
Recording the song in multiple languages acts as a small attempt to break down borders that have become so dominant in our political and social discourse. He wants to celebrate global inclusivity and battle division. "The biggest thing was wanting to show our appreciation and respect," he affirms.
The song's message has a universal appeal, tackling the singer's personal fears head-on. "Does anybody actually care about this type of stuff?" he questions, recalling those do-or-die conversations the band had before work on 'Nearer My God' really started picking up pace. "Does anybody want us or are we doing this because we feel like we have to?" It's these questions that almost brought Foxing to an end, but it's also these that have been answered by 'Nearer My God'. Recording the album has put the fire back in Murphy and his bandmates.
Disenchanted by social and political surroundings, and struggling to find the answer in music, Conor went into writing album with little hope. Now, on the dawn of its release, he has something to celebrate. "It's the most confident I've ever been in something we've made," he emphatically states. "In my opinion it's the best thing we've made by far."
He has also begun to shrug off the voices telling him nobody cares, and has found comfort in the hope brought out by 'Nearer My God'. It's a message that runs throughout the record; an unshakeable feeling that Foxing have returned from the edge, from their own apocalypse. "It does feel like somebody wants us and that people care," he says thoughtfully. "I feel like there's been some kind of answer."
'Nearer My God' is out 10th August via Triple Crown Records.
Foxing are on tour around the UK alongside Pianos Become The Teeth, with dates beginning tonight (9th August) in London at Bush Hall.

Get your copy of the latest issue
Read More