Interview:
Scent from above: Perfume Genius
Perfume Genius' last album 'Too Bright' changed him from an outsider into a sashaying superstar. With 'No Shape', Mike Hadreas is still impressing his dog, and shape-shifting further from definition.
It's fair to say that East London's most infamous glitter-soaked den of gayness - LGBT institution Dalston Superstore - probably isn't the first place that springs to mind as a calming joint in which to grab a mug of green tea. Yet, that's where Mike Hadreas has ended up this afternoon, and for this American, its local reputation for debauchery comes as a surprise. So too does Mike's quite accidental decision to announce the new Perfume Genius record 'No Shape' on National Perfume Day – an apt, if entirely unplanned, coincidence.
"Did I?!" he exclaims, upon hearing about the neat turn of events he's unknowingly engineered. "I didn't know that! No. It was an accident. I thought about doing an actual perfume," he adds. "My boyfriend thinks that's too corny, but I think it's cool. I could do a whole commercial for it and everything, and make it album-themed. An enchanted forest with something dark underneath. I think that would be cool…." he muses. "Do you think so?"
The answer to his question, to be clear, is a very enthusiastic yes. 'No Shape', in bottled form, would likely be the kind of scent that instantly smells like a straight-up classic, where singling out all the intricate components is nasally impossible. A bouquet of fake flowers playfully swatting you across the face, and a murky, slinking underworld – at the same time, Perfume Genius' fourth record thrives on escaping definition, true to its title.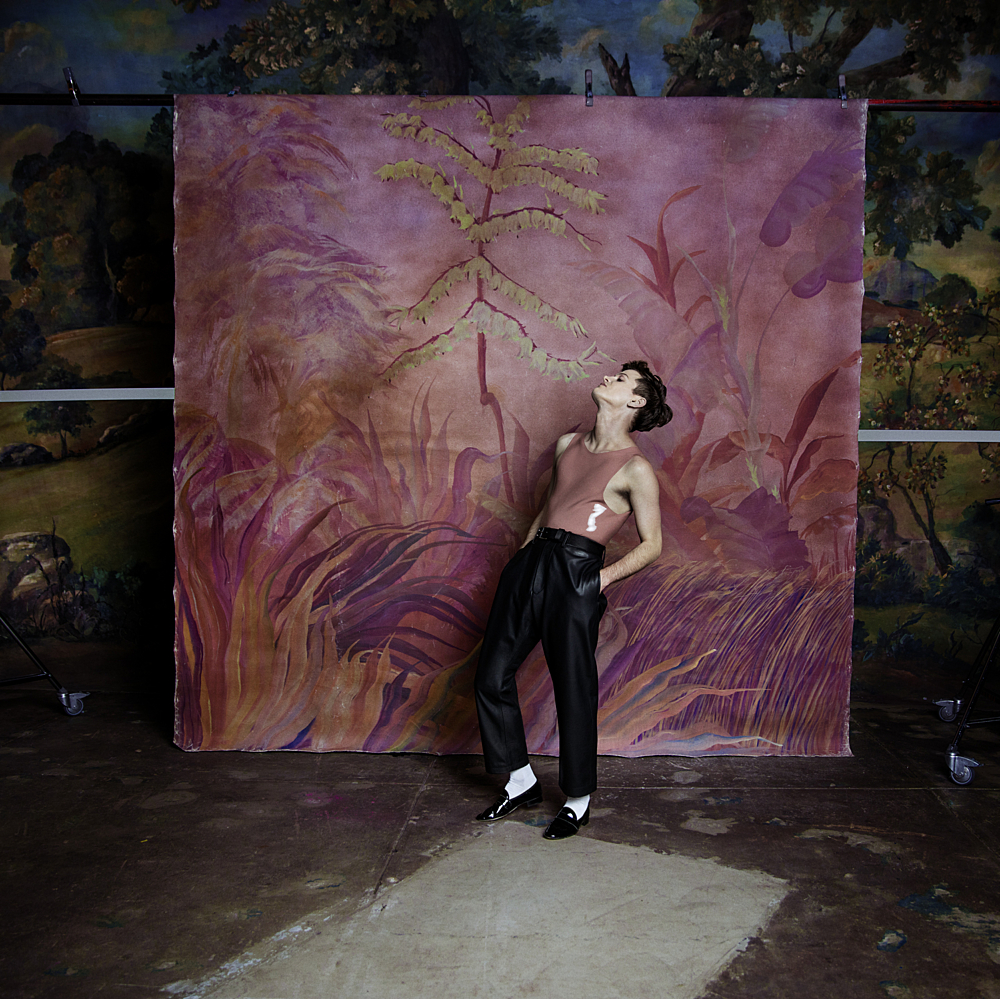 "'No Shape' is like a formlessness."
— Mike Hadreas
"There's this idea of transcending, or escaping, your body," he expands, "and the limits of your brain, the limits of your body. I'm not happy with those things the way that they are now; I don't really like…" he pauses to form the right words "my brain… I feel like even creatively I'm limited by my anxiety, and the patterns that I'm always thinking in. I feel like I'll get to the edge of an idea, and might be brought back. I can't really fully get over it, because physically maybe I don't feel well or something. I would like to not have those limits. 'No Shape' is like a formlessness, or the second stage of something. I also liked how it could mean there's no set rule for how to be or seem, or talk."
Diffusing into uncontainable particles, and escaping the everyday dirge of human existence – the fixed container of a human life that begins and ends - crops up repeatedly on 'No Shape'. "Burn off every trace, I wanna hover with no shape," insists a near-frantic Perfume Genius on the shimmering 'Wreath,' "I wanna feel the days go by, not stack up". And even when things seem most contented and secure – huddled in the duvet-cocoon of 'Alan', a tender song written for his boyfriend – there's a fraying edge of nagging fear. "I'm here," it assures, colliding the statement with an opposing yowl: "how weird."
"I never imagined my life being that way," he admits. "I started drawing pictures of people smoking when I was, like, ten. I was like, that's what I'm going to do. I'm just going to drink, and do drugs, and smoke, I'm going to live in the city… you know what I mean? I'd never imagine myself buying a mattress," he adds, cracking a smirk. "A nice one!" he exclaims, letting loose a wicked chortle.
"I just like to see if I can push myself somewhere different."
— Mike Hadreas
For all of his faux-horror at the idea of getting really into purchasing memory foam, he also notes that the relative safety of 'No Shape' is, in its own way, transgressive. It's very much at odds with mainstream narratives around the gay experience – usually plagued by overwrought tragedy and inner turmoil – and instead looks inward, rejecting definition.
"In a way, it's kind of weirdly rebellious," he agrees. "I just don't wanna fucking think about it anymore, you know? I don't want to put all my energy into outside shit as much anymore. Maybe I feel less like changing minds," he ponders. "I don't really care anymore. Maybe after the [US] election, if I would've written the album then, I might've been a little more overt, but when I was writing, it just felt a little closer to me to write about how I felt, and to write songs that were more for me and my boyfriend, and for my family. More for people," he laughs, "instead of at them."
To create this shape-shifting, super-saturated onslaught, Perfume Genius reverted to a trustworthy technique; locking himself away and downing a shitload of fizzy drinks before running around in a frenzy of creation. "I like a certain drama about the whole thing," he says. "I sort of work myself up into a fervour, pace around, hype myself up. Or if the song is dirtier, I'll start snaking around," he adds, grinning. "I think that's why isolation helps too," Mike laughs, "because then there won't be witnesses to the weird shit I do. I'll have all the lights out, and be there in my room, humping the ground and singing this really weird dark," he drags the word out for added effect "seeeensssual number." He's likely talking about the pulsing, slinking 'Die 4 U' – a song about both unbreakable trust and choking fetishes – or the cry for possession that is 'Run Me Through', to hazard a guess.
And has he ever lost track of the hours, and been discovered… erm, dry-humping the sofa? "Yeah, like, all the time!" he hoots. "But [Alan] just lets me. I'm like [inaudible squealing] in these weird tongues. I just like to see if I can push myself somewhere different," he adds. One trusted figure who is allowed into Perfume Genius' isolated space, however, is his chihuahua, Wanda. "Her full name's actually Towanda," he says." Have you ever seen Fried Green Tomatoes?" he asks, referring to the 90s film about two women who sack off their good-for-nothing husbands and start up a café together in the deep South. "It's Kathy Bates' power name."
Wanda, apparently, is unfazed by pretty much everything Mike does. Even the Max Richter-levels of operatic chaos that stoke the fires of 'Choir' went down well in her books. "You'd think maybe there'd be certain notes she'd react to differently," Mike laughs, "but she's pretty much into whatever. To be honest," he admits, "I'm just being real. I could've turned that into a story, but I'm just gonna tell the truth. She's into it. There would be times where I'd be screaming and really getting into it, and she'd just be politely looking at me, all sweetly."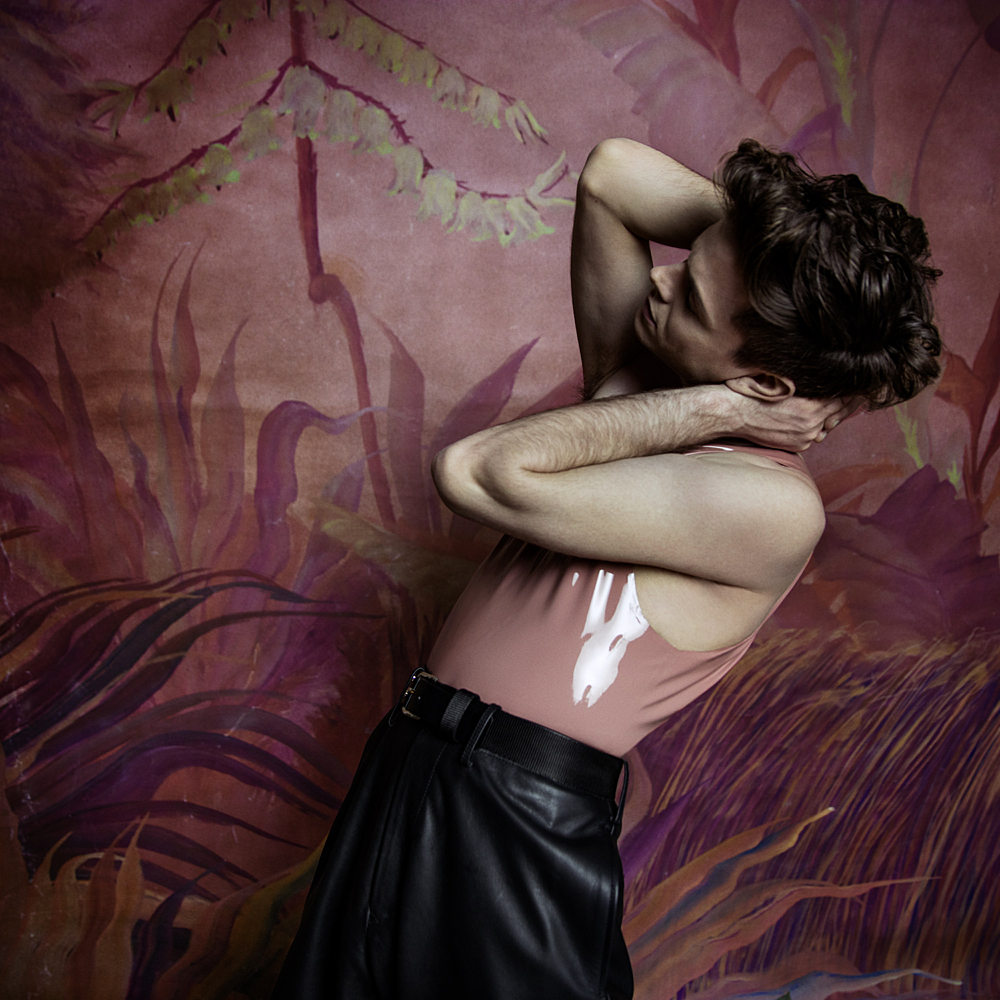 "I'll have all the lights out, and be there in my room, humping the ground."
— Mike Hadreas
With Wanda suitably impressed, and 'No Shape' ready to be unleashed, Mike Hadreas – typically – is already looking to the horizon again. While recording amid the surreal, neon-smog of Los Angeles he found himself unexpectedly falling for the city, and is considering uprooting from his nest in Seattle. He's got plenty of reasons – ranging from easy access to herbal remedies, to the sorry state of American politics.
"It freaked me out," he laughs. "But the more I went, I saw this weirdness. There's something really fucked up and creepy about LA that made me like it a lot more. Something seedy about it, and kind of beautiful, too," he adds, his love of jarring opposites cropping up yet again. "I'm into the convenience and the witchiness of all the health food there. It feels really potiony, all the herbs and tonics and things. I kind of have this fantasy of moving there and just taking tons of herbs," he adds, "and wearing really thin robes."
"And to be honest with you,' he adds, getting serious, "part of the reason I want to move there is because of how things are going in America. I live in a smaller city now, and we're not very social, there's no sense of community, I don't really go outside. I don't see anybody, let alone any other weirdos or gay people, and stuff. I just feel like I really need to… I'm going to need to straight-up fight."
Perfume Genius' new album 'No Shape' is out 5th May via Matador.
Taken from the May 2017 issue of DIY. Subscribe below.

Get your copy of the latest issue
Read More