2014's 'Trouble In Paradise' may have proved an all-too-relevant title, but with new LP 'Supervision', La Roux's Elly Jackson is striding out on her own and swearily taking back control.
"If I was reading this in someone else's interview I wouldn't believe it," says Elly Jackson. She's telling us how, at the end of 2017, on a remote, rubbly path on the Greek island of Paxos, she had a breakdown that would change the course of her life. Her deal with major label Polydor had become so frayed and acrimonious that it had all but fallen apart, and in that moment she decided to scrap the entirety of what was supposed to be the third La Roux album, some three years' worth of work. In her personal life, a relationship of ten years was collapsing too.

"My partner and I were on holiday together and we were walking to this quiet beach," she remembers. "There was absolutely no-one around, and I guess I just started having a panic attack. I remember crouching down on the floor, not able to breathe. I just said, 'I've never been this unhappy'. I just crashed on the floor. I hadn't been being honest with my partner, or my family, or myself, about how unhappy I was. My family thought I was just running away from the whole thing. 'You're really gonna just walk away from three years' work? Are you fucking mad?!' It took me a while to convince everybody that it was as bad as I was saying it was."

Though it's been five and a half years since the last La Roux album, new release 'Supervision' only actually took five months to write and record. It was a five-year wait for the last record too, the pointedly titled 'Trouble In Paradise', but they were very different half-decades. "That record itself is great, but its aura wasn't right. All the wrong energy was put into it," Elly sighs. After one half of La Roux, producer Ben Langmaid, left the project halfway through recording in 2014, she remembers "a huge lack of confidence in me as an artist to carry on. 'The talent's left the room!'," she declares with a mock-pompous flourish. "That was bandied around a lot…"

The aura of 'Supervision' is in contrast, she says, one of freedom. "I really do feel like it's more about having space to breathe, not being scared of all the new spaces that are opening up around me and knowing how to fill them. I have a much better handle on myself, and I think that's what this album really represents," she explains. Its title is pointed too: a reference both to her mishearing of the word as 'super vision' during a conversation with a friend, and the lack of regulatory influences that she's enjoying after splitting with Polydor and forming her own label, Supercolour Records.
"Regretting anything is pointless. If you learnt something then it wasn't a waste of time."
Throughout today's interview, Elly repeatedly expresses her desire to avoid anything that would make her feel "dirty" as an artist, however much money it might earn her, whether that be playing corporate gigs or getting big-name artists to rap a verse or remix a track. She says it was partly her refusal to put those principles aside that led to her relationship with the label breaking down. "I remember having a massive fuck-off argument where two DJs' names were mentioned, and I just lost it," she recalls with a sardonic laugh. "It was right at the end of the relationship and I was like, 'I'm just not fucking doing it! I'm not going anywhere near it! I'm not having my name next to theirs. I won't be seen dead!'. And they were like, 'Who do you think you are? Who the fuck do you think you are to turn down millions of pounds? What sort of cunt turns down millions of pounds?!' And I was like, 'You're not offering me millions of pounds! You're offering me to gamble and sell all my integrity, any shred of respect I have left!"

"I've never missed the thousands of pounds I could have earned from doing any of this stuff," she explains. "I'm much, much happier that I can look back and I don't want to vomit." She says she'd rather work in a pub than be back on a major label. "Music is not just a commodity to be sullied and played around with in the mud so you can make your fucking buck," she says, her voice rising a little. "I honestly, honestly, honestly think that when people treat music like that, it hurts. I can't watch it. It's like you're fucking around with my best mate."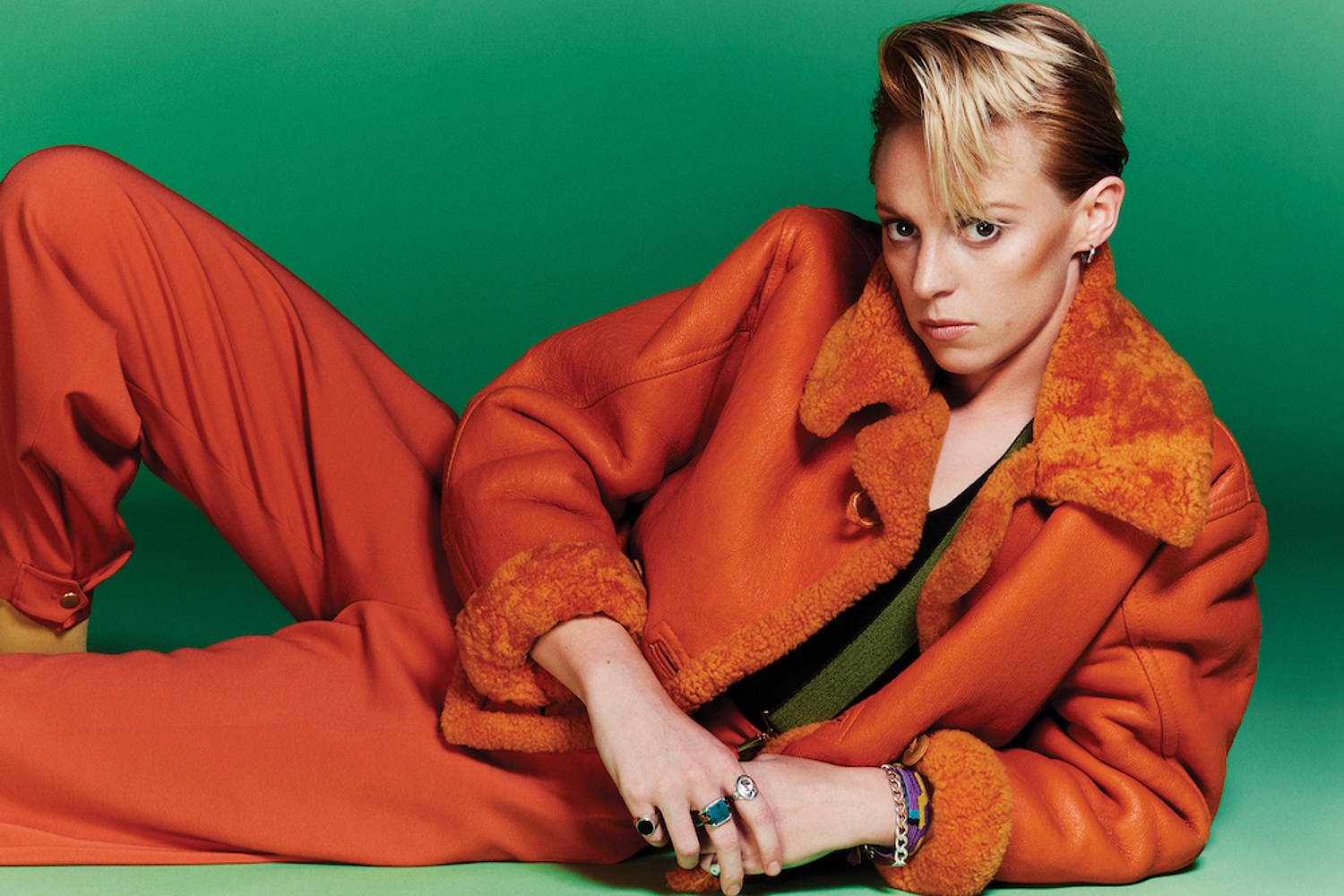 "[The label] were like, 'Who do you think you are? What sort of cunt turns down millions of pounds?!"
Though the years she spent fighting for it were tumultuous, it's obvious just how much Elly is relishing the freedom surrounding her latest release. "I'm loving singing it; I'm loving talking about it; I'm loving embodying it," she smiles. In her eyes, 'Supervision' is more of a "coming of age album" than a breakup album. In hindsight, however, is there any advice she might offer to her former self, 21-years-old and on the verge of releasing the platinum-selling debut that first thrust her into uneasy stardom? She pauses, thinks hard, then laughs. "I think it's impossible, because whatever anyone told me, I would have told them to fuck off!" she exclaims. "The amount I didn't understand around that time led me down some really stupid avenues, but at the same time I wouldn't take any of it back, because now that's why I've got Supercolour Records, and I wouldn't have this album had all that shit not happened to me. It's a bit like all the bollocks when you're a kid - you get bullied, but it puts a massive rocket up your arse. Some people, they just cower, but if I get angry - and I usually get really angry - then I think about how I want to do something positive about it."

Though you get the sense that there's still some dust to settle, Elly affirms that "regretting anything is pointless". "There are so few scenarios in life I can think of, even the worst scenarios, where you don't come out better off mentally. If you learnt something, then it wasn't a waste of time," she nods.

Looking back at that day in 2017, when she broke down on that rubbly path, Elly Jackson is living proof of that point. "Everything had just torn apart in all areas of my life," she reflects, "and I had this fight or flight mode all the time. But also, that meant I felt like everything was new again. I think people often wonder in life whether they're ever going to get that feeling they had when they were 18 again, when everything was so fresh, when you first go to parties or when you first fall in love. I genuinely didn't think I would ever feel that feeling of newness and wonderment again. I think that's why I was so down. But now I have been feeling like that. I don't know what's coming, I don't know how things are going to turn out for the first time in ages, and it's such a feeling of relief. It's just a really nice feeling to have again."
'Supervision' is out now via Supercolour.
Read More
Featuring King Gizzard & The Lizard Wizard, IDLES, Tkay Maidza, Sleater-Kinney and more.