Neu Sound Of The Down Under-ground: Stella Donnelly
Tackling rape culture and heartache via sparse folk songs delivered with lashings of dry humour, this Perth-based songwriter is determined to make you feel.
Upon watching Stella Donnelly's sets across her extensive UK tour this Spring, two things stood out. Firstly, the biting social commentary of her songs, presented most strikingly on 'Boys Will Be Boys' - a commentary on rape culture and victim blaming that's softly delivered but with a message as strong as steel. The second thing that was abundantly clear, though, was the brilliantly dry humour she introduces these topics with, hammering home her message while simultaneously making people bend over laughing.
"I try and keep it pretty fun on stage, so I have fun too," she tells us over the phone from her native Perth, two weeks after getting back from her extensive UK, European and American tour, and sitting down to craft her debut album. "If I played those songs every night and didn't try and make it fun, I'd end up looking like the guy from Black Books," she giggles. "I'd be miserable!"
"A lot of people come to my gigs and expect it to be quite sad and serious," she elaborates. "And that's fair enough, because the EP has a tiny bit of fun in there but it's mostly just misery," she deadpans. "I try and keep it light when I perform. Make people laugh a bit, get them vulnerable, and then hit them with some heavy shit. And then I make them laugh again so they forget it ever happened."
The EP in question is 'Thrush Metal', a debut release that - despite its title and cover art of Stella shoving spaghetti into her face - presents an artist with something vital to say, tackling notions of abuse and heartache over beautifully arranged folk songs and a voice that's angelic and gritty at once. It's a seriousness that only exists on the fringes of the live show, though. "Some of the biggest lessons I ever learned was from stand-up comedians, who are so so funny and then all of a sudden start talking about gun reform, and you just go 'Wooooah, yeah they're right!' and it takes you by surprise," she expands of her commitment to a distinctly tongue-in-cheek stage manner.
"I couldn't fake it if I tried."
"I didn't really mean to do that, but it has helped me plead my case. People are seeing that I'm a real human, and that I can pull the piss out of myself, but I also care about things. I think a lot of artists at the moment are presenting themselves as humans who have good days and bad days, and they're being more honest. I love that. I couldn't fake it if I tried."
The Perth scene that Stella has emerged from, one which she describes as currently very female-heavy - "There's so many women making music right now and it's such a cool scene - we're very lucky" - has been defined until recently by Kevin Parker and Tame Impala. Also home to the 4AD-signed weird-popsters Methyl Ethel, it's been a breeding ground for woozy, dream-like psych that reflects a lot of what people see in Australia: laid-back and carefree, if a little bit heartbroken.
It's not all that Western Australians are concerned with now though, as Stella explains. "I think everyone's a bit angrier now! Everyone got a bit pissed off. I wrote [my] songs because I had something to say, and a lot of things are happening around the world right now. Britain's got Brexit, America's got Trump, we had the huge marriage equality campaign, which was pretty traumatic, and very full on. We've got some things to be pissed off about out here, and that's where [the angry songs] have come from. You can hear it."
It's a new anger that's redefining Australia as a musical community, and carving a country-wide scene with a vital, socially conscious new voice. "I think people are moving away from that psych, happy-go-lucky stuff in favour of music that actually says something," Stella ponders. "Not to say that the psych stuff isn't great, I love it," she's quick to clarify. "But the sound is definitely shifting at the moment."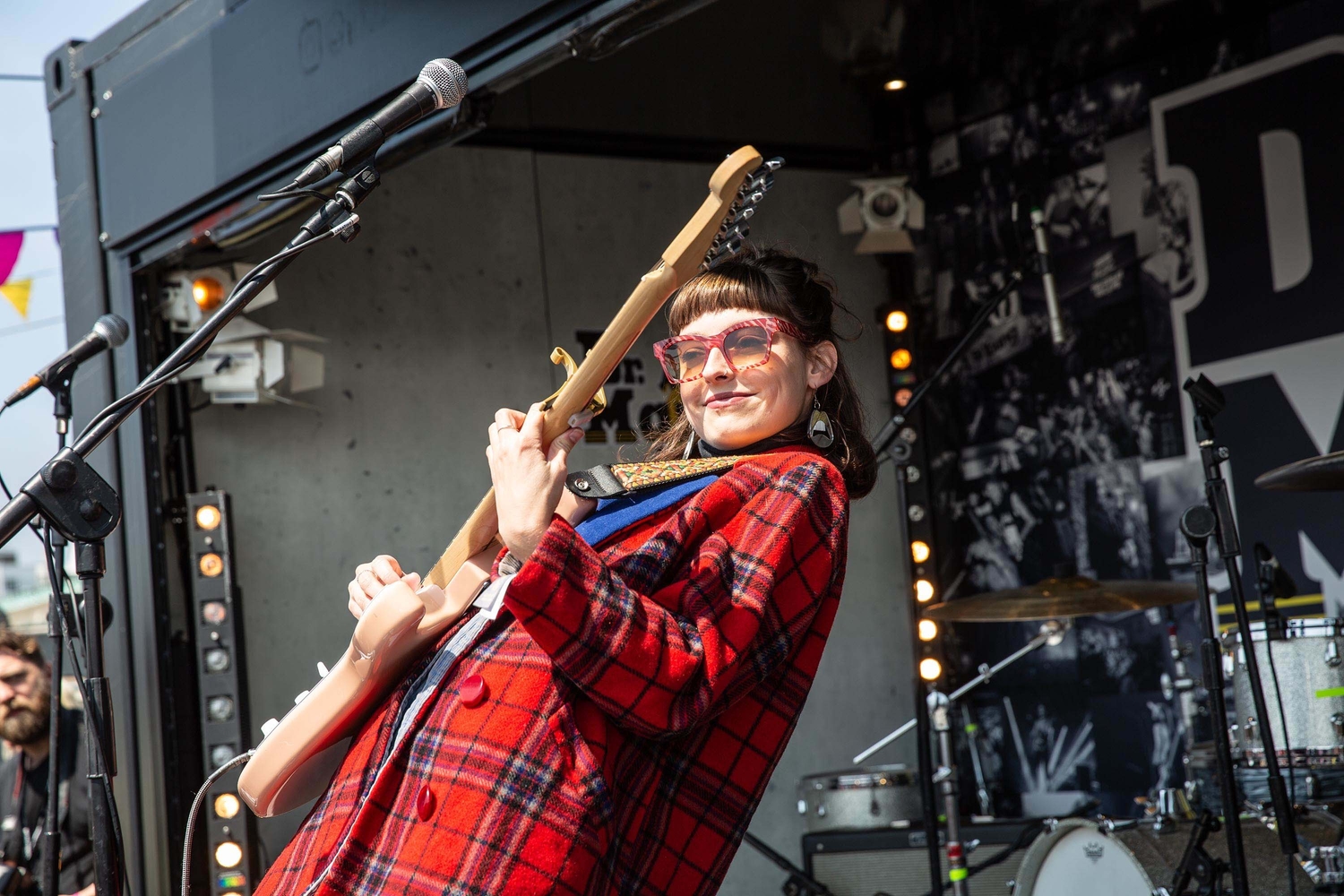 "I think people are moving away from that psych, happy-go-lucky stuff in favour of music that actually says something."
Of course, Stella's music is only one piece of the vast, fast-emerging buzzy jigsaw that is the new Aussie scene, but her ability to swerve outdated singer-songwriter tropes while keeping simplicity at the music's heart and transmitting deeply important messages, makes her a frontrunner in a scene that's beginning to change the young musical face of the country.
Right now though, she's just thinking about this upcoming debut album of hers. "I tried to write on the road," she says of her travels around Europe, "and just ended up writing a really shit song about driving. I scrapped that one. I was pretty anxious, thinking 'What if I can never write a song again, and this whole thing is just a bloody joke, and I'll go and get my cafe job back'. That would be ok, but I was scared that I'd lost some creativity. But I've come back, and all the experiences of tour are still so fresh.
"I've surprised myself a little bit, and I've got stuff to write about. There's nothing worse than trying to force it. I'm doing my best not to rush myself and to be honest with myself. If I did, there'd just be a song on the album of me just singing 'I don't know what to saaaay, la la la'. Look out for that one on the album. It'll be track seven."
Stella Donnelly's debut EP 'Thrush Metal' is out now via Secretly Canadian.
Check out the rest of our Australian scene report - Sound Of The Down Under-ground - here.
Read More
Featuring James Blake, Romy, Marika Hackman, yeule and more.