The weirdos are taking over: Surfbort and Viagra Boys
One's a New York-dwelling riot of colour and precarious dental standards; the other's a tattooed bunch of snarling misfits dredged up from Sweden's gutters.
When it boils down to it, if there's one thing that festival-goers want, it's to be entertained. And at this year's Great Escape there are two bands set to excite, provoke, and confuse whoever comes close. Both can loosely be described as 'punk', but beyond that vague descriptor, the two couldn't be more different.
In the blue corner is the most unexpectedly wholesome band of the weekend - if not the whole rock scene in 2019. Formed of three 50-something veterans of the '80s West Texas punk scene and a 26-year-old frontwoman who recently became the unlikely face of Gucci, Surfbort are simply giddy on the south coast.
"We started Surfbort as a joke," chuckles Dani Miller as she munches down on a pile of french fries. She's currently sporting a hefty mullet, a vintage Coca-Cola dress and a rainbow Gucci jumper, with fluorescent yellow fingernails and devil horn eye make-up. Needless to say, the singer is not a wallflower. "This is my first band and I love it."
While drummer Sean Powell and guitarist David R. Head Jr. had performed in bands like Fuckemos and The Motards since the early '90s (co-vocalist and guitarist Alex Kilgore refers to himself as "the guy who hung out"), Dani simply lied that she was in a band when a reveler at a Together Pangaea gig mentioned she was booking a show. "I just came up with the name Surfbort and that was that," she says.
Early antics set the scene for the band's explosive live shows. Several years prior, former member Matty Picola jumped off a four-storey yacht at a festival and then refused to be rescued by the lifeguards, instead opting to escape, then attempt re-entry via a series of disguises. The video for Picola-penned song 'Trash', meanwhile, features several scenes of Dani puking over a television set; songs with titles like 'Hippie Vomit Inhaler' are similarly imaginative in their lyrical content.
But with two of the band sober ("Half of my friends are dead," says Alex by way of to-the-point explanation), one a grandfather, and another a recent father, Surfbort are now more concerned with their shows providing a party for everyone else. "We want it to be a love fest," grins Dani.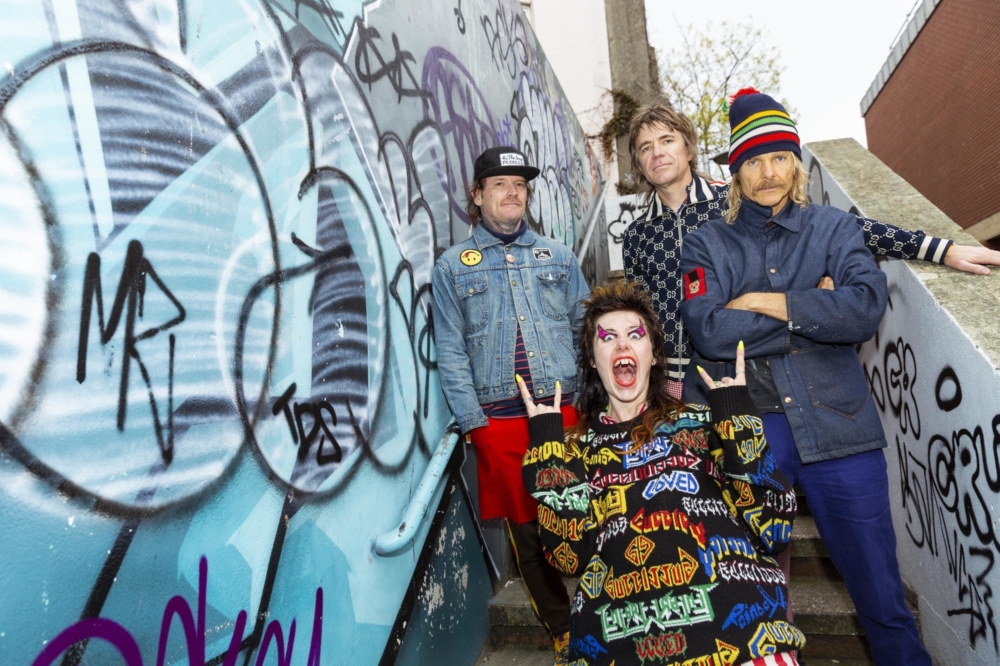 "We're for the outcasts, the weirdos, the freaks being who they want to be."
— Dani Miller, Surfbort
Surfbort's mid-afternoon performance on the open-air Jubilee Stage finds people truly losing their shit to the band's meat-and-bones rock romp. "Fuck Donald Trump and all the shitty, evil people out there," the singer screams as she climbs the rafters; it's like a rallying cry to the wild assortment of mismatched folk that make up the band's audience.
"We're for the outcasts, the weirdos, the freaks being who they want to be," she continues later, through another mouthful of fries. "Growing up, everyone gets made fun of and feels so left out and alone. I was totally an outcast." Opposite her, soft-spoken Sean sports facial tattoos and chains. "I was a weird kid and I was lonely, and the first thing I related to was music," he admits. "I never fit in with the skinheads or the punks or the new wave people. I was just a mash-up." "I used to get jumped by rednecks at my school," chimes in Alex. "I quit school when I was 15. My nickname in Texas was 'faggot'. I wasn't a badass, but in the punk rock scene there were other guys who would stand up for you when you got your ass stomped."
"I'm proud of that now," continues Sean. "I never wanted any fucking uniform. Why do you have to have these badges to be in the club? To me this band is all about being inclusive."

The yin to Surfbort's yang comes in the form of Stockholm's sleaziest six-piece - the imaginatively named Viagra Boys. "They're a bunch of ass grabbers," Surfbort's Sean Powell says affectionately. "We had a wild time with them in New York - although they looked like they'd been having a wild time for about a month without stopping."
It's only 6pm when DIY meet the Swedish collective, but the band are already several pints deep with no signs of stopping. "Can we do the interview here?" asks vocalist Sebastian Murphy, pointing at a picnic bench overflowing with half-finished beer glasses. He sits down next to Henrik 'Benke' Höckert, the band's slap-headed bassist and fellow founding-member. They've been drinking for four hours so far.
"I saw Sebastian singing karaoke on a night out," Benke sniggers between gulps. "He was singing Mariah Carey, and so I talked to him about forming a punk band together because I could tell he was a talent. That was four or five years ago." Since then, the band have released two EPs, with debut LP 'Street Worms' arriving in September 2018 - a sordid post-punk slither of shuffling beats, wild saxophone jams and basslines stinkier than last week's underwear.
Sebastian looks the part as the band's head-turning centrepiece. He's dressed, as he usually is, in a tracksuit and baseball cap, with wraparound sunglasses that obscure his blue eyes. A tattoo artist by day, his torso and limbs are covered with a tapestry of ink. Across his forehead reads 'LÖS' - Swedish for 'loose'. "I have a loose moral compass," he explains.
Sebastian also designs the band's eye-catching artwork and merch, which invariably features deformed cartoon figures illustrated in the same style as the tattoos he's adorned with. "The visual side of the band is pretty important. We had a vision at the beginning that it would be a package deal," he explains. "I love bands that have their own imagery that has the same feeling as the music."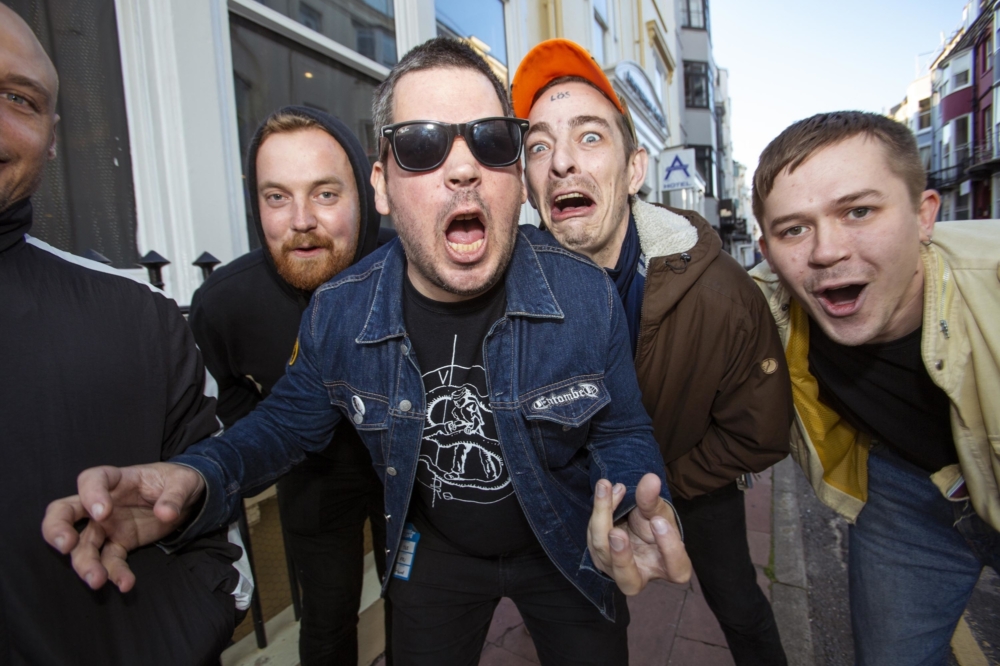 "I think our music really is for the worst people."
— Sebastian Murphy, Viagra Boys
But for all his creative prowess, Sebastian and the band seem unbothered by the rapturous reception they eventually receive later that night when they take the stage. "People are only interested in us because we're being marketed to them," says Sebastian. "It's mathematics! Should I be thanking my mom for all this attention?!"
"We're not gonna hype up the crowd, there's no gimmicks. Expect nothing. The lower your expectations, the better," he continues. "If someone said we have an exciting show, I would think they were lying." Benke chimes in with another cackle: "Most of the time we just stand there waiting to go off stage."
Viagra Boys only perform five songs when they take the stage at dingy club venue The Haunt later that night, and they're clutching beer cans throughout half of that performance. But in spite of their apparent indifference, it's the most charged show of the weekend. Through twisted Fall-esque fairy stories and screeching saxophone solos, tracks like 'Sports' seem set to bring the whole house down. It's The Great Escape's unlikely anthem and, hours later, crowds are still shouting "Short shorts! Cigarette! Sports!" - even during other band's gigs.
"There have been gigs where guys have been pissed off with us," admits Sebastian. "In Italy there was this guy who was shouting 'You should be ashamed of yourselves!', but I think our music really is for the worst people. We don't try to provoke people, I just go out there and try to live my life. Some people get upset, but we want people to be able to feel like us, like we have something in common."
Anticipation still hangs in the air long after the band has left the stage, and with no chance of a break any time soon (the band have been on tour with barely a week off since January), Viagra Boys will likely continue to leave a trail of confusion in their wake.
As DIY leaves, Dani from Surfbort is walking up the road to join the party, the beaming grin from her earlier show still fixed firmly across her faces. "We're all the same," she'd remarked earlier. "Alien recognises alien". And frankly, if being a freak is this much fun, who'd want to be normal?
Surfbort's 'Friendship Music' is out now via Cult Records. Viagra Boys' 'Street Worms' is out now via Year0001.
Read More