From indie stalwarts to chart connoisseurs, Tegan and Sara are finally where they want to be: making perfect pop.
To reach the dizzy heights of album eight, an artist usually has a certain degree of success under their belt. With that, they've likely learnt what does and doesn't make a good record, along with how the definition of 'good' fits comfortably within their sound. For Tegan and Sara, there's little doubt surrounding their achievements or, for that matter, their ability to make a 'good' record. Fitting this comfortably within their 'sound', though? That's where things get interesting.

"It's not like we've arrived at this place out of nowhere," Sara Quin begins, thinking carefully about exactly where she and identical twin Tegan find themselves. It's a tough question for anyone to answer more specifically, particularly when they've been performing for nearly two decades. "[Even in 2007] my ears were already starting to gravitate towards things that now I perhaps just do all the time without thinking," she considers. "I like when things are sort of, tailored and fixed and made to sound perfect."

Tailored is perhaps the best way of describing "the place" that Sara is talking about, that also plays host to the duo's most 'pop' venture to date. 'Love You To Death' is a masterclass in 80s-inspired melodies and clean production. Here, synths need no signposting and hooks are as frequent as cat's eyes in the road, guitars an all-but-distant memory for the Canadian pair so rapidly speeding along the highway from indie idols to Top 40 mainstays.
"Some of the most interesting ideas in songs are coming out of pop music"
— Sara Quin
"I think it's too easy to write off pop music as being the same," Sara says. "When I got out of high school, I didn't think pop music was cool because I was like, a contrarian, you know?" she remembers, relaying the details of her minimum wage job and room in her parents' basement. "I was grumpy and I was drawn to what was marginal, what was outside of the norm. I didn't want to be normal, I didn't want to listen to what was on the radio."
But, she explains, as times changed she wanted different things from the music she was both listening to and creating. "I just don't operate from that place anymore," she says, looking back. "I'm 35 years old [now], and when I'm listening to music I'm not necessarily listening to it for the reasons I did when I was 18 or 19." Naturally, then, as they've continued to push further into the world their younger selves had written off, Sara has become increasingly incensed with the haters.
"I get really annoyed when people are like, "'[pop music] all sounds the same!' I'm like, 'but what do you mean?'," she says. "When people don't like pop music, I think what they're also saying is that they don't like the pop music lifestyle - the idea that you're this branding machine that doesn't have a soul."

"When people are like, 'Fucking pop music sucks, I hate this award show because it's going to be all those horrible pop musicians', I just always think, 'Oh well, they're grumpy about all the kind of peripheral accoutrements that come with being on radio or on television or whatever'," she continues. "Some of the most interesting ideas in songs are coming out of pop music," she enthuses, looking back to Justin Timberlake's 2006 masterpiece 'FutureSex/LoveSounds' to further evidence that it's not just a recent development.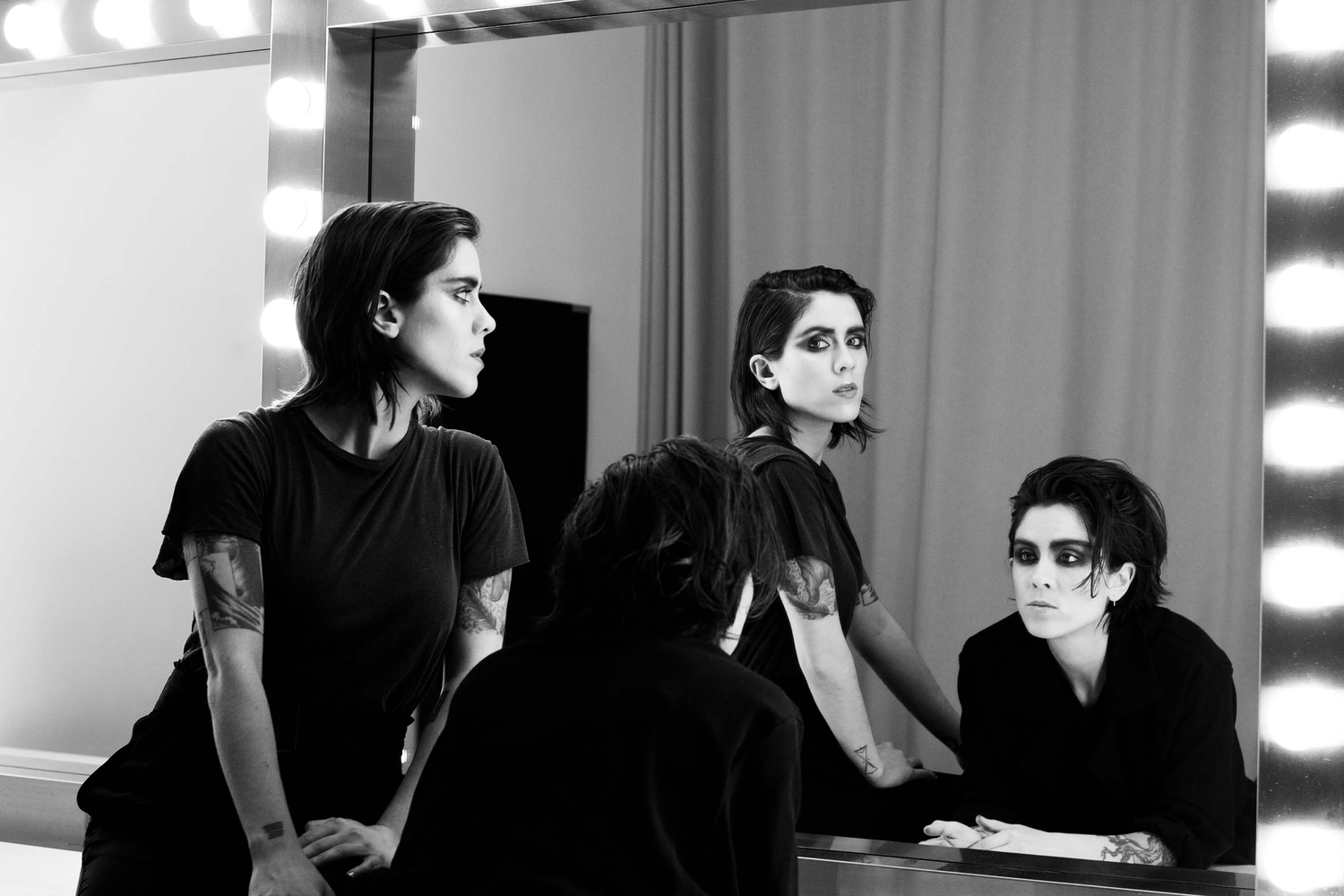 "Gender identity, sexuality and fluid identities - this language is just blasting into the mainstream right now and it's awesome."
— Sara Quin
Contrary to popular belief, pop isn't just about fresh-faced boybands and the cyclical overuse of saxophones. Having long provided an arena for artists to express fluid sexual and gender identities on a mainstream platform, the pop world remains instrumental in bringing queerness to the attention of the masses - just look at the likes of Olly Alexander or Christine and The Queens. "It is a huge part of what helped change the majority opinion of the population around sexuality," Sara emphasises, "I really think almost more than anything it did."
And while some may be quick to dismiss the catchy tunes and even catchier costumes of our more fantastical stars, Sara maintains that the impact of free expression in the public eye can't and shouldn't be underestimated. For Sara, this freedom is most clearly embodied in one bonafide pop queen. "I think about Madonna a lot," she says. "The first time I saw people who were gay on TV was in Madonna's 'Truth or Dare' when I was in seventh grade," she reminisces. "It opened a door in my mind and it allowed me to see something that I knew about myself but had not been able to see represented in society at all."
"In the 80s and early 90s with Bowie, with Madonna, with Prince - those characters who were gender fluid," she continues, "people were doing things outside of the norm and it was exciting." But then came the dark days. "The mainstream got super straight for a while," Sara recalls of the hetero rock and indie artists that spearheaded the charts through the mid-90s and turn of the century.
"It's not like we've arrived at this place out of nowhere"
— Sara Quin
Though times have changed somewhat, it's been a long haul. Touching upon lead single 'Boyfriend', Sara believes it wouldn't have been possible to release a track so openly narrating a lesbian relationship as recently as five years ago. Not surprisingly, this isn't because the banging chorus would've proven too much for us all to handle. Instead, she suggests, it's because the mainstream's discussion around queerness was coming not from members of the community.
The likes of Katy Perry's 'I Kissed a Girl' and more recently, Demi Lovato's 'Cool For The Summer' may have been called for interrogation, but Sara has just one thing to say. "To have a giant pop star basically singing 'who gives a shit, I kissed a girl, it was great, I liked it', that immediately changes things, it just does."
That 'Boyfriend' was a response is a fair assumption; the song focuses on the complicated space between relationship and friendship that's recognisable across any spectrum. By contrast, Lovato and Perry's tracks are acutely aware of their 'this isn't what I usually do' attitude, but it's that the language is there at all which is so important, reckons Sara. "People underestimate how powerful that message is to society. These ideas around gender identity and sexuality and fluid identities, this language is just blasting into the mainstream right now and it's awesome," Sara continues, excited by the prospect of things to come, "It's like, 'Okay, this is getting a little gay again. This is great.'"
Tegan and Sara's new album 'Love You To Death' is out now.
Read More
Featuring King Gizzard & The Lizard Wizard, IDLES, Tkay Maidza, Sleater-Kinney and more.