Neu Trudy and the Romance: "We're not trying to be the tightest thing"
These doo-wop loving, Liverpool-based oddballs could reincarnate Elvis if they put their minds to it.
Try and slot Trudy and the Romance's music into a current scene or wave of new bands, and they'd shuffle out of place. Last year's debut single 'Behave', produced by Spring King's Tarek Musa, was a raggedy introduction. On stage, frontman Oliver Taylor is a cross between a hyperactive Ezra Koenig or a more unkempt Elvis Presley, "uh-huh-huh"'ing his way towards superstardom. It's a dazzling spectacle that's hard to make sense of.
The truth is, the Liverpool trio aren't entirely sure where they stand, or why exactly they sound like nobody else around. The only definition they collectively decide on is "loose." Oliver claims "we're not trying to be the tightest thing," but that does some disservice to how their unhinged, oddball pop is somehow kept under a lid. "We do it from the soul," he says. "Sometimes it revolves around the vocals. Timing can depend on how much we slur a word."
Starting out under the name Trudy, a minor legal wrangle forced them to add "and the Romance", a suffix that nicely fits their loved-up, soppy and staggering early recordings. Overblown declarations of love are the trio's calling card. The subject matter doesn't stem from actual relationships, although Oliver once had a guitar teacher "who used to cry over his girlfriend" during each lesson. "He was bad," he adds. "I didn't learn much. I used to go in and be like, 'I wanna learn a chord like this.' He'd go, 'None of that Radiohead bollocks!' He just wanted to teach me AC/DC… Big goatee, too."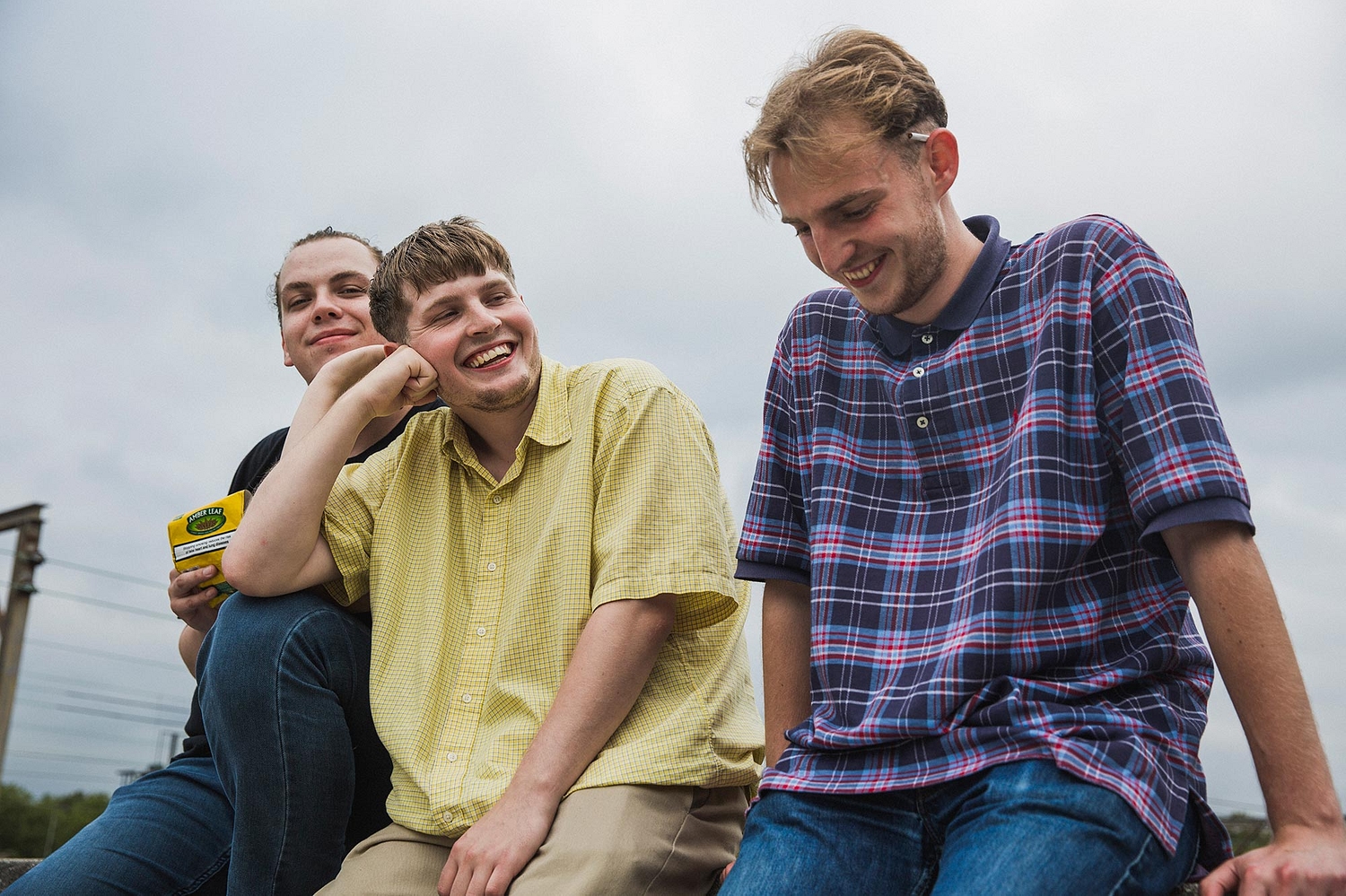 Once Oliver binned the weeping classic rocker, he fell in love with doo-wop, which goes some way to explaining the "50s mutant pop" Trudy claim to sport. "We also pick up romantic film scores and romantic artists, like Scott Walker, doing all of these big love ballads. Burt Bacharach, things like that. That's what we know," he says. "We've never been a band to do the social commentary thing where you talk about what everyone's wearing, like The Courteeners. Or Kasabian talking about fights."
There's no 'let's av' it!' vibes here. The only thing they might need to work on, going forward, is their Twitter game. Drummer Brad Mullins and bassist Lewis Rollinson hold the ropes, but their sarcasm-stained statements (eg. "We'd just like to be first to say woop diddy woop to the new PM all uphill from here #comeon brits") don't sit well with everyone. You live and learn. "We might just need to get a social media manager," admits Oliver, as Lewis grimly pictures the future. "Hashtags everywhere!" he cries.
On the surface, Trudy and the Romance don't seem at all serious about what they're doing. That's a good thing. But Oliver is adamant there's more to them than regrettable tweets and foot-shuffling pop. "I think the music stands up for itself, really," he says. "If you listen, it's quite complex. It's tongue-in-cheek. But most good music has a sense of humour about it. We know what we are."
Photos: Emma Swann / DIY.
Taken from the October 2016 issue of DIY, out now. Subscribe below.
Read More
Featuring James Blake, Romy, Marika Hackman, yeule and more.