Interview Twin Atlantic talk 'GLA': "We walked away from the band as if it was finished"
When 'Great Divide' drew to a close, Twin Atlantic weren't exactly sure what would come next. For its follow-up - the aptly-titled 'GLA' - they decided to head back to where it all began.
By the time their last album stint drew to a close, Twin Atlantic had climbed to their highest peak yet. Headlining the ginormo-dome of the SSE Hydro in their hometown of Glasgow was just one achievement that they managed to tick off their bucket list after the release of 'Great Divide', but – unsurprisingly – it also offered a bit of a question mark as to where the band would go next.
"We walked away from the band as if it was finished," frontman Sam McTrusty begins, sat in the infamous King Tut's, where the band are launching new album, 'GLA', this evening. "Not to up the drama, but we were like, 'That's it.' We didn't really know how to top what we had done, because we had actually done what we set out to do. OK, not on a global scale where we were a really big band, but it was still game-changing for us. So, we went to make a new album and just didn't know what would happen next."
What followed was a well-earned six months off. As well as spending time with their families and getting to live a more stable life off the road, they decided to put down their regular instruments and play around more, writing as and when they felt like it. "It was like Twin Atlantic didn't exist anymore," Sam continues. "We set up home studios and made demos in a day. We just embraced that side of songwriting. On our last record, we did a few songs with Jacknife Lee, and he opened our minds up to the idea that that's useful." As it so happened, working on their own turf meant productivity sky-rocketed. They felt free. "That's what allowed us to get right to the heart of it; by getting ideas out quicker. 'Great Divide' took six months to record and this took six weeks."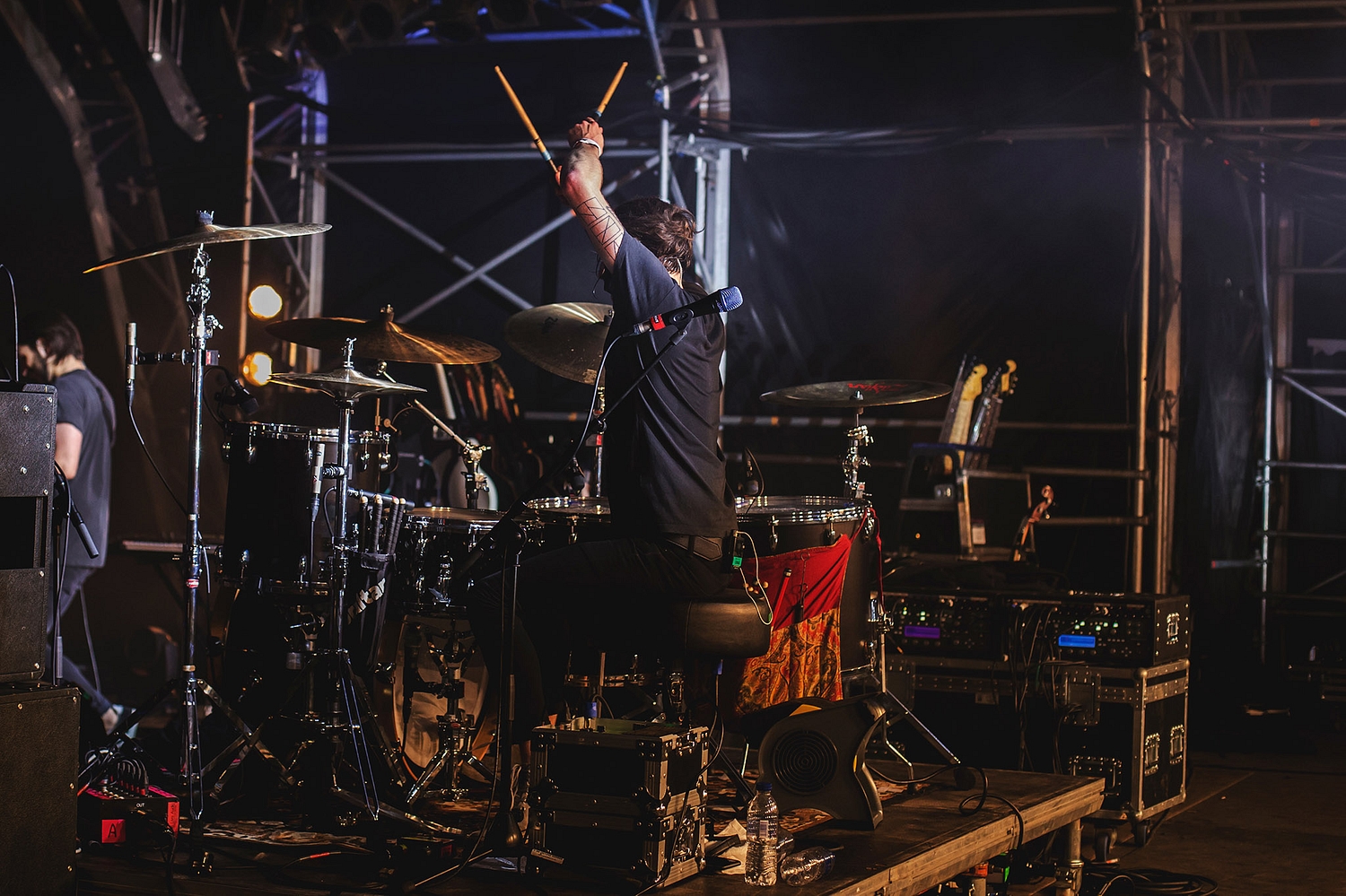 "It was like Twin Atlantic didn't exist anymore."
— Sam McTrusty, Twin Atlantic
Judging by the few tastes that've been offered up so far, their next record's that bit tougher - more rough-and-ready. "We're still doing riffs and rock drums," he explains, acknowledging that their core sound is still present. "We just took things in a really selfish direction. Last album, I got really obsessed with writing the perfect song and dragged everyone into that. It got to the point where we weren't really sure why we were doing it, but we were really ambitious. I think this time, because we did whatever we wanted - on our timescale and in our own environments - we were dipping in and out of stuff that we listen to and care about. Plus, we were in Glasgow writing and recording, so it all naturally happened. We didn't really think about any of this; we just did it because we wanted to."
Live photos: Sinead Grainger / DIY at 2000 Trees festival.
Taken from the July 2016 issue of DIY, out now. Subscribe below.
Read More
Featuring King Gizzard & The Lizard Wizard, IDLES, Tkay Maidza, Sleater-Kinney and more.