Pastime Paradise: Unknown Mortal Orchestra
After a well-earned rest, Unknown Mortal Orchestra's fifth album 'V' is a deep dive into Ruban Nielson's roots.
The road to Unknown Mortal Orchestra's fifth album 'V' is one littered with palm trees. Where lead single 'That Life' quickly swept you away to warmer climates with its breezy guitar ripples and poolside sense of chill, the record it's housed within comes as an audible bi-product of Ruban Nielson's move to the desert city of Palm Springs.
After more than a decade of touring and releasing music, the creative genius behind the band had found himself with an urgent need to "hibernate". "My health was pretty bad and I couldn't keep touring and touring because I felt like I was kind of killing myself," Nielson begins, joining DIY over the phone during a trip to Portland. Soon after his rest period began, however, Nielson's priorities would shift again due to an illness in the family. What started as a self-enforced time for repair became a stretch spent splitting himself between Palm Springs and Hanoi in Hawaii, where his relatives are based. Out of this time came one of the most personal albums the musician has penned to date.
Moving to Palm Springs, Nielson explains, brought up important memories of his childhood, which was partly spent following his entertainer parents as they performed across the Pacific and East Asia - an upbringing Nielson describes as "sort of bohemian". "When you're growing up, you don't think of your childhood as being different from other people's," he says. "But as I've gotten older, I've realised that my siblings and I grew up in a pretty strange environment."
With the hedonistic lifestyle that surrounded him normalised, partying and drugs were not uncommon sights for a young Nielson. "Me, my brother and my dad, when we were growing up we had a pretty troubled relationship, and my dad got sober when I left home," he explains. "He was always a heavy drinker and drug user, so that shaped a lot of how my brother and I grew up." On 'V' however, you'll find Nielson's dad credited for playing the saxophone and flute alongside credits for his brother and frequent collaborator Kody: a family affair that also stands as proof of their healed relationship.
"It's nice; we have something to prove to ourselves that things came out alright," he nods of the new record. "It's like a way of repairing the stuff that happened in the past by having these little victories and spending more time together in a more functional kind of way".
"I find it offensive when people try to claim that there's something solipsistic or serious about my music."
— Ruban Nielson
It's this fusion of past and present that fuels much of 'V'. With Nielson's heritage split between Hawaii and New Zealand, spending more time in the former led him to lean further into his roots. Throughout the album you'll hear occasional elements of Hapa-Haole music (which translates to 'half-white'), with the style featuring most prominently on 'I Killed Captain Cook', where the slide guitar most associated with the island instantly evokes a sense of tropical escape.
The song is my reinterpretation of slack key guitar and Hawaiian music, and a piece of Hawaiian culture that stands alone," Nielson says. The song itself was written about the British coloniser James Cook, who charted in New Zealand and ultimately ended up meeting his end in Hawaii. "Bringer of death and disgrace to the ancestral place," you'll hear in Nielson's signature lo-fi, coarse vocals.
A story that tracks his heritage on both sides of the world, on the surface it has a strong anti-imperialist message but don't read too far into it. "I don't think it is political, I just think of it as a song from my mother," he shrugs. "I suppose in some way I'm seeking approval or trying to rejoin this culture that I grew up far away from…"
Throughout the history of UMO, Nielson has been keen to distance himself from political meanings even though songs such as 'American Guilt' and 'How Many Zeros' may seem that way when taken at face value. Instead, he'd much rather you read his work with a lot less seriousness. Take new track 'Guilty Pleasures', which includes the awkwardly funny line, "You were hotter than a cheap old laptop".
The humour found in Nielson's lyrics is one of the band's most understated qualities. "I find it offensive when people try to claim that there's something solipsistic or serious about my music," he says. "Sometimes, when people don't understand my sense of humour, I just think this person must not be in as much pain as me because they don't need to laugh as much as I do."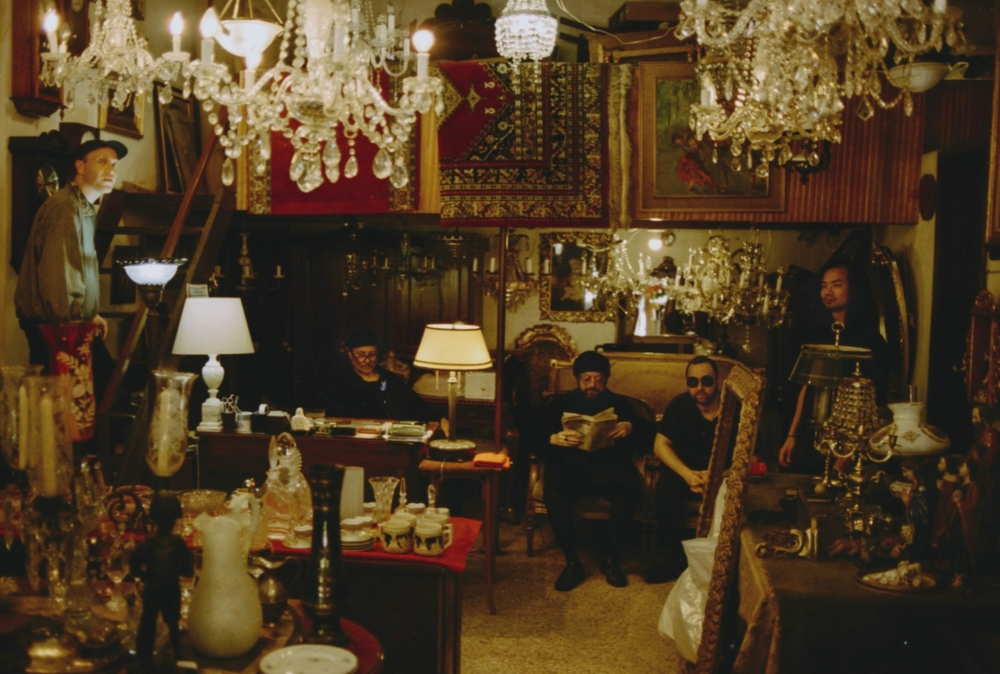 "As I've gotten older, I've realised that my siblings and I grew up in a pretty strange environment."
— Ruban Nielson
However, humour isn't the only misconception about the band. It's all too easy to think of Unknown Mortal Orchestra as a solo project, where Nielson tinkers away in a basement experimenting with sounds as if he's trying to bottle lightning. But this air of singularity isn't true. Alongside his family members, Jacob Portrait is still heavily involved in making the songs come to life. In fact, Nielson believes that he is moving in the opposite direction to Tame Impala - a band often cited as being in a similar realm to his own.
"At one point, Kevin Parker decided that he wanted to be considered the sole creative force behind Tame Impala," he suggests. "[Whereas] I've been saying, 'Oh actually, it's me and my friends' because I don't want to succeed alone. It's hard because I'm quite introverted, but it's very important to me that I create with people."
Rather than prioritising art over everything, for Nielson the act of creating music stands primarily as a way to help process what's happening in the rest of his life. He believes that you have to live in order to create. "The only reason to make art is to document life; if there's no life there, it becomes harder," he says. The last few years may have meant that Nielson had to really lean into this theory and put family first, but these lessons have oscillated deep into the fabric of 'V'. "I've always realised that the meaning comes later," he says of his music. "What I think I'm making is this surreal, abstract stuff that people aren't going to understand. Then I start to understand that what I've made is actually quite confessional and not surreal at all, like [the songs are] actually embarrassingly explicit."
There is still escapism and abstraction to be found in the grooves of Unknown Mortal Orchestra, with the disco-funk 'Meshuggah' serving as a reminder of Nielson's knack for making his guitar sound as if it never originated on Earth. But on 'V' he's also written an album that dwells where the people - where his people - are.
'V' is out 17th March via Jagjaguwar.
Read More