Interview Villagers: "If no one was talking about my music, I'd be pretty depressed!"
Conor O'Brien talks the "obsessive" quality that defines new album 'Darling Arithmetic', with Shefali Srivastava.
When it comes to Conor O'Brien, the softly spoken frontman of Villagers – known for their intricate folk melodies and soulful arrangements – the term 'obsessive' is not one you'd necessarily expect him to embody. But speaking over the phone from his rural home in the Irish countryside, this idea comes up frequently. On the subject of the creative process for new album 'Darling Arithmetic', he admits to scrapping the recordings part of the way through and "redoing it all because I wasn't really ready; I was still writing the songs. So starting again helped me realise the arrangements a little bit more and my obsessive-compulsive tendencies kind of took over… I think the whole thing probably took about eight months from start to finish."
It's ironic then that for all the imagery this conjures up of O'Brien slaving away for the better part of a year in a recording studio indulging in "pretty obsessive levels of work" by his own admission, that the new songs are highly minimalist, in sound as well as theme.
Elaborating on what he thinks are the differences between the new material compared to previous records 'Becoming A Jackal' and 'Awayland', he offers the notion that it's more diffuse. "What I hear on this one is that each song isn't trying quite as hard, or something? With some of my past songs, I've been a bit too much in my head and I've tried to cram in a lot of ideas. Most of the time it was quite successful, but with this album I was really obsessed with the idea of creating space, which I'd never really achieved before." In keeping with the stripped-down ethos, and in contrast to their previous albums recorded in a "real studio" in Donegal, this Villagers LP has gone as back to basics. "This time it was all done on my little 15-track recorder that I bought when I was like nineteen, so this album feels very much like my old home demos: nothing's been changed, nothing's been done to them."
And he's right: listening to the new material there's very much a sense that the songs have been kept as unadulterated and in their original 'bare bones' form as is possible. Most of the time it's just O'Brien and a guitar as the centrepiece, with gentle brushes of percussion and keyboard acting as framing devices. Nowhere is this more apparent than on 'Everything I Am Is Yours' which resembles the sublime 'Nothing Arrived' from his last album, in structure; its rhythm, jabs of plinky-plonky piano and O'Brien's mournful, lilting vocals make it the simple country cousin to its more complex and polished forerunner. "There's definitely a rawness to [the record] that I can't really get rid of because of the equipment that I used, but I think the songs needed that – they needed to sound a little less 'perfect' than they would have been perhaps if I had gone into a proper studio."
The streamlining of themes that O'Brien alludes to also becomes apparent quite quickly, that "any given song has pretty much only one idea, and the whole album almost has one theme", revolving around the pitfalls and pleasures of love and romantic attachments. Even the unusually named title track, which going by name alone may paint a vague picture of really loving double maths, is in fact about the tangled intertwining of grief and desire. "It's about losing somebody that you've loved, it's about bereavement. When I was writing the song the lyrics were so raw and so naked that when I got to end of each verse there's a point where it says: 'My darling […]', and instead of inserting the person's name I wanted to put a very cold, non-human word there and 'arithmetic' had a ring to it – so I kept it. The song's ended up with stronger metaphorical qualities than I had intended initially, but which nicely fit in nonetheless."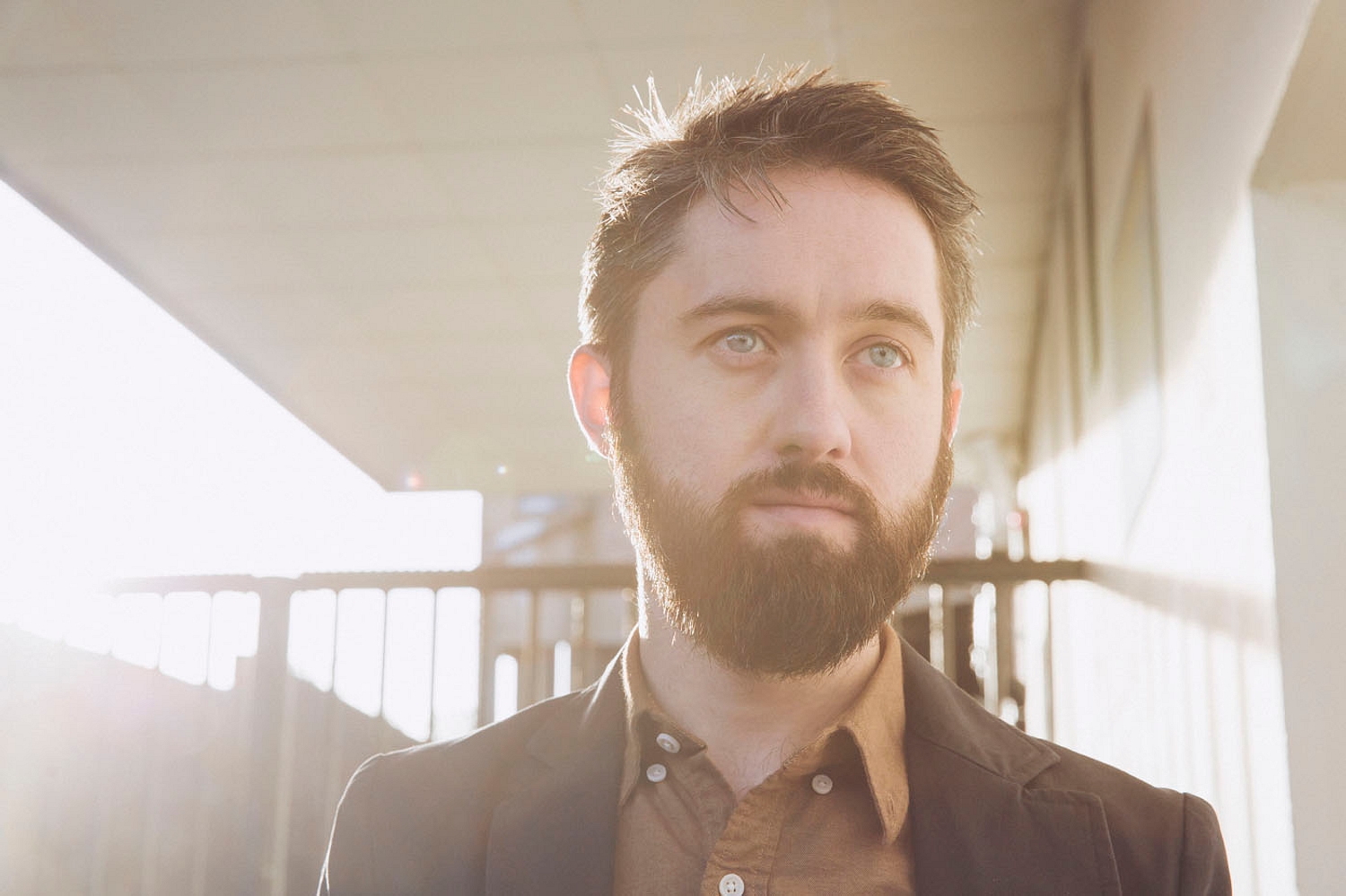 "This album feels very much like my old home demos."
— Conor O'Brien
'The Soul Serene' as the most personally meaningful track on the record. It's a meditative number which he sees as the album's centrepiece: not only in its track placement but in its message. "It kind of paints a picture of what the rest of the songs are trying to attain, about meditating on the things around you and trying to come at peace with yourself", which takes on a particular contextual relevancy following on immediately after 'Hot Scary Summer', "which is very much about the end of a relationship" – illustrated by its wry lyricism: 'this shouldn't be hard work / at least not the kind that makes us half a person, half a monster'.
For what is quite an insular-sounding piece of work, the challenge for Conor is in seeing this translate to the stage. Will they be playing 'unplugged' or purely acoustically? "It's going to be quite different as a show", he confides. "With this tour I've got a different group which I haven't played with before. There's a girl on a harp, which'll be really nice, and a whole lot of strange, ambient textures going on. It's going to be quite meditative and I guess it's going to be quite mellow as well. I kind of want the dynamics to come from the melodies and the words, rather than the volume, so I think it's going to be more a smooth show, in terms of the sound. So, I'm looking forward to it… I'm hoping it'll develop as we play, and change and grow a little bit as we tour."
When asked if he's keeping his fingers crossed for a third consecutive Mercury Prize nomination and what industry approval in general means to him, he laughs. "I always look at it this way: if no one was talking about my music or ever mentioning it, I'd be pretty depressed! I'd be lying if I said it means nothing to me, it definitely means something, 'cos it's exciting when people give a nod in your direction when you've spent a long time working on something. I think it gives you a boost when you're on tour and being a living musician… so yeah it means a lot. It's not something I aim for or really think about when I'm writing though."
Villagers' 'Darling Arithmetic' is out now on Domino. Photos: Andrew Whitton.
Read More
Featuring James Blake, Romy, Marika Hackman, yeule and more.