Wig out: Weaves
Right-angled wonky pop with a beaming grin at its centre – Weaves are incomparably brilliant.
To witness Weaves live is like nothing else out there. Oddball pop with a snarling, noise centre, this piecemeal Toronto bunch play musical Jenga at every opportunity, relishing every moment they manage to stop the whole thing toppling over. Speaking at the start of a massive European run – one which takes in support slots with punk-rockers Beach Slang, a who's who of the continent's festivals and a bunch of headliners alike - they're still finding their place.
"The first show that we played, in Berlin, was kind of a showcase thing," reflects bassist Zach Bines. "It's weird, it didn't really feel like a show. We were the only band, it was early in the night…"
"It was kind of like an art instalment," interjects guitarist and chief noise-maker Morgan Waters, prompting a burst of laughter from Zach: "It was like an art instalment!"
Lend an ear to their fluid take on structure and melody and it's easy to see why the pamphlet-clutching, chin-stroking arty farty crowd might take a shine to Weaves. Later that evening, Morgan's whistling into the holes of his hollow-bodied guitar, harnessing the feedback it creates with little more than a change of his pursed lips. "One of my synthesizers was dying one day, and my power supply died, and as it was dying it was making fucked up sounds, so I recorded it and took those samples," says drummer Spencer Cole when quizzed on the oddest noise he's ever conjured behind the kit. "That's the only weird sound I have on my sampler, so I just use that over and over again," he boasts.
"If you find a sound accidentally or make a mistake," reasons Morgan, "It's nice to go with things that were accidents, and then really make them seem intentional."
"It's like rejected pop music or something."
— Jasmyn Burke
There's a whole lot more to this lot than happy accidents and left-field credentials though; not least their keen ear for that ever-dirty word: pop. "It shouldn't be!" protests Zach when reminded of pop's perennially uncool status. "We're all pop lovers, to some degree," Spencer admits, though their warped cover of One Direction's 'Drag Me Down' should be all the evidence needed.
"Even when they're going crazy, usually the melodies are always pop-driven," says singer Jasmyn Burke. "If you can figure out how to create fun hooks, you can do whatever you want instrumentally. If it's done properly, you can have fun and there's still the centre of the song. And then you can go off!" she laughs, referencing the group's tendency to improvise every track within an inch of its life, night-after-night.
"We still want it to be listenable music that isn't alienating particular groups or anything," she clarifies. "It's like, how do you create interesting music that everybody can like? Trying to figure out that balance – it's like rejected pop music or something. Dejected, rejected…"
"Ejected!" shouts Morgan with a grin.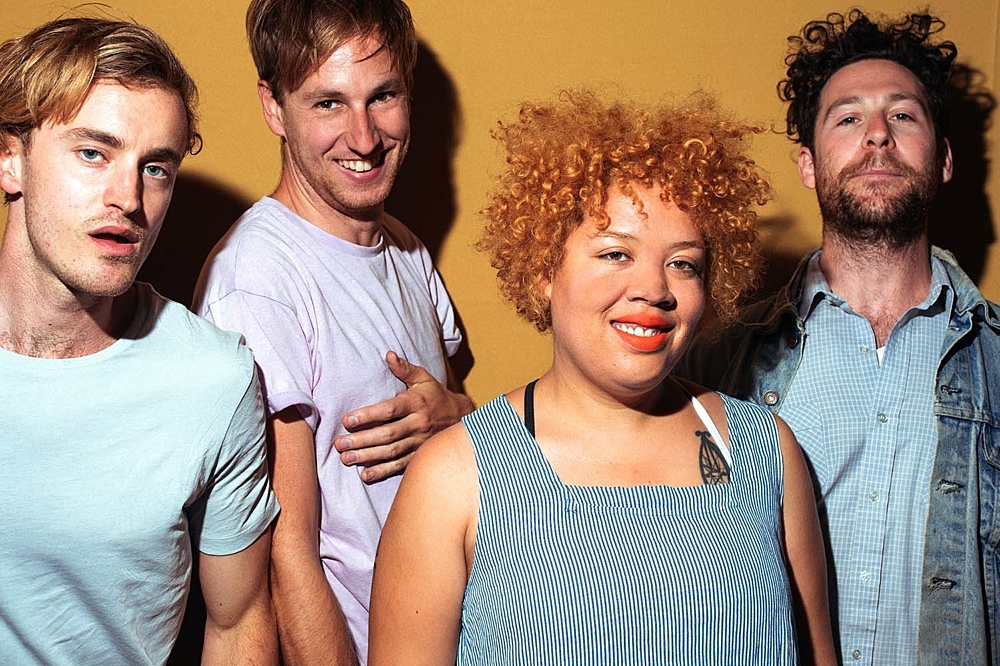 "It's nice to go with things that were accidents, and then really make them seem intentional."
— Morgan Waters
It's a loopy, fun-first approach that's found Weaves snagging fans in even the most unlikely places. "I feel like people, if they have open ears and they come to our show, we're still trying to entertain," reasons Jasmyn. "You're trying to win over people, and so even if they're into a particular genre, you're still trying to cross over to different people."

Morgan's grin returns: "And we're going nuts on stage, so… ! There's no holding back, so people are like, 'I don't know what this type of music is, but they're going crazy, and my ears are confused and I thiiink… this is punk.'" The four of them collapse into fits of giggles.

"You don't have to identify with a particular personality," admits Jasmyn, composing herself once more. "We're not really interested in that. It's good for us to play with different people." "You shouldn't have to have a cool record collection to listen to us and enjoy it," Morgan agrees. "You can just be a lame-o."
Weaves' self-titled debut album is out now.
Weaves will play Latitude (14th-17th July), where DIY is an official media partner. Tickets are on sale now. Visit diymag.com/presents for more information.
Taken from DIY's July 2016 issue, out now. Subscribe below.

Get your copy of the latest issue
Read More