Festivals Weaves, LIFE, Yak and more set Amsterdam ablaze at London Calling
Celebrating its 25th anniversary, the always-on-point event did itself proud
For the past 25 years, Amsterdam Paradiso has shipped out the finest new bands from Blighty (and, more recently, beyond) for a two-day whip through the most tantalising thrills that our fair isle and its musically-affiliated peers have to offer.
A cursory look through even the more recent bills show the kind of ludicrously on-point programming that puts most UK events to shame. Mixing future big-hitters (Wolf Alice and Royal Blood in 2014; Grimes and Haim in 2012) with more cult concerns (Alex Cameron, Royal Headache, LA Priest), it's a kind of concentrated 'Sound Of…' list for people who like music more than money. A run through of the most interesting sounds being made by the most interesting people, regardless of whether they're likely to get given a six-figure deal in the coming weeks or not.
Tapping into the current disenfranchisement of the UK's true bubbling underground, Friday is owned by the angry youth. Fresh off their recent debut headline tour, Peckham newcomers Yowl have honed their niche of pissed-off punk into a truly multi-faceted thing. Proving that you can still pick out a rainbow of colours within the umbrella of tar-black disdain, they veer between Pogues-esque slurs, post-punk dancefloor jerkers and taut coils of scuzzy rage; if there's a slew of bands that could arguably be said to be doing This Kind Of Thing right now, then Yowl are unafraid to let a little more melody push them to the front of the pack.
Shame, too, are knocking at the door of something bigger. Playing the Paradiso's largest room at midnight, they're a perfect storm of grotty, grizzled hedonism and direct, focused aggression. Urging the crowd to surge forward and surround him, singer Charlie Steen is a howling, baritone-rumbling preacher railing against society as his band thrash and crash around him. If Steen's dead-eyed nipple-rubbing on 'One Rizla' ("I'm not much to look at…") is reminiscent of the Fat White Family's former grubby schtick, then Fat White-r Saul Adamsciewski's new outfit Insecure Men show there's a lighter, more ridiculous side to the underbelly too. Teaming up with Childhood singer Ben Romans-Hopcraft and a full band that swells them to eight, the group are like a whole set of South London Mac DeMarcos; sonically, it's surprisingly sweet, while lyrically they traverse everything from Saul and Cliff Richard "having an affair with each other" to the ever-popular subject of Gary Glitter. Nice.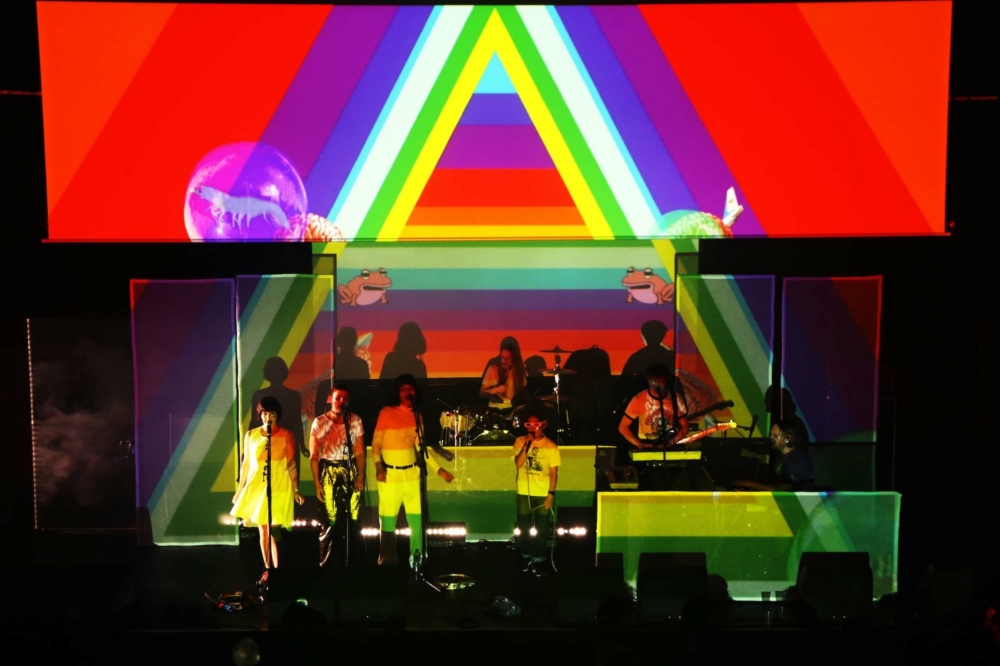 Hull's LIFE are no less galvanised a proposition than their peers in the
capital, but they choose entertainment over mere angry energy. 'Euromillions' and 'Rare Boots' are short, succinct musings on the often sorry state of the modern world, but they're dished up with flamboyant panache, singer Mez Green twisting and jerking his way through the crowd, eyeballs rolling into the back of his head like a modern day Jarvis. Hailing from the other side of the pond, meanwhile, Toronto's Weaves have their own future icon in singer Jazz Burke. Sneering fabulously, she prowls around the stage like the grinch, spitting out the wonky joys of 'One More' and 'Two Oceans' with absolute command. As the venue's stage hands frantically try and make them leave due to a cut-short set, the band, essentially, refuse, playing through 'til the end. When something's this good, you don't dare stop it mid-flow.
Saturday begins in far more sprightly form with cross-continental troupe-du-jour Superorganism. Still only in their first handful of live performances, the eight-piece are a fully-formed, multi-sensory proposition complete with matching coloured raincoats, meme-filled technicolour visuals and synchronised dance routines. The music's not bad either – a pleasing juxtaposition of teenage singer Orono's chilled out speak-sing vocals and the hyperactive explosion of samples and sounds that dance around her.
By contrast, Ontario boys Chastity could do with a healthy dose of Superorganism's glittery charm; a scuzzy onslaught of noise, it's got none of the nuance to elevate it from mere dirge. If Girl Ray land a little too far on the other side of the spectrum with the English niceties of debut 'Earl Grey', then Matt Maltese sits pleasingly in his own singular niche. Adorning the stage with a giant, lightbulb-studded red heart, there's no getting away from the main thrust of his doe-eyed romanticisms, but beneath every swoon there's a sardonic one liner or playful witticism that means Matt's always one step beyond your average crooner.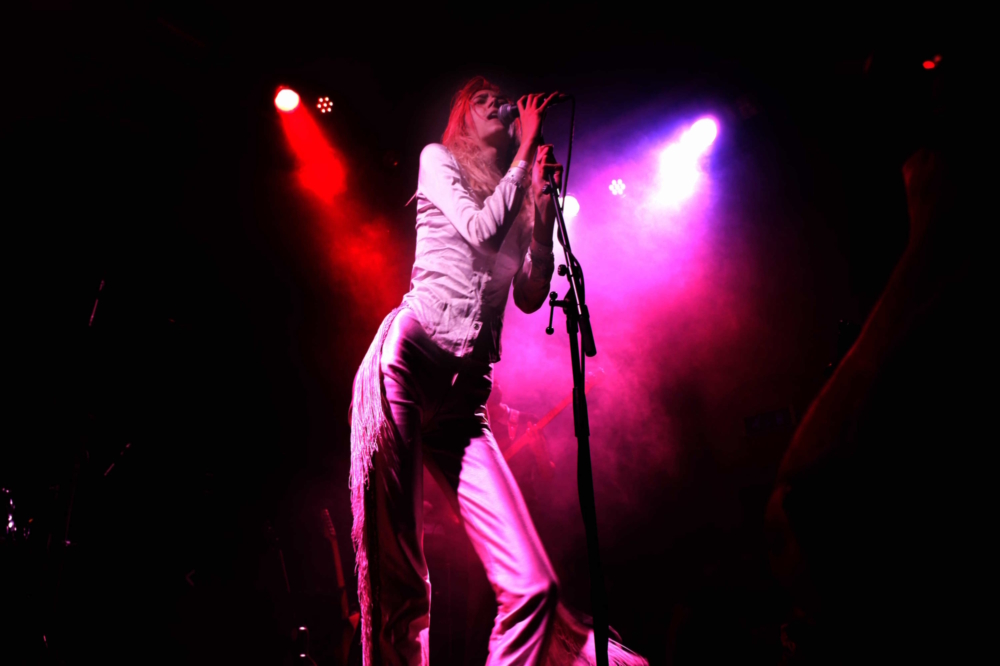 In the smaller room, the solid one-two of Diet Cig and Japanese Breakfast have the crowd spilling down the stairs. The former manage to impressively ignore the relentless love declarations of a group of middle-aged blokes down front (spoiler alert: they're singing about you!) to deliver a tour-closing set that smiles on the surface and seethes a little beneath; the latter are a heady concoction of dreamy vocals and soft guitar fuzz that culminates in an effervescent run through of early stand out 'Everybody Wants To Love You'.
Ending the night and the event, LA newcomers Starcrawler and London boys Yak are good teammates on paper. Both are fans of the more feral side of onstage life; both are fronted by people who could largely be categorised as 'a bit weird'. But whereas Yak deliver the kind of eccentric set that hides an undeniable technical proficiency and Mad Hatter-esque sense of experimentalism beneath frontman Oli Burslem's crowd-invading, safety-ignoring charisma (at one point, the singer lies on the floor like a starfish while various moshers fall on him), Starcrawler are a stranger fish to judge. Singer Arrow De Wilde has all the traits of an iconic frontwoman; wild-eyed and animalistic, she's clearly been studying the Iggy Pop manual of performative insanity. But that's just it. Despite all boxes of what should be an absolutely flawless rock'n'roll show being ticked – at one point she even pops a blood capsule and starts vampire-ing all over the stage – it all feels just that: a little studied.
Still, there are worse things to remind you of than one of the best performers in punk history. And if London Calling's already built a stupidly solidly track record for guessing music's next in line, then this year's bill looks set to carry the torch with ease.
Read More