On the cover:
Marina and the Diamonds: DIY's April 2015 cover star revealed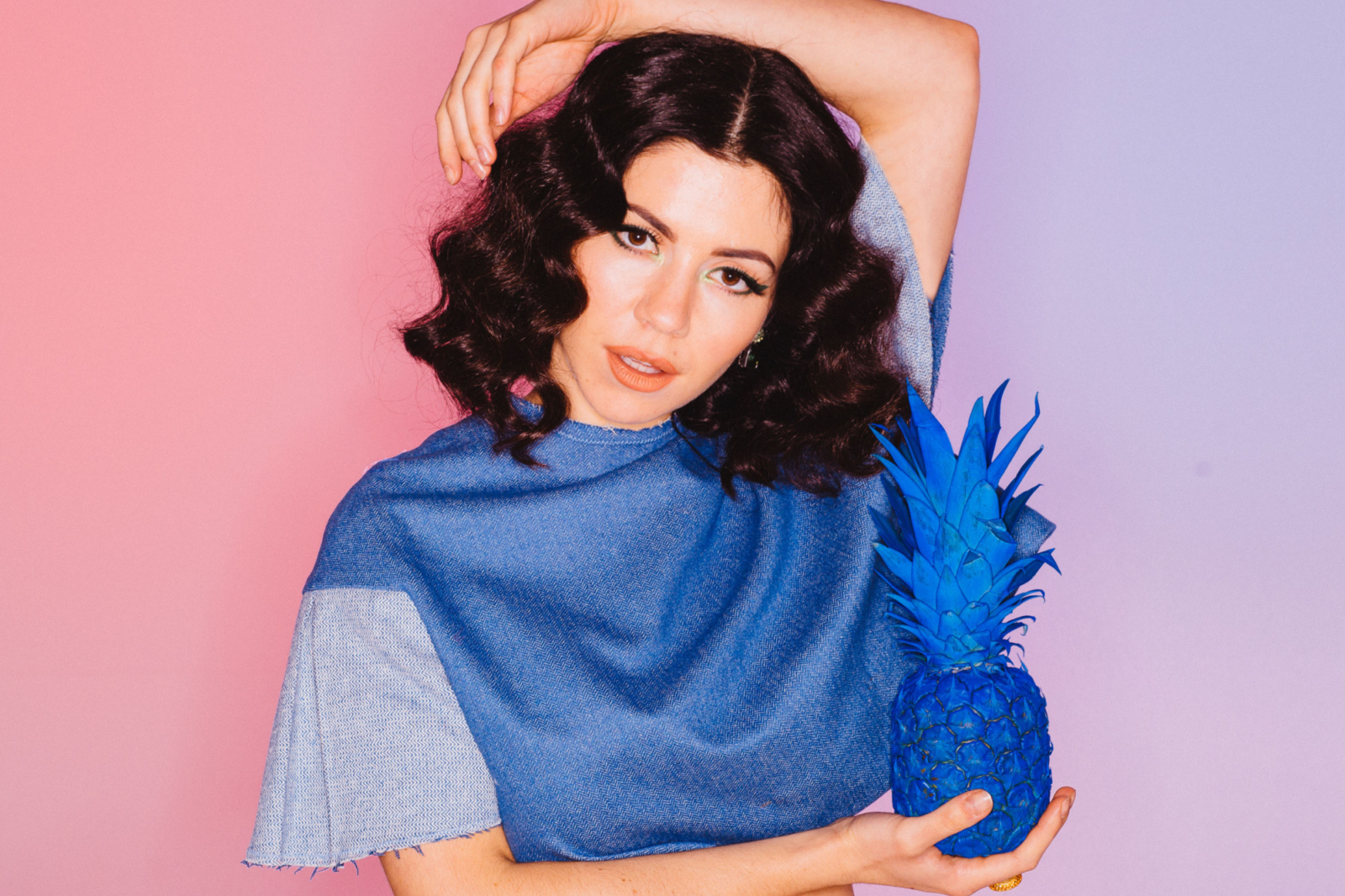 DIY's 'Froot'-filled new issue is out next Friday (27th March), featuring Marina, Death Cab For Cutie, The Cribs & loads more.
She's triumphed at a tiny DIY Presents London show and her new album's a bold step forwards - now Marina and the Diamonds is on the cover of DIY 39, our April issue!
Out Friday 27th March in UK stockists and online (international Marina fans, order a copy below!), this month's cover feature gets 'Froot'-y and checks in with one of pop's bravest, most inventive voices.
More than anything, her third album has given Marina the opportunity to finally fully realise herself on record. While 'Electra Heart' and 'The Family Jewels' went on to become learning curves, it turns out they were only warm up acts. 'FROOT' is the start of something new.
"As an artist, to be challenged and stimulated is really important," Diamandis says. "Whatever I go on to do is going to be very different again. I have to have that because otherwise there's no point in me doing this. I don't want to recreate the same album. Even in terms of songwriting and production, you have to be progressing, otherwise I don't wanna do it anymore."
Read the cover feature from Friday 27th March, online and in print.
Also in the new issue of DIY, Death Cab For Cutie's Ben Gibbard gets seriously honest about the departure of Chris Walla, and how a period of change helped the band record one of their best albums yet with 'Kintsugi'.
Drenge - a band on the brink of going skywards - try and claim that they're upwards trajectory is a bit of a laugh, really, Young Fathers go on the record about why there's more to them than a Mercury Prize victory, and The Cribs declare that they're not compromising anything with their major label debut 'For All My Sisters'.
Elsewhere, East India Youth agrees that music is the real winner, Waxahatchee takes DIY to church and gives an insight into her new record, and Speedy Ortiz raise the stakes with one of the year's best albums.
In Neu, we give introductions to Texas newcomer Leon Bridges, dance-pop duo Formation and new rock favourites Black Peaks.
Reviews delivers verdicts on big records from Alabama Shakes, Sufjan Stevens, Villagers, Drenge and - of course - Marina and the Diamonds.
DIY's April 2015 issue is free from record shops, venues and Dr. Martens stores, 27th March onwards.
Pre-order a physical copy with a DIY tote bag below.
Read More