Squid reveal 'Pamphlets' video
"When planning the music videos for this album we wanted to make sure we covered a few different mediums, so we're super happy to have a freaky animation ticked off the list."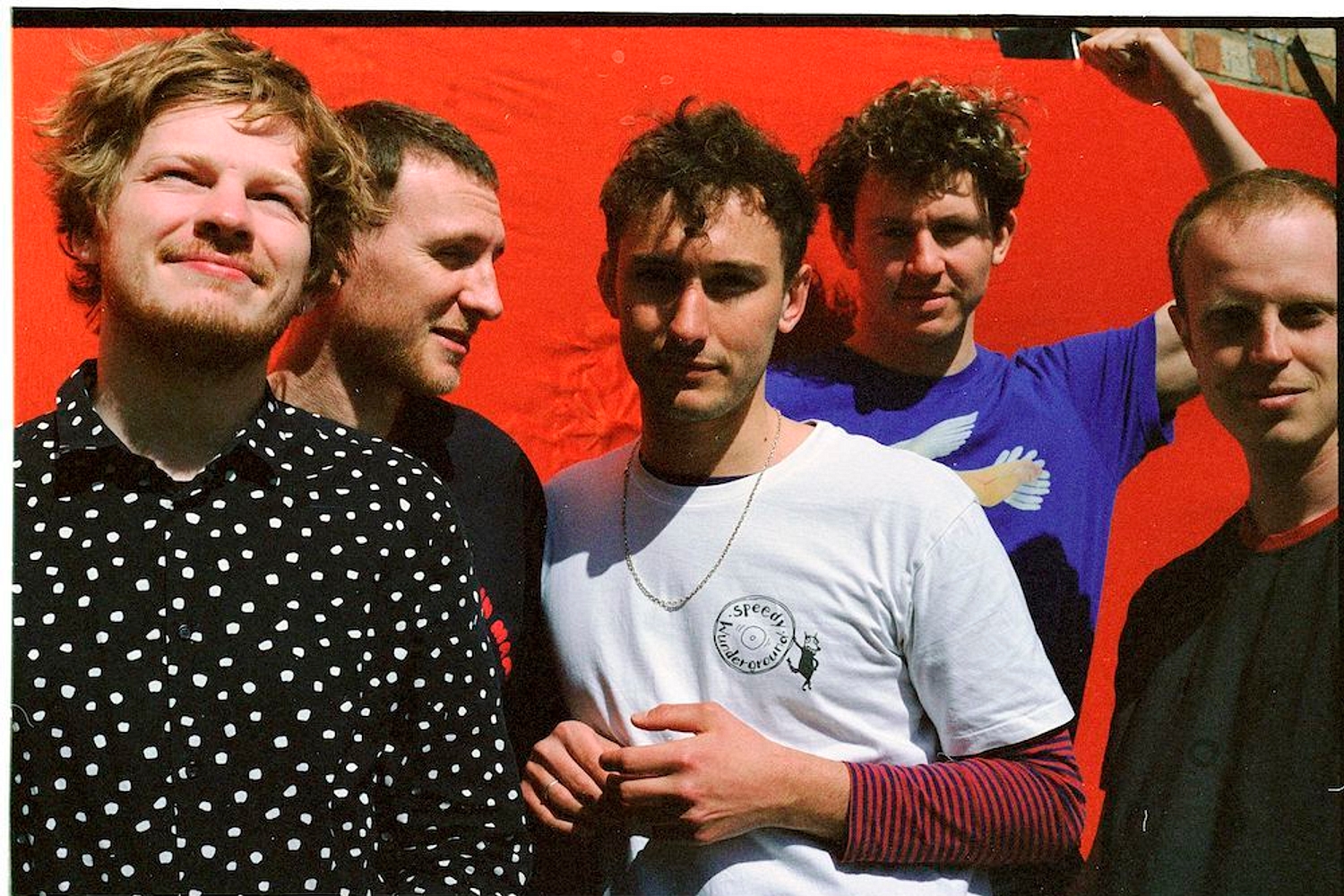 Following the release of their debut album 'Bright Green Field', Squid are now revealing the video for 'Pamphlets', an eight-minute animation directed by Raman Djafari.
"The video for Pamphlets is a meditation on the feeling of being unfit, unlovable, not compatible and the manic anxiety and stress that this results in," Raman explains. "I wanted to explore a state of mind that I have found myself in many times, of fearing to go outside and being confronted with everything that one cannot love about themselves. Rooted in trauma that is as personal as it is always connected to society at large, harmful self-images are incredibly hard to escape. The fear of being rejected for the ways one is marked as different and perceived as such, manifested in the presence and gaze of others, becomes the way we see ourselves. We internalize the rejection that we are subjected to. As a result, there is the urge to hide away, suppress and judge whatever it is that we have been taught to hate. Thus detaching from the self and thereby detaching from others. This is a video that relates to my own experiences as well as it is a solidarisation with everyone that has been made to feel this way.The second half of the video is about the emergence from that state of mind through the embrace of difference. It is a process that I myself am still very much going through and learning from, so it is also a reminder and an exercise in empowerment. The transformation that happens when we learn to love ourselves is a detachment from the ideals of normativity. Loving the difference, that which is perceived as ugly and rotten, is beautiful. At the same time it is an unlearning of the false truths that have been etched into our minds and hearts."
See Squid live at the following dates:
MAY
19 - The Vaults, Falmouth, UK (sold out)
20 - St Mary's, Totnes, UK (sold out)
22 - The Cube, Bristol, UK * (sold out)
26 - Old Road Tavern, Chippenham, UK* (sold out)
28 - The Adelphi, Hull, UK * (sold out)
JUNE
01 - The Leadmill, Sheffield, UK (sold out)
03 - Stoller Hall, Manchester, UK * (sold out)
05 - Silver Building, London, UK * (sold out)
07 - The Halls, Norwich, UK
09 - De Le Warr Pavillion, Bexhill, UK
12 - Cliftonville Community Hall, Margate, UK
21 - Chalk, Brighton, UK (sold out)
JULY
12 - Chalk, Brighton, UK (sold out)
13 - Joiners, Southampton, UK (sold out)
14 - Bullingdon, Oxford, UK (sold out)
15 - Scala, London, UK (sold out)
17 - White Hotel, Manchester, UK (sold out)
18 - Trades Club, Hebden Bridge, UK (sold out)
19 - Cluny, Newcastle, UK (sold out)
20 - Summerhall, Edinburgh, UK (sold out)
21 - Crescent, York, UK (sold out)
26 - Castle And Falcon, Birmingham, UK (sold out)
27 - Esquires, Bedford, UK (sold out)
SEPTEMBER
07 - Concorde 2, Brighton, UK
09 - Marble Factory, Bristol, UK
10 - Albert Hall, Manchester, UK
23 - Printworks, London, UK
24 - The Crossing, Birmingham
25 - Rock City, Nottingham, UK
27 - NUSU, Newcastle, UK
28 - SW3, Glasgow, UK
29 - Empire, Belfast, UK
30 - Button Factory, Dublin, Ireland
OCTOBER
03 - Tramshed, Cardiff, UK
04 - 1865, Southampton, UK
05 - The Phoenix, Exeter, UK
07 - Paradiso, Amsterdam, Netherlands
08 - Botanique, Brussels, Belgium
09 - Trabendo, Paris, France
11 - Bumann & Sohn, Cologne, Germany
12 - Molotow Skybar, Hamburg, Germany
14 - Loppen, Copenhagen, Denmark
15 - Plan B, Malmo, Sweden
16 - Melodybox, Stockholm, Sweden
18 - Berghain Kantine, Berlin, Germany
19 - Underdogs', Prague, Czechia
21 - Heppel & Ettlich, Munich, Germany
23 - Bogen F, Zurich, Switzerland
24 - Bad Bonn, Düdingen, Switzerland
25 - Magnolia, Milan, Italy
26 - Locomotiv, Bologna, Italy
28 - Upload, Barcelona, Spain
29 - Independence. Madrid, Spain
30 - Masterclub, Vigo, Spain
NOVEMBER
09 - Philadelphia, PA @ Johnny Brenda's
10 - New York, B @ Mercury Lounge (sold out)
12 - Cleveland, OH @ Beachland Tavern
13 - Chicago, IL @ Empty Bottle
17 - Los Angeles, CA @ Moroccan Lounge
19 - Santa Ana, CA @ Constellation Room
20 - San Francisco, CA @ Rickshaw Stop
22 - Portland, OR @ Doug Fir
23 - Seattle, WA @ Crocodile
*two shows back to back
Read More
Featuring King Gizzard & The Lizard Wizard, IDLES, Tkay Maidza, Sleater-Kinney and more.