Album Review
Björk - Utopia
3 Stars
While there's nearly always a sense of beauty embedded within 'Utopia' though, there's also a feeling of harshness.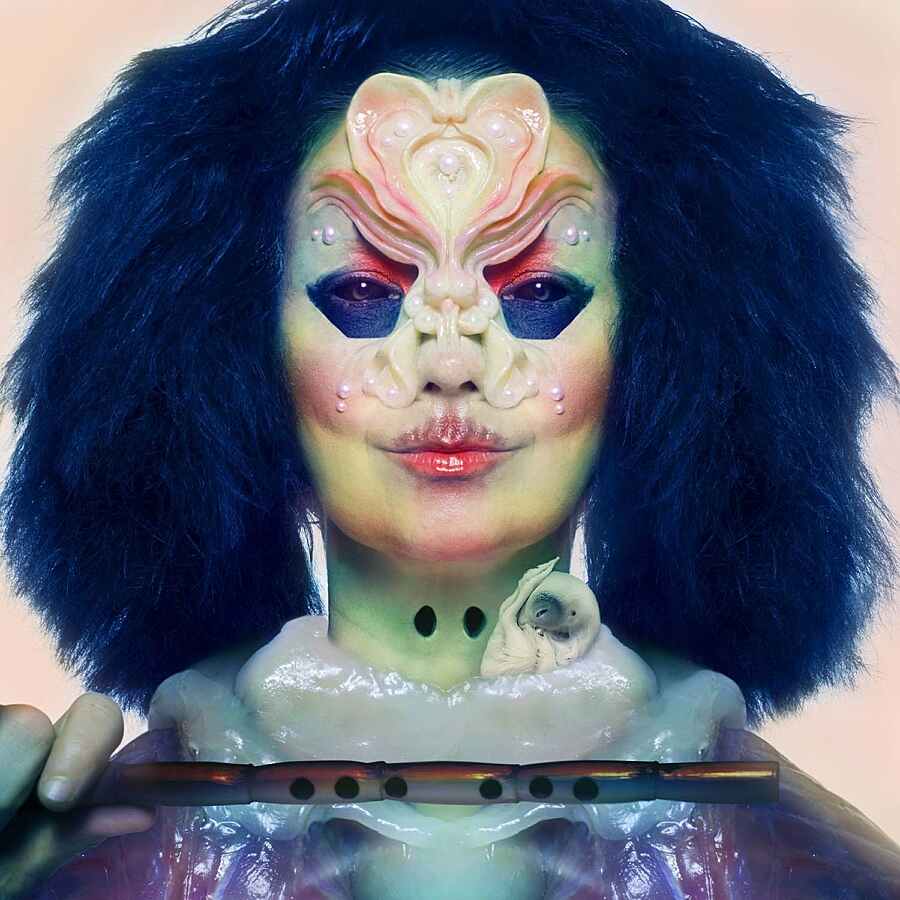 In early 2015, Björk unleashed the sound of her own broken heart, the string-laden, complex, uncompromising 'Vulnicura'. Even its artwork, showing her chest cleaved in half as she stands paralysed, was an image that hinted at what lay within – a blow-by-blow breakdown of her thoughts and feelings as she moves from uncertainty to the darkest depths of sorrow. Even on closer 'Quicksand', she doesn't seem to come out of the other side so much as implode in a burst of frustration and chaos.
It's difficult not to look back at the turmoil that shrouds every second of 'Vulnicura' when listening to 'Utopia', not least because lead single 'The Gate' sees her singing about having a "healed chest wound". This is Björk coming out of the other side, exploring love in its varying forms; she even at one point described it as her "Tinder album". She aims to use love not just as a mechanism for emerging from her own heartbreak, but as a way of asking whether paradise is achievable in the world anymore and setting a kind of blueprint to make it to that fabled place.
Like with previous albums – most notably 'Volta' and its strident call-to-arms 'Declare Independence' - Björk often addresses these issues by conflating the personal and political, putting love and compassion at the centre of the masterplan. The search for love is often also a search for something greater. On 'The Gate' she sings about care in a more spiritual, reflective way, having "proud self-sufficiency", or of "purifying toxicity" on the title track. 'Features Creatures' is perhaps her most "Tinder-like" moment, seeing her "assembling a man / Googling love" and how when she observes a man with particular characteristics, she thinks "I am five minutes away from love." Meanwhile, 'Body Memory' speaks of how "my limbs and tongue take over" instinctually, the sense of primal sensuality heightened by the feral growling that punctuates throughout the track, tying her search to the natural world.
The two concepts are perhaps most successfully married on 'Tabula Rasa', named after the idea whereby humans are born without mental content and that knowledge comes from experience or perception. It's a gentle, tender moment where Björk cries out for her children to have a blank slate, "not repeating the fuck ups of the fathers". On the one hand it seems like a personal plea to her own children not to echo her past (or, in her words, not to be weighed down by her "luggage"). On the other, it can be seen as her imploring that we look back at history, to learn from it, and to consequently build towards something better.
To fit with these themes, 'Utopia' is for the most part lighter in tone than its predecessor, often characterised by flutes and harps that give some of the tracks an air of weightlessness. Even on its opener 'Arisen My Senses', which introduces the concept of a new awakening with a cacophony of harps, bold percussion and Björk's own distinctive vocal wails, there's still the sense that a weight has been lifted from her shoulders. She also puts nature close to the heart of the music, the sound of birdsong in particular chiming between tracks.
While there's nearly always a sense of beauty embedded within 'Utopia' though, there's also a feeling of harshness. Like on previous records this is mostly conjured from the industrial beats and electronics that swirl around the album, aided by Arca, who returns to collaborating with Björk after also working on 'Vulnicura'. This sometimes adds texture, giving the sense of anticipating something greater on the otherwise sweet and delicate 'Blissing Me' or contributing to the foreboding, dark nature of 'Body Memory' (even if the latter does cut off rather unceremoniously). On 'Claimstaker', the stuttering, slightly warped arpeggiated synth lays an almost eerie foundation for Björk's swirling, layered vocals and dramatic string flourishes. It's 'Loss' that provides the album's most crushing moment though, as mechanical, crushing beats continually build up across the orchestral elements, eventually all but entirely consuming them across its brutal seven-minute span, resulting in a heart-racing climax.
There are times, however, when the mix doesn't quite lend Björk's message enough power. 'Sue Me', for instance, sees her attempting to throw out one of the album's most resistant-based lyrics ("sue me, sue me, sue me/ Sue me all you want", "I won't denounce our origin") but her defiance seems a little washed-out in the mix, swimming underneath a mountain of tinny, pulsating beats that masks her message somewhat. She almost smothers herself on 'Saint' too; while the instrumentation is light and flourishes only when it needs to, Björk's lyrics become muddied under her overly-layered harmonies, obscuring what she has to say.
However, on airy closer 'Future Future', Björk urges the listener to "see the possible future and be in it". For the most part, 'Utopia' sounds like an album where she's followed her own advice. It demonstrates how the Icelandic alt-pop legend has pushed past her own emotional turmoil, taking yet another step in her ever-evolving saga, one that sets a path for future endeavours.