Live Review
Dry Cleaning, Village Underground, London
3rd March, 2020
They'll only be playing bigger and bigger venues each time they return to the capital for the foreseeable future.
"I don't really dance, and I'm not a natural performer in that way, so I was always like, 'Oh crap'," Dry Cleaning vocalist Florence Shaw told us about her performing fears back in December for our Class of 2020 interview. But from the moment she takes to the stage at Village Underground – flanked by guitarist Tom Dowse, bassist Lewis Maynard and drummer Nick Buxton – any notion that she's not made for the stage is proven entirely false. Perhaps it's because this show is at the end of a three-week jaunt around England and Scotland, and it's a hometown gig for the Londoners, but they're confident and all-guns-blazing from the off.
Starting with 'Spoils', Florence is immediately confrontational with the song's sardonic challenge – "what's your problem, huh?" – channelled through the tuned-in audience and transmitted out to all dickheads in the vicinity. This is quickly followed by 'Dog Proposal', with everyone attempting to mutter along with Florence's pontification on the overestimation of hard work, and then 'Goodnight', where everyone sends their best wishes to her dearly departed pet.
It's a colossal opening trio that makes one stop and wonder whether they've front-loaded their set – only to be reminded that literally every song they've put out so far on their EPs is An Absolute Banger, swiftly proven by the next couplet from lifted their debut EP, 'New Job' and 'Phone Scam', which continue the ripping momentum set by the opening.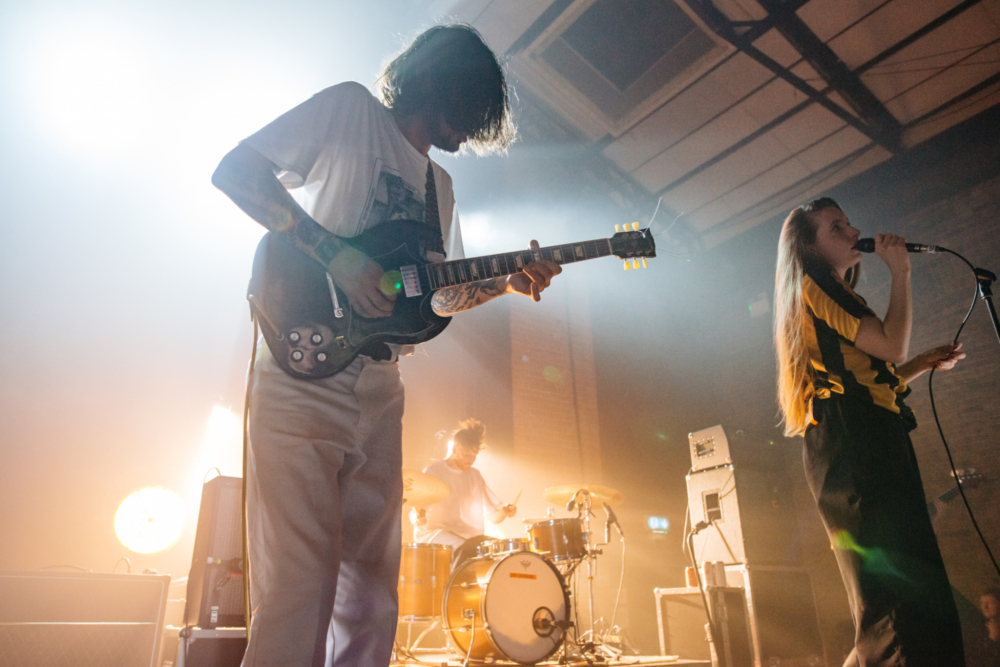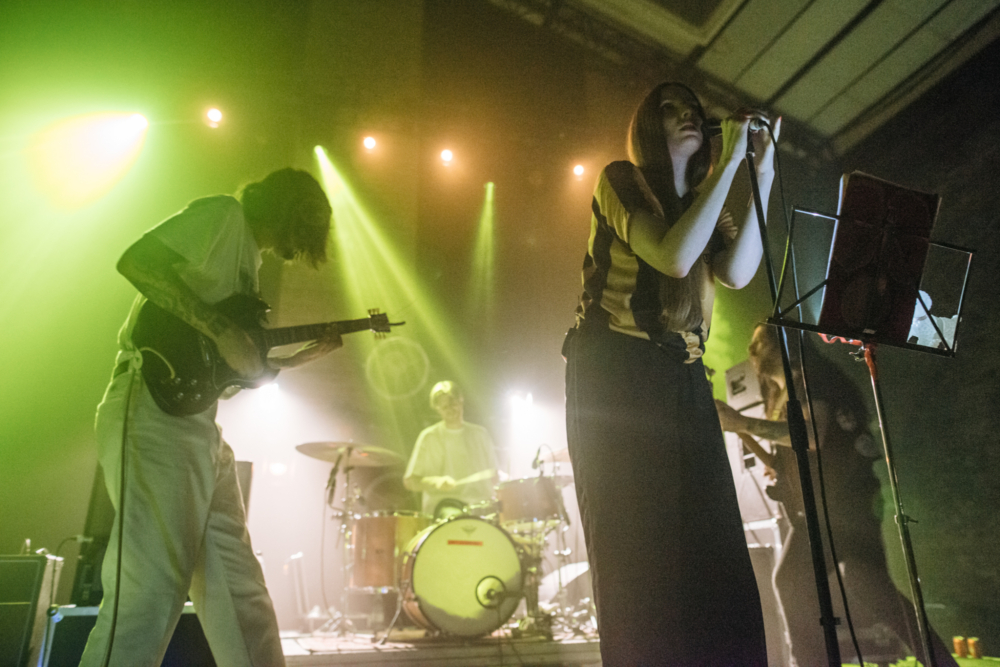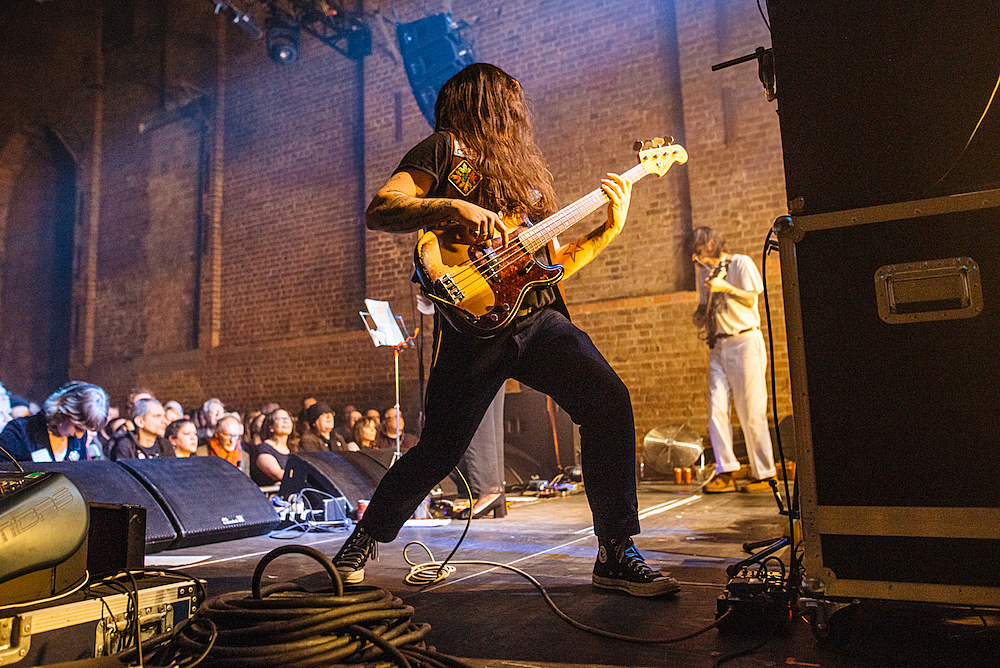 Lit only from the back, Florence sing-speaks her scorching words while draped over her microphone, accompanied on stage by a music stand, where some sheaves of paper and a plastic dog toy spend the evening. Initially the temptation is to assume she uses these items as some kind of safety blanket, which they may have been when Dry Cleaning started this tour, but at this point, they've become part of her on-stage persona, which comes fully into its own as the night progresses. Her minimal movement seems theatrically attuned to keep the audience locked-in, and is excellently contrasted by Tom and Lewis, who are doing plenty of thrashing and writhing either side of her.
The group take the opportunity to air a couple of new tracks - 'Jam Jar' and 'Strong Feelings' - which slot seamlessly in among the rest, and suggest what we already knew: that their debut album is going to be a scorcher. While excitement has been bubbling throughout the crowd all night, it's with the band's sardonic salute to the royal family, 'Magic of Meghan', that the corn starts to pop and people really get jostling. This is carried into the last song of the night, 'Conversation', which is all the fiercer and monumental, loosed from its lo-fi recorded version, building to a hypnotically dissonant finale.
"We don't take it lightly that so many people have come to see us in our home town," Florence announces towards the end of the set. They'd better get used to it – they'll only be playing bigger and bigger venues each time they return to the capital for the foreseeable future.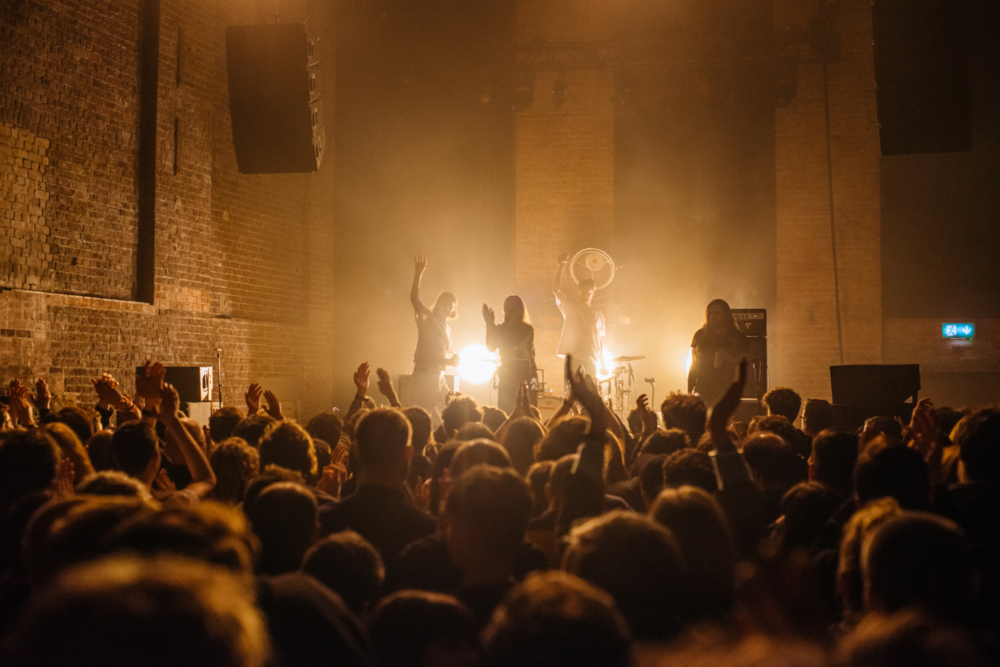 Read More